BASEBALL | Weekend Review: Unbeaten Giants Lead the Way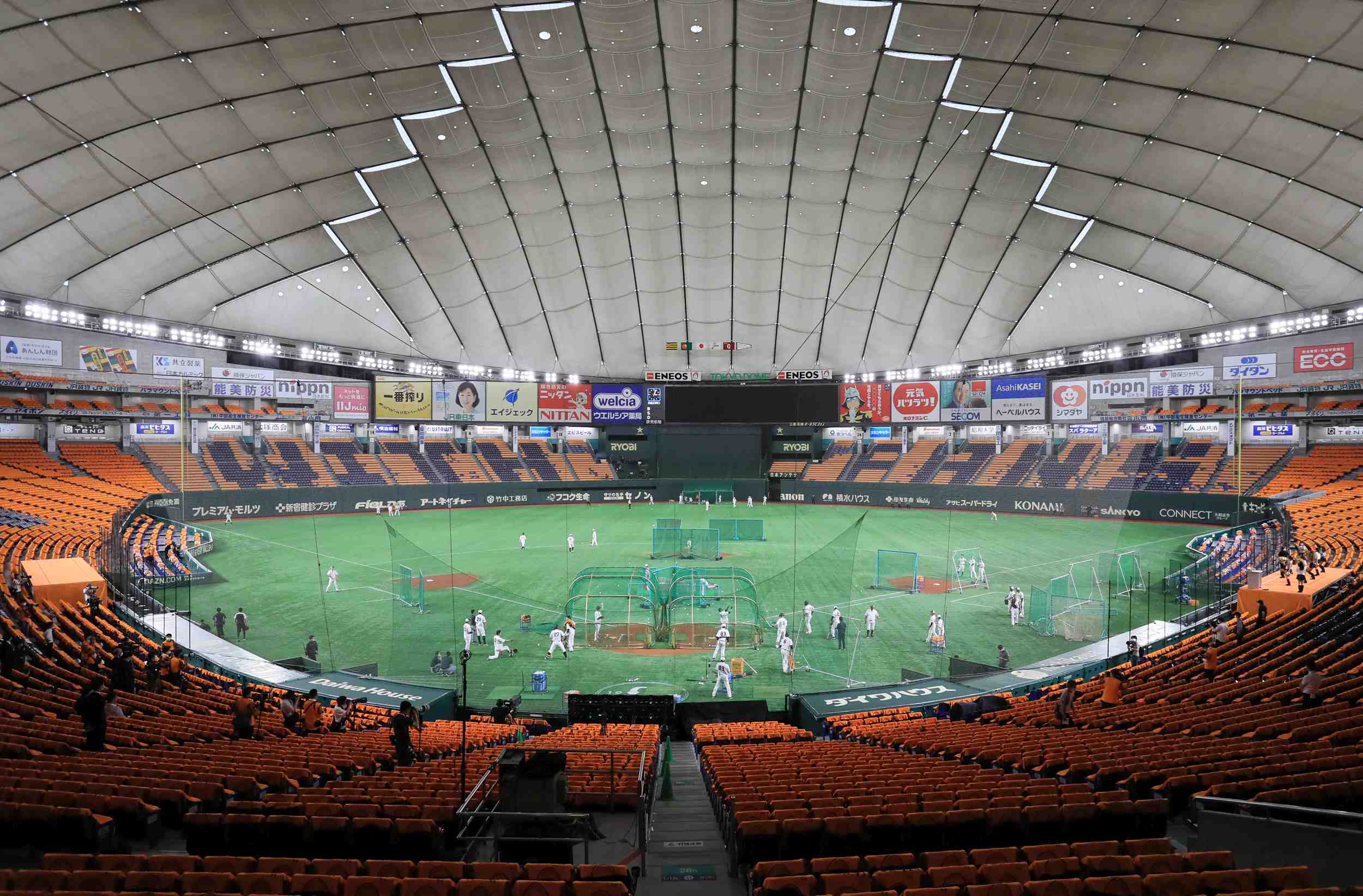 In these turbulent times, nothing seems certain.
But a sense of normalcy returned to Nippon Professional Baseball and this baseball-crazed nation on Friday, aka Opening Day.
The Yomiuri Giants, by far the most popular and successful team in league history, won all three games they played, including a 3-2, season-opening triumph over the Hanshin Tigers at Tokyo Dome without spectators.
The season was supposed to start on March 20, but was delayed for three months due to the COVID-19 pandemic. Teams are now scheduled to play 120 games instead of 143 this season.
For Yomiuri, Friday's effort produced regular-season victory No. 6,000, the most in NPB history. Giants ace Tomoyuki Sugano picked up the win, pitching seven innings of two-run ball. He allowed six hits, walked none and struck out eight. Leadoff hitter Naoki Yoshikawa clubbed a two-run home run off Suguru Iwazaki with one out in the seventh to give the Giants the lead for good.
The Tigers took a 1-0 lead in the third. The Giants tied it in the fourth. Hanshin pulled ahead 2-1 in the fifth.
After Yoshikawa's blast and Sugano's departure, Kota Nakagawa and Rubby De La Rosa each pitched a scoreless inning to secure the win. De La Rosa recorded his first save of the season.
Giants manager Tatsunori Hara spoke on the field before the season's first pitch was thrown at the Big Egg.
"I want to thank everyone involved with the team, as well as the fans," Hara said. "We promise that as professionals we will play our hardest and win fair and square."
The Giants, who completed the weekend with a 7-1 victory on Sunday, are the only NPB team without a loss after three games.
Hara summed up his team's successful day this way: "I think we got off to a great start and each and every player fulfilled their roles."
Updated Standings
In the Central League, trailing the Giants are the Hiroshima Carp and Chunichi Dragons (both with 2-1 records). The Yokohama DeNA BayStars and Tokyo Yakult Swallows are 1-2, while the Tigers are 0-3.
In the Pacific League, it's an even split, with the Tohoku Rakuten Golden Eagles, Chiba Lotte Marines and Hokkaido Nippon Ham Fighters all 2-1, followed by the Saitama Seibu Lions, the three-time defending Japan Series champion Fukuoka SoftBank Hawks and Orix Buffaloes, all of whom are 1-2.
Noteworthy
A public viewing was held at Mazda Stadium in Hiroshima on Friday so fans could watch the Carp face the BayStars in Yokohama, Kyodo News reported.
The return of baseball has brightened fans' spirits.
"I was fairly down after the season was delayed," Yokohama native Genta Kawai told Kyodo News. "I've been waiting and waiting for Opening Day."
BayStars manager Alex Ramirez was excited to get the season started on Friday.
"I'm very happy, very excited about today's game," Ramirez said, according to The Associated Press. "Just to think about all the time we had to wait and stuff like that. It's just the best feeling."
Robots helped cheer on the SoftBank vs Lotte Marines as fans had to watch on screens rather than in the stadiums
Increased Media Exposure
With Major League Baseball still without an approved schedule for this year, the global spotlight on Japan's pro baseball circuit is greater than usual. The Associated Press and Reuters, news agencies with massive followings in the English-speaking world, both wrote reports on NPB's Opening Day.
Reuters wasted no time in pointing out the Tokyo Dome lid-lifter was held behind closed doors. "Japanese baseball begins in eerie silence," was its headline.
"Inside, the shouts of coaches, usually drowned out by Japan's boisterous baseball supporters, echoed around the dome and above seats adorned with orange Giants jerseys," Reuters reported.
"Banter from the dugout could also be heard along with the occasional drone from the commentator's box.
"The crack of bat on ball is a welcome sound for fans watching on television at least..."
Weekend Highlights
In Yomiuri's aforementioned weekend finale, Dominican starter Angel Sanchez earned his first NPB victory, tossing 5 2/3 innings of four-hit, one-run ball. Giants captain Hayato Sakamoto had three hits and scored a pair of runs and Gerardo Parra went 2-for-3 with three RBIs and two runs. Kazuma Okamoto and Parra both hit two-run homers.
Okamoto, who was 3-for-4, went deep with no outs in the fourth, connecting off Onelki Garcia. Parra's blast, his second of the season, occurred with two outs in the fifth.
A day earlier, the Giants whipped the Tigers 11-1, scoring eight runs in the seventh inning.
The Fighters' Haruki Nishikawa collected his 1,000th career hit in the second inning on Saturday against the Lions. There are now 304 players in NPB history with 1,000 or more hits. On Friday, Rakuten's Daichi Suzuki became No. 303.
Among the most impressive performances of the weekend was Buffaloes hurler Yoshinobu Yamamoto's effort in a 4-0 win over the Eagles on Sunday. Yamamoto held Rakuten to three hits in eight innings, walked none and fanned 10. Orix also got a big boost from Takahiro Okada, who rapped out three hits and drove in two runs.
Also Sunday, Chiba Lotte's Seiya Inoue smacked a grand slam in the second in a 5-1 victory over the Hawks. Elsewhere, Taishi Ito pounded out three of Nippon Ham's 15 hits and produced three RBIs in a 12-2 win over Seibu at MetLife Dome. Chiba Lotte's Manabu Mima scattered seven hits and yielded one run while striking out nine over five frames as the Marines sailed past SoftBank 5-1.
Ramirez, meanwhile, guided the BayStars to their first regular-season victory of 2020 in dramatic fashion after two straight losses. Toshiro Miyazaki provided the heroics, a two-run walk-off double in the ninth to win it 2-1 at Yokohama Stadium, where different photos of fans were displayed on seats throughout the ballpark. Fans sent images to the BayStars.
Working Overtime
The Dragons and Swallows combined for 35 hits in Friday's opener, which lasted 4 hours and 48 minutes. Chunichi, which had 18 hits, scored twice in the 10th inning at Jingu Stadium, en route to a 9-7 win that finally ended at 10:52 p.m. Twelve players finished with at least two hits. It was a busy night for pitchers, with 15 moundsmen getting pressed into action.
Also Friday, the Hawks defeated the visiting Marines 2-1 at PayPay Dome. Rei Takahashi, the sixth SoftBank pitcher, worked one scoreless inning to pick up the win.
The Eagles edged the Buffaloes 2-1 in 10 innings on Saturday. This year's extra-inning games will be declared ties after 10 innings instead of after 12 innings, a measure intended to help limit the spread of the coronavirus.
A Look Ahead
On Tuesday, teams are back in action after a scheduled day off on Monday.
The Central League three-game series matchups are Giants vs. Carp, Swallows vs. Tigers and BayStars vs. Dragons.
In the Pacific League, this week marks the start of its six-game series format, a plan implemented to reduce travel this year. The pairings are Lions vs. Hawks, Marines vs. Buffaloes and Eagles vs. Fighters.
With six straight days of games against the same opponent, will PL teams gain or lose a competitive edge?
Author: Ed Odeven
Follow Ed on JAPAN Forward's [Japan Sports Notebook] here on Sundays, in [Odds and Evens] here during the week, and Twitter @itsjapanforward.