EDITORIAL | U.N. Human Rights Council's Priorities Are Hypocritical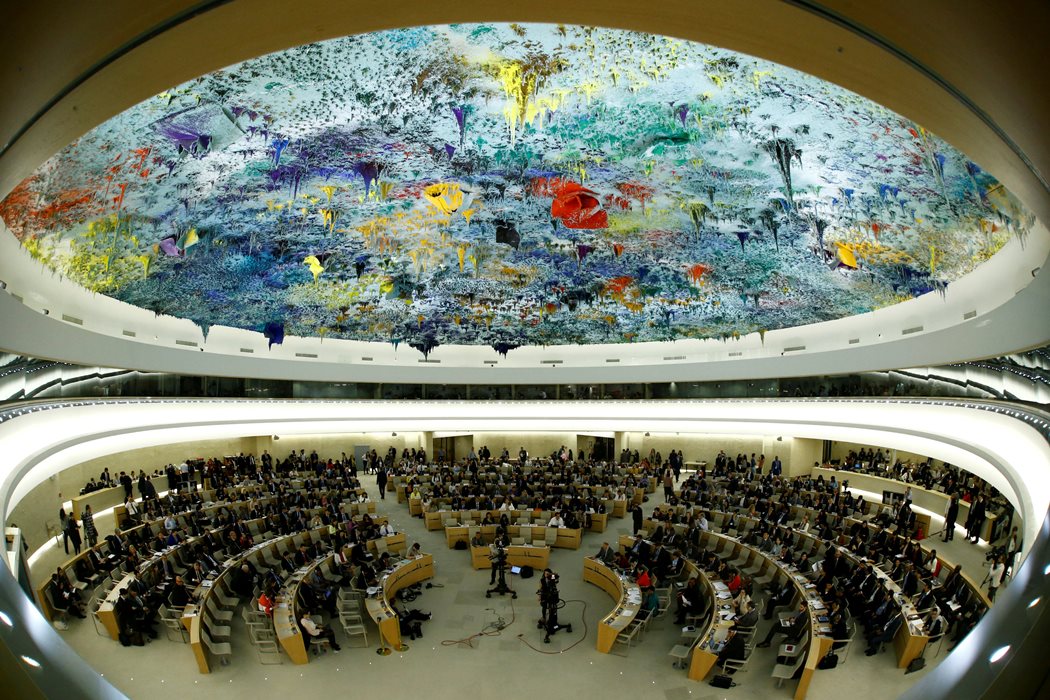 A United Nations human rights representative is questioning freedom of the press in Japan, even while the world body maintains a deafening silence on the 30th anniversary of the Tiananmen Massacre.
The Sankei Shimbun journalists are members of Japan's media, and we are in a position to state categorically that never have we felt that there is lack of freedom in reporting in Japan. We therefore feel compelled to rebut in no uncertain terms criticisms of Japanese journalism when they are off the mark.
U.N. Special Rapporteur on Freedom of Expression David Kaye is now compiling a report alleging that concerns about the independence of the media in Japan remain. He is expected to submit it at a meeting of the U.N. Human Rights Council, which convenes on June 24.
Kaye's May 2017 report on the Japanese media contained 11 recommendations, including calls for revision of the Specially Designated Secrets Act and "repeal of Article 4 of the Broadcast Act in order to strengthen media independence by removing the legal basis for government interference." In his updated report, Kaye is expected to say that nine of his recommendations have yet to be implemented.
In response, Chief Cabinet Secretary Yoshihide Suga has said, "The contents [of the report] are in many cases inaccurate and unsourced, so we cannot accept these findings."
That goes without saying. The recommendations are, of course, not legally binding, and the government has rebutted the criticisms in detail.
When Kaye visited Japan in 2016, he made several controversial statements during a press conference held at the Foreign Correspondents Club of Japan. For example, he alleged that the Japanese media is atrophying under government pressure. Kaye also said that when the Japanese journalists were promised anonymity, the would confide to him that they were indirectly pressured by politicians.
The truth is, at that time, and today as well, various newspapers are filled with criticism of the government on a daily basis, and TV commentators freely express a wide range of personal views.
But even assuming that there was pressure from the government, would that really mean that reporting would simply wilt? Are Japanese media outlets really so supine and craven?
We are certain that if they were inappropriately pressured, newspapers or broadcasters would investigate and let the public know about it in no uncertain terms. You see, it's a question of the self-respect we journalists have. We shouldn't be so badly misjudged.
U.N. special rapporteurs like Kaye are appointed by the U.N. Human Rights Council. They are supposed to be experts who carry out fact-finding investigations independent of the U.N. on specific topics.
Although their findings do not represent a U.N. consensus, they can be used in a way that suggests they are endorsed by the U.N. A good example of that is the 1996 special report from Radhika Coomaraswamy, the special rapporteur on violence against women, which baselessly contended that the "comfort women" were victims of "sexual slavery."
The Human Rights Council is an important institution for regularly monitoring human rights conditions in U.N. member nations. But unfortunately it is often arbitrarily manipulated for political purposes. That prompted the United States to withdraw from the group in 2018, scathingly labeling it as "an organization that does not deserve the name of human rights."
There is also the question of whose human rights the U.N. is concerned about. When repeatedly asked for a comment on the 30th anniversary of the Tiananmen crackdown, Stephane Dujarric, spokesman for U.N. Secretary-General Antonio Guterres, ducked the question, stating: "No, I have no particular comment on that."
When an organization dedicated to safeguarding human rights has nothing whatever to say about a human rights issue of the utmost importance, that speaks volumes about its own worth.
(Click here to read the editorial in its original Japanese.)
(Click here for more information about press freedom in Japan and the UN Special Rapporteur on Freedom of Expression.)
Author: The Sankei Shimbun