Enjoy Late Cherry Blossoms at Tokyo's Beautiful Shinjuku Gyoen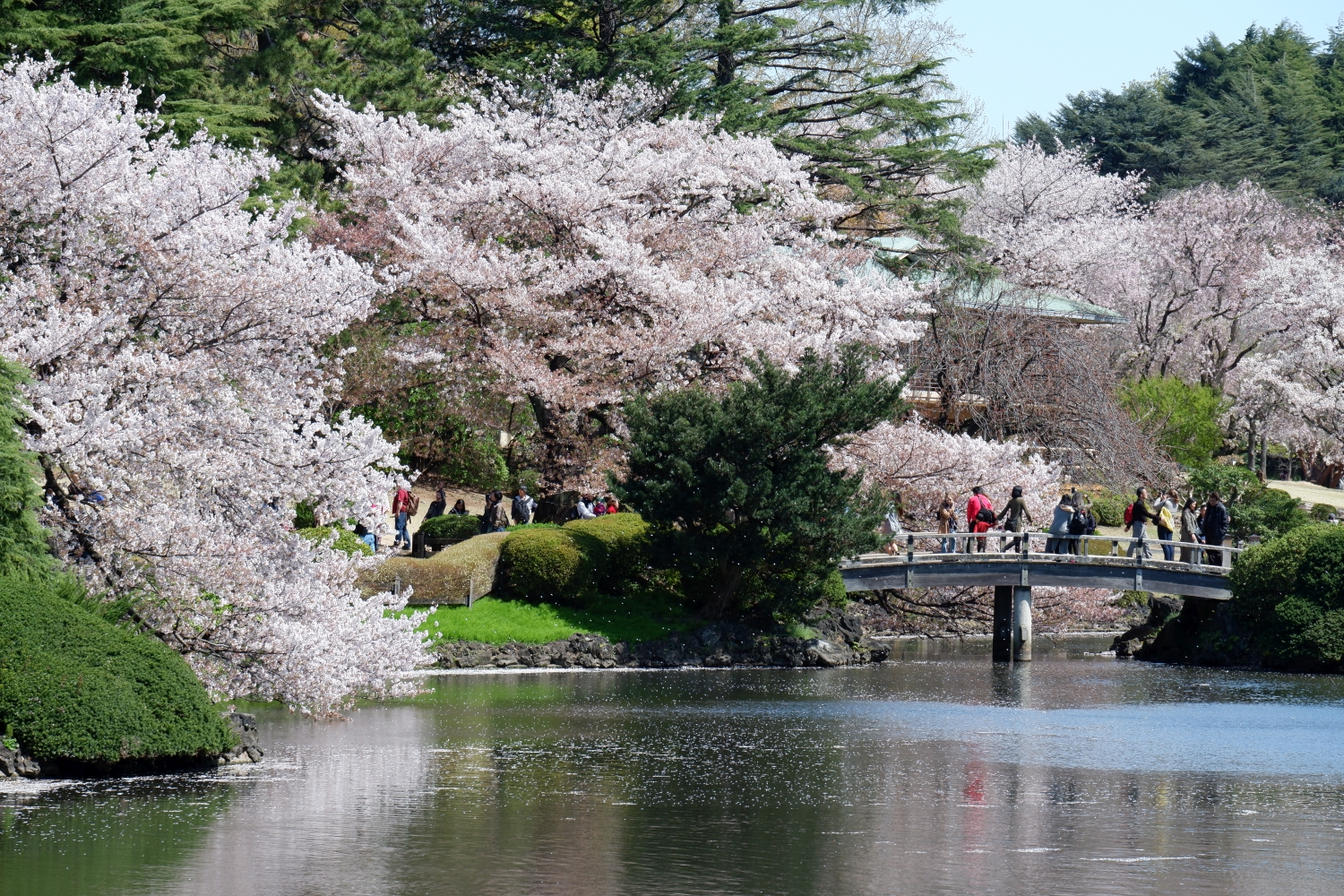 A few days ago on April 9, after the entrance ceremony at the high school my younger son is attending, I decided to take advantage of the fine weather to visit the nearby Shinjuku Gyoen and see the park for myself.
I thought the cherry blossoms would have disappeared in the wind and rain of the previous days, and that at most I would just be learning to use a recently-purchased camera that I have yet to master.
Much to my surprise and delight, a number of trees were in full blossom. And, I was told, more would blossom in the next few days.
The relatively late blooming of the cherry trees in Shinjuku Gyoen explains the scheduling of the annual Cherry Blossom Viewing Party sponsored by the Prime Minister, scheduled for April 13 this year. With dry and balmy weather predicted, those invited should be able to enjoy the full splendor of this park.
The photos here are intended to show the attractiveness of this park, even when the cherry blossoms are not at their absolute peak.
Shinjuku Gyoen had its beginning as an agricultural experiment station in 1872. It acquired its present name in 1906. The first government-sponsored blossom viewing festival was in 1917 under the same name that is used today: Sakura wo miru kai, or assembly to view cherry blossoms.
Closely associated with the Japanese Imperial Family, Shinjuku Gyoen is also the site for the Imperial Mourning Rite Taiso no rei, one of several state ceremonies carried out after the death of an emperor. Originally an imperial garden for the pleasure of the imperial family, it was first opened to the public in 1945.
The park itself is 3.5 kilometers in circumference, with a total area of 58.3 hectares (144 acres).
There are three distinct styles of Japanese gardens in the park, as well as large English- and French-style gardens. In addition, there is a large hot house that houses a wide-ranging display of tropic plants.
Admission to the park is ¥500 JPY for adults and ¥250 JPY for seniors and students with proof of status. Children under 15 are free. Hours vary depending on the season and can be checked using the official home page in English.
There are two cafes and a teahouse at the park with limited offerings and hours. The cafe Hananoki, just outside the Shinjuku Gate of the garden, features a window looking into the entry path of the nearby gate. It is popular with some older residents of the area, serving simple Japanese fare at very reasonable prices, and offering a glimpse of life in the park's neighborhood.
Inside the park visitors are welcome to bring their own picnic lunches. There are trash boxes within the park, but it is better to come prepared to take your trash with you when you leave.
Somewhat unusually for Japan, alcoholic beverages are neither sold nor permitted in the park, and photography may be restricted if the park is extremely crowded. Other restrictions and a guide to good behavior can be found on the official website.
Shinjuku Gyoen is generally wheelchair-friendly, and wheelchairs may be borrowed free of charge at the entrances. During my visit I saw a number of wheelchair users in all parts of the park.
Printed and spoken guides are available in English as well as other languages. Restaurant and shop staff appear to have enough English for order taking and giving simple directions.
There are three convenient gates — Shinjuku, Okido, and Sendagaya — which are situated such that the park is a five- to 15-minute walk from stations on the Marunouchi, Oedo, and Shinjuku subway lines as well as all JR and private lines that use Shinjuku Station or which have nearby facilities (Seibu Line). Several bus lines also stop near park entrances. A complete guide can be found here.
Once inside the park it is easy to forget that you are within what is the largest and most populous urban conurbation in the world and close to the somewhat tawdry and neon-lit portion of Shinjuku that has featured in so many foreign reports about "exotic" Japan.
I spent a very enjoyable three hours there and would describe it as a "must see" for any foreign visitor to Japan, whether or not it is the cherry blossom season.
Author: Dr. Earl H. Kinmonth