In South Korea, Anti-Japan Policing Stirs Controversy Before PM Kishida's Visit
A civil society group in South Korea wanted to welcome the Japanese prime minister to Seoul but was denied an assembly permit for their planned welcome actions.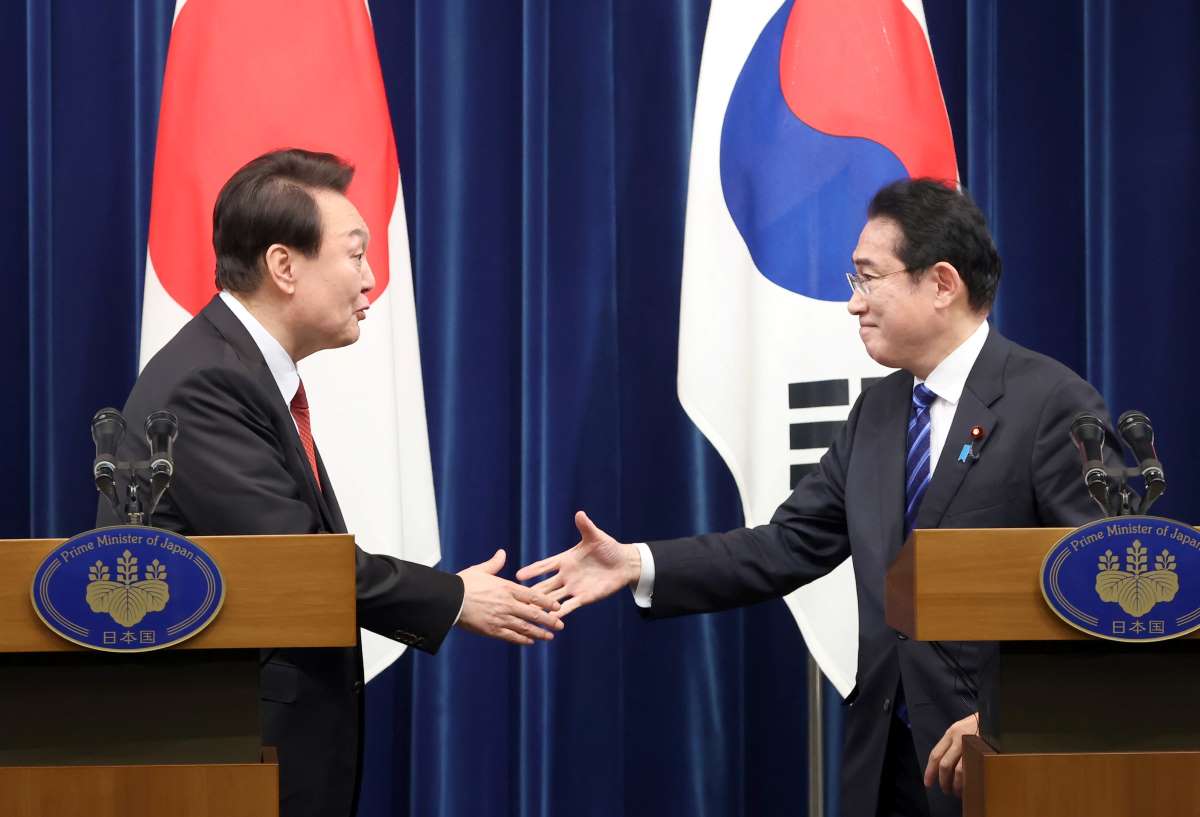 UPDATED May 7 After Prime Minister Kishida's Arrival in Seoul: Earlier this May, the Seoul Metropolitan Police announced plans to restrict an assembly welcoming Prime Minister Fumio Kishida, who is visiting South Korea on May 7. A local civic group filed an application for an assembly permit in front of the Japanese Embassy in Seoul. However, their request was denied by the police.
Kim Byungheon, director of the Korean History Textbook Research Institute, initially filed the permit request on May 5. At that time his application was rejected with vague explanations. Now, controversies mount as critics allege selective and arbitrary application of the law.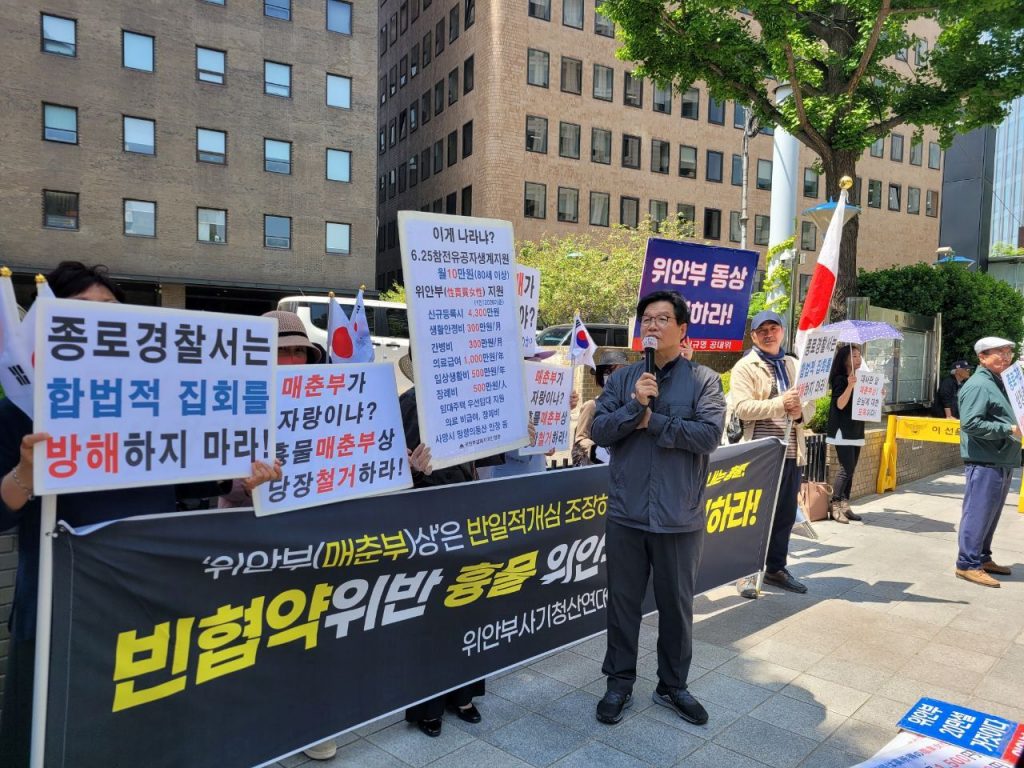 "We had hoped to welcome Mr Kishida on his official visit to South Korea. And we intended to express our strong commitment to the South Korea-Japan-United States trilateral alliance," said Kim in an interview with JAPAN Forward. "I waited 3 hours just to see my application rejected for unclear reasons," added Kim.
The police claimed that the demonstration would violate Article 11 of the Assembly and Demonstration Act. That law prohibits any outdoor rally that interferes with functions or security of diplomatic offices. Likewise, the police feared this "pro-Japan" demonstration might escalate into a large-scale protest.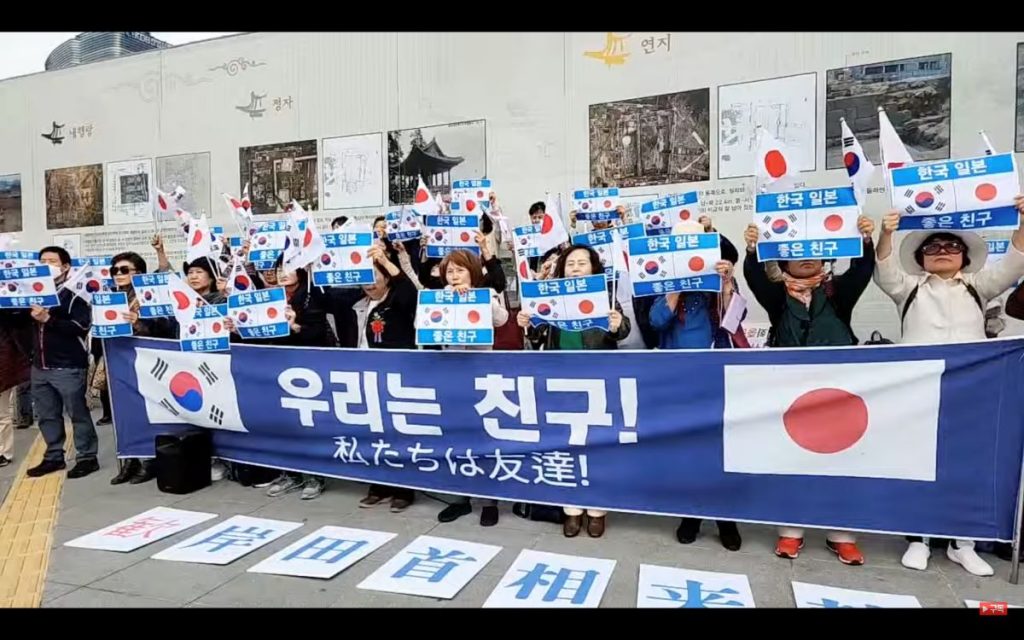 When Prime Minister Kishida Arrived
(UPDATE) Prime Minister Kishida arrived in Seoul on Sunday, May 7 for the first bilateral summit in Seoul in South Korea in more than a decade. Although prohibited from holding a gathering to welcome the visiting PM near the Japanese embassy in Seoul, Kim Byunheon and dozens of other supporters of a repaired South Korea-Japan relationship met in Gwanghwamun Square in Seoul. From the gathering that begin in the square, the rally was able to march around Seoul peacefully with signs welcoming Prime Minister Kishida and supporting improved ties between their country and Japan.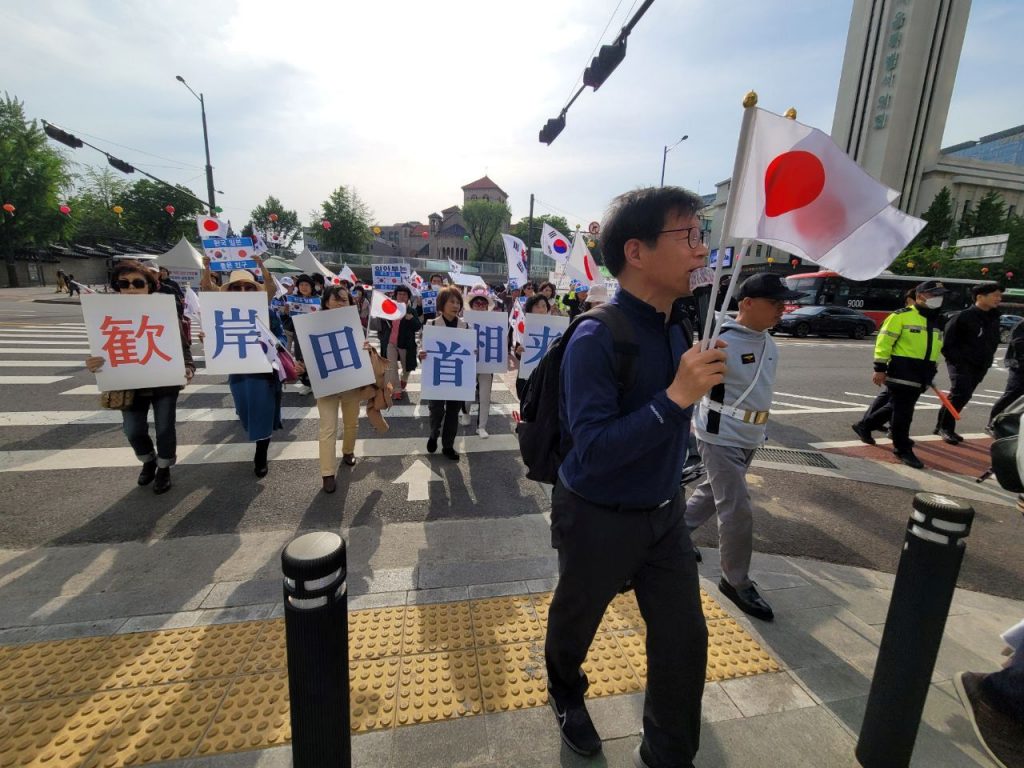 What The Law Actually Says
While the act prohibits demonstrations within a 100-meter radius of the boundary of diplomatic offices, there are several exceptions to this rule:
Where the assembly or demonstration is not directed at the diplomatic offices or residences of heads of diplomatic missions;
Where the assembly or demonstration would not escalate into a large-scale assembly or demonstration; and
Where the assembly or demonstration takes place on a holiday when diplomatic offices are off duty.
Mr Kim stated that his rally would include at most 30 participants and take place on Sunday (May 7). While it's a holiday, it is also the day of Prime Minister Kishida's visit.
He also stressed that it would be a cordial gathering to greet a foreign leader. In other words, the authority's concerns were utterly unfounded.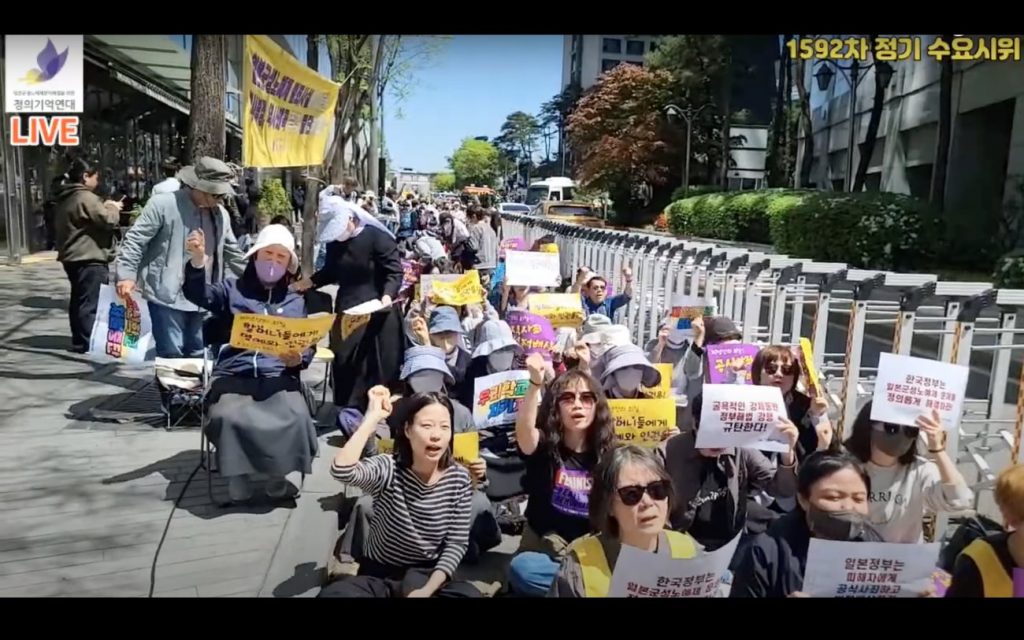 Left-wing Civic Groups Get to Protest
Earlier in February 2023, a coalition of left-wing civic groups called the Korea Japan History and Justice Peace Action rallied in front of the same Japanese Embassy. Moreover, they tore up a Rising Sun flag as a form of performance.
The protest focused on criticizing the Japanese and South Korean governments over recent diplomatic deals. However, the police granted the rally permit given its "small scale" (around 500). Also, the police found it posed a minimal risk of interrupting diplomatic functions or causing severe traffic problems.
"Arbitrary application of the demonstration law has consistently been an issue, especially when the police deems it 'pro-Japan,'" said Kim.
"Do remember the Korean Council has organized the Wednesday protest for the last few decades in violation of international and domestic law in front of the former Japanese Embassy while denouncing the Japanese government," Kim added.
In the next step, Kim expects to receive a notice from the authorities prohibiting the gathering. Kim then plans to apply to the Seoul Administrative Court for an injunction to suspend the order.
RELATED:
Author: Kenji Yoshida