[Kimono Style] Gyoda City, Where You Can Make Your Own Special Tabi Socks
Gyoda, a sleepy town in Saitama, has been making tabi socks for centuries. It now offers visitors the opportunity to learn about the craft in workshops.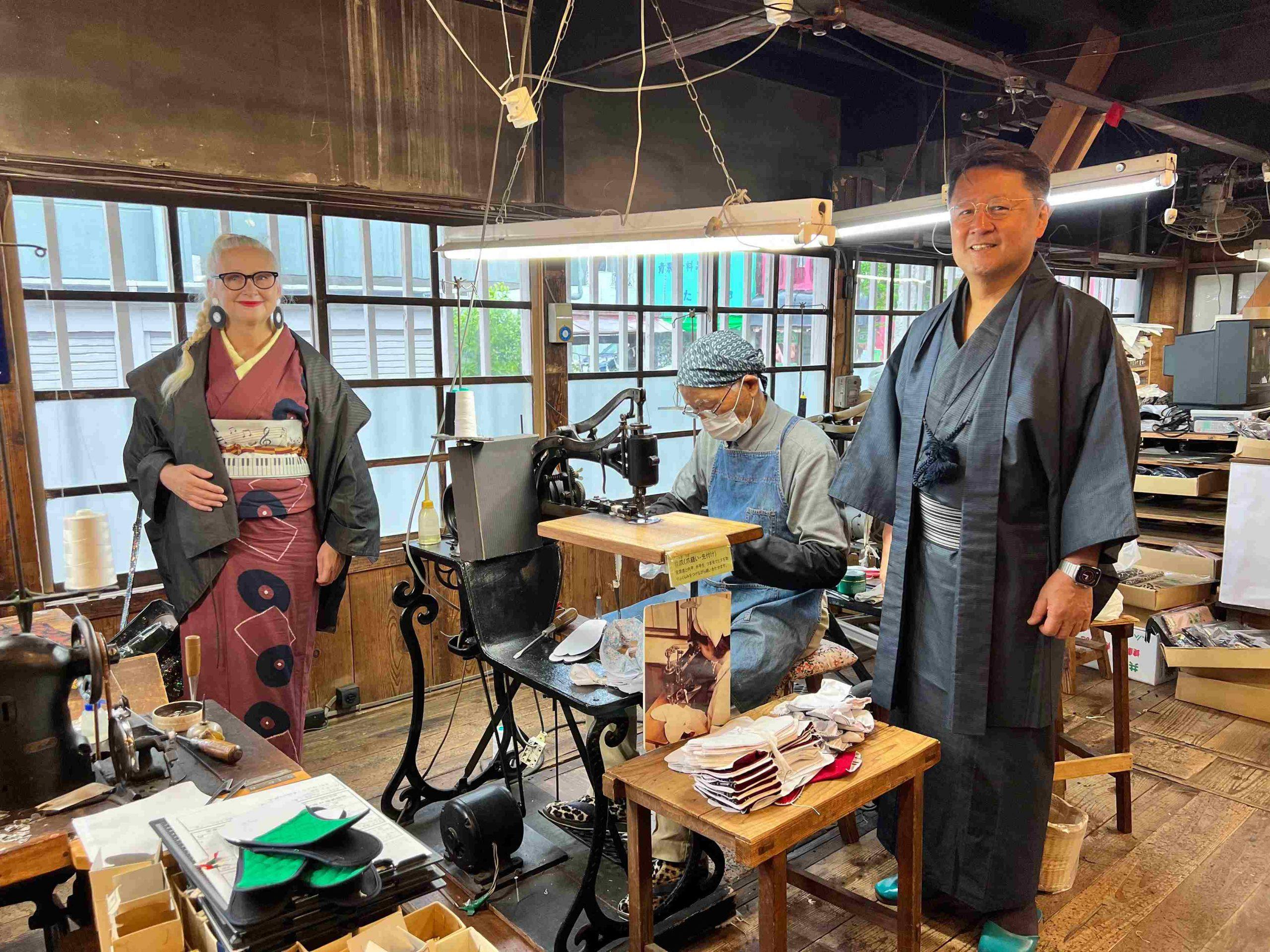 Gyoda is a town in central Saitama. The JR line is on the outskirts of the town and it is easier to access by car. It used to have a castle, but now there is only a reconstruction in a park. However, Gyoda is registered as a Japanese Heritage site.
Gyoda is well-known for two reasons. First that there is a burial mound there, indicating that it was inhabited since truly ancient times. The second reason is that it once boomed as a tabi-making town. Tabi are the traditional divided socks that are worn with kimono and other Japanese clothing.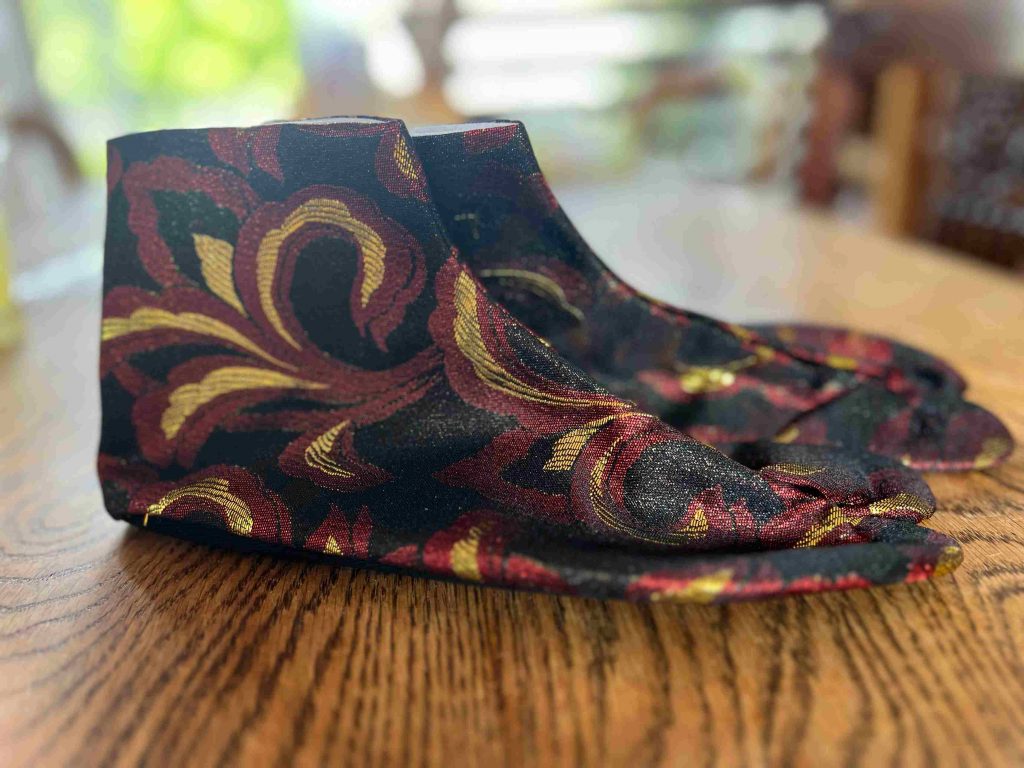 The origins of Gyoda's relationship with tabi are lost in time, but it is thought to be because there was a plentiful supply of indigo dye, and also a supply of cotton fabric from the surrounding areas to produce them.
The area was well-known in past times for producing blue-striped cotton fabric. Now Gyoda is a peaceful, sleepy town on the Kanto plain, but it still hosts several tabi makers.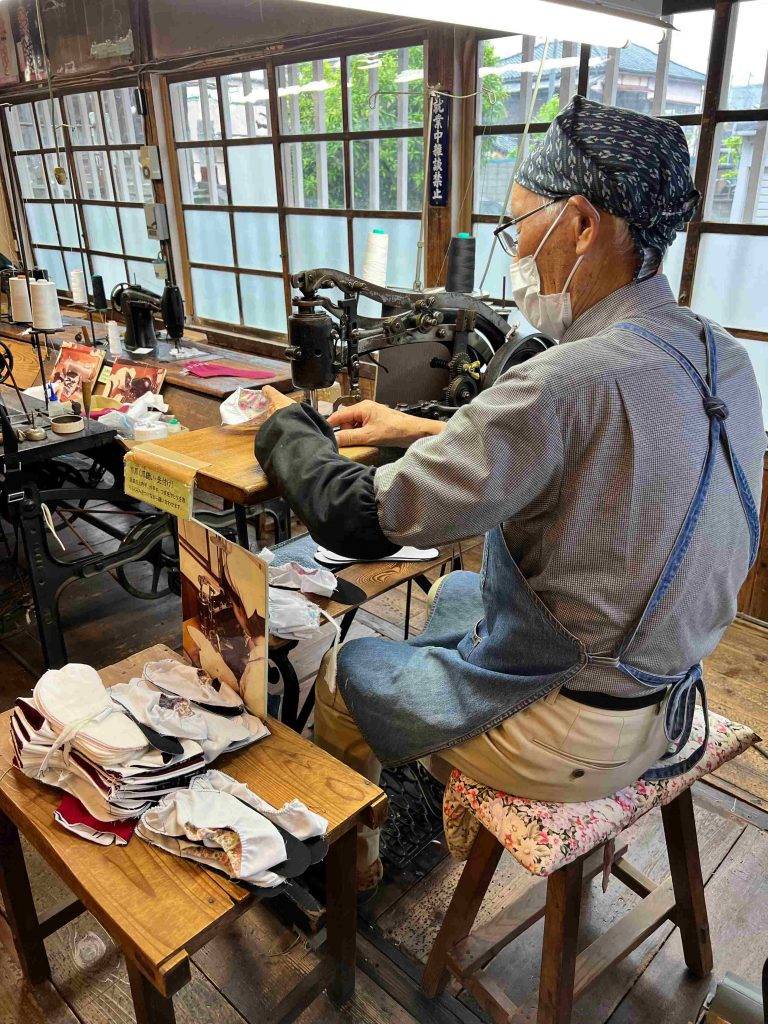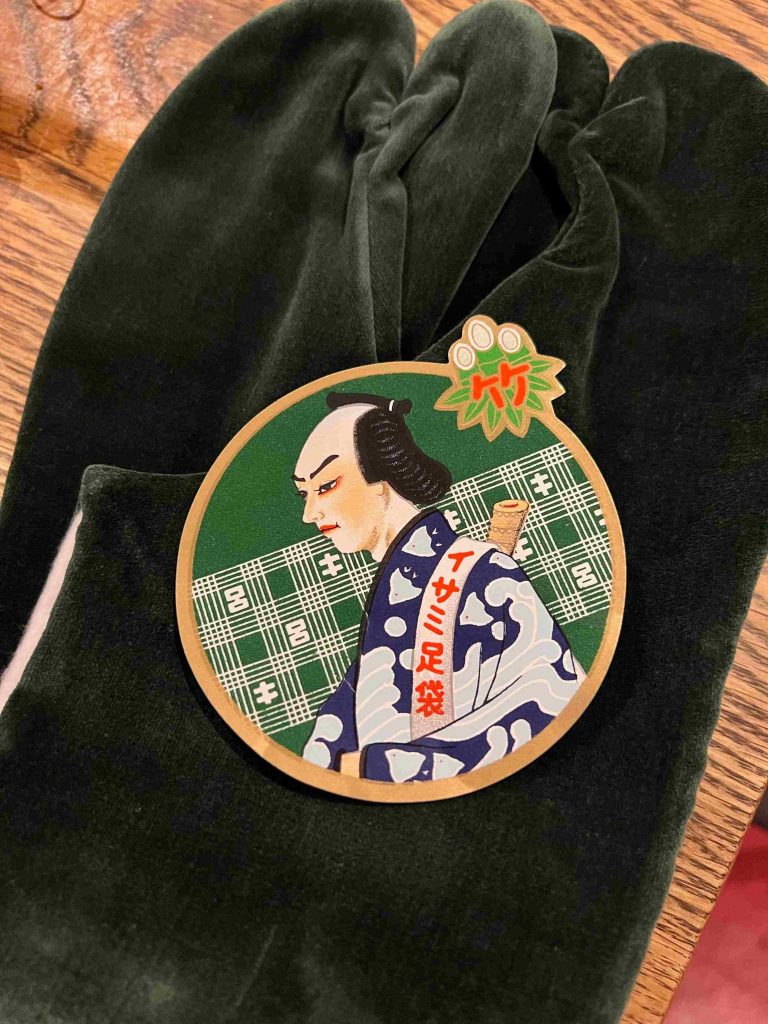 The History of Gyoda Town
The earliest reference to Gyoda tabi is 1765. It is also known that there was at least one shop there by 1804, and that Gyoda was renowned for tabi. Therefore, it is thought that the history of Gyoda and tabi is at least 300 years old. Gyoda is located not too far from Nikko and Kumagaya stations on the Nakasendo road, so there was plenty of traffic and travelers need tabi.
Tabi-making also provided work for a lot of low-ranking samurai who were out of work at the beginning of the Meiji period when social reforms took place. Once railways were in place, the tabi makers expanded their business to sell in Tohoku and even Hokkaido. From 1887 various kinds of sewing machines for tabi-making were introduced and the industry modernized, greatly increasing production.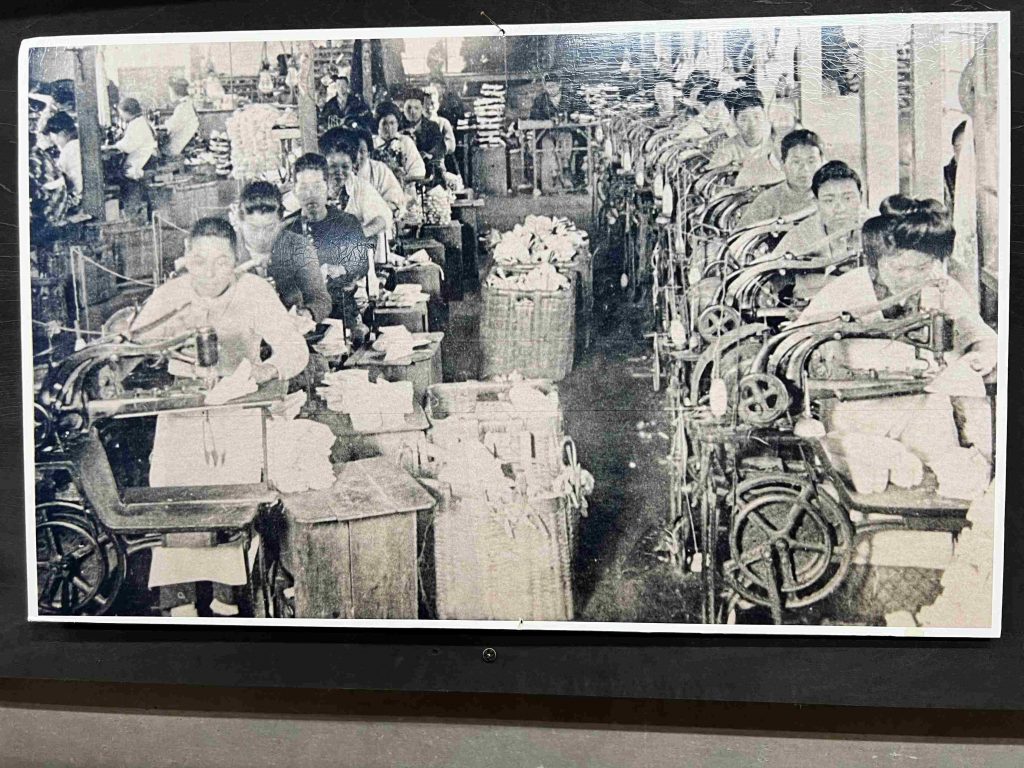 Making Uniforms
The modern machinery installed to make tabi meant that Gyoda was also the perfect place to make uniforms. When Japan was involved in wars at the end of the 19th century and the beginning of the 20th century, uniforms were made in Gyoda.
Supplying soldiers with uniforms was a huge business. This continued until World War I. Gyoda became a hub for making all kinds of uniforms including school uniforms. Since Tabi sold more in winter than in summer, from the end of the Edo period through the Meiji period, the tabi makers needed to build storehouses to keep the stock. Banks were set up to help the poor tabi makers with the cost.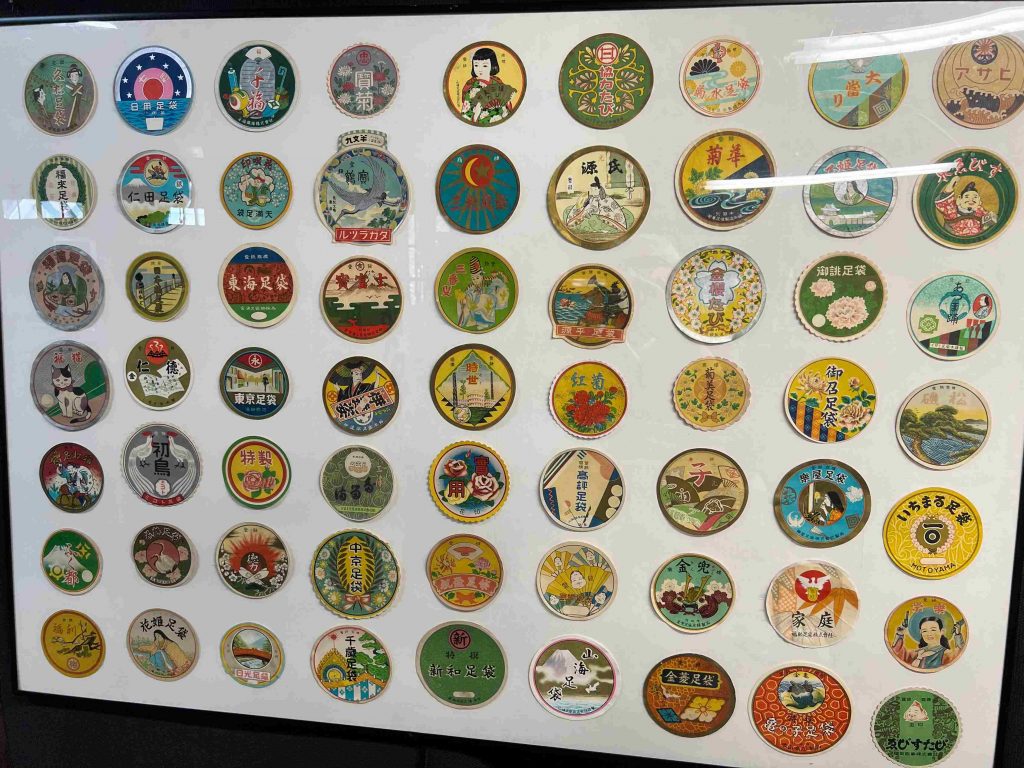 In the early 20th century sewing machines continued to be improved. Tabi-making moved from home workshops to the factory and spawned many other businesses in the town: machine making, box making, thread supplying, and cotton and velvet supplying and dyeing.
In 1923, after the Great Kanto earthquake, the industry in Tokyo was destroyed and Gyoda became the biggest producer of tabi in Japan. In 1938, Gyoda produced 85 million pairs of tabi which was an 80% share of Japan's total tabi production. From then on, with rampant westernization, the production of tabi has steadily fallen.
Tabi Workshops
A small tabi workshop near the center of Gyoda was going to be destroyed. But with the help and inspiration of local architect Kuchiki Hiroshi, the building was saved and the NPO Gyoda Tabi Kura Network was created in 2005.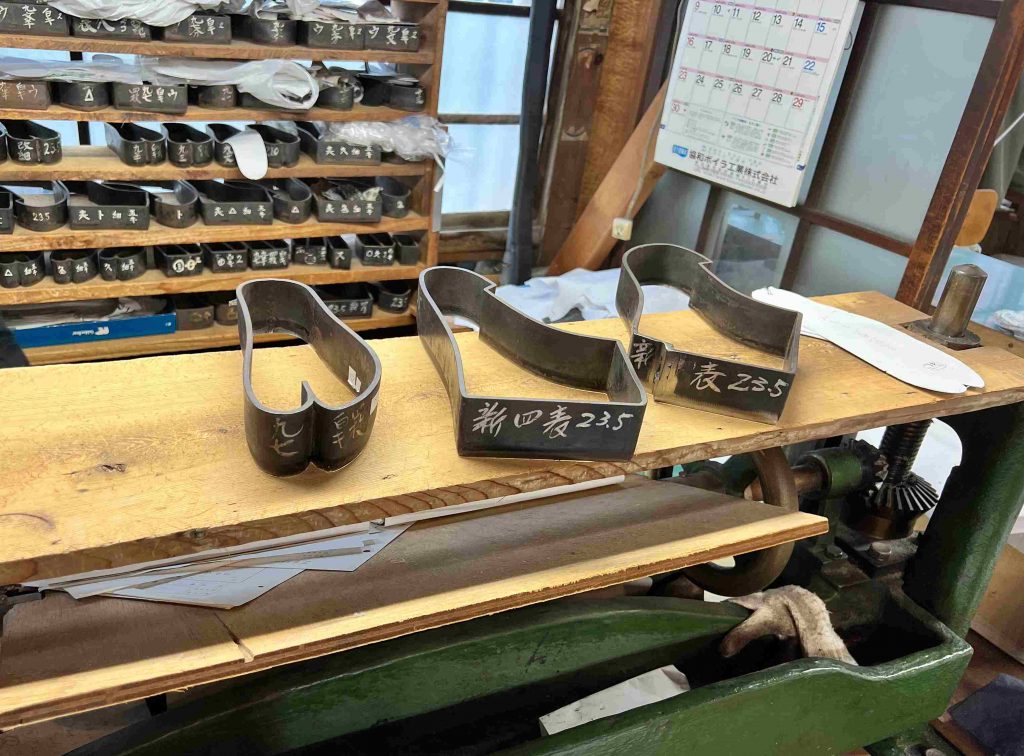 At the Tabi to Kurashi no Hakubutsukan, the Tabi and Daily Life Museum, one can learn about the story of Gyoda and tabi, buy tabi, and even order tabi from any fabric that they have available. Two elderly craftsmen are on site to make the tabi. You can watch the process and see the machines working. The museum is open on the weekends and costs ¥200 JPY (about $1.5 USD) to enter.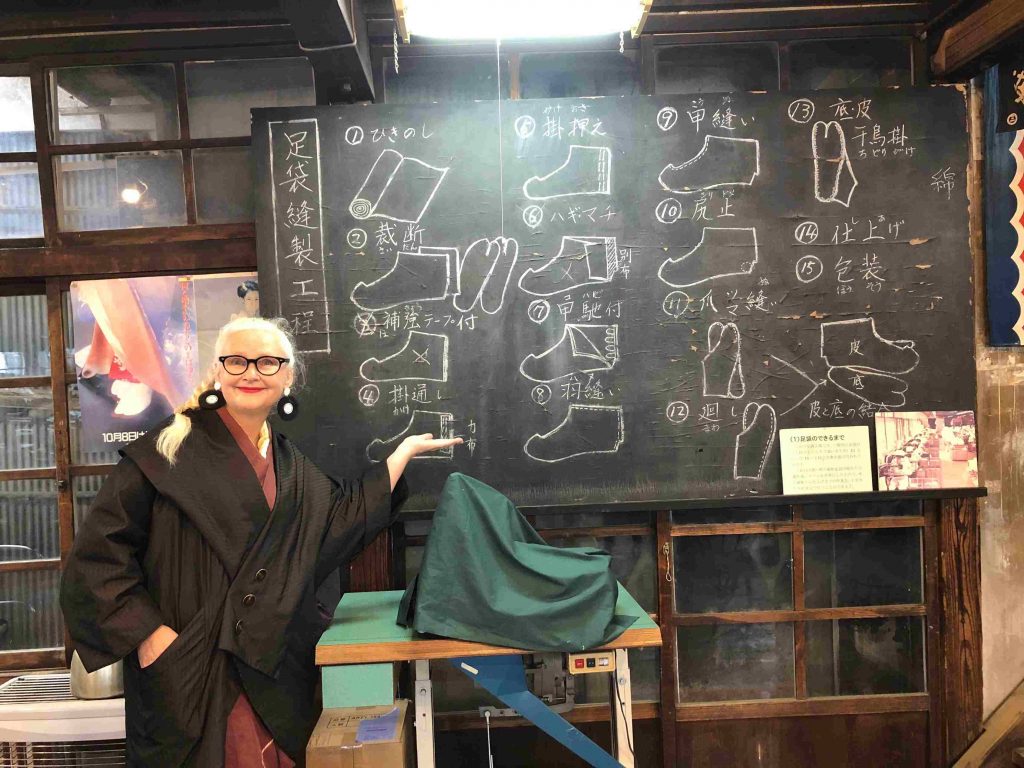 Tabi and Japanese Traditional Footwear
One of the reasons I am always happy when the warmer weather comes is that I like to wear geta or beach sandals in the summer. Japan has a humid climate and these seem more comfortable than the boots and sports shoes that I wear in winter.
After living like this for a number of years, I have noticed that my feet are actually wider than before. I now use a larger size of shoes than when I was young. Enclosing one's feet in shoes or boots makes more sense in a drier, colder climate. But the slip-on footwear that Japan has developed seems to suit the humid climate and the necessity of repeatedly removing footwear when entering buildings.
Not only houses, but expensive restaurants, inns, and holy places still require the removal of outer footwear at the entrance today. Geta and zōri, the leather version made for wearing with kimono, come in S, M, L, and LL sizes, and these are enough sizes because they have no sides or tops. They are unfitted platforms to walk on.
Japan has a different way of thinking about footwear. And if you look around you, you might be surprised by how many people are wearing tabi. I love the warm velvet ones for winter, but I took the opportunity of ordering something a bit flashy on my last visit. Why don't you visit the museum one weekend and give it a try?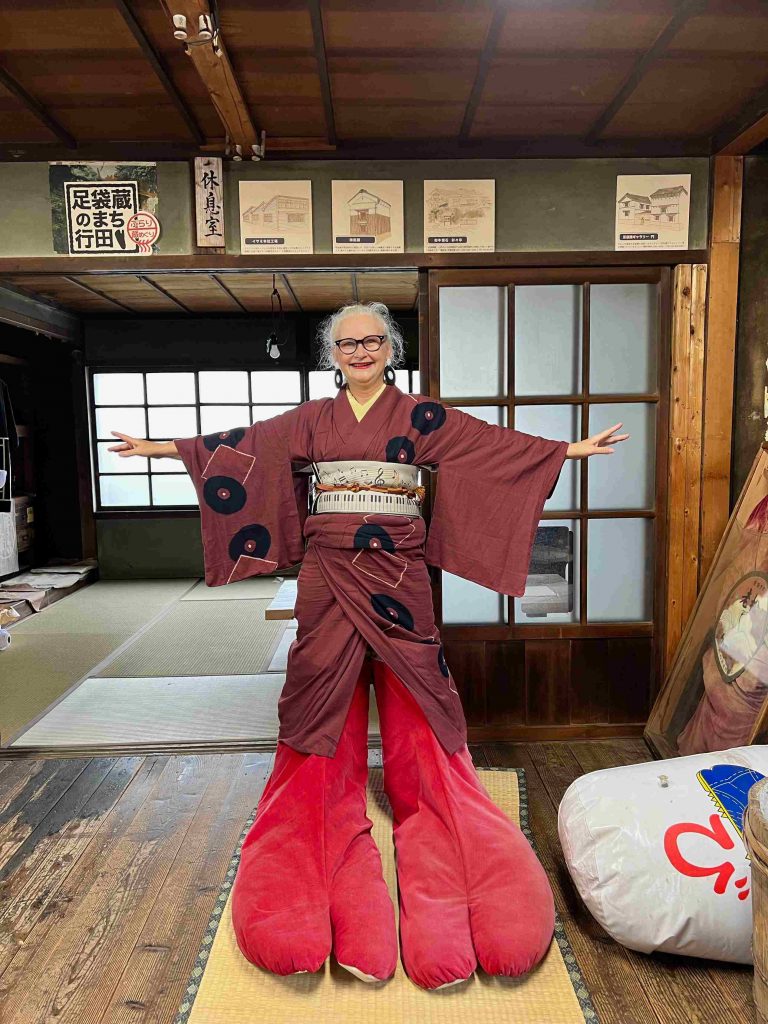 RELATED:

Author: Sheila Cliffe

Find more columns by the author on Kimono Style.