[Mythbusters] Cliché Journalism Infects Foreign Reporting on Japan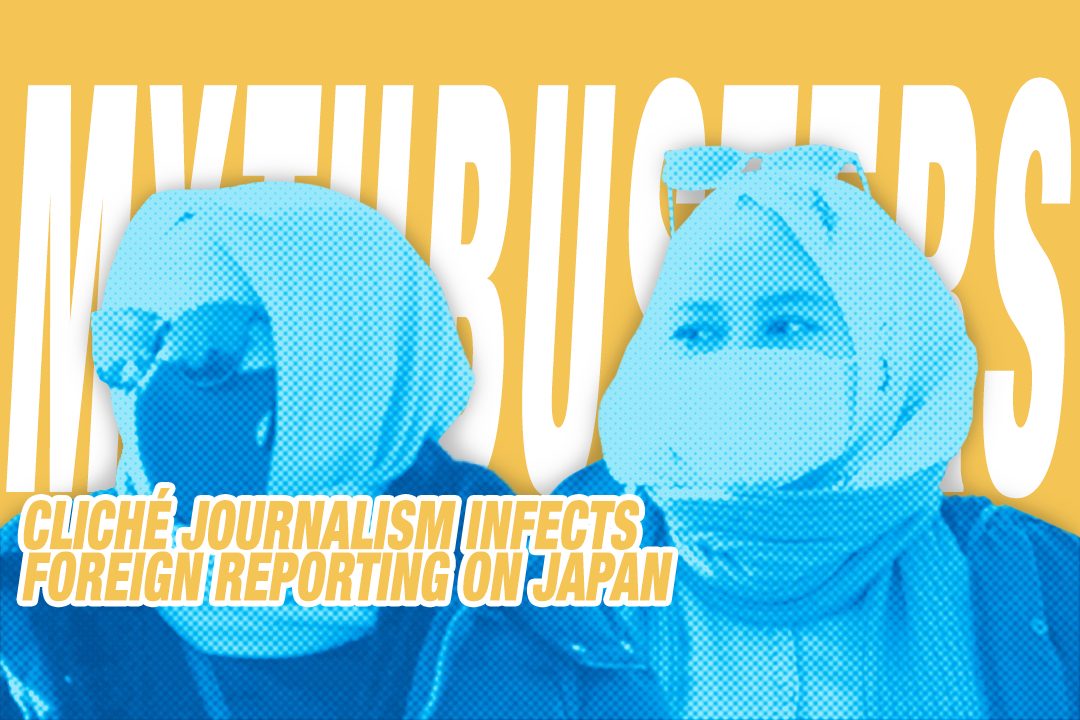 English language coverage of the coronavirus issue shows once again the poor quality of English language reporting on Japan — reporting that is biased, incompetent, or both.
Visual Clichés
It is the rare English language article on this subject that has not had a lead photograph showing one or more Japanese wearing a "surgical mask." In some cases, these photographs were taken well before the coronavirus outbreak was public knowledge.
Mask-wearing is common in Japan year-round. In a matter of weeks, it is probable that many people in Tokyo will be wearing not only masks but goggles as well. This will have nothing to do with the coronavirus outbreak. It is because of a government policy dating to the 1950s and 1960s that resulted in the mountains to the northwest of Tokyo being covered with a monoculture of cedar trees that generate an enormous volume of highly irritating pollen, triggering allergic reactions in many people, including me.
In this Tuesday, Jan. 21, 2020, photo, travelers wearing face masks walk with their luggage at Hankou Railway Station in Wuhan in southern China's Hubei province. (Chinatopix via AP)
Because of unusually warm weather, the allergy season is expected to start earlier and be even more severe than usual this year. This will provide enumerable opportunities for photographers looking to sell pictures of Japanese wearing masks to the many publications that engage in cliché journalism.
Masks also have some popularity in Japan among recognizable foreigners. For example, foreigners trying to slip past reporters after being released from the Tokyo Detention House.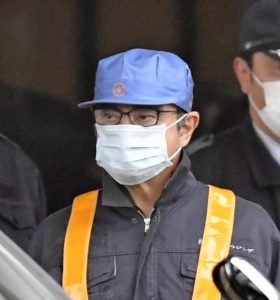 Trending on Twitter
Motoko Rich, Tokyo bureau chief for the New York Times, posted an article on her Twitter feed: "As Coronavirus Spreads, So Does Anti-Chinese Sentiment." In her posting, she presented the claim that, "In Japan, the hashtag #ChineseDon'tComeToJapan has been trending on Twitter."
This was picked up by Thisanka Siripala, a self-styled "cross platform journalist" (whatever that is) who wrote, "As the virus spreads beyond China, Japanese Twitter has also seen a rise in anti-Chinese sentiment, with a trending hashtag #ChinesedontcometoJapan. Chinese tourists are waking up to the ugly reality that they are no longer welcome abroad."
Both articles are examples of journalists using "trending on Twitter" as though this expression validated the entirety of their articles.
What does "trending on Twitter" mean? The answer from hashtags.org: "A trend on Twitter refers to a hashtag-driven topic that is immediately popular at a particular time…. Trends are determined by an algorithm that monitors hot subjects based on who you follow and where you're located." In other words, trending on Twitter is a transitory index that will vary by your location and what you look at on Twitter.
I am located in Japan. My "Trends for You" shows only Japanese language hashtags. No hashtag as asserted by Rich or Siripala has appeared, despite using Twitter to track both English and Japanese language tweets about the coronavirus.
Several people have questioned Rich about her alleged hashtag. First, because, as given, it is invalid — punctuation other than the leading octothorpe (#) is not allowed. Second, because no one could find any tweets, even when the apostrophe was removed to make a valid hashtag.
She then posted the real hashtag #中国人は日本に来るな. But searches on this as late as February 2 show a very low level of activity compared to items that appeared on my "Trends for You," such as tweets about SMAP (a Japanese boy band) and Kamen Raidaa (the hero of a pop culture story series). At one point these were generating tens of thousands of tweets, while the "don't come" hashtag was essentially invisible.
Anecdotes Do Not Prove A Pattern
Rich also broadcast a claim that, "This month, a shop owner in Hakone, a popular hot-springs resort town, posted a sign reading, 'Chinese are not allowed to enter the store.'" The sign in fact referenced Chinese tourists, not Chinese in general, and explicitly excluded Taiwan and Hong Kong Chinese.
In practice, there would be no way a shopkeeper could exclude Chinese nationals without checking their identification. Chinese are far and away the largest foreign national group in Japan, more than 800,000 people with either PRC or ROC citizenship.
I have had Chinese students in Japan who were so fluent in Japanese that I had no idea they were Chinese until they told me they were. Some submitted coursework written in better Japanese than was typical of my native-born Japanese students.
Given the mind-boggling number of small shops in Japan, the sign found by Rich is not indicative of much of anything. For comparison, Russia closed its entire 4,209-kilometer (2,615 mile) land border with China. Japan is still accepting travelers from China.
More significantly, the Chinese government has explicitly praised Japan for its policies, while condemning those of the United States.
That Rich can cite a naturalized Chinese citizen who "said he had often experienced discrimination because of his Chinese heritage" shows that Japan is a perfectly normal country by American standards. Japan too has bigots and rednecks, but at least, unlike the U.S. where Chinese have been murdered in hate crimes and police kill unarmed people on the basis of their skin color, the probability of anyone who is not a native-born Japanese experiencing violence on that basis is exceedingly low.
To her credit, Rich does note pushback by native-born Japanese against anti-Chinese sentiment, but she fails to explicitly remind her American readers of the anti-Chinese and anti-Japanese racism that has been a notable feature of American history. To its credit, the Washington Post did remind readers of the virulent anti-Chinese sentiment that has been an integral part of American history.
Compulsory Quarantine
In the U.S., evacuees were met by personnel in biohazard suits and confined to an air force base for three days. But the article quotes authorities in the U.S. as saying: "We're at pains to say it was not a quarantine" and "We are respecting the rights of them as individuals" — a distinction that I, as a native speaker of American English, regard as sophistry.
The Japanese government was not forcing medical examinations and quarantine, which attracted voluminous critical comment in Japan Today (owned by a subsidiary of the same company that owns the Sankei Shimbun).
The handling of those on the first evacuation flight, as reported by a Kyodo wire service article entitled "Japan bars entry of foreign travelers from China's Hubei Province," led to comments on the same piece denigrating Japan, such as, "Abe doesn't know what he is doing, as simple as that" as well as completely bogus claims, such as one claiming the Japanese government had "transported hundreds of people from the center of the contagion into downtown Tokyo."
Another comment to the same article claimed, "Australia was one of the first countries to pull its citizens out of Huwan [sic] at no expense to them and set up an offshore quarantine station…. Japan is doing bugger all by comparison."
When this post was made, the Australian government was still saying that evacuees would be charged $1,000 AUD. No one had actually been evacuated, and the "offshore quarantine center" was a facility that was built to hold would-be asylum seekers as part of Australia's notorious isolation policy. Japan has no such facilities because it does not isolate asylum seekers. Generally, if they behave themselves, they are released into Japanese society at large.
Subsequent comments posted on the article pointed out gross factual errors in the comments I have quoted and others of the same ilk received more down votes than up votes, demonstrating that Japan Today readers prefer fake news to facts.
That corrections were even allowed to appear is in itself unusual. More typically, Japan Today censors (euphemistically, moderates) and delete comments pointing out bogus claims about Japan as "off topic." Examples can be found on my blog.
Ultimately, the Australian prime minister announced there would be no charge for the flight. For its part, the Japanese government also decided not to charge Japanese evacuees the originally announced ¥80,000 JPY.
Should Japan Violate Rights and Laws?
Even more criticism was directed at the Japanese government for failing to force two recalcitrant passengers on the first flight to be tested for the coronavirus. Ironically, a factor in Japanese government's reluctance to force virus checks and quarantine may be foreign (and domestic) criticism of past abuses, such as in the case of leprosy patients.
Nonetheless, many comments in Japan Today called upon the Japanese government and Shinzo Abe to force testing and quarantine. This line has also been taken by some Japanese on social media and in at least one Japan Times opinion piece.
It would be one thing for foreign commentators to argue that Japan should have legal provision for forcing quarantine and health checks. But it is quite another for them to say the government should do this in the absence of enabling legislation and legal safeguards.
By allowing such comments, Japan Today is in effect allowing foreign nationals to advocate law-breaking in Japan, a highly questionable policy even with disclaimers that the comments are not necessarily the opinions of this self-styled newspaper.
The Japan Today articles that bring forth such comments are wire service items that have appeared elsewhere without comments. The "added value" (if that is the proper term) that Japan Today provides is a venue for comments. As such, it should be held accountable for the accuracy and legality of those comments.
That comparably stupid and questionable comments can be found in Japanese does not excuse the Japan Today moderation policy.
Conclusion
There are other examples of questionable and false claims that I could take up. I have limited myself to those I consider most important, and those which appear to have reached the largest audience.
What these show is that foreign media — and, in the case of Japan Today, Japanese-owned but foreign-staffed media — do a poor job of dealing even with relatively straightforward issues. The poor-quality reporting is not limited to websites that are nothing more than content aggregators; it can be found even in prestige American newspapers.
It is more than a little ironic that as this article was being written, reports started to appear saying that the Chinese government itself and Chinese internet users were praising Japan for its restraint with respect to travel bans and quarantine, and thanking Japanese for sending relief items to China. Japan Today has not, as of this writing, picked up on this story nor has the Washington Post or The New York Times.
Author: Earl H. Kinmonth