A Guide to Gluten-Free Restaurants in Tokyo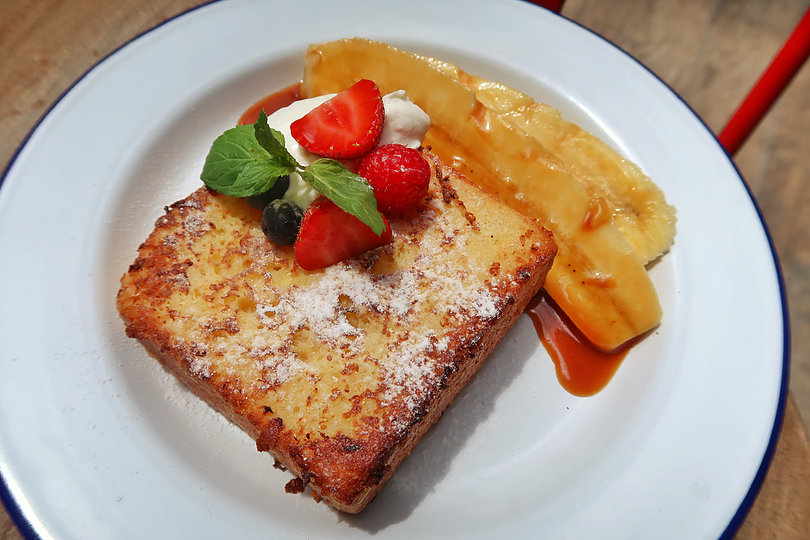 Gluten—such a silly word, isn't it? Phonetically it is just about as annoying as it is for my culinary experience. For those of you who can commiserate, you know that the less we must think about it, the better. However, this is far from a luxury afforded to myself and my grain-averse friends.
Not to linger on my pity party, but, holy wow, EVERYTHING has gluten. Everything. You have no idea. Let me give you a hint: soy sauce has wheat in it. It's in everything, I swear. Even most traditional desserts have a touch of it. Then there's anything that has a sauce, salad dressings, and those pesky rice crackers. Not to mention the naturally wheat-based dishes of ramen, gyoza, udon, and tempura, which are staples of the Japanese diet. Then there is something about Tokyo where many young people obsess about pancakes, waffles, and cakes. In a world of language barriers and cultural unfamiliarity, it is easy to begin to feel as if we are limited to soy sauce-less sushi—not only eel, but any of the fish eggs or crabsticks as well.
This is where I come in. Take it from a girl who spent a good, solid three months checking out her options, and I did find a few. These are my personal recommendations and safe havens for living gluten-free in Tokyo.
Buri
It is not specifically gluten-free, but any yakitori spot has a plethora of edible bits for gluten-free folk, and this one happens to be my favorite. It sits but a four-minute walk from Ebisu station, one of my favorite neighborhoods in the city. It is a cozy, standing-only sake bar with a long list of yakitori and other small bites.
Don't let the standing part fool you, this place is very comfortable. They also have an extensive collection of sake, personally sized and stored at freezing temperatures for freshness. Just order all your yaki goodies as shio, or salted, instead of tare, which is Japanese for the traditional soy-based sauce.
Address: 1-14-1 Ebisunishi, Shibuya, Tokyo.
Gluten Free Café Little Bird
A staple for gluten-free living, it even has it in the name. Here EVERYTHING is gluten-free, and it has the things it would be difficult to find without gluten elsewhere: burgers, pizza, ramen, crepes, karage, tempura, so on.
It is also one of the safest places for the celiac to eat in Tokyo with no risk of cross contamination. I had the tonkatsu since fried things have been completely unavailable to me since I left the states; the breading was great. I also had a waffle with mango and ice cream for dessert because, why not? Overall, great food and safe for the very allergic, 10/10 recommend.
Address: 1-1-20 Uehara, Shibuya, Tokyo.
Blu Jam Café
So good! A West Coast-style brunch spot, it brings both southwest flavor and the American concept of "brunch" to Tokyo. In addition to serving breakfast and brunch food for which I was becoming unequivocally homesick, it is extremely accommodating on the allergy front, not to mention the vegan and vegetarian-minded.
I had an almond milk hot chocolate with ginger, as well as the fish tacos which were very lightly breaded and pan fried with cabbage slaw and a chipotle aioli—a true West Coast-style taco, of which I can hardly find a gluten-free variant in the states. My co-brunchers got the salmon eggs benedict and vanilla French toast for those without dietary restrictions, all oishi. Atmosphere was cute and service cheerful, our server even spoke great English, if that is helpful to you.
Address: 20-20 Daikanyamacho, Shibuya, Tokyo.
Pizzakaya
THE ONLY GLUTEN FREE PIZZA PLACE IN TOKYO. I REPEAT. It's actually good, too, go figure. It's a rare site to get decent pizza in Japan regardless. I got the gourmet combo pizza with the gluten-free crust (available in medium size only). A great stop when you are feeling pizza-homesick, and the atmosphere is cozy as well. The décor was bright and inviting with a Japanese twist.
Address: 3-1-19 Nishiazabu, Minato, Tokyo.
Gluten Free 61 Café
Right across the street from Roppongi Grand Tower, this place is so quaint and the owner almost always present, cooking behind the bar in the open kitchen-style restaurant. They have organic wines, great lunch specials, including ramen, and healthy and delicious dinner options. They also serve dumplings, pancakes, and eggrolls completely gluten-free, all fresh and delicious.
Address: 3-4-6 Roppongi, Minato, Tokyo.
Afuri
Ramen in Ebisu, also a vegan option, can you believe it? This broth is amazing—so light and citrusy compared to the ramen served in other joints. It is a very no-fuss, traditional bar-style ramen joint, where you order from a machine as you walk in the door.
Make sure you order your bowl with the shirataki noodles for gluten-free, andm if you like, you can combine it with the vegan option for a vegetarian broth and seasonal vegetables. I went veg the last time I stopped there and the vegetable selection is aesthetic and satisfying. I recommend both. Just make sure your broth doesn't have a soy base to it.
Address: 1-1-7 Ebisu, Shibuya-ku, Tokyo. Although, other locations do exist in Tokyo as well.
Gluten Free Ramen
Literally the restaurant's name, this honorable mention on the ramen front can be found in Chiyoda and Sora no Ira, also in Chiyoda.
I haven't been to these personally, but have heard good things, and I figure it must be worth mentioning if it has gluten-free in the name.
Address: 1-3-10 Hirakawacho, Chiyoda, Tokyo.
Revive
Ugh, my heart. I love this place so much. Everything in this little eatery in gluten-free, with extensive vegetarian and vegan options. An extension of the beauty store Three Aoyama, they boast of vegan desserts, gluten-free breakfast items, such as pancakes and French toast, delicious savory options, and fresh pressed juices. They even sell their own cleanse. I can just feel my alkalinity soar simply walking in the door.
Address: 3-12-13 Kitaaoyama, Minato, Tokyo.
Dominique Ansel Bakery
You will not find a bakery in Tokyo that so fully understands the concept of gluten-free outside of this bakery. Yes, I've checked. All of the gluten-free items are clearly marked—a flourless cookie, chocolate cake, and macarons—and they have coffee drinks and an adorable atmosphere.
Located in Omotesando, I suggest taking a walk around after, as this area rivals Ebisu for one of my favorite spots. They also have a location in Ginza.
Address: 5-7-14 Jingumae, Shibuya, Tokyo / 4−6−16 Ginza, Chuo, Tokyo.
Captain Cook
WOAH, the brunch. I can't say that I've ever had gluten-free eggs benedict, even in the states, and they make their GF bread in-house. They also boast a gluten-free French toast that is wow sooo gooood. On top of all of that, they have multiple naturally gluten-free items that are just as creative and tasty—bacon wrapped avocado with a poached egg inside, wth?
I was enthralled with this place, a British-style restaurant with cozy décor and attentive service. I hear that dinner is great, too. Make sure to hit this place, located not far from Hiro-o station in Roppongi.
Address: 5-2-37 Minamiazabu, Tokyo.
Cosme Kitchen Adaptation and Juicery
Part of the Ebisu Atre, and also an extension of a cosmetics store, they are home to a great afternoon tea, which totally sets them apart. Their menu is clearly marked with goodies you couldn't get anywhere else, also with attention to organic ingredients and vegan/vegetarian options. I was especially intrigued by their vegan ice cream parfaits and multiple gluten-free desserts, cookies, and cakes.
Address: 1-5-5 Ebisu-Minami / 2F Atre Ebisu, Shibuya, Tokyo.
Falafel Brothers
This place is a three-in-one score. Their falafel is gluten-free, it is obviously vegetarian/vegan-friendly, and you get to indulge in the rarity of Mediterranean food, which has not quite made its way to the city yet. I had a falafel salad and was not disappointed. It is a tiny little place, with about four seats, but in all honesty, aren't the best places so?
Address: 5-1-10 Roppongi / 1F Kadokan Bldg., Minato, Tokyo.
Another tip: galettes. These are a kind of crepe, traditional French-style pancake, made entirely of buckwheat flour. They are served savory or sweet and are available in multiple shops around Tokyo. My favorite being...
Breizh Café
I frequent their branch in Ebisu, but they are also in Ginza, Shinjuku, Shibuya, and so on. They have an extensive list of calettes; I got one with brie, apricot jam, and prosciutto that I am still drooling over, and all completely gluten-free. I also had a tiny dessert version with honey, ice cream, and cinnamon, tres bien.
Address: 6-3-5 Ginza / Koike Bldg. 1F, Chuo 104-0061, Tokyo.
My final recommendation: soba made from 100% buckwheat flour.
There are two notable restaurants in the city that serve it: Narutomi (8-18-6 Ginza) in Chuo ward and Namiki Yabusoba (2-11-9 Kaminarimon) in Taito ward. Both make their soba by hand, in-house, and are well-loved by locals. It's a great place to try if you start to feel that you are missing out on local and traditional Japanese fare.
I tried Narutomi, and if Namiki Yabusoba is even remotely similar, both will be delicious. Just make sure you communicate with your server and choose a dish that doesn't have soy sauce in the broth and you will be golden.
There we have it. Enough for you? Food can be so tied to comfort. I know living in a new country can be a little discouraging and put a cramp in the ability to feel acclimated.
Hopefully I have provided the gluten sensitive among you with a few small comforts, and, for those without dietary restrictions, a few new killer places to try.
Chelsea Jeter is an American blogger with a background in health and personal development. She is from Austin, TX.