A Look Into John Bolton's 520 Days in the Wrong Room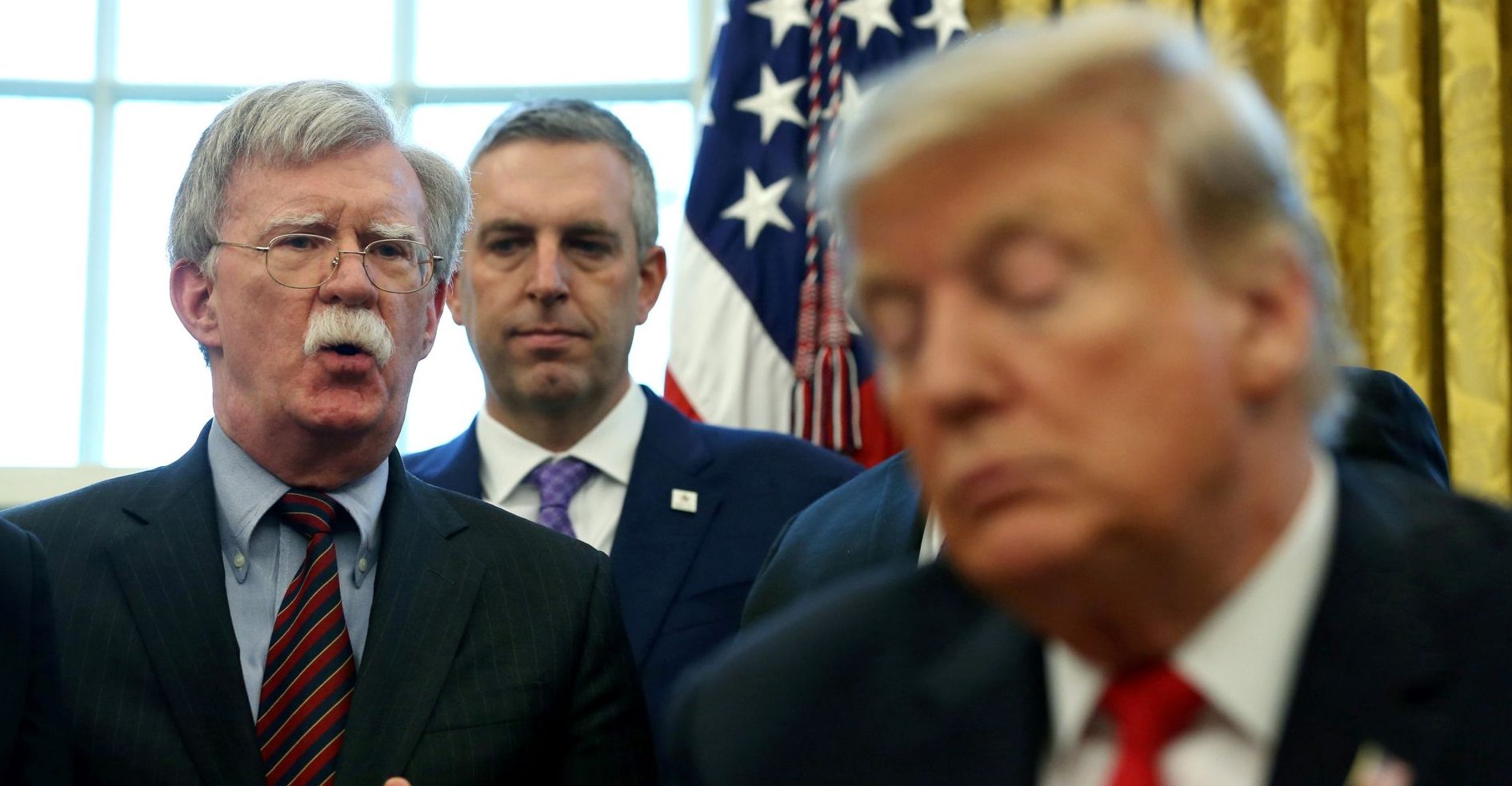 The recently-released memoirs of United States President Donald J. Trump's former National Security Advisor John Bolton is causing a major storm, like other tell-all accounts that have come out during this administration with its high turnover rate.
However, unlike previous books, which tended to do temporary, minor political damage, The Room Where It Happened promises to have a long-term, negative effect on America's diplomatic and national security posture.
As a political and diplomatic historian, I am happy to have a contemporary account (spanning 592 pages) of events that have been in the news, but as someone formerly involved in policy matters, I am aghast that one of the (until recently) most senior officials in the government would publish his account now, during the current administration and so close to a presidential election.
I am bothered by this not only because it is clearly an attempt to undermine the elected president during these unsettling times, but also because many of the issues and related negotiations are still ongoing and it will affect the ability of the President and his administration, including Bolton's successor, to conduct talks with foreign counterparts. To borrow a phrase from his book, it is "transparently self-serving."
National Interest in the Balance
Bolton is someone who was universally disliked (except by President Trump and a few others around him) in Washington, D.C., and around much of the world. While Trump-thumpers will (literally) use him and his book to disparage the President now that he is a Trump-jumper, it does not mean that Bolton, known for his excessively hawkish views, is truly redeemable in their eyes.
Bolton's deliberate attempt to undermine the administration he actively positioned himself to work for, and to bring publicity onto himself, comes at the expense of the national interest. Of course, one can debate what the "national interest" may be, but one cannot argue that the book's publication is not damaging to the President. After all, that was its main purpose ― the other being a way to publicly explain his reason for resigning, as Trump apparently beat him to Twitter the morning of September 10, 2019.
The book, as readers know, was originally meant to come out in 2019. But White House lawyers tried to prevent its publication, inadvertently raising attention to the book. Although I am a strong believer in freedom of information, the right to know, transparency, and accountability, I do not disagree with the lawyers' attempt at having tried to stop publication.
It remains to be seen if Bolton has broken any laws — a judge has alluded to "civil and [potentially criminal] liability" — but he has certainly broken the spirit of confidentiality and other understandings that government officials work under.
Bolton argues, deceptively, in the Epilogue that there is "no legitimately classifiable material," but simply writing that does not make it so. Indeed, a better title for the book would be "The Secret Files of a Former National Security Advisor," in part because many of the quotes he attributes to individuals in the administration (which he noted are often paraphrased to the best of his memory) actually provide information on the President's thinking on ongoing issues that really only help U.S. counterparts — friends and enemies alike.
A Different View of His Role
Bolton has argued in interviews that he wrote the book so that U.S. voters would know what they were "getting into in November" when Trump is expected to run for re-election. If he is on a mission to stop Trump (he has stated in interviews he will write in a different candidate's name), he should have found a different way to do so at this particular juncture.
Bolton was the 27th National Security Advisor, and the 19th longest serving one at 520 days. This makes him the longest-serving NSA — of which there have been four — in the Trump administration to date. Only a handful of these men (and two women) have published memoirs in the postwar period, and only Bolton has done so while his former boss still sat in the Oval Office.
In contrast, twice-former National Security Advisor Dr. Brent Scowcroft co-authored his memoirs, A World Transformed (Knopf, 1998), with former President George H. W. Bush, and did this some five years after Bush stepped down.
The Interventionist Comes Out
The book is as much about Bolton as it is about Trump. Bolton good, Trump bad. Most others in the administration, bad. Bolton good. Curiously, it is also as much about politics as it is about national security. The two cannot be easily separated, but he spends as much time in the former area as he does the latter.
It is also odd in that Bolton, who likes to talk about political philosophy in his interviews, asserts he is a "conservative Republican." Really, he is an "interventionist." I specifically use this phrase because he discusses an opponent, Rand Paul, as someone with "isolationist views" (p. 10).
If this is true, in retrospect, he had no chance with Trump, even if the latter said he liked him and watched him regularly on Fox News. Trump makes fiery remarks but has not shown himself to be an interventionist.
Bolton should have known this. He introduces in the book on a couple of occasions the success of the Acheson-Truman relationship — that Acheson always knew who was boss. It does not seem Bolton in the end took this lesson to heart. He writes:
Because America faced a very dangerous international environment, and I thought I knew what needed to be done. I had strong views on a wide range of issues, developed during prior government service and private-sector study. And Trump? No one could claim by this point not to know the risks in store, up close, but I also believed I could handle it. Others may have failed for one reason or another, but I thought I could succeed. Was I right? Read on. (p. 35).
Potomac Fever
Known as abrasive and a hardliner, Bolton served in four Republican administrations in State, Justice, U.S. Agency for International Development, and recently in the White House. He even interned in the Nixon White House, which makes five times in government.
According to Bolton, since before the election, the Trump campaign had been seeking him out. He wanted to be Secretary of State, but was not officially offered it. He turned down other offers that were floated by him, including one part-time assignment, noting "halfway houses [in government] wouldn't work" (p. 22).
But that is exactly what he was doing by constantly visiting Trump Tower and the White House and regularly conferring with Trump and others close to him, and then appearing on different media outlets. He seems to have been in part responsible for the confusion that affected policymaking in Trump-world that he had been criticizing.
It was a year and a half after the fall 2016 election, in a March 2018 meeting at the White House, that he mentioned his interest in the NSA position, filled by the universally respected (except it seems by some in the White House) Lt. Gen H. R. McMaster. Upon being named, Bolton consulted with as many of his predecessors and others as he could, including Scowcroft, who said, "The world is a mess, and we're the only ones who can straighten it out" (p. 35).
Potomac fever had long gotten to Bolton, so he seemed not to have challenged this self-important assessment or the reasons behind all the problems created or facilitated in our policies by former administrations.
Interesting Reading
With this said, the book does make for some interesting reading, although many sections lack context. This is good, however, as it guarantees employment for journalists and future historians in the search to fill in the blanks, especially when declassified documents become available and we can check the veracity of his claims.
One necessary fact check was his out-of-the blue description of the New York Times as "unbiased" (p. 20). It is inexplicable, laughable, and worrisome all at the same time. All media is biased, Ambassador Bolton, all.
For those interested in palace intrigue, there are many unbelievable stories, but one person Bolton attacks mercilessly again and again in the book is then-U.S. Ambassador to the United Nations and possible contender for the 2024 Republican Party nominee for president, Nikki Haley. It is unclear from the memoirs why he dislikes her so much, but if she wins in 2024, Bolton clearly won't be getting his coveted Secretary of State position.
In the politics realm, there were a lot of names and events that occasionally popped up, such as the Federal Bureau of Investigation's raiding of the offices of Trump lawyer Michael Cohen. "Oh yeah, that happened, too," I found myself saying.
So much has happened in the past four years (that event was just two years ago), that it is difficult to keep track. In that sense, Bolton's memoirs read more like ancient history than a recent account. Every day, a new crisis — domestic, international, or both — unfolds, making most of us numb.
Japan, Taiwan, and Friendships
Those with an interest in foreign policy and national security — purportedly the reason for the book — are probably going to be most interested in the internal debates on China, Russia, North Korea, Syria, and Iran policy.
My main interest was Bolton's thoughts on Taiwan, as he had previously called for a U.S. military presence there. I had hoped he would write about that country — vital to the military and economic security of the United States and other fellow democracies in the region if not around the world. But despite his known pro-Taiwan sympathies, it appears only 30 times. This is more than most accounts, of course, but only 1/12th of China-related entries and far less than those of many other countries. He missed a real chance to place the importance of Taiwan as a democratic nation on center stage, rather than simply in the context of relations with China.
Of course, as a Japan specialist, I am also interested in Bolton's involvement with U.S. policy toward America's ally, and, more importantly, friend (treaties are a piece of paper, friendships are long-term and hopefully permanent).
Bolton, who states that he has known Prime Minister ABE Shinzo for 15 years, wrote, "In my view, Trump's best personal relationship among world leaders was with Abe (golf buddies as well as colleagues), although when Boris Johnson became U.K. Prime Minister, it became a tie" (p. 345).
China Challenges
In Chapter 10, perhaps one of Bolton's best sections and which deals in detail with China and related trade problems (of which he was critical of Trump's penchant to give in to China despite the rhetoric), Bolton praised the Japanese Prime Minister: "Abe encouraged Trump to maintain U.S.-Japan unity against China, and much more. This was how to conduct a strategic dialogue with a close ally" (p. 307).
The chapter was obviously updated to discuss the handling of the coronavirus in which he deflected criticism of the National Security Council for not being prepared:
[T]he NSC biosecurity team functioned exactly as it was supposed to. It was the chair behind the Resolute desk that was empty. And fundamentally, after all the human and economic costs of the coronavirus are reckoned, there are two chilling conclusions. First, we must do everything possible to ensure that China, and its contemporaneous disinformation campaign about the origin of the virus, will not succeed in proving that the Big Lie technique is alive and well in the twenty-first century. We must tell the truth about China's behavior, which Trump was consistently loath to do, or we will suffer the consequences and the risk well into the future (p. 318).
Upcoming U.S-Japan Negotiations
In the context of Japan, Bolton also touched on a soon-to-start issue — the negotiations on the Special Measures Agreement on the costs of hosting U.S. forces in Japan (as well as Korea and other locations):
I met first with Yachi [Shotaro] to explain why Trump wanted $8 billion annually, starting in a year, compared to the roughly $2.5 billion Japan now paid. I didn't expect him to be happy, and he wasn't, but we were at the beginning of a negotiation; they could prepare themselves, which was more advance notice than South Korea received. Ultimately, only Trump knew what payment would satisfy him, so there was no point now trying to guess what the "real" number was. Trump himself didn't know yet. But at least by alerting Japan and South Korea that they had a real issue, I gave them a chance to figure out a response (p. 356).
As I am co-authoring a book on bases and taxes here in Japan, I appreciate the inside information on the negotiations which I will certainly reference. But, again, I am disappointed in Bolton sharing this critical information with his counterparts, which is uncertain from the memoirs whether he did with the President's permission.
This in a nutshell represents the fundamental problem of this 15-chapter book: was it proper for him to release it? Since it is already out due to a June 20th district court ruling permitting it, I guess readers, or history, will have to be the final judge.
TO LEARN ABOUT THE BOOK:
Book: The Room Where It Happened: A White House Memoir
Author: John Bolton
Publisher: New York: Simon & Schuster, 2020
For More Information: See the publisher's website for additional details or to purchase the book.
Author: Robert D. Eldridge