JAPAN SPORTS NOTEBOOK | Standout Forward Yuri Terao Continues Quest to Reach the NHL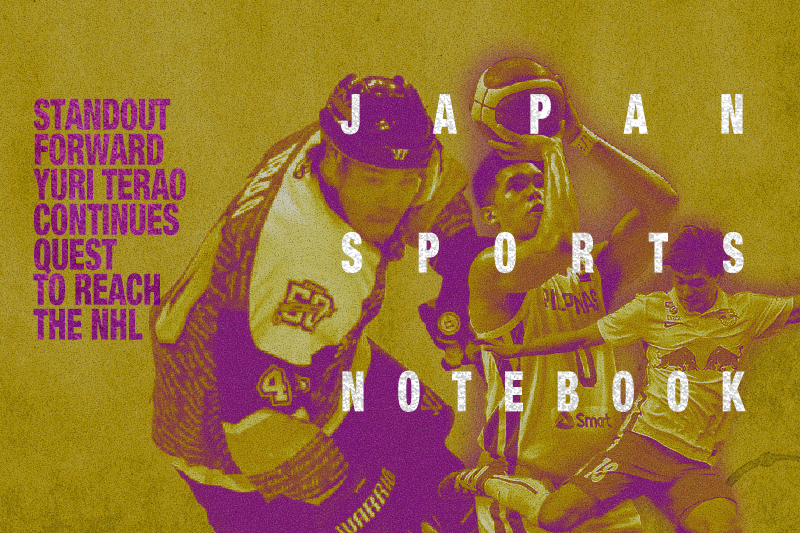 Yuri Terao had a strong first season with the ECHL's Utah Grizzlies in the 2019-20 campaign, which he hopes will be a springboard to a future in the NHL.
In 61 games, Terao scored 18 goals and recorded 22 assists. The 25-year-old right wing, who hails from Nikko, Tochigi Prefecture, was tied for the team lead in game-winning goals (five), and led all Grizzlies rookies in goals.
The hard-working Terao also exhibited durability, appearing in all but one of the team's games.
The Grizzlies have re-signed Terao for the upcoming season, the club announced on June 18.
Speaking with Utah head coach Tim Branham earlier this week from his home, Terao said via a Zoom call, "I am excited to see you again, (and go) back to Utah."
Branham asked Terao, who began skating at age 2, to give a message to the team's fans for the 2020-21 season.
"I want to show you strong play and a strong passion in the new season," said Terao, who has laced up his skates for the Japan Under-18, Under-20 and men's national team in recent years.
Terao acknowledged that he's grateful for the opportunity.
"I signed a contract with Utah Grizzlies last year," Terao was quoted as saying by Sankei Sports. "I am grateful to be able to take on the challenge again, and as a representative of the Japanese ice hockey world, I would like to strive for further growth and personality formation."
Eliteprospects.com, which keeps track of ice hockey players from around the world, posted this brief scouting report of the 173-cm (5-foot-8) Terao:
He has great hands and is one of the fastest players in Asia. He has great acceleration and can change directions at top speed without taking himself out of the play. Although he may be smaller than most players, Yuri is fearless. He's always there for his teammates no matter what the situation.
Terao suited up for the Asia League Ice Hockey's Nikko Icebucks for four seasons, starting in the 2014-15 campaign. He had his best overall season for the team in 2017-18, producing 15 goals and 17 assists in 28 games. While with the United States Hockey League's Waterloo Hawks in 2015-16, he contributed 18 goals and 22 assists in 45 games for the top-tier amateur squad.
Branham believes Terao has a bright future in hockey.
"His skill level is extremely high," the coach told milehighhockey.com in January.
Before joining the Grizzlies, Terao participated in training camp with the American Hockey League's Colorado Eagles, the top minor league affiliate of the NHL's Colorado Avalanche.
Terao told Mile High Hockey that West Valley City, Utah, near Salt Lake City, is an ideal place for him to continue his development as a player.
"I'm very happy. It's a lot of fun. The city is beautiful, the people are very, very good," Terao commented. "I live hockey. Because there are very few Japanese players playing abroad — very little — that is the greatness of the United States."
In his quest to reach the NHL and become the second Japanese to play in the world's top hockey league (goaltender Yutaka Fukufuji briefly played for the Los Angeles Kings in the 2006-07 season), Terao has seen a glimpse of what it takes to compete against the best. He attended New York Islanders rookie minicamps in the summer in 2014 and 2015.
Now, as he prepares for the upcoming season, Terao has been honing his skills in Japan, including dryland training. This short video provides an example.
Philippines guard Thirdy Ravena plays in a FIBA Asia Cup qualifier against Indonesia on February 23 in Jakarta. Credit: FIBA.BASKETBALL
Philippines guard Thirdy Ravena, a college basketball superstar in his homeland, has joined the B. League's San-en NeoPhoenix. Credit: FIBA.BASKETBALL
BASKETBALL
Filipino Ravena joins B. League's NePhoenix
The San-en NeoPhoenix have signed 23-year-old Filipino shooting guard Thirdy Ravena.
The Aichi Prefecture-based club announced the deal on Wednesday, days after the Asian Player Quota was unveiled. Ravena is the first foreign player to join the B. League via this rule.
Each B. League team is able to sign one player from another Asian country.
RELATED STORY: [ODDS and EVENS] B. League, KBL Strengthen Ties with Opportunity for Player Movement
"The B. League has engaged communication with foreign countries to promote internationalization since the first season in 2016. We are pleased to welcome Ravena to the B. League for the first year of Asian Player Quotas," the B. League said in a statement.
Ravena will wear No. 1 for the NeoPhoenix, who posted a B1-worst 5-36 record last season.
The 189-cm player's father, Bong Ravena, coaches the Philippine Basketball Association's TNT KaTropa.
While in college, Ravena played a pivotal role in the Ateneo de Manila University's three straight University Athletic Association of the Philippines national championships (2017-19). He was named Finals MVP in all three years for the Blue Eagles.
On February 23 in Jakarta, Ravena made a big impact for the Philippines national team in a 100-70 rout of Indonesia in a FIBA Asia Cup qualifier. Ravena had a 23-point, eight-rebound, three-assist, two-block effort.
Al Panlilio, president of the Basketball Federation of the Philippines, the sport's national governing body, issued a statement supporting Ravena's decision to launch his pro career in Japan.
"Playing in Japan is a great opportunity for Thirdy to expand his horizons and to learn more basketball at an international level," Panlilio said.
FIGURE SKATING
Designer Ito Creates Outfits For the Stars
Veteran sports journalist Jack Gallagher recently conducted an exclusive interview with costume designer Satomi Ito.
The ins and outs of making a skater's costume is a fascinating topic that most sports fans haven't learned a lot about.
Gallagher's thoughtful questions elicited compelling answers from the 32-year-old Chiba Prefecture native.
One of the most interesting aspects of the piece was Ito's reflections on working with two-time defending Olympic champion Yuzuru Hanyu.
"Remembering back, I think the first offer I received from him was in 2015," Ito said. "At that time I was still a fledgling designer, so I was very surprised. When I first met him during a meeting that was set up for us to go over the costume design, I was so nervous that my hands were shaking the entire time.
"I still get nervous … although my hands don't shake anymore."
What, in particular, is Ito's focus when she's making a costume for the Sendai legend?
"Hanyu views the connection between his music and costume to be very important," Ito said. "Definitely the functional aspect. It can be difficult to keep a good balance between the appearance and function of the costume, however, Hanyu aims high every season, so I also try to follow his footsteps.
"Compared to five years ago, my costumes have become lighter and have definitely evolved. I've been able to work better with materials and my skills have improved through my experience of working with Hanyu."
See some of Ito's costume designs on her Twitter feed.
Read the full interview here in English or Japanese.
SOCCER
Limited Opportunities for Liverpool's Minamino
Liverpool forward Takumi Minamino has played sparingly this season.
The 25-year-old made his Premier League debut against the Wolverhampton Wanderers on Jan. 23, entering the game in the 57th minute. Minamino has appeared in five matches in this season, which was interrupted by a coronavirus-forced break for 3 1/2 months. He hasn't scored a Premier League goal yet.
In his most recent appearance, the 174-cm winger entered the match as a substitute in the 16th minute against Crystal Palace on Wednesday. The Reds won 4-0.
Minamino competed for Red Bull Salzburg from 2015-20, scoring 42 goals in 136 appearances, before joining Liverpool. (Here's more on Minamino's adjustments since moving to Liverpool at this link.
With seven matches still remaining in the season, Liverpool has clinched its first league title since 1990. Through Wednesday, Liverpool sat atop the Premier League table with 86 points, followed by Manchester City (63) and Leicester City (55).
FOOTBALL
Place-kicker Toshiki Kato Chasing Dream
Toshiki Kato has made his mark as a dynamic place-kicker for the X League's IBM Big Blue.
The 26-year-old, who competed for Waseda University in the 2015 Koshien Bowl, is targeting a future in the NFL, possibly with the Dallas Cowboys or Las Vegas Raiders.
"The Cowboys and Raiders are interested. I'm waiting for an offer," Kato was quoted as saying by Kyodo News earlier this week.
And how does Kato, who nailed an X League-record 58-yard-field goal last November, evaluate his chances of earning a visit to an NFL camp in the coming weeks?
"The Cowboys might be difficult since they have three kickers and one has a big contract, but the Raiders only have two," Kato told Kyodo News. "I think there's a chance I could get an invite if those two don't do well at an upcoming camp."
The Kanagawa Prefecture native also told the news agency he'd be interested in playing up for a Canadian Football League team. "If I play in Canada," he said, "I'll be seen by NFL scouts, and then I'll be treated better at tryouts."
CLOSING COMMENTARY
The Japan Football Association's decision to withdraw its bid for the 2023 FIFA Women's World Cup on Monday, three days before the FIFA council voted, was misguided and pointless.
RELATED STORY: SOCCER | Japan Withdraws 2023 FIFA Women's World Cup Bid Three Days Before Announcement
Call it an insult to anyone who supported Japan's WWC bid in recent years, including volunteers, fans, players and JFA staff. They all promoted the bid in various ways with hard work and dedication.
Instead of pulling out, the JFA owed it to the general public to wait for the vote results to be announced and then react to the news. Even if the JFA expected the Australia-New Zealand bid would win, which was predictable based on FIFA's recent evaluation report of the bids (including Colombia's) it could have told the Trans-Tasman bid organizers behind closed doors that it would support their bid. That was enough.
There was no urgent reason for the JFA withdrawal to occupy a spot in the news cycle before the Thursday votes were announced.
The JFA withdrawal deflates whatever momentum has been gained in recent years for the women's game, what with Nadeshiko Japan capturing the 2011 Women's World Cup title and plans for the WE League to supplant the Nadeshiko League as a new fully-fledged pro league.
It also raises real concerns about the JFA commitment and priorities. Will the organization's leaders genuinely support women's soccer when the going gets tough? The WWC bid pull-out sets a bad precedent.
Editor's note: Interested in submitting a news item for possible inclusion in the Japan Sports Notebook? Send an email with relevant information to odevened@gmail.com, or JAPAN Forward's comment's page or Facebook page and look for future editions of Japan Sports Notebook on our website.
Author: Ed Odeven
Follow Ed on JAPAN Forward's [Japan Sports Notebook] here on Sundays, in [Odds and Evens] here during the week, and Twitter @itsjapanforward.