BASKETBALL | Alvark Tokyo Maintain High Level of Play Despite Injuries
In pursuit of a B.League title, the Alvark Tokyo have showcased their depth, including the talents of Ukrainian backup Ihor Boiarkin, in the past few weeks.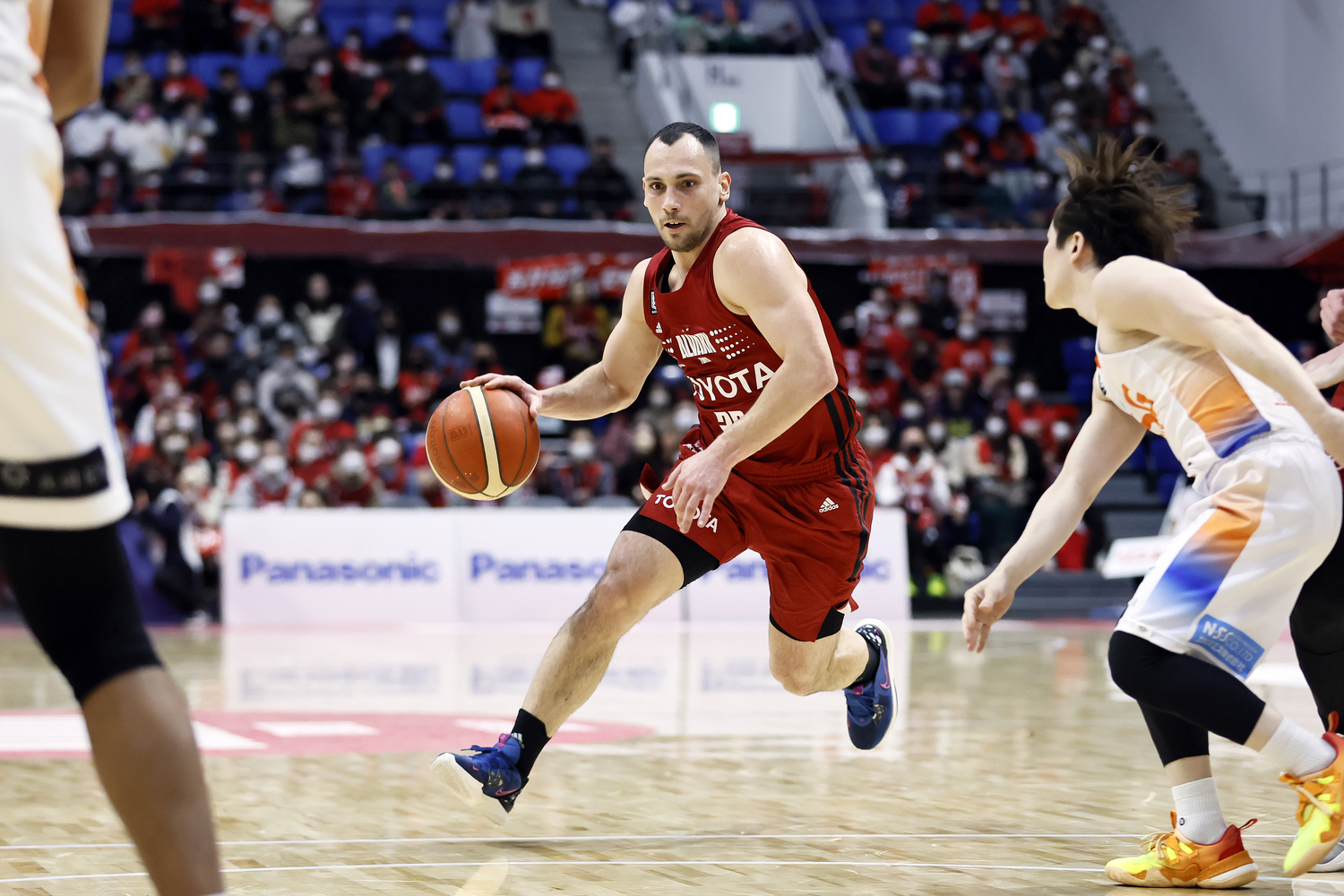 Read the full article on SportsLook - Alvark Tokyo Maintain High Level of Play Despite Injuries
The Alvark Tokyo have demonstrated that their roster depth is an essential key to their success this season.
While the physical grind of the B.League's 60-game season is a challenge for all teams, the Alvark have not skipped a beat despite the recent loss of backcourt standouts Justin Cobbs (left ankle sprain) and Daiki Tanaka (lumbar disc hernia).

Cobbs was placed on the league's injury list on January 18. He's eligible to come off the injury list on February 17. Tanaka went on the injury list on December 27, and is expected to work his way back into the rotation soon.

Tokyo completed a weekend sweep of the visiting Niigata Albirex BB with a 67-63 victory on Sunday, January 29 in Tachikawa. As a result, first-year head coach Dainius Adomaitis' team extended its winning streak to eight.

Niigata slipped to 5-29. Only the Shiga Lakes (4-30, including a current 17-game losing streak) have fewer wins.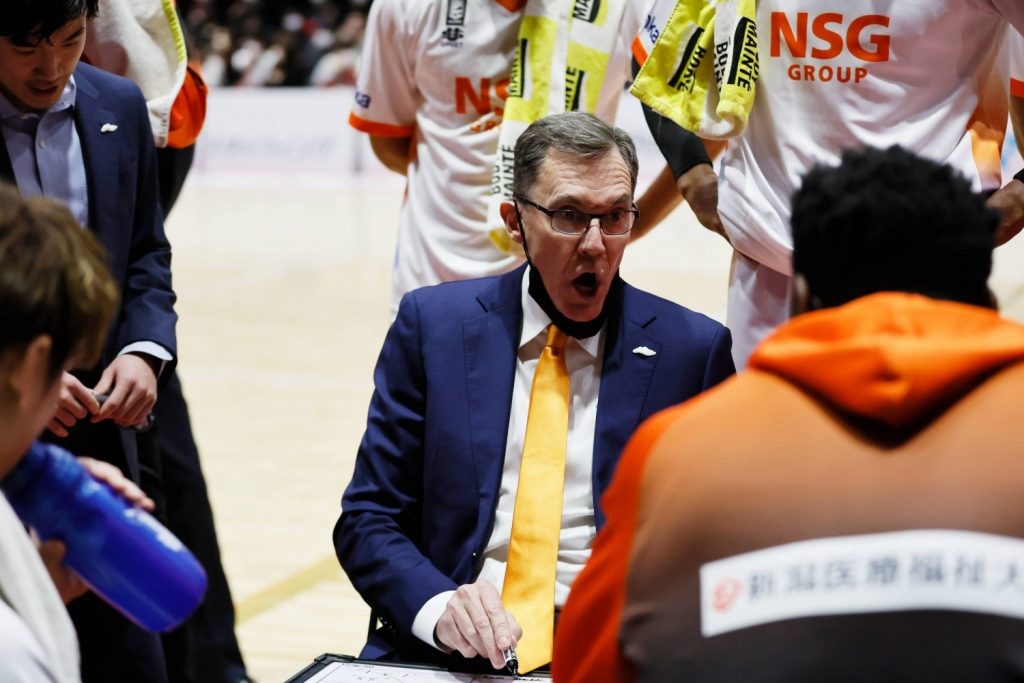 Niigata Albirex BB head coach Conner Henry talks to his players on January 29. (B.LEAGUE)
New Coach Pleased with Albirex's Effort
Albirex coach Conner Henry, a former NBA guard for the Houston Rockets, Boston Celtics, Milwaukee Bucks and Sacramento Kings in the 1980s, commended his rebuilding team's effort. Henry was hired as advisory coach in November 2022, then took over as head coach in mid-December.

"We played a very talented, disciplined team two nights in a row, and we made them work very hard," Henry told reporters. "So I was proud of the overall effort of the guys."

One of the cornerstones of Niigata's rebuilding efforts is center Kofi Cockburn, a University of Illinois alum and one of the B.League's top young players. The Jamaican-born rookie had 25 points and 14 rebounds in the series finale.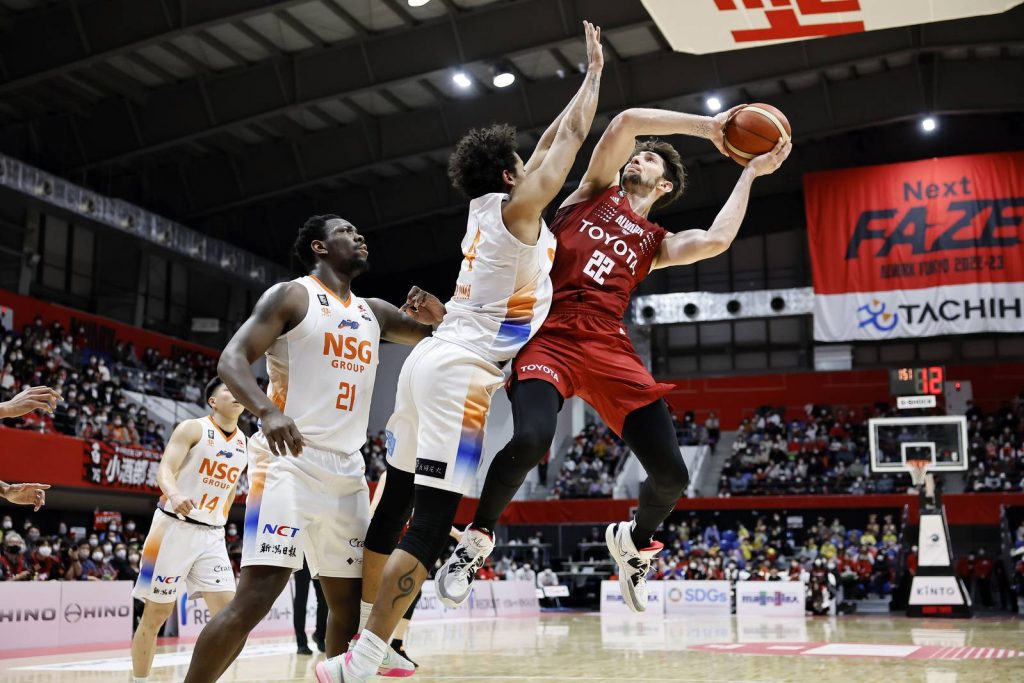 Slimmest of Leads
Tokyo led 32-31 at halftime, then extended the margin to 52-46 entering the fourth quarter.
"In the first half, it could've been one our best defensive efforts of the year, if not our best," Henry commented. "And in the second half we hung in there, and if it weren't for about five possessions in the game, the game could have changed dramatically. So I think everybody can realize that the team is together and committed and we keep bouncing back even though we are near the bottom of the standings."

Conversely, the Alvark (28-6) are two games behind the Eastern Conference-leading Chiba Jets (30-4, including 16 wins in a row) in the standings.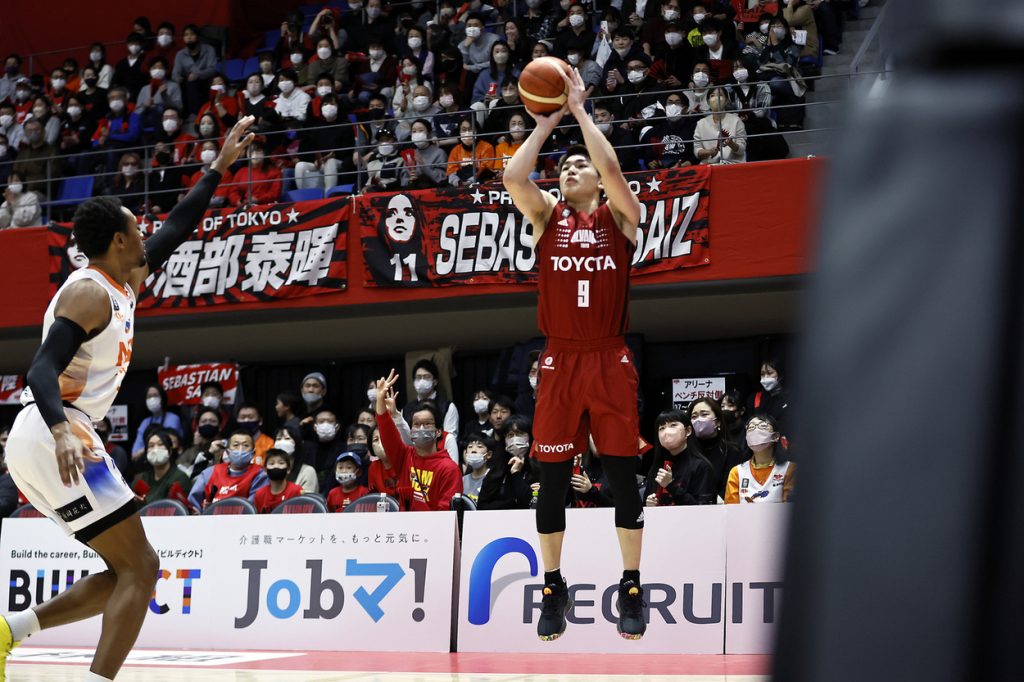 Alvark Highlights from the Weekend
On Sunday, Shuto Ando paced the Alvark with 21 points and nine assists, while Sebastian Saiz contributed 20 points and 14 rebounds. Alex Kirk had 14 points, Zack Baranski scored eight and Ryan Rossiter pulled down 10 rebounds.

"He did a really great job passing the ball to his teammates," Adomaitis said of Ando.
Backup guard Ihor Boiarkin (also spelled Igor Boyarkin in various news reports) appeared in the fourth-game of his one-month stint with the Alvark on loan from the Kanazawa Samuraiz, a B.League third-division team. The 182-cm Ukrainian finished with one assist in 13 minutes while providing high-energy play at both ends of the floor.
Read the full story on SportsLook.

Author: Ed Odeven
Find Ed on JAPAN Forward's dedicated website, SportsLook. Follow his [Japan Sports Notebook] on Sundays, [Odds and Evens] during the week, and Twitter @ed_odeven.