BASKETBALL | Yudai Baba Signs Deal with NBL's Melbourne United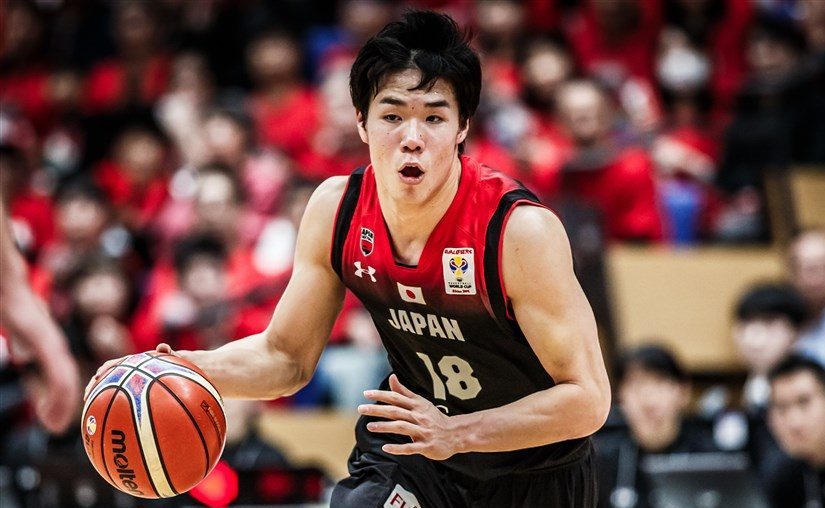 Yudai Baba exhibited dynamic athleticism and an improved shooting touch from 3-point range during the 2019-20 NBA G League season.
The Japanese athlete displayed more than a few flashes of brilliance for the Texas Legends in a season cut short by the COVID-19 pandemic.
And now, he's embracing the opportunity for a new challenge: competing for Melbourne United of Australia's National Basketball League, a nine-team circuit.
The 24-year-old guard has signed a deal with Melbourne for the upcoming season, it was announced on Sunday, July 19. Based on league rules, Baba will fill the team's special restricted player spot and he won't count against the two-import quota.
"I know of Melbourne United's excellent reputation and the record of Coach (Dean) Vickerman," Baba said.
"I am very excited to be joining such a high-quality team. I have followed the Australian NBL for several years and am looking forward to playing in such an elite league. and bringing a piece of Japan to Australia."
The 6-foot-6 (196-cm) Baba, who appeared in 41 games and averaged 6.3 points and 2.6 rebounds for the Legends in 2019-20, suited up for Japan at the 2019 FIBA World Cup. He put 18 points on the board in a blowout loss to the United States and averaged 9.2 points in the Akatsuki Five's five games in China.
The Toyama native launched his pro career in the B. League, playing two seasons for the Alvark Tokyo in their back-to-back championship seasons, 2017-18 and 2018-19. What's more, he was the B. League Final MVP in Tokyo's second title contest, energizing his club with dunks and lockdown defense. In that season, he averaged 10.7 points, 3.6 rebounds, 3.5 assists and 1.5 steals in 59 games.
Baba competed for the Dallas Mavericks at the NBA Summer League last summer in Las Vegas. The hard-working athlete impressed the Mavericks coaching staff with his energy and focus during games and practices. He attended a Dallas minicamp before being invited to join the Mavs' Summer League team.
"His hard play, he's one of the foundational guys with that on our team so far," Mavericks assistant and Summer League head coach Mike Weinar was quoted as saying by The Dallas Morning News. "It's infectious, infectious in a positive way."
View from Melbourne United
Looking ahead, Vickerman is confident that Baba is ready for a strong season.
"Baba is going to bring something different to our club that we haven't seen before," Vickerman told reporters, according to The Australian. "He's a unique talent, but we're really encouraged by what we've seen. I think he'll really have an impact in our league.
"Our backcourt is going to be really competitive. Baba is a talented defensive player, so given that he will join Shea (Ili), Mitch (McCarron) and Chris (Goulding), the versatility that group will bring will allow us to mix it up and throw different looks at our opposition."
In a May interview with former Jordan men's national team coach Sam Daghlas, FIBA.basketball, the sport's governing body's website, Baba's potential to compete at the highest level was a topic of discussion.
"Now, will he make an NBA team?" Daghlas stated. "The sky is the limit. I think that's going to [be up to] his work ethic and [whether] he can really play that position, which is one of the hardest positions in the NBA, the two-guard."
"You have to be 6-5, 6-6. You have to be athletic. You have to be able to knock it down. You have to be able to put the ball on the floor and do a variety of different things."
Competing in Australia will give Baba a chance to hone his skills in a new environment. And he'll likely have a chance to play more minutes than he did with the Legends (19.6 minutes per game).
Melbourne United has a rich history of success in recent decades, capturing titles in 1993, 1997, 2006, 2008 and 2018. Last season, Melbourne had a 15-13 record and fell to the Sydney Kings in the playoff semifinals.
The 2020-21 NBL season is scheduled to begin in December.
In his closing remarks, Daghlas said Baba made a positive impression in the G League.
"From what I heard, because I know their head coach (George Galanopoulos) very well, they love him very much there. They love his work ethic. I was impressed with him. He definitely showed that he can play at this level," Daghlas told the website.
"Now the next thing is to show us if you can hang in at the NBA level."
From Down Under, Baba will aspire to aim high. A future move to the NBA, which he has said is his ultimate goal, is, of course, a possibility. How he performs in Australia could make it happen.
Author: Ed Odeven
Follow Ed on JAPAN Forward's [Japan Sports Notebook] here on Sundays, in [Odds and Evens] here during the week, and Twitter @itsjapanforward.