BOOK SERIES | Minority Shareholders, Chapter 23: A Playboy President's Secrets
Saori Mitsuda reveals the story of the company that her husband founded and nephew now controls in Chapter 22 of Shin Ushijima's novel, Minority Shareholders.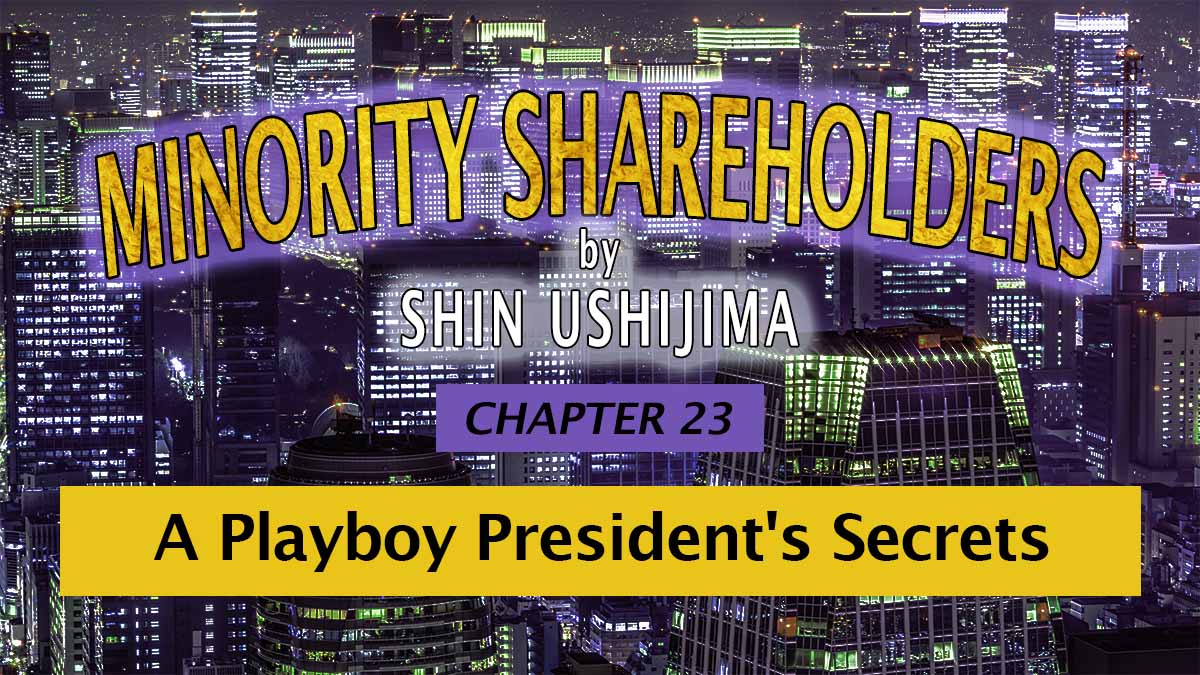 In this chapter of Minority Shareholders, I continue the story of Norio Takano. He is not a specific person; he is a character created for my book out of some high rollers who had existed during the bubble period.
As a young lawyer, I witnessed the generation of enormous wealth from scratch. A minority shareholder of a family company brought an action to the court and succeeded in taking hundreds and thousands of yen. I saw it firsthand. Ten years after the bubble popped, I started work related to corporate governance. In this book, my fictional characters tell the story of problems that persist in joint-stock corporations. What is an organization called a company? What if Norio Takano were reborn in this era?
This story is a work of fiction. Any resemblance to actual characters or organizations is entirely coincidental and unintentional. ー Shin Ushijima
Read earlier chapters of the series.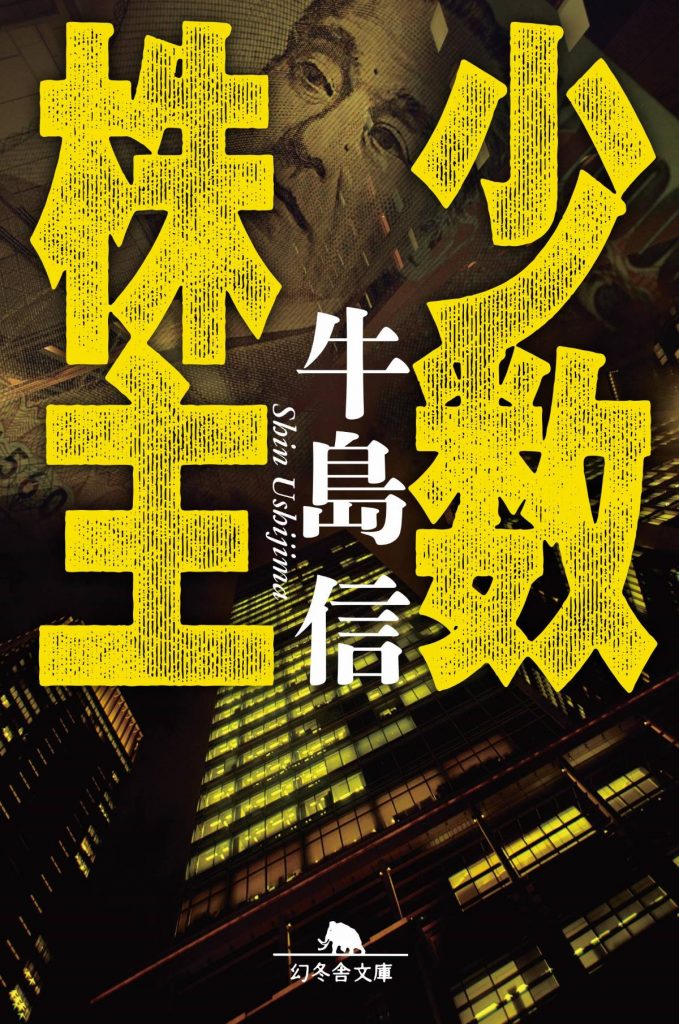 CHAPTER 23: A Playboy President's Secrets
Continuing from Chapter 22: The business of Saori Mitsuda's husband's company was to lease buildings and parking lots and to collect rent and parking fees. As a childless woman, she thought she could sustain herself with the income from the company. There should have been nothing for her to worry about.
But as it turned out, an inheritance tax was imposed on her. Her personal tax accountant explained to her that the tax office had estimated the inheritance tax at ¥340 million ($2.36 million USD). He said nonchalantly that it could not be helped because the company owned valuable land.
Saori was shocked and at her wit's end about what to do. She went to talk with her elder sister, who lived in Kamimachi, Setagaya-ward. At first, Saori had intended to sell a part of the property in order to pay the tax of ¥340 million.
She had talked with her tax accountant. But the tax accountant had said that if it were sold tax would be levied on the income of the sale too. It sounded hopeless. Saori could not make out the situation she was facing. She needed someone to turn to.
Brother-in-law From Shibuya Ward Office
Her sister's husband, Shuichi Kajita, worked for the Shibuya ward office after graduating from a national university in a rural area. Saori visited them at their apartment house for public servants and asked Shuichi Kajita to take a post as president of the company. But he kept silent and gave no response, just sipping tea at the other end of the table.
When she was about to leave, her sister, Hatsuyo, spoke to her, closing the old painted iron door behind her. "Saori, I will speak with him about this again later. He's reached the age when he's eligible to receive a pension. Our second son, Kensuke, works for your company. So don't worry. He knows someone needs to be in charge of the company until Kensuke takes over."
Saori and her husband had no children. Therefore, before Sakujiro died, Saori and her sister hoped that Kensuke Kajita, the second son of Hatsuyo and Shuichi, would take over as president of the company. When Kensuke entered Mukoujima Transport after graduating from university, he was still working on his studies to pass the bar examination. But everyone there accepted it as a matter of course.
Eventually, Shuichi Kajita decided to take early retirement from the Shibuya ward office and assumed the post of president of Mukoujima Transport. His wife's persistence had finally paid off. When her husband had slipped into his futon after a drink, she, in a futon spread next to his, would ply him insistently saying, "Listen, darling, you really don't want to accept it? Not a chance?" And it did not take a week before he gave in to her demand.
A President Who Preserves the Assets
"Well, I'll be able to receive pension benefits soon. It will guarantee our livelihood to a certain extent, right?" Shuichi had uttered.
His wife responded holding his hands in excitement. "Of course. That's the right decision. This time, you have no age limit for retirement and it's a cushy job. In time, Kensuke will become able to take care of everything."
It was clear that Mukoujima Transport had enough property to change Shuichi's mind. After Shuichi became the president of the company, during the bubble period, he often said, "The assets of our company amount to more than ¥5 billion (about $35 million USD). I can't stand the bank hovering around me for new loans."
He would grumble about that and then say, "Anyway, my duty is to prevent the assets from depreciating." It showed that he played his part as seriously as he did when he was at the ward office.
Thanks to Shuichi Kajita, who had become the president, Saori was released from the vexation of Mukoujima Transport. And she was enjoying her life so much so that the people around her branded her "the merry widow."
She decided to be thrifty. She thought she had been a victim of inheritance tax and never again wanted to be involved in money trouble of any kind. Though she was sad about the loss of her husband, she came to terms with it, knowing he would never come back no matter how much she grieved. She tried to live within her means. She was happy with the way she lived, always appreciating her late husband for that.
The Next Generation Takes Over
Shuichi Kajita died at the age of seventy-two in 1995.
When Shuichi died, it had been close to twenty years since Kensuke had entered Mukoujima Transport. Kensuke had smoothly taken over as president, while Saori had been taking it easy, oblivious of the company. She received ¥1 million (about $7,000 USD) every month from the company. It did not matter to her whether it was a dividend payment or a remuneration payment for a director. She did not want to think about taxation and had actually never thought of it.
Saori Mitsuda had grown old without worrying about money after losing her husband at fifty-two.
Kensuke had entered Mukoujima Transport a few years before the death of Sakujiro Mitsuda, the founder. And when his father, Shuichi, made a career change from local public servant to the president of the real-estate company, Kensuke was still working on his studies for the bar exam. He belonged to the company just as a titular employee as if he were a recipient of a scholarship from his uncle-in-law, Sakurijo Mitsuda.
His brother, two years his senior, had studied chemistry at university and was accepted by a large company. There he worked as an engineer at the laboratory, devoted to studying benzene circles/structures as though living in an ivory tower.
Kensuke Kajita
Kensuke had studied law at a private university in order to pass the bar examination. But in reality, he had been fooling around putting off his studies. When his friends were busy job-hunting, he just observed it in a detached manner, thinking that he was different from them because he had to sit for the bar exam.
"Well, then, why don't you enter my company and keep studying for the bar exam here?" Sakujiro Mitsuda made the suggestion and Kensuke instantly jumped at the chance.
Kensuke intentionally kept saying that he was working on the bar exam, which pleased not only his parents but also Mr and Mrs Mitsuda. He used it as an excuse to hang around and spend all his company salary on horse races. He would lie to his parents, saying that he was going to cram school, but would actually make his way to the racetracks.
At twenty-four, he developed a physical relationship with a divorcee working as an accountant at Mukoujima Transport and married that woman. After Sakujiro Mitsuda passed away, he became more and more hooked on horse races, putting aside his studies for the bar exam.
After the death of his father, who had dedicated himself to managing the business of the company, thriving on frugality and thriftiness, Kensuke became completely unconstrained.
The Playboy Unconstrained
At age forty he started leading a wayward life. Thanks to his father's efforts, the assets of Mukoujima Transport had increased to more than ¥10 billion ($69.5 million USD), and the collective rent amounted to as much as ¥300 million ($2.1 million USD) a year. His company set aside some money as living expenses for his wife, Shino, and their three children, as well as for Saori Mitsuda and Hatsuyo Kajita. But did not need to make any other payments except for fixed expenses and taxes.
In time, Kensuke Kajita started openly playing around. The scandals of his affairs with many women reached Saori one after another.
Saori received a dividend of ¥4 million ($27,800 USD) and remuneration of ¥15 million ($104,280 USD) a year from Mukoujima Transport because she was listed as a director along with her sister. Her after-tax income amounted to ¥1 million a month. That was all that mattered to her and she did not care about anything else.
Her sister died in 2006 when Saori lost her position as a director. And the remuneration for directors had not been paid to her since then.
Even so, the dividend had increased from ¥4 million to ¥14 million (from $27,800 to $97,300 USD) a year since that year. The increase almost covered the loss of the director remuneration, and so her livelihood had hardly been affected
But suddenly in 2014, the dividend was reduced… from ¥14 million to ¥7 million (from $97,300 to $48,700 USD) a year, which had been reported to her just by a piece of paper, without any advance notice. Like it or not, she was forced to swallow that.
Stability, Melting Away
No shareholders' meeting was held for that decision. There was just a piece of paper informing her of the company's decision. The figure recorded in the bank account heartlessly showed the fact that the amount of dividend had been reduced.
It made Saori worried sick. The company had been founded by her husband. Yet now her nephew-in-law was his own master and decided everything on his own. And none of the other shareholders complained even a bit about it.
The board of directors was composed of only his wife Shino and some employees. The company, in the business of property management, was staffed by not more than 10 employees.
When Kensuke Kajita came across a problem, he would talk to Mr Shota Nakagawa, a consulting tax accountant for the company, whom Saori's husband had also depended on. It was this man, Nakagawa, that had confronted Saori with the fact that she would have to pay the staggering amount of inheritance tax.
Saori had expected to live a peaceful life. But she was petrified to find herself in a situation where she was clueless about what her husband had left for her to sustain her life.
Without knowing what was happening, she was confronted with an endless fear as if something rock-solid was melting away. The amount to be put in her bank account every month was not enough to maintain her livelihood. She felt knocked off her feet.
What on earth had she been dependent on for her living? What was it that her husband had left to her? It was the company called Mukoujima Transport: to be exact, the stake in Mukoujima Transport.
The President Who Doesn't 'Squeeze'
But the company now belonged to her nephew-in-law, and she was afraid that the dividend payment of ¥7 million ($48,700 USD) might stop at any time at his discretion.
She found the courage to visit her nephew-in-law and tried asking him to buy her shares. "Ah, you want me to buy your shares? Not a chance. You can't squeeze such money out of me," he said inhospitably.
For want of a better option, Saori reluctantly visited his wife Shino, and asked if she could do something for her. Shino had been employed by Saori's husband as an accountant when she was still called by her maiden name, Shino Otsu. Saori thought she would be knowledgeable about the books of Mukoujima Transport.
Saori had felt disinclined to ask a favor of Shino because she had heard rumors in the company that her late husband, Sakujiro Mitsuda, and Shino had had a sexual relationship.
Shino was two years older than Kensuke. After graduating from high school in Gunma Prefecture at the age of eighteen, she entered Mukoujima Transport, which was then a thriving transport business. After three years, she got married and left the company. But she divorced soon after that and returned to Mukoujima Transport.
There was a rumor going around in the company that Shino had had an extramarital relationship with Sakujiro and that her husband had learned of it. Some gossipy people assumed that she had still kept her relationship with Sakujiro even after marrying. And that was the cause of her divorce. They spread the rumor as if they had seen it firsthand.
Tracing the Rumors and Affairs
Saori had felt somewhat odd when Kensuke, after graduating from university, entered Mukoujima Transport. By then, the company had already withdrawn from the transport business to the real estate business. She wondered what kind of person with a bachelor's degree would want to enter such a small company as Mukoujima Transport, doing just the real estate leasing. Unless they had any particular, compelling reason.
Even as she thought so, she had to convince herself that her nephew was working hard on the bar exam. It was a most difficult national examination, and her husband felt happy with it as if he himself were taking it.
"Has Kensuke got the makings of the president of your company?" Saori had once asked her husband.
"We're just a small company leasing real estate, which can be managed even by women and children. He says he's working hard to pass the bar exam. He's great," her husband had said in an offhand manner. She felt a strange feeling in her heart but kept it to herself.
Kensuke started seeing the older woman, Shino, immediately after he entered the company. Whenever Saori heard her husband and Kensuke's father, Shuichi Kajita, joyfully talking about Kensuke and Shino, she could not help feeling it was unconvincing. She suspected that the rumor of the relationship between her husband and Shino was true. If the rumor was true, she wondered what her husband kept hidden deep down in his mind.
Saori had no clue to lead her to the answer to that question.
Continues in: Minority Shareholders, Chapter 24: Evidence of Foul Play
RELATED
Minority Shareholders is a work of fiction and any similarity to real characters, companies and cases is purely coincidental and unintentional. Sign up to join our mailing list and look for the next chapter every Saturday on JAPAN Forward.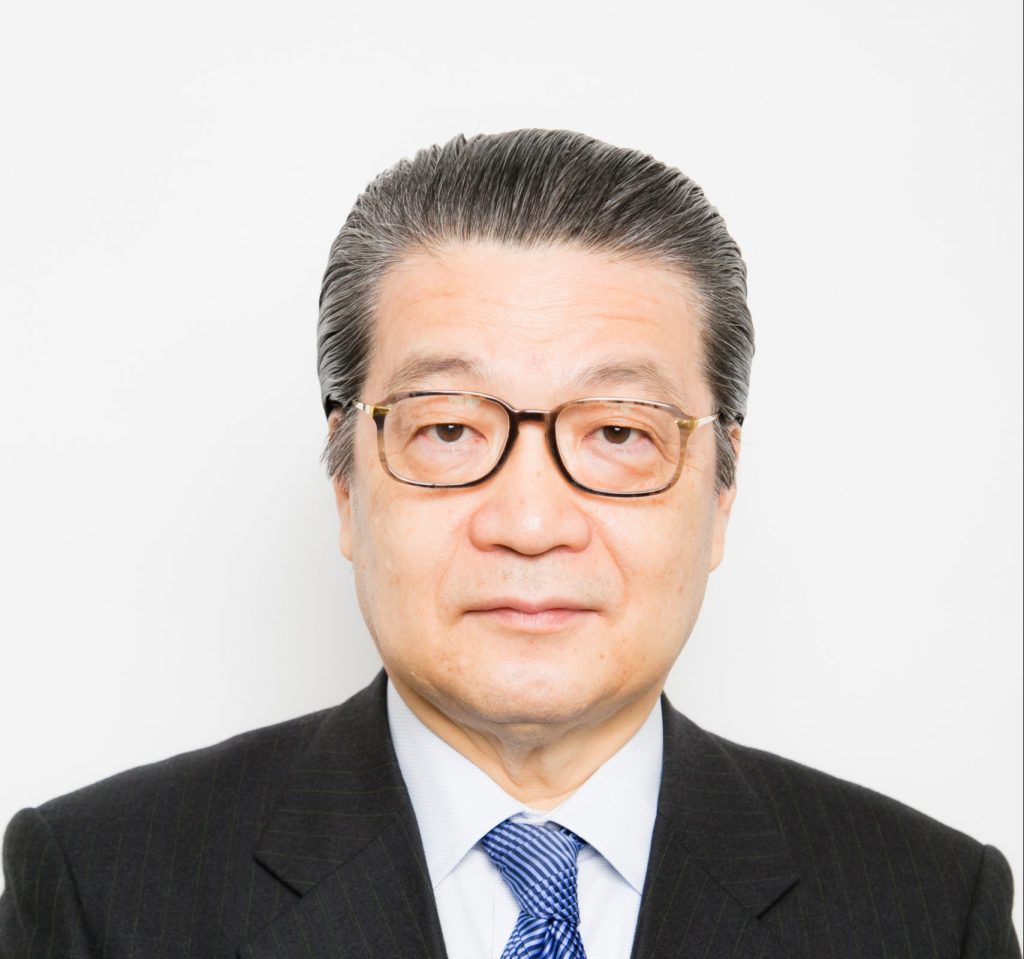 Author: Shin Ushijima
The founding partner of Ushijima & Partners, lawyer Shin Ushijima has an enormous wealth of experience in international transactions, mergers, and acquisitions, dispute resolution, system development, anti-monopoly law, labor, and tax law. Concurrently, he heads an NPO called the "Japan Corporate Governance Network." And in his leisure moments, he writes fiction. Additional details on Shin Ushijima's career, awards, publications, and more are available at his website: Ushijima & Partners, Attorneys-at-Law.