BOOK SERIES | Minority Shareholders, Chapter 3: The Taxing Magic of 'Fives'
Minority Shareholders, Chapter 3 of Shin Ushijima's novel sets the stage for the upcoming drama in stories from the world of family-owned companies.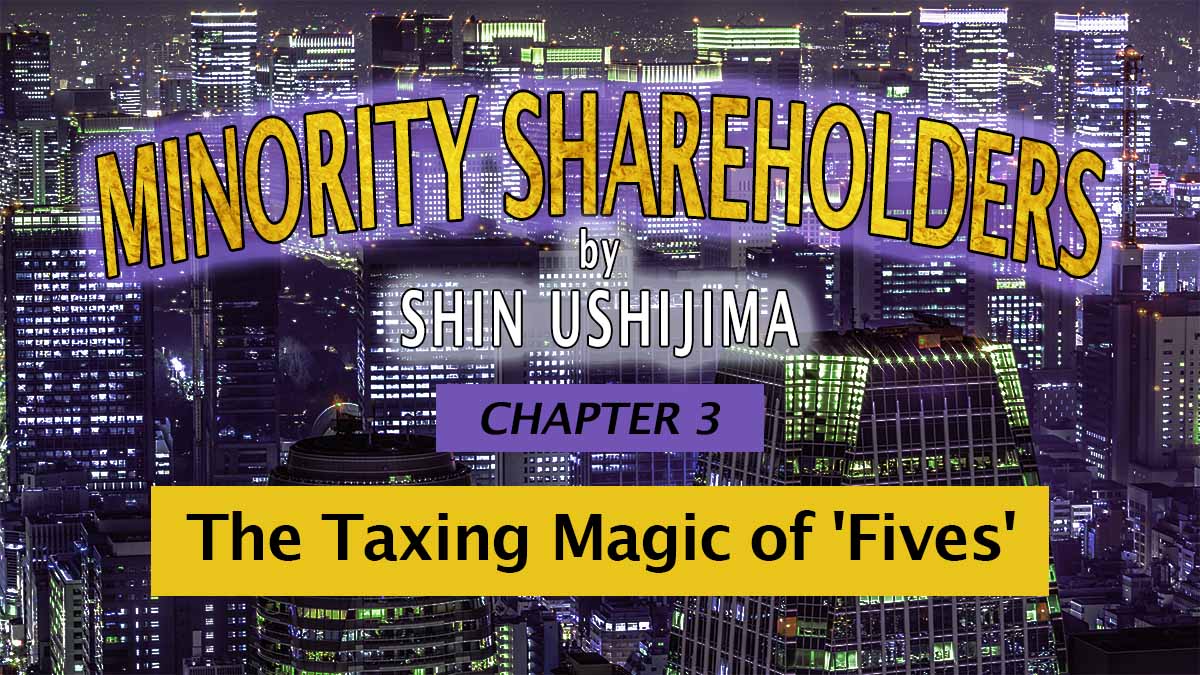 In this chapter of Minority Shareholders, I continue the story of Norio Takano. He is not a specific person; he is a character created for my book out of some high rollers who had existed during the bubble period.
As a young lawyer, I witnessed the generation of enormous wealth from scratch. A minority shareholder of a family company brought an action to the court and succeeded in taking hundreds and thousands of yen. I saw it firsthand. Ten years after the bubble popped, I started work related to corporate governance. In this book my fictional characters tell the story of problems that persist in joint-stock corporations. What is an organization called a company? What if Norio Takano were reborn in this era?
This story is a work of fiction. Any resemblance to actual characters or organizations is entirely coincidental and unintentional. ー Shin Ushijima
Read earlier chapters of the series.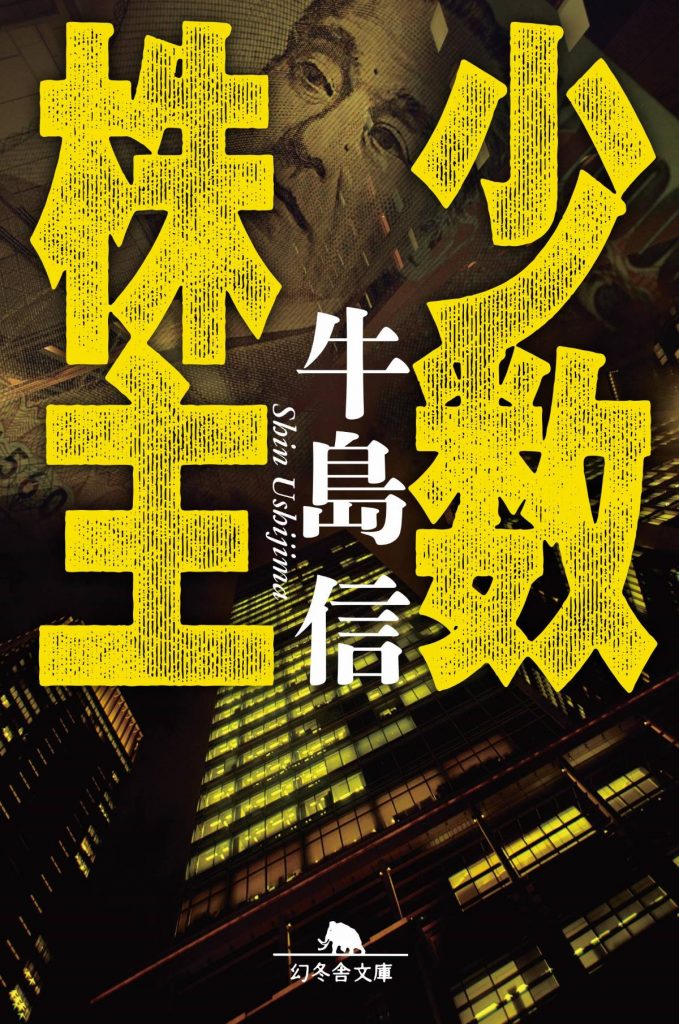 Chapter 3: The Taxing Magic of 'Fives'
Continuing from Chapter 2: Lawyer Ooki is explaining to Norio Takano the consequences of giving your children a small number of shares. "I wonder what the tax office is aiming for," Tanako asks as Ooiki continues.
"Well, the value of the company is reflected in the shares of the owner president. What is surprising about a business corporation is that only a 51% stake is enough for the owner president to gain control of the company."
"Anyway, the grandmother who had owned shares of Dainihon Jochugiku died, and the man inherited a part of her shares. It was a minuscule amount. As I've told you, it was only 1/200, that is, 0.49% of the whole stake."
"It really is minuscule."
"Yes, it is. And this 0.49% stake was valued at only ¥4.65 million [about $35,000 USD]. If the tax office had been satisfied with a small amount of inheritance tax, he would have had everything settled in peace. But the trouble was that he had already owned a 4.99% stake in Dainihon Jochugiku before he inherited his grandmother's shares. I told you, he was related by blood to the Dainihon Jochugiku family."
"So, 4.99 and 0.49 makes 5.48, right?"
Takano calculated quickly.
"Oh, quick at figures as usual. Yes, that's correct."
"So something will happen if the stake exceeds 5%?"
"Right. This unlucky guy originally owned some shares and inherited a tiny bit, which added up to more than 5%. That was the root cause of all the troubles he incurred."
"What?"
"Five percent is the standard set by the tax office. For a 5% stake or above, the evaluation method changes drastically."
A 5% Stake
"So once he had more than a 5% stake, was he included in the management?"
"No, he wasn't."
"So it didn't benefit him at all?"
"You're right. It didn't do him any good. But the tax office saw it in a different light. They determined that with a 5% stake he could exert a certain degree of influence on the management. How much he earned in dividends a year didn't matter to them.
"What mattered to them was at what value the company was assessed. If that man had been the owner president, nothing disputable would have arisen. Everything under the name of the company belongs to the owner president, ranging from a pen to the company-owned building.
"So the tax office determines the value of the shares based on the assets that the company owns and the profit that it earns. Even if the company reports it hasn't distributed dividends, the tax office won't budge. The amount of money to be distributed as dividends is determined by a shareholder who has a majority stake, that is, the owner president. If he has a 51% stake, at his discretion he can choose the president of the company, who is inevitably subject to the control of the owner president. Makes sense, right?
Within the 5th Degree of Kinship
"But this man, he really had nothing to do with the management. The company had the president, who was his relative within the fifth degree of kinship. You know, siblings are the second degree, uncles and aunts are the third degree, and cousins are the fourth. So the fifth degree means a child of a cousin.
"If the man had been closer to the president, position-wise, let's say, executive managing director or senior managing director, and just worked on a salary, would he have been able to influence management with only a 5% stake? I doubt it. But the tax office suspected so."
"How ridiculous!"
"That's what he thought, and accordingly he filed suit."
"And he lost. That was the story?"
"Afraid so."
"So he ended up owing as much as ¥100 million [about $743,500 USD] to the tax office and he sold his house to pay for it?"
"I didn't track it down that far. But he must have paid the money to the tax office.
"In his opinion, what the tax office had done to him was inconceivable, but because Japan is a constitutional state, he was sure the court would save him. He must have believed that the court would sort it out. But even the Supreme Court took the side of the tax office.
"It really was outrageous, but it actually happened. It happens every day and is happening at this moment all over Japan.
"The bottom line is, it can happen to anyone. You are not an exception. He was unlucky as if he had had a traffic accident. No one expects a traffic accident to happen to them today just because they are unlucky. This time he was just dealt a bad hand."
A Honeypot to the Tax Office
"He should have deferred to the tax office," Ooki continued. "They won't overlook anything amiss, but they will hunt you down to the bitter end. One hundred million yen…wow, it's not the amount the average person can pay."
"But in Japan, law governs, right?"
"It does. Law governs, hence this result."
"Preposterous!"
"Sure was, but no one can be exempted from taxation. It's a fact of life, unfortunately."
"Hmm, it's not a fire on the other side of the river. I'll have to inherit my mother's shares, though it's a small company, which her boyfriend bought for her. My children will inherit the shares of my companies. Even if it's only a minor portion, it can haunt you forever, right? Without money you are in hell, with money you are in hell ー what a paradox." Takano heaved a heavy sigh.
Ooki cut in. "The tax office can sniff out where money is earned and kept. You have huge assets. You are nothing short of a honey pot for them."
"Come on, no banter! My pockets are not so deep."
Takano, scowling in Ooki's direction, spoke to himself in a low voice. "It really is tragic. There are lots of minority shareholders of unlisted companies out there. They are enjoying their lives at this very moment without knowing that their unlisted shares may drive them up against a wall someday in the future."
Landmines Ahead
Upon Takano's words, Ooki's face turned into a sarcastic grin.
"Definitely! Just like the poor guy who had a stake in Dainihon Jochugiku, right? The tax office never misses a trick and indiscriminately takes money away from such unsuspecting ordinary people."
"It's just like we're living on a ground with landmines, right?"
Takano let out a second sigh.
Along with it, Ooki let out a small breath.
"Landmines. Hmm…well, it may be better than landmines because it doesn't take your life. Landmines don't always explode, but still there is no telling what this particular landmine will do under control of the tax office."
Takano leaned forward to come closer to Ooki.
"No kidding. Anyway, worrying gets you nowhere. 'Know your enemy, know thyself, and you shall not fear a hundred battles.' We will cross the bridge when we get there. For now, we should check the ground on which we live."
Takano leaned back against the chair with a stern look on his face. Having finished his talk, Ooki pushed the button under the seat to recline it.
"By the way, Takano, what did you want to speak with me about? Did you say someone asked you to buy unlisted shares?"
Continues in: Minority Shareholders, Chapter 4: Making Ripples for Auntie Sumida
RELATED:

Minority Shareholders is a work of fiction and any similarity to real characters, companies and cases is purely coincidental and unintentional. Sign up to join our mailing list and look for the next chapter every Saturday on JAPAN Forward.


Author: Shin Ushijima
The founding partner of Ushijima & Partners, lawyer Shin Ushijima has an enormous wealth of experience in international transactions, merger and acquisition, dispute resolution, system development, anti-monopoly law, labor, and tax law. Concurrently, he heads an NPO called the "Japan Corporate Governance Network." And in his leisure moments, he writes fiction. Additional details on Shin Ushijima's career, awards, publications and more are available at his website: Ushijima & Partners, Attorneys-at-Law.