Hokkaido's Lake Shikotsu Ice Festival is the Best Way to Experience the Wonders of Winter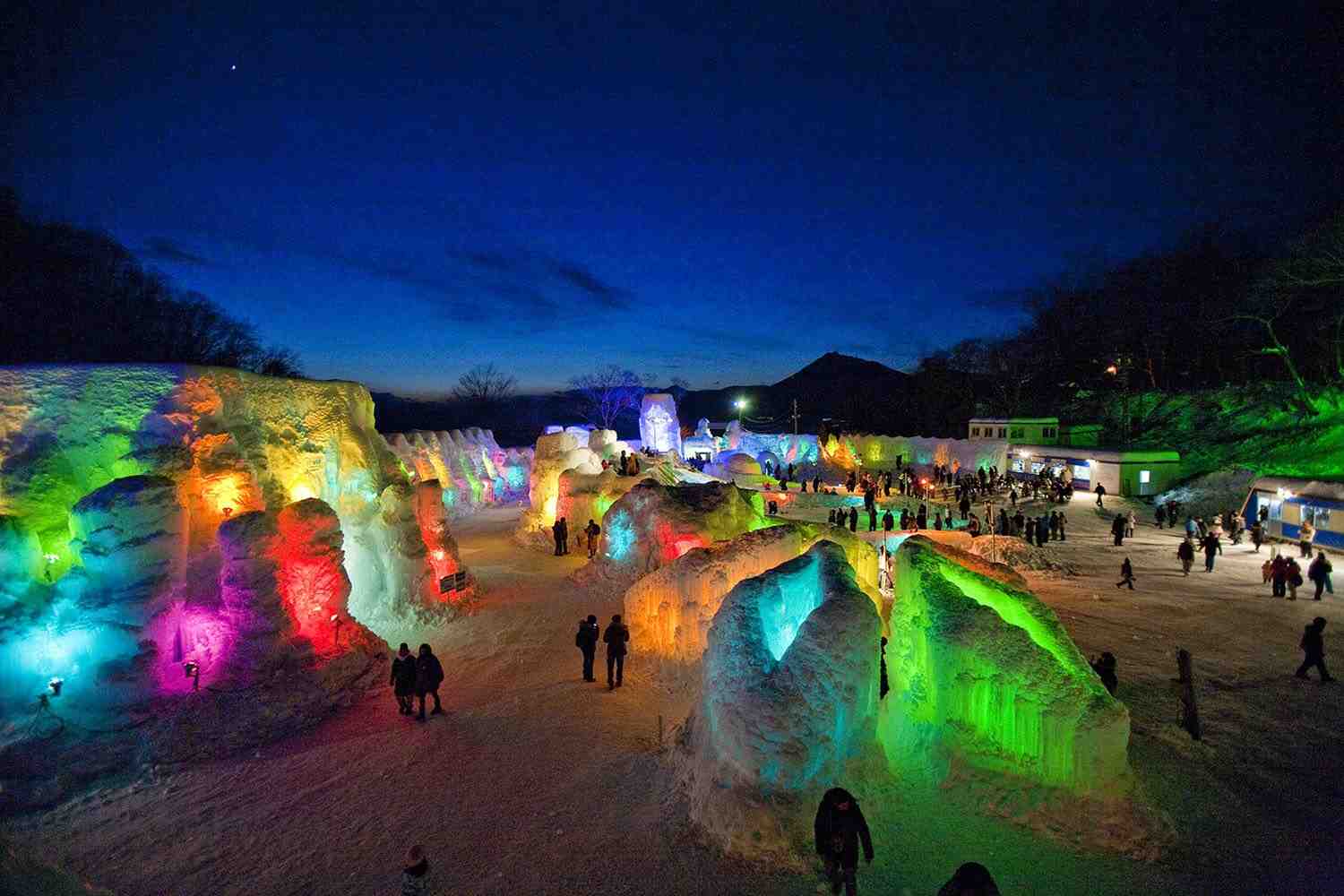 Hi! I am Yoshiaki Wada, 48, a member of the House of Representatives of Japan, elected from Hokkaido. Moreover, I am a big fan of traveling, dining, and sports. Taking this opportunity, I would like to promote the charm and beauty of Hokkaido to esteemed JAPAN Forward followers.
The winter snow festival season is at hand. If I could recommend just one winter festival in Hokkaido, it would definitely be the Lake Shikotsu Ice Festival.
The 40-minute drive from New Chitose Airport to Lake Shikotsu is totally refreshing. You are driving on a straight road, cutting through forests and valleys, which are mostly situated within a national park. If you are lucky, you may catch a glimpse of wild animals, like fox and deer.
Once you reach Lake Shikotsu, you will be astonished by its breathtaking beauty. The lake surface is like a mirror, glittering with the reflection of the sun and the surrounding snow-capped mountains. The sunrise and sunset views of the lake are even more magnificent — they will make you feel as if you are in heaven.
Colorful Ice Sculptures
The site of the Ice Festival is just along the lakeshore. It is filled with grand sculptures and objects made out of ice — including some that look like big ice pillars and others like ice waterfalls. They are all made by local volunteers.
The volunteer artists spray lake water onto steel and wood structures over a period of many hours under extreme temperature conditions — sometimes as low as -20C. These preparations for the festival take tremendous effort and patience.
During the daytime, the ice sculptures and other ice objects appear blue in color, like a gigantic exhibition in aqua marine. This blue is called Lake Shikotsu Blue.
Only the pure lake water makes the unique color of the ice sculptures possible. When the sky is clear, the blue becomes even more brilliant, and purifies your spirit.
For your information, Lake Shikotsu's waters have boasted the highest clarity and transparency among all lakes in Japan for many years.
At night, the ice sculptures are lit up colorfully in red, yellow, blue, and pink. In addition, fireworks illuminate the dark sky every night, enhancing the charm and beauty of the festival.
Enhancing Your Visit with an Overnight Stay
If you visit, be sure to check out the festival both during the day and at night. Although the outside temperature can be very cold indeed, you won't mind at all, especially if you book your stay at one of the lakeview hot spring hotels!
For those who favor traditional ryokan-type of hotels, there is the Marukoma Onsen. It has an open-air infinity hot spring, which shares the same horizon with the lakeshore. There, you can enjoy the views and even touch the lake while bathing.
If you prefer luxury hotels, Ao No Za is certainly the best choice. The stylish guest rooms are equipped with private open-air hot springs, along with free-flowing champagne. The dinner menu is modern Japanese, full of Hokkaido delicacies, and you can enjoy it in a private dining room.
Apart from those hotels, there are also chic western-style hotels, such as Mizu No Uta and Lakeside Villa Sui Mei Kaku. Sui San Tei is another known Japanese-style hotel.
The charm of open-air hot spring is bathing while feeling the nature and keep the head chill. Sipping sake or champagne in a bath is definitely an attractive option, which you might want to look at.
Enjoying 'Chip' and Other Local Delicacies
Oh, I should not forget to mention the delicacy of Lake Shikotsu. Hokkaido is known for the best seafood, meat products, and vegetables in Japan, or perhaps in the world. At Lake Shikotsu, you should try fish called Chip. It is a kind of trout. Sashimi, or simply chargrilled with salt, are the best, especially while sipping sake.
If you didn't get enough of Hokkaido's delicacies during your visit, never fear. There are many opportunities to taste the best of Hokkaido on your return to New Chitose Airport. I recommend you try as many as you can before boarding your flight.
There is a Michelin star-sushi restaurant, Kita No Hana Hayashi, in Chitose City, which is open only for dinner. I can assure you that there is no better grand finale for your trip to the Chitose area.
New Chitose Airport is the gateway, as well as the "Showcase of Hokkaido." There is a tremendous variety of shops and restaurants at the airport to fulfill your desire and satisfy your appetite. If you are a ramen fan, do visit its Hokkaido Ramen Dojo, where you can check 10 famous ramen restaurants in one place. If you have an extra 30 minutes prior to going through the security check, take this chance!
Have a wonderful trip to Hokkaido!
Author: Yoshiaki Wada, Member of the House of Representatives of Japan