How Virtual Reality Can Train an Athlete's Decision Making
Researchers found that soccer players chose more aggressive, goal-oriented tactics in virtual reality compared to when they observed the same situations in 2D.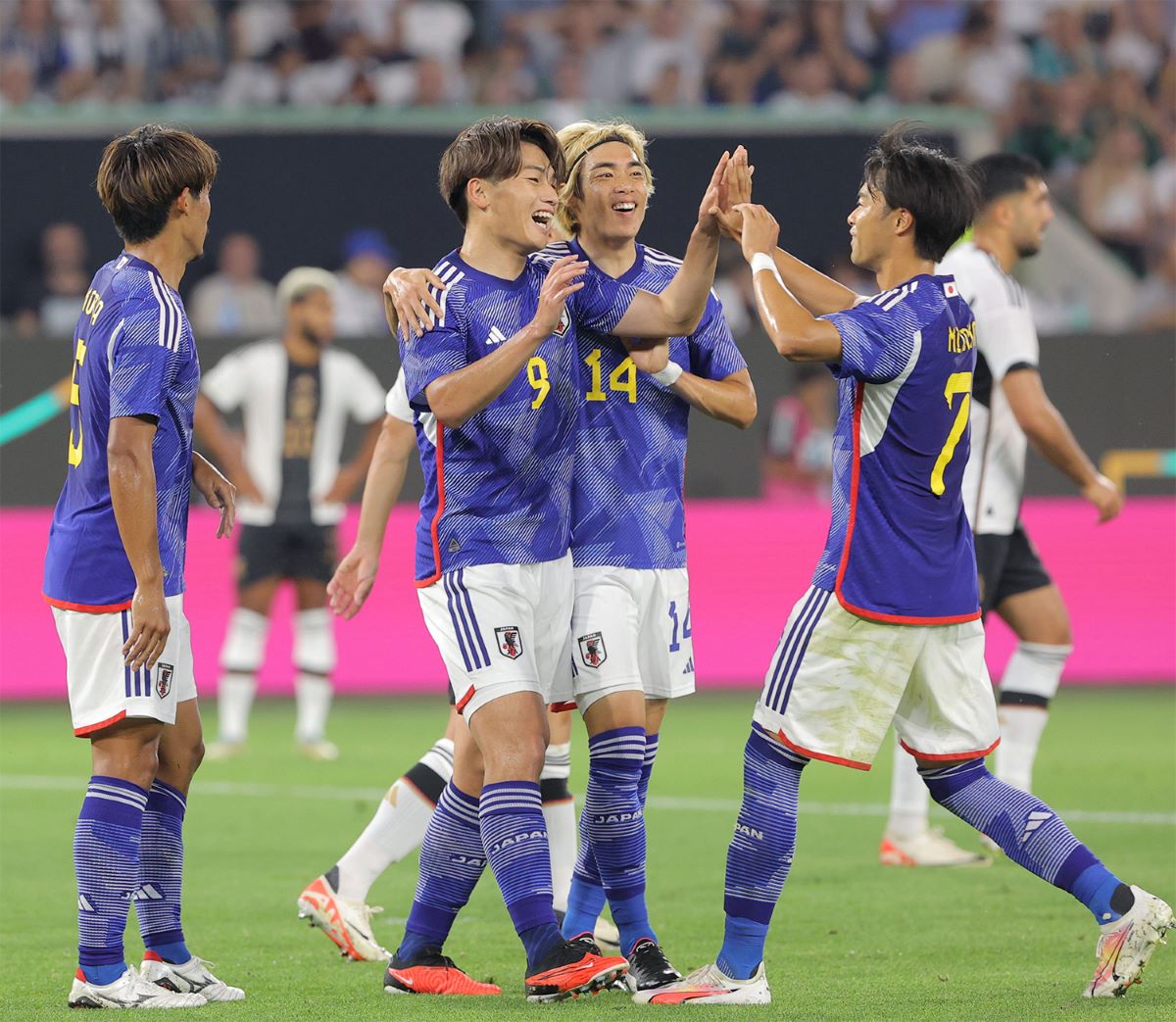 Researchers discovered that soccer players tended to adopt more aggressive tactics when presented with scenarios in 3D virtual reality compared to third-person, 2D videos. The research team was led by Associate Professor Hiroki Nakamoto of the National Institute of Fitness and Sports in KANOYA. Their findings were published in English in the Journal of Digital Life, an interdisciplinary online journal focused on digital technology.
While the Japanese men's national soccer team is often perceived as lacking offensive power, it defied this stereotype in a friendly match in Germany on September 9, achieving a 4-1 victory over the home team. Some experts attribute this improved performance to an increased number of players honing their skills in club teams from a young age and undergoing physical and mental training abroad as adults.
However, only a few colleges and universities offer the same level of training as that of club teams. The researchers point out that it can be particularly difficult to train decision-making skills, where players practice deciding the best course of action, such as passing and dribbling, in a game setting.
Virtual Reality in Training
Players with strong decision-making abilities can swiftly assess situations, predict outcomes, and choose optimal plays by recognizing patterns from multiple information sources. In other words, decision-making involves gathering and extracting information from one's surroundings and generating and selecting the best options.
One method to nurture decision-making is pausing play for instructor feedback. However, implementation could be challenging due to a lack of facilities or staff. Therefore, the research team is exploring the advantages of using 3D virtual reality (3D VR) technology in decision-making training.
The 3D VR method circumvents real-world restrictions and may be more effective than 2D video training. This is because the player's movements and visual information are linked through sensors in a head-mounted display.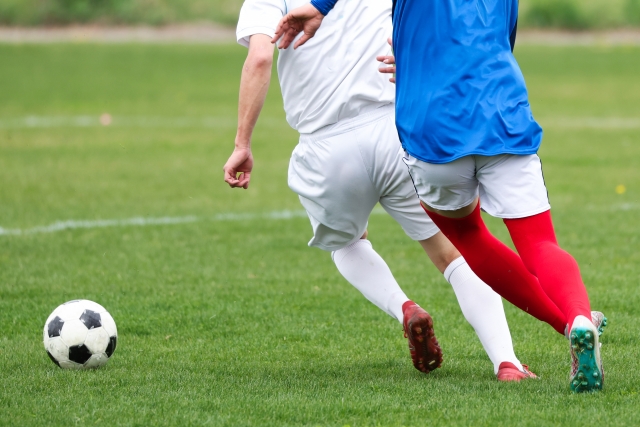 Studies have suggested that a player's visual information-seeking, including eye movements, is affected by whether a scene is viewed from a first-person perspective or from a height. However, the impact of these differences on a player's decision-making was unknown. Nakamoto and his research team addressed this gap by investigating how different perspectives affect option generation and tactical decision-making.
Players Grouped by Decision-Making Ability
Twenty-seven members of the National Institute of Fitness and Sports in KANOYA soccer team participated in the study. Individual skill levels varied widely. Some of the players had participated in national tournaments in high school.
First, the researchers assessed the participants' decision-making abilities. The participants viewed a third-person 2D video showing an offensive player, a defensive player, and their "alter egos" in the vicinity of the penalty area. They were asked to quickly and accurately decide how they would play as an offensive player if they had the ball in the position of their alter ego.
A total of 34 situations were presented, comprising three 2-on-1 scenarios and nine 5-on-3 scenarios. Participants were prompted to take action, such as "shoot toward the goal," "pass to a [specific] teammate," and "keep the ball in play."
Three coaches, licensed by the Japan Football Association, deliberated on the most suitable plays for each situation. The participants were then categorized into three groups based on their decision-making skills: high, medium, and low.
3D Virtual Reality
Next, the participants were fitted with a 3D VR head-mounted display. Teammates, opponents, and the soccer ball were presented in simplified computer graphics.
They watched a total of 20 scenarios, each involving a 7-on-7 situation lasting approximately 10 seconds. The scene ended when the participant received a pass. They were tasked with verbally suggesting as many potential plays as they could envision in that specific situation.
Then, the same experiment was conducted using third-person 2D videos. Teammates and opponents were represented by circles and triangles, like on a whiteboard used by coaches to explain a strategy. The situation and movements of the ball and players were the same as in the 3D VR condition.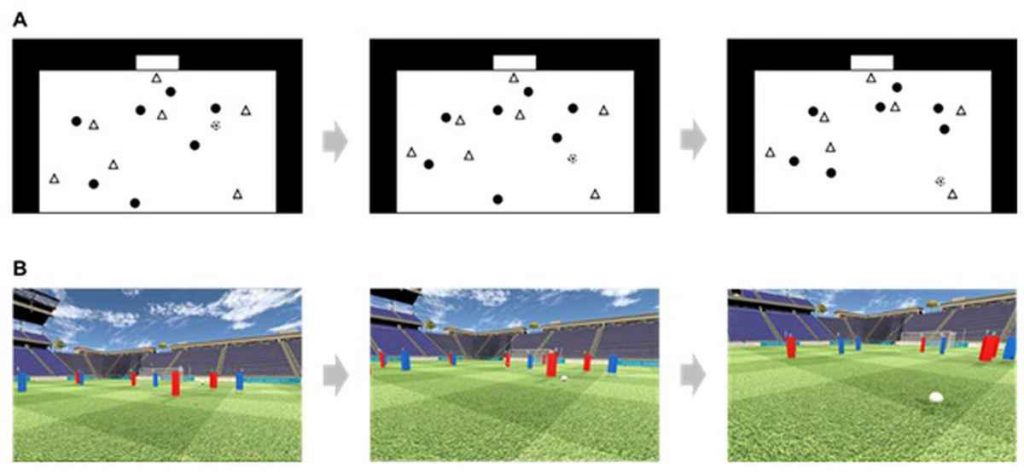 Scoring Plays
Two coaches accredited by the Japan Football Association evaluated the participants' responses. Plays that could lead to a goal or an assist were awarded two points, while plays that could change the situation received one point. Plays deemed less likely to change the situation received zero points. Notably, the assessments provided by the two coaches were nearly identical.
The research team analyzed and organized the participants' responses into six datasets. The number of play options provided by the participants averaged around 2.5, regardless of the simulation format or the participants' decision-making ability. Consequently, the research team determined that the two formats did not result in a quantitative difference in option generation.
Quality of Play
The researchers also assessed the quality of play using the 0-2 scale provided by the coaches. The high, medium, and low decision-making groups all scored approximately 0.8 when viewing the 2D video. Players across all decision-making groups scored slightly higher in virtual reality, with no variation between the groups.
The researchers concluded that 3D VR prompted more goal-directed decisions, irrespective of the player's decision-making ability. Therefore, a key finding was that the difference in format (2D or 3D VR) impacted the quality of options generated, even when participants viewed the same situation.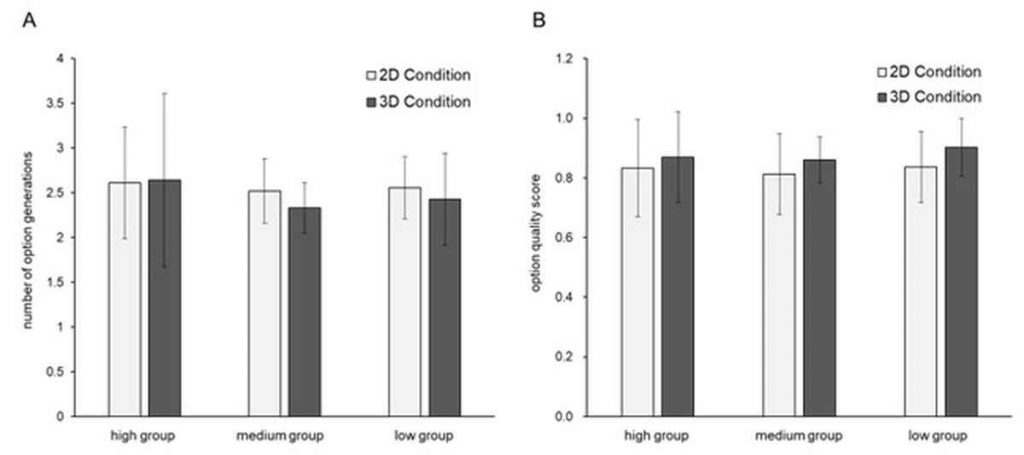 More 'Goal-Directed' and 'Aggressive'
As for why the players tended to choose more aggressive plays in 3D VR, the researchers proposed that it might be linked to the abundance of information. This could cause players to focus on high-priority information, resulting in a preference for aggressive options.
Nakamoto explained, "We found that a player's decision-making ability can be more accurately evaluated using virtual reality compared to using a tactics board or a [third-person] video taken from a high location."
He continued, "Since the impact of virtual reality is not affected by skill level, we believe it can serve as an effective method for evaluating decision-making ability across various skill levels and age groups."
Looking ahead, the researchers aim to explore how virtual reality can be integrated into training. One potential avenue involves creating a VR environment where opposing players move in response to the movements of the individual wearing a head-mounted display.
The research team consists of Associate Professor Hiroki Nakamoto, Associate Professor Yohei Takai, Lecturer Sachi Ikudome, Assistant Professor Daisuke Murakawa, and Shota Yamagata of the National Institute of Fitness and Sports in KANOYA.
RELATED:
This article was first published on iza! by the Journal of Digital Life. Read a related article in Japanese.
Author: Taketoshi Noma