[JAPAN SPORTS NOTEBOOK] Suntory Sunbirds Earn Back-to-Back V. League Titles
In the finals, it all came down to the golden set against the Wolfdogs Nagoya, and the Sunbirds dominated to secure another championship.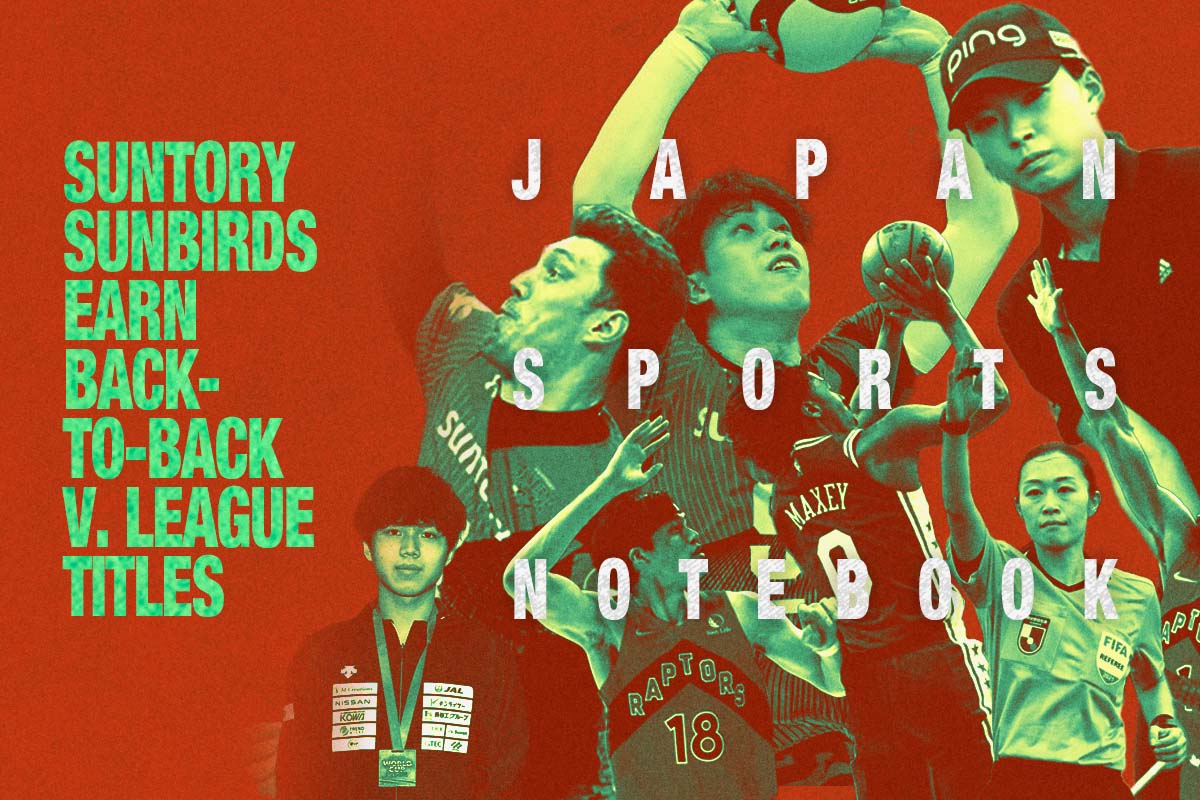 The Suntory Sunbirds captured their second straight V. League title on Sunday, April 17.

After dropping all three sets (25-19, 28-26, 25-21) to the Wolfdogs Nagoya on April 10, the first day of the Japan men's professional volleyball finals, in Shizuoka, the Sunbirds stormed back with a determined effort.

Suntory coach Kota Yamamura's club forced a golden set (a bonus tiebreaker), by winning 25-16, 25-21, 25-17 in the regularly scheduled sets.

Then, 15 minutes after the second round concluded, the winner-take-all golden set began, and the Sunbirds maintained their strong form at Chiba Port Arena, winning 25-17.

The V. League launched in 1994. Ten teams competed in the men's circuit this season. There's also a women's V. League, which featured 12 teams in the 2021-22 campaign.
The Japan Volleyball League, which preceded the V. League, began in 1967.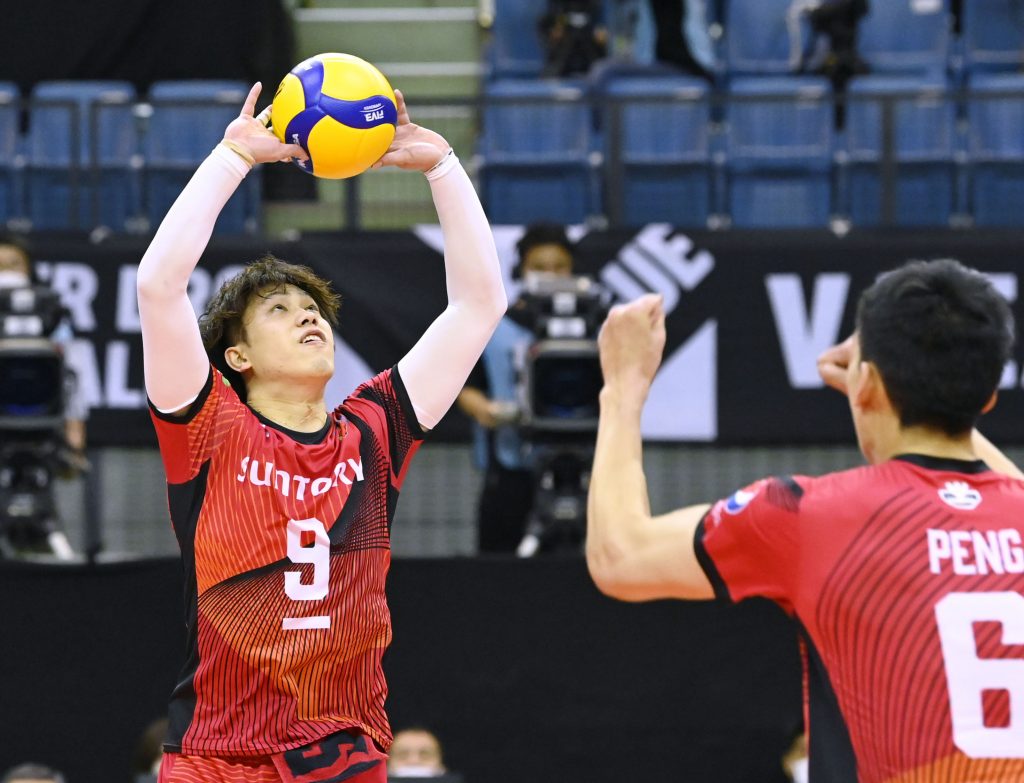 Sunbirds setter and team captain Masaki Oya was named the V. League's season MVP.

He reflected on the team's journey to another championship after the match.

"Today we were able to play volleyball from start to finish, which is the culmination of this season, and we were able to attack without giving pace to our opponents," Oya said, according to comments posted on the team's official website.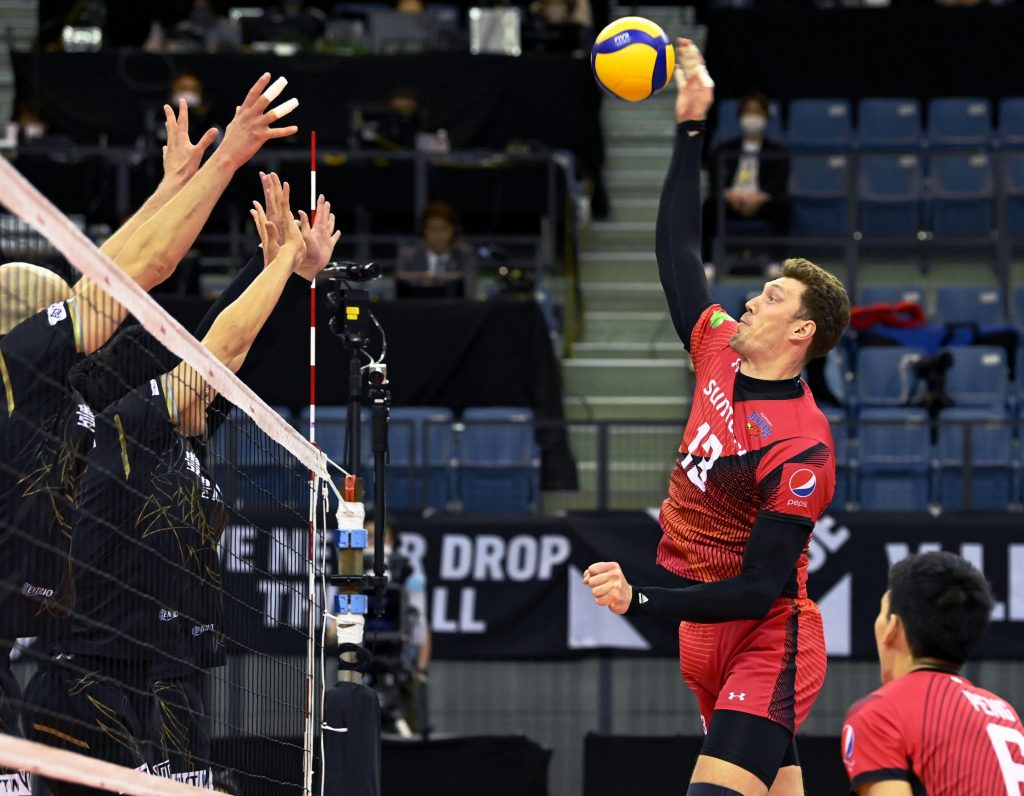 Outside hitter Dmitriy Muserskiy, an imposing 218-cm force on the frontline, was thrilled with the outcome.

"I'm glad to win two championships in a row," Muserskiy said. "I want to thank everyone on the team."

Suntory compiled a 29-9 record this season.

Prior to their title-winning 2020-21 campaign, the Sunbirds last won a league crown in 2006-07, but finished as runners-up in 2010-11 and 2014-15.
The franchise also won five consecutive V. League titles from 1999-2000 to 2003-04.

For the 2021-22 season, the Sunbirds placed two players on the V. League's Best 6 team, outsider hitter Masahiro Yanagida and Oya.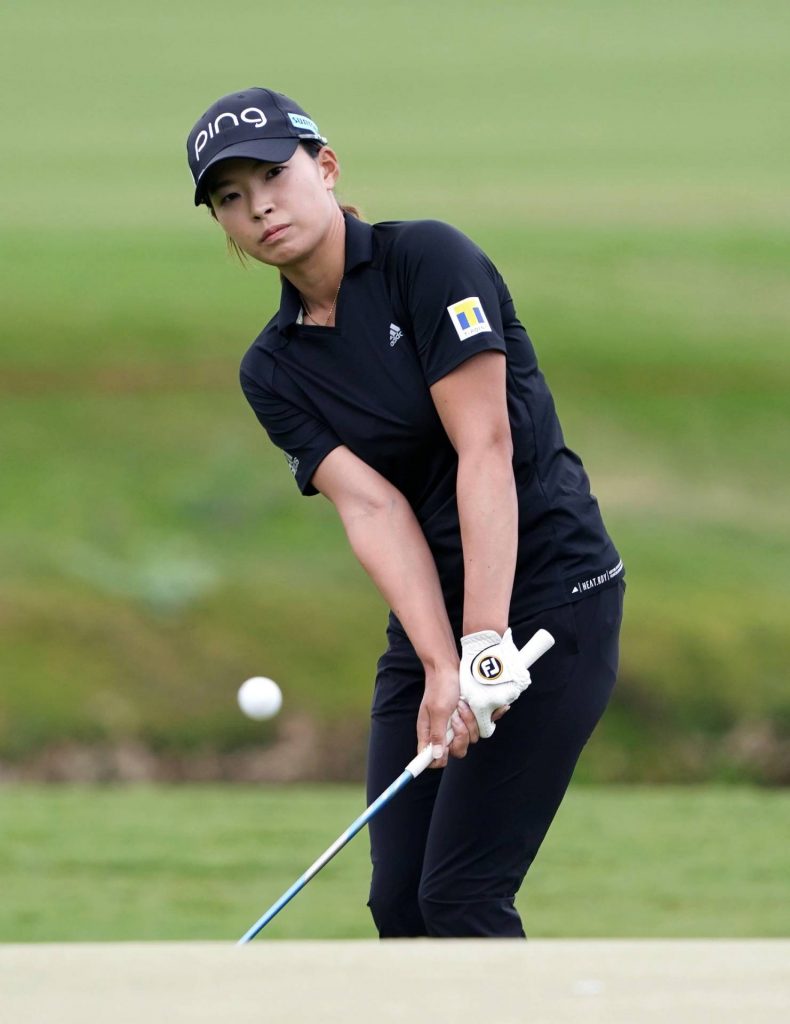 Golf
Shibuno Places Second in Lotte Championship
Hinako Shibuno shot a bogey-free 2-under 70 in the final round of the Lotte Championship in Ewa Beach, Hawaii, on April 16.

The solid effort helped carry Shibuno to a 9-under 279 and a runner-up finish in the LPGA Tour event at Hoakalei Country Club.

South Korea's Hyoo Joo Kim finished at 11-under 277 to win the tournament.

For Shibuno, her overall performance in Hawaii was a positive experience.
"I can build on having no bogeys from the third and fourth days when there were difficult winds and with tough pin setups," Shibuno said, according to Kyodo News. "I couldn't win but I personally think it was a reward for my hard work. I'll be doing so even more going forward."
The 23-year-old, the winner of the 2019 Women's British Open, shot 1-under 71, 70, 68 and 70 in succession in the Hawaiian tournament.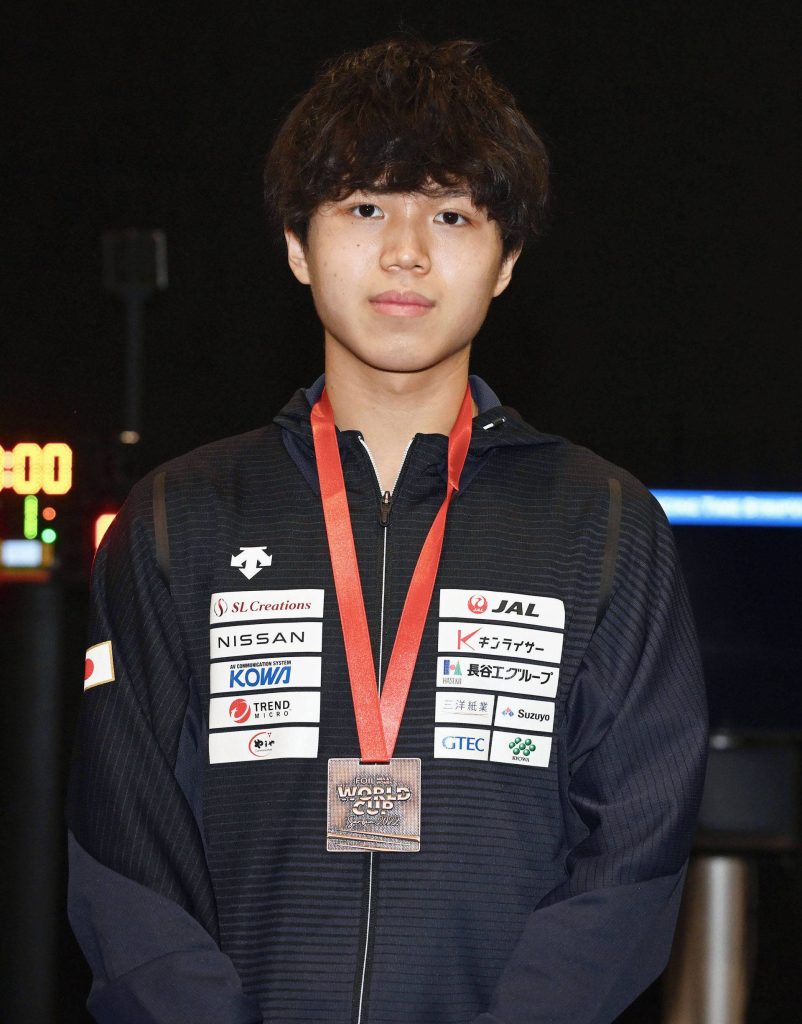 Fencing
Teenager Iimura Earns Bronze at Men's Foil World Cup
Keio University student Kazuki Iimura became Japan's youngest foil fencer to collect a medal in a senior World Cup event.

At 18 years and 3 months, Iimura accomplished the feat by earning the bronze medal at the Men's Foil World Cup in Belgrade on April 17.

The previous record belonged to Yuki Ota (18 years, 7 months), who later grabbed Olympic silver medals at the 2012 London Games and 2016 Rio de Janeiro Games.

In the quarterfinals, Iimura triumphed over Germany's Alexander Kahl, 15-6.

Italy's Giorgio Avola beat Iimura 15-9 in the semifinals.
April has been an important period in Iimura's blossoming career. This month he also shined on the world stage at the Junior and Cadet Fencing World Championships in Dubai, claiming the men's individual junior foil title.

And Iimura recognizes the growth he's shown as a fencer.
"I think I was able to carry winning momentum from the world juniors to place third here at the World Cup," Iimura was quoted as saying by Kyodo News. "I'm not satisfied with the result but I hope to give myself a confidence boost through this medal and keep devoting myself [to the sport]."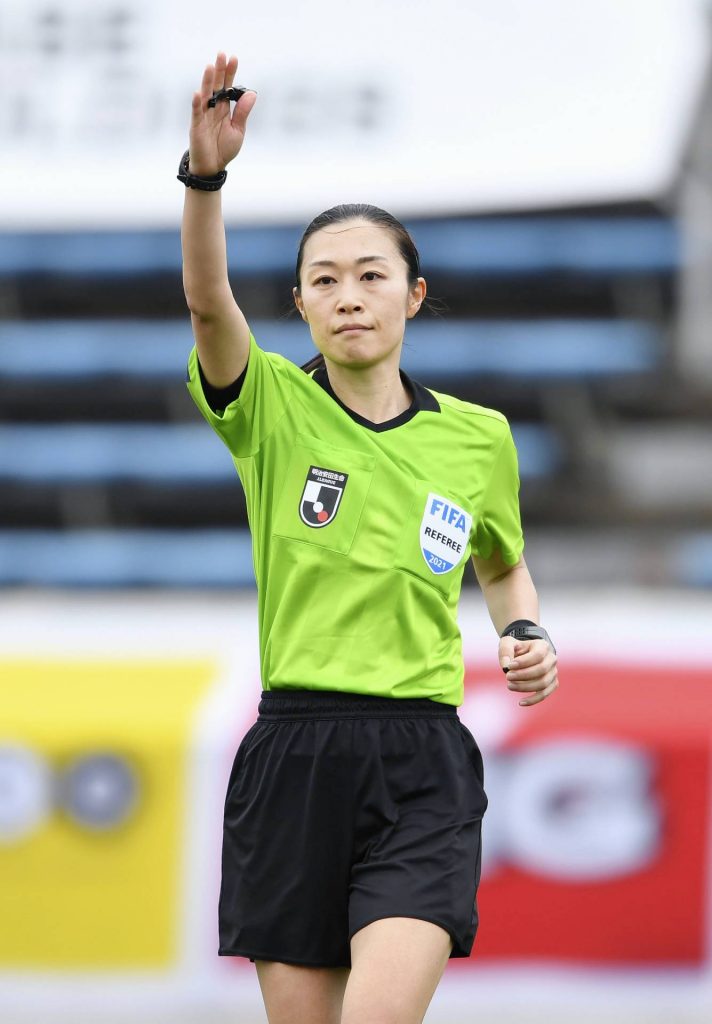 Soccer
All-Female Officiating Crew Makes Asian Champions League History
Japanese referee Yoshimi Yamashita and assistant referees Makoto Bozono and Naomi Teshirogi worked together in the Melbourne City FC-Jeonnam Dragons Asian Champions League Group G match on Thursday, April 21 in Bangkok. In doing so, they became the first female trio to officiate an ACL match.

"Their selection reinforces the AFC's commitment to strengthen and develop the women's game at all levels as well as in ensuring the AFC's women match officials continue to receive the highest standards of quality education and expert guidance to scale the biggest stages in world football," the Asian Football Confederation said in a statement.

Yamashita, 36, has been registered as an international referee since 2015. The Tokyo native worked at the 2019 FIFA Women's World Cup and the Tokyo Olympics last year, overseeing the United States-Sweden women's match.
Bozono, a Tokyo native, has also been an international soccer ref since 2015.
Teshirogi, who hails from Hokkaido, made her international officiating debut in 2013.

Like Yamashita, Bozono and Teshirogi also worked at the Tokyo Olympics.

Upon the announcement of her appointment in April 2021, Bozono expressed gratitude for the opportunity.

"Although the world is still in a critical situation, I feel very honored to be appointed as a referee for the Tokyo Olympics," she said in a statement. "I am filled with gratitude towards my co-workers, family, referee mates, and everybody involved in the Tokyo football community, for all of their support. I will give my best efforts to prepare myself both physically and mentally to help the success of the tournament."

Basketball
Raptors' Watanabe Makes NBA Playoff Debut
Toronto Raptors forward Yuta Watanabe, a fourth-year pro, appeared in his first career NBA playoff game on April 16.

The Kagawa Prefecture native came off the bench and logged 5:27 of court time in the Raptors' first-round playoff series opener against the Philadelphia 76ers on April 16. He finished with two points on 1-for-2 shooting, nailing a turnaround jumper.
The 76ers won the first three games of the best-of-seven series, forcing a must-win situation for the Raptors in Game 4 on April 23.

Author: Ed Odeven
Follow Ed on JAPAN Forward's [Japan Sports Notebook] here on Sundays, in [Odds and Evens] here during the week, and Twitter @ed_odeven, and find him on JAPAN Forward's dedicated sports website, SportsLook.