'Victory' is Shoko Kanazawa's New Year Kanji for a Weary World
Black ink flowing from the wood-and-horsehair brush onto the starch-white page, calligraphic artist Shoko Kanazawa inscribed, stroke by stroke, the kanji for "katsu" — "victory".
~ Shoko explained that "victory" means three things. Beat the coronavirus, hold the Olympic Games, and be with those you love. ~


In a quiet corner of Tokyo this December, a Japanese calligrapher was envisioning a very different year from the one we have just lived through. Dressed in kimono, hair pulled back and mind focused intently on the black ink flowing from the wood-and-horsehair brush onto the starch-white page, calligraphic artist Shoko Kanazawa inscribed, stroke by stroke, the kanji for "katsu" — "victory".
Japan, and the world, were sent reeling in 2020. COVID-19 has upended lives and thrown entire economies into disarray. We have all been kept from "three mitsus" or "three Cs" of closed spaces, close contact, and crowds. Businesses where people once gathered, such as restaurants and theaters and tourist destinations, have been gutted. Many have closed their doors for good. Families have lost work, and loved ones, to the pandemic.
Summing up the waning year, a priest from the Kiyomizudera Temple in Kyoto performed the ritual writing of the kanji (Chinese character) wrote "mitsu," or "packed in tight". This was no doubt a reference to the endless admonishments to avoid the three Cs. The world braces now for a winter even harder than the last.
In sharp contrast to the gloom of 2020, Shoko's message for a battered humankind is one of hope in 2021. "Victory". The virus can be overcome. Brighter days lie ahead.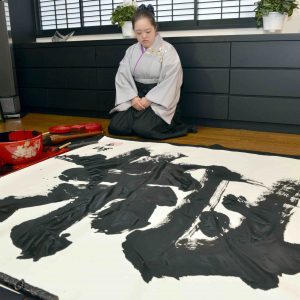 Overcoming Past Tragedies, Hope for the Future
Shoko is a living example of how hope can come out of hardship. When Shoko's mother, Yasuko, discovered that her newborn daughter Shoko had Down syndrome, she "gave up all hope," Yasuko told JAPAN Forward during an interview conducted at their suburban Tokyo home this December.
"All I could do was pray," Yasuko says. "I was devastated thinking about what Shoko's future was going to be like."
Disappointment loomed again when Yasuko's husband, Shoko's father, suddenly passed away when Shoko was fourteen, now more than twenty years ago. After that, all Shoko knew how to do was pray, too. Mother and daughter were left alone in the world.
But already Shoko and Yasuko were working on what, unbeknownst to them at the time, would be their salvation. Yasuko, a calligraphy master and lifelong teacher of the Japanese art of shodō, or the brush-and-ink pursuit of the intricate beauty of kanji, had begun instructing Shoko in calligraphy when the girl was all of five years old. Since then, Shoko has spent nearly every day practicing.
Shoko displayed a skill at calligraphy which, in time, came to be recognized as a talent, and then—could it be?—as genius.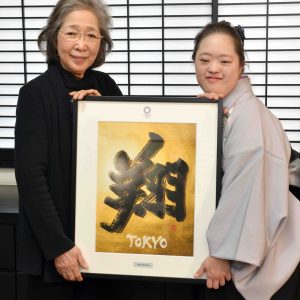 Artistic Success and the Trappings of Fame
Shoko's first calligraphic exhibition was held after her father died. Yasuko says she didn't expect much. She just wanted to fulfill an expectation that her late husband had had, a dream of his that Shoko might one day be able to share her art with the world.
The reaction was overwhelming. Calligraphy enthusiasts and average citizens flocked to see Shoko's creative, playful, and profound pieces. A star was born.
Since that time, Shoko has headlined thousands of events and has had her work exhibited at the most prestigious venues in Japan. Her calligraphy has hung among the works of the masters of centuries past at Horyuji, Todaiji, Yakushiji, and other famous temples in Nara and Kyoto. Shoko's work has appeared in more than two thousand places overall, including being featured as the title calligraphy for the 2012-2013 NHK Taiga Drama about Taira no Kiyomori—an honor reserved for the best of the best. Shoko and Yasuko have given speeches at the United Nations in New York, and have met national leaders, celebrities, and fellow artists.
Earlier in 2020, Shoko had a solo show and performance at the Portland Japanese Garden in the United States. In 2017, Shoko had a show at the Ueno Royal Museum which attracted so many visitors that the line to get in the museum stretched out the front door and around the block.
By any measure, Shoko has enjoyed smashing artistic success. So what else does she have to prove?
What does "victory" mean to her?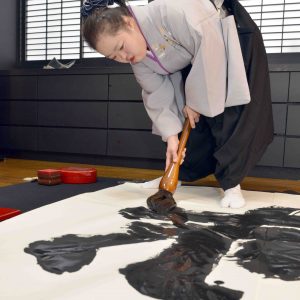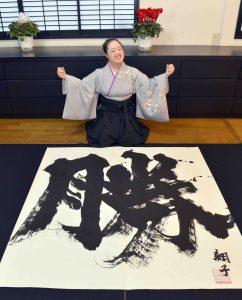 Shoko Kanazawa's Three Keys to "Victory"
In the interview, Shoko explained that "victory" means three things.
First, she prays that the world will beat the coronavirus—which she has taken to referring to as "Korotaro," or "Corona Guy". Shoko says that it is wrong to take any human life, and she expressed her disappointment in Corona Guy for harming anyone in the human race.
Second, Shoko wants 2021 to be a win for the Tokyo Olympics. The 2020 Olympics and Paralympics were, of course, delayed due to the virus outbreak, and it remains uncertain whether the event will be held in 2021 as now planned. Shoko's "victory" is a hoped-for triumph for the Games themselves. The Olympics and Paralympics make people happy. Shoko is not rooting for a particular athlete or country in the Olympic Games. She is rooting, in fact, for the Olympics, period. If the Games go on, then it will be a victory, in Shoko's book.
Third, Shoko hopes for victory in life. But what does that mean?
When we ask Shoko we learn that she sees the corona year as having been a chance to spend more time with her mom, Yasuko. "Corona Guy has been telling the world to take a break, take it easy," Shoko says. For her, that means foregoing the hundreds of engagements and appearances a year that she and Yasuko make, all part of the busy schedule of a celebrated artist and her sensei.
Being with those she loves and who love her—that is what victory in life means for Shoko Kanazawa.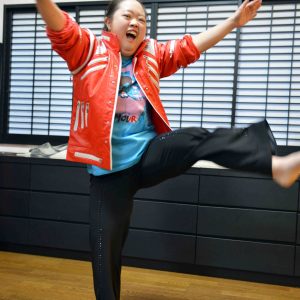 The Greatest Success Is to Be Happy
Shoko never speaks of the honors and awards she has accrued. Success, to her, is a happy home.
Yasuko agrees. Now eighty, Yasuko says she has begun to think about Shoko's life after she is gone. To that end, Yasuko told us that she took the decision to purchase a property in the heart of the shopping area near where she and Shoko live. Soon, if all goes well, there will be a five-story building in Kugahara: on the first floor a café and gathering place for those who have come to see Shoko's works, on the second and third floors classrooms for continuing the calligraphy lessons Yasuko still gives and storage space for all of Shoko's works of art, and, on the fourth and fifth floors, living quarters for mother and daughter.
Shoko lives alone now in an apartment very near the family home, and, although Yasuko still sees her four or five times a week, Yasuko thinks it is important to respect Shoko's independence. So, Yasuko will live on one floor, and Shoko on another.
"I want Shoko to live as she wants," Yasuko says. "I want Shoko to be a role model for those with disabilities, to show the world that people with Down syndrome can live, love, and be loved in their own way."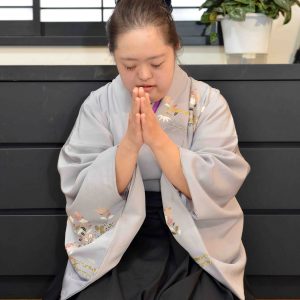 Praying, Resting, then Getting Back to Work
During the corona downtime, Yasuko has been able to get enough sleep for the first time in many years, and is now eating more healthily, too. All the time on the road with Shoko has taken its toll, and she wants to take care of herself so she can be there for Shoko for as long as possible.
But, at the same time, Yasuko is leaving Shoko in other hands already, and long has been. "I prayed and prayed. My job was, is, to pray," Yasuko says, speaking of her life raising Shoko. It wasn't always easy, but the mother and daughter team has had a remarkable run of good fortune.
"One good thing has followed the next, and out of disappointment has come a life of unimaginable success," Yasuko adds. "There is power in prayer." Trusting that all will be well, Yasuko does whatever she can to lengthen the time that she and Shoko can be together.
Shoko prays, too. Before beginning her work, Shoko recedes into silence, as Yasuko puts it, closing her eyes and folding her hands in preparation for picking up her brush. When we ask Shoko to whom she prays, she answers immediately: "My father."
From heartbreak has flowered, completely unexpectedly, a most remarkable of artistic careers. Prayer in desperation has yielded blessings and comfort.
This year, Shoko Kanazawa wants the world to know that what looks like defeat is just victory trying to come through on its own terms. Her prayer finished, and with her beloved mother by her side, Shoko takes up her brush and gets back to work.


Author: JAPAN Forward