Sword Fittings of the Mitsumura Collection on Exhibit November 3 to December 17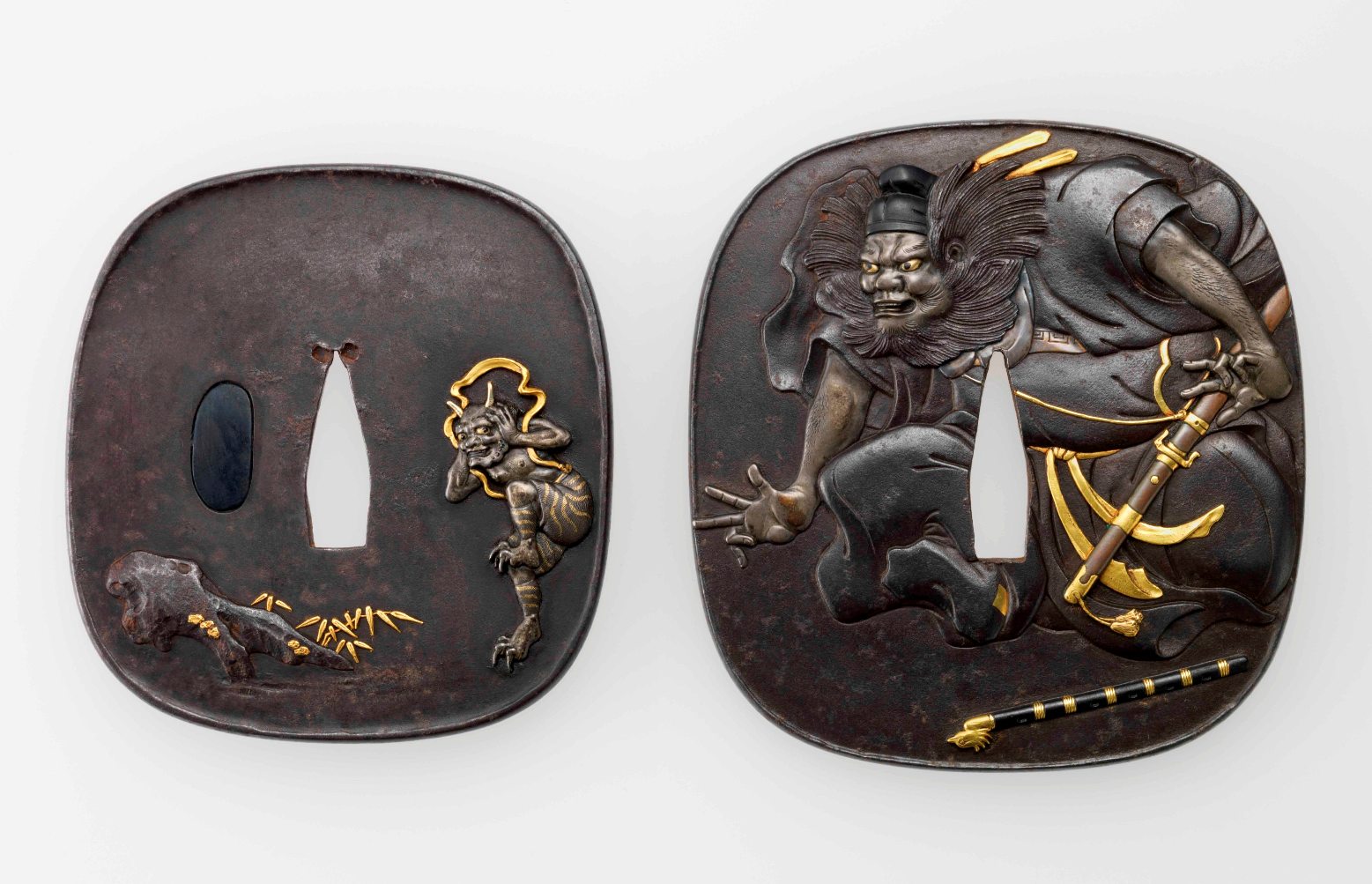 Matching pair of sword guards Design by Kongosai (Matsuo) Gassan (1815-1875). 19th C.
Nezu Museum, formerly Mitsumura Collection.

From November 3rd until December 10th, 2017, Nezu Museum is holding an exhibition of some of the most exquisite swords and sword fittings in Japan. It features the collection of Toshimo Mitsumura, a Meiji period businessman and founder of the Mitsumura Printing Company.
In the gallery, many works have bilingual commentaries, and the exhibition is accompanied by a beautifully illustrated catalogue. Mitsumura's collection and his scholarly publications are a valuable resource to fittings enthusiasts and collectors alike.
"No one before or since Mitsumura has made such amazing contributions to the world of sword fittings. Therefore, I think it is reasonable to say that you cannot speak about sword fittings if you do not know about Toshimo Mitsumura and the Mitsumura Collection," said one of the exhibition curators, Naoko Naito.
Toshimo Mitsumura (1877-1955) was born in Osaka in 1877 (Meiji 10). He was the eldest son of Yahei Mitsumura (1827-1891), a magnate who controlled the shipping industry in the whole of western Japan. When Mitsumura was 14 years old, his father died, leaving him an enormous inheritance.
Fascinated by the skill and beauty of sword fittings, he used his inheritance to amass a magnificent collection of swords and fittings of over 3,000 pieces. Mitsumura did not only collect works, but also took part in a wide range of activities to help further a deeper understanding of sword and fittings. He held regular appreciation and appraisal events at his residence, attended by hundreds of guests.
Mitsumura also utilized the most advanced photographic and printing techniques of his printing company's technology in a visionary project to produce a large set of reference books entitled, Tagane no Hana. The title, which translates as Flowers of the Chisel, encapsulates the fine beauty of sword fittings that is unfolded like a flower by the use of small chisels called tagane.
Mitsumura's printing company was also instrumental in his famous woodblock print reproduction of the 11th century Chinese Buddhist painting, Mahamayuri. The print is the same dimensions (167 cm x 102 cm) as the original in Ninnaji Temple in Kyoto, making it the largest and most colorful woodblock print in the world. It was displayed at the 1904 World Exposition in St. Louis, US, where it was awarded an honorary gold medal.
In 1876, the Japanese government issued an edict prohibiting the wearing of swords by civilians in public. Consequently, the demand for swords and sword fittings decreased dramatically. Many craftsmen turned to new occupations, and some fittings makers began making jewelry and ornaments in order to survive. Later, around the early 1890s, many of the sword-related craftsmen who had worked at the end of the Edo period had become elderly and had no successors.
The sword and sword fittings manufacturing techniques were in danger of being lost. Mitsumura, in an effort to preserve the traditional skills, supported many artisans by commissioning many swords, fittings, and mountings from contemporaneous craftsmen. However, his altruistic attitude was not limited to sword craftsmen. He also was a patron of Japanese artists, and his collection includes many masterpieces, several of which are displayed in the exhibition.
Unfortunately, due to business problems, Mitsumura had to let his collection go in 1909. It was purchased as a collection by Kaichirō Nezu Sr. (1860-1940), who did not want to see individual pieces go overseas. Toshimo Mitsumura eventually passed away at the age of 78 in 1955. About 1,200 pieces of the original collection remain in the Nezu Museum today. It remains to be the largest collection of sword fittings in Japan, and is highly regarded for its quality and depth as an academic resource.
The exhibition is based upon a selection of fittings from the 1,200 items of the former Mitsumura collection currently held in the Nezu Museum. In addition to the many beautiful sword fittings, the exhibition also explores Mitsumura's wide range of cultural interests by including swords and paintings.

Katana Sword by Gassan Sadakazu (1836-1918). Meiji period, Dated 1905 (Meiji 38).
Nezu Museum, formerly Mitsumura Collection.
According to the inscription, the sword was commission by Mitsumura in 1905, when Japan was celebrating its victory at Port Arthur in Manchuria. It has a carving of a kurikara (dragon wrapped around a double-edged straight sword) on the front, with Fudo Myo-o and his attendants on the reverse. The hamon (pattern of the hardened edge) is in the style of the 14th century Sagami province mastersmith Masamune. Sadakazu was designated as an Imperial Craftsman (equivilent to Living National Treasure) in the year following the making of this blade.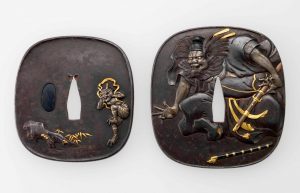 Matching pair of sword guards Design by Kongosai (Matsuo) Gassan (1815-1875). 19th C.
Nezu Museum, formerly Mitsumura Collection.
These two sword guards placed side by side depict a scene of the demon queller Shoki chasing a small demon. The large sword guard was purposely made with no seppa-dai (space for hilt base and spacers) or hitsu-ana (holes for the kozuka and kogai) as it was made for appreciation only and never intended for use.
Pair of Sword Fitting Sets with Millet Design By Araki Tōmei
Japan Edo period, 19th century
Private Collection
Special Exhibition
Pinnacle of Elegance: Sword Fittings of Mitsumura Collection
Friday, November 3rd to Sunday, December 17th, 2017
Hours: 10 a.m. to 5 p.m. (entrance closes at 4:30 p.m.)
Closed: Mondays
Organizer: Nezu Museum and the Agency for Cultural Affairs of Japanese Government
Closest station: Omotesando
Samurai Style
There will be introductory talks on swords and fittings in English at the museum on December 10, 2017, by Paul Martin.
10:30-11:00 am and 2:00-2:30 pm
Nezu Museum Lecture Hall, B1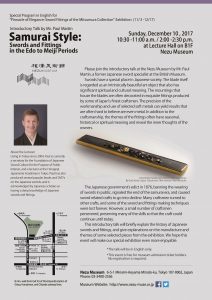 Paul Martin is a former British Museum curator, Japanese Sword Specialist and a secretary of the Nihonto Bunka Shinko Kyokai (NBSK). He is also an appointed Bunka Meister (Master of Culture: Japanese Swords) by the Japonisme Shinko Kai (Honganji).