The Shoko Kanazawa Story: Moving Documentary of a Remarkable Calligrapher 
From June 2: Film director Masaaki Miyazawa tells the story of the talented artist Shoko Kanazawa, who has Down syndrome and yet lives life on her own terms.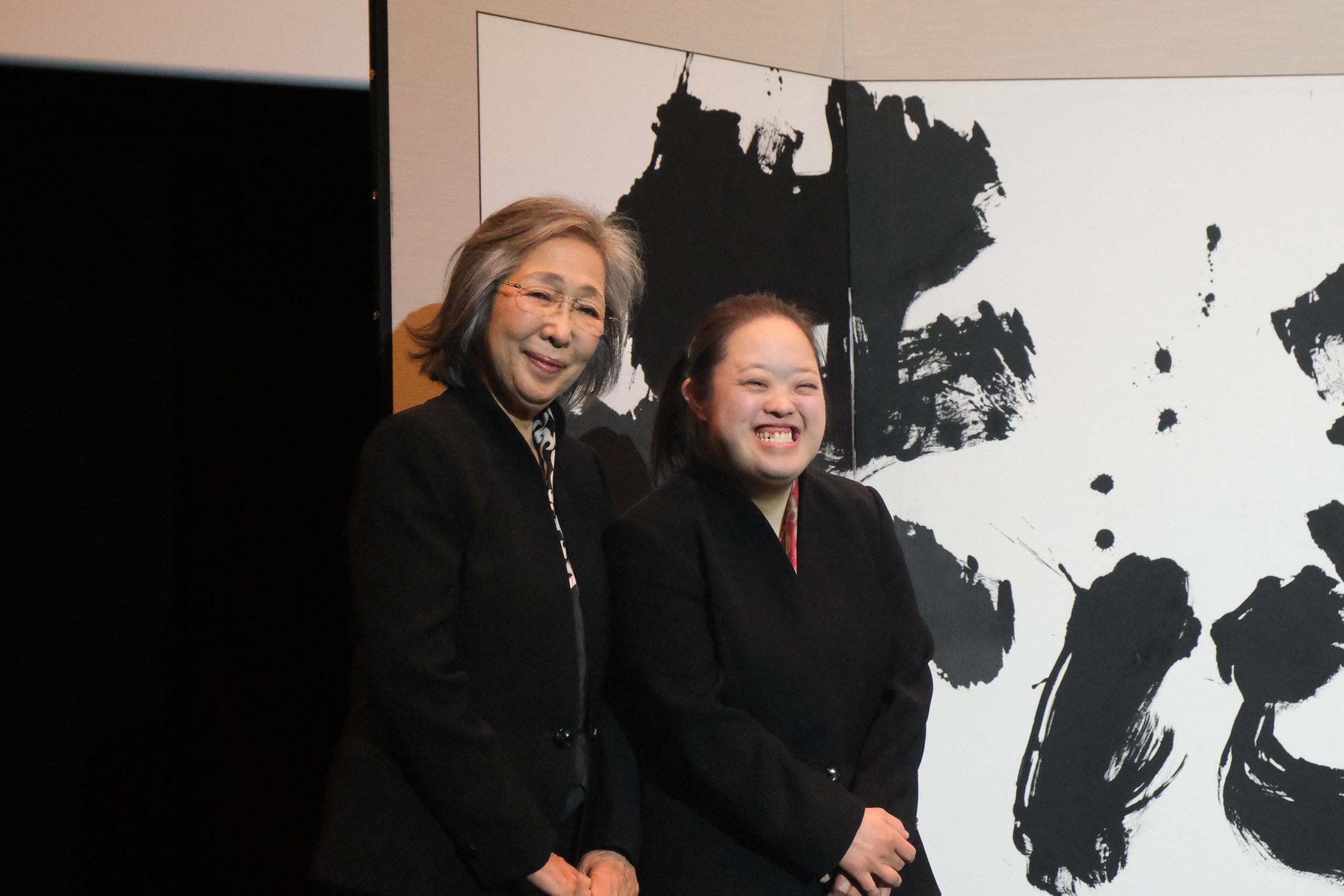 Film director Masaaki Miyazawa has beautifully documented the life of his subject Shoko Kanazawa in a new documentary previewed on May 9. Tomo ni Ikiru, Shoka Kanazawa Shoko (共に生きる、書家金澤翔子) is a moving story of a talented young woman and her mother. Roughly translated as "Living Together: Calligrapher Shoko Kanazawa.," the documentary film is set to release in Japan on June 2.
The documentary follows the story of calligrapher Shoko Kanazawa, who was diagnosed with Down syndrome shortly after birth. It depicts the inner turmoil faced by her mother Yasuko, and how the mother first taught Shoko calligraphy. Moreover, it does not shy away from the challenges they both faced along the way.
Shoko is now recognized as a one-of-a-kind calligrapher and one of the prominent young talents in Japan. Together with holding countless exhibitions, she performs at important locations such as Nara's Todaiji temple.
Her works include the calligraphy titled "Taira no Kiyomori," a TV historical drama series broadcasted on NHK in 2012. In October 2022, she became the iconic Tokyo Tower's first Cultural Ambassador.
How did a mother raise a child with Down syndrome to become such a confident and talented calligrapher? And how did Shoko grow into someone who manages to stir the hearts and minds of people in unprecedented ways?
The film brings together testimonies that show the challenges of an ordinary mother trying to raise her special child in a competitive society. And it highlights the many extraordinary ways in which they managed to connect with people in Japan and all over the world.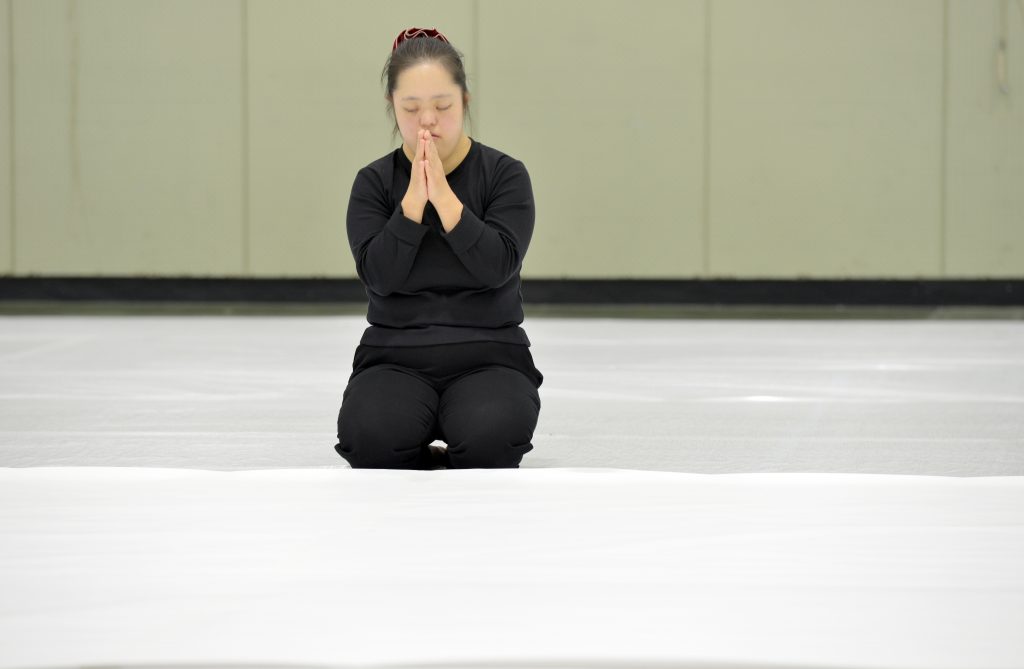 Touching People's Lives
At the preview event, director Masaaki Miyazawa explained his resolve to portray Shoko Kanazawa's story.
"Before starting to write in calligraphy, Shoko sits down and prays. At that moment, it's as if the air stands still, she is purifying herself. I wanted to capture that beautiful moment, I think she has a lot to teach all of us," said Miyazawa.
In front of an audience of roughly 140 people, Shoko admitted that she prays to her father before starting to write. He passed away when she was still a young child.
Then, with infectious energy and positivity, Shoko said "I would like to deliver to people a message of hope and happiness to everyone."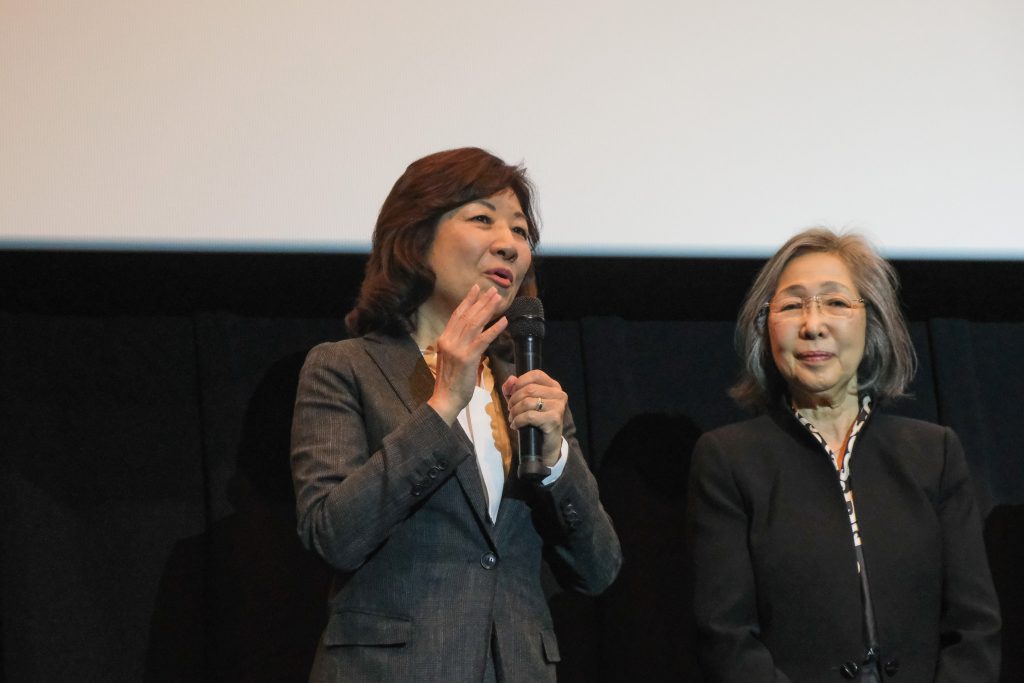 Special Appearances
Japanese Parliamentarian and Cabinet Minister Seiko Noda appeared as a special guest. Sharing the fact that she has a 12-year-old son with special needs, she spoke of Yasuko Kanazawa as a role model for families everywhere who feel lost in that position.
"Watching the way this super-mom [Yasuko] lived, somehow lifted a huge weight from my shoulders. I hope that many people, no matter what their families are going through, get to see this, and live life to the fullest!"
In addition, other testaments to Shoko's influence appear in the documentary. For example, Nakajin, from the music group SEKAI NO OWARI, makes an appearance. He practiced calligraphy with Shoko as a child. Fourth-generation calligrapher Taizan Yanagida also brings his perspective into the film.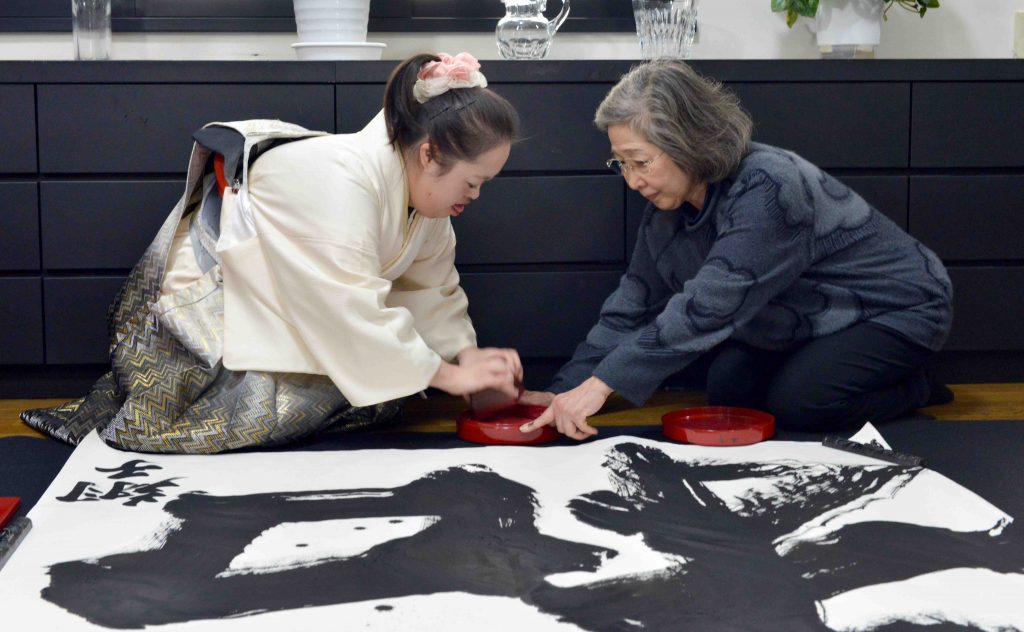 An Extraordinary Mother and Daughter Bond
Circumstances were not kind to the Kanazawa family. Yasuko lost her husband and her sister, two of Shoko's main caregivers, when her daughter was still very young.
The film shows how Yasuko came to teach calligraphy to her special daughter, starting from the age of five.
"It would always end up being the two of us. I didn't know how to deal with the situation. So as a way to move forward, I tirelessly taught Shoko calligraphy. We practiced day in, day out," recounts Yasuko in the documentary.
By the time Shoko was ten, she was already producing art-worthy pieces.
The real break came when Shoko was about to turn 20 years old. As a key birthday celebration in Japan, Yasuko asked her calligraphy teacher Taizan Yanagida to let them rent a space for a special exhibition of Shoko's pieces.
The exhibition was an unexpected success. As Yanagida recalls in the film, "Visitors would be wiping their tears looking at Shoko's works. It was extraordinary, that has never happened for any of my pieces."
In the film, Yasuko recalls her amazement at the first time that Shoko wrote calligraphy in public. "It occurred to me that maybe I was the one that was afraid for her. She just looked at me and calmly said, 'Don't worry, everything will be fine.'"
After those first breaks, the requests just kept coming. Her work is characterized by her own unique style and vitality. Even Emperor Emeritus and Empress Emerita of Japan and the Vatican in Rome are among the collectors of her work.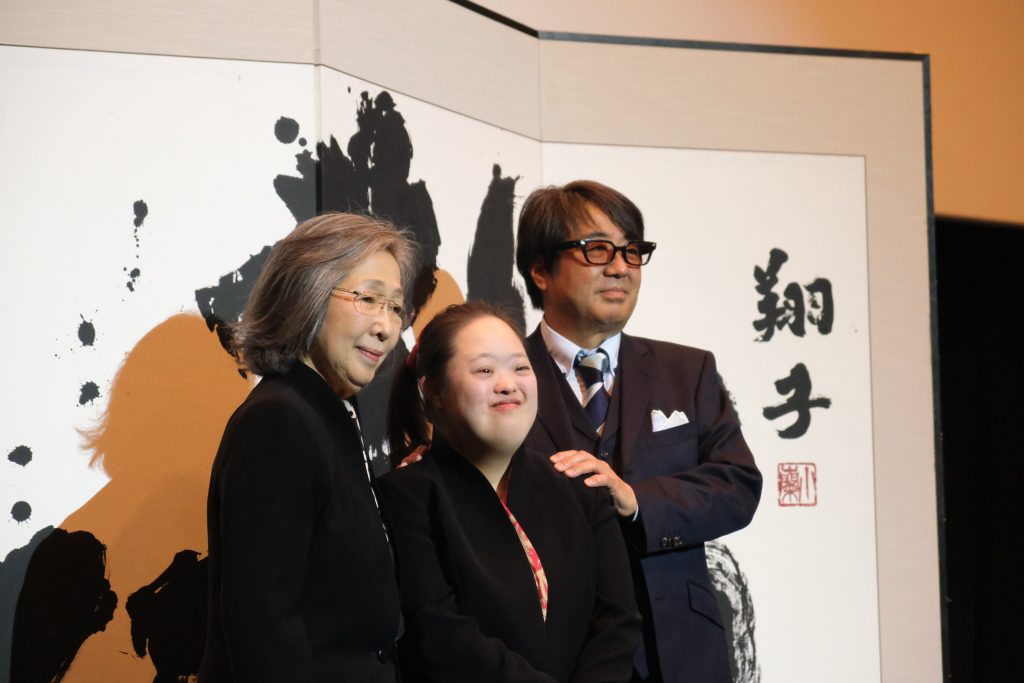 The Shoko Effect: Creating a Conversation for All Families
To this day, mother and daughter work as one. As Shoko writes her powerful strokes, Yasuko follows her, dabbing the excess black ink like a well-oiled machine, telling her to relax.
Shoko's path has allowed Yasuko to explore her feelings as the mother of a child with special needs. And as a mother-daughter unit, she has reflected on the ways in which a family approaches the challenges.
Director Miyazawa interviews other mothers of children with disabilities who attended Shoko's events. And through the documentary, he shows how Shoko's sheer success has become an inspiration to families everywhere.
But also, the film has been a way for Yasuko to share the lessons she has learned as Shoko's mother. "It's okay not to always be working as hard as you can. And it's okay sometimes to just be yourself," she says. Yet, she also teaches the importance of trusting children to create their own paths. That way, they can live in their own way.
As Yasuko told JAPAN Forward in a prior interview, "She is pure, untouched by the world. The world sees her as a Down syndrome person. But Shoko just wants to make other people happy."
Yasuko has worked tirelessly to create an environment where Shoko is accepted for who she is and is appreciated for her incredible talent. In their Ota ward neighborhood in Tokyo, the community looks out for Shoko and cares for her.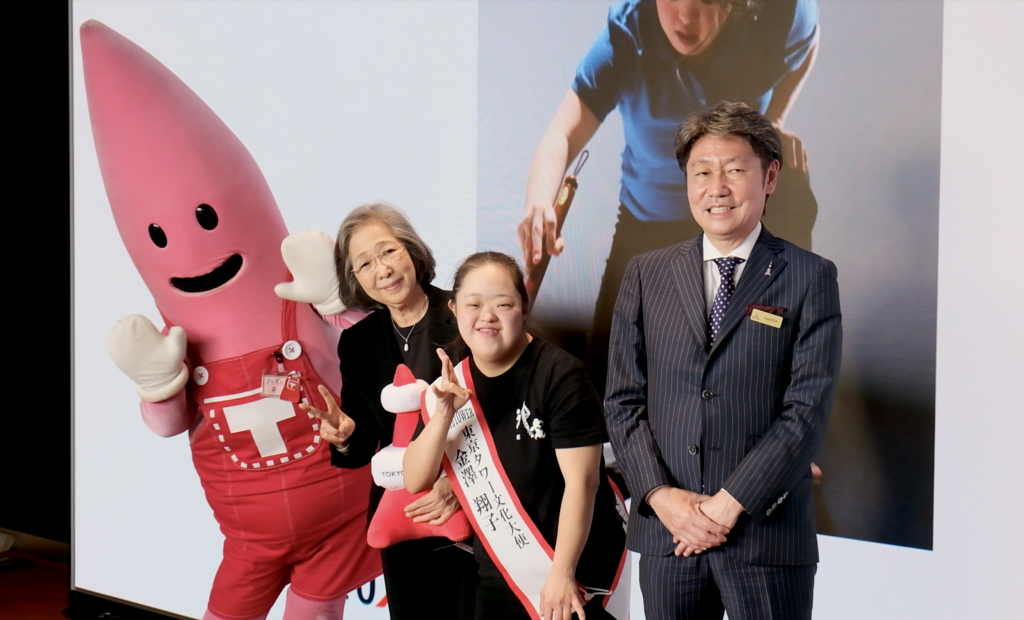 End Song Stirs Emotions
The spirit of the film is perhaps best summarized by the ending theme song, Naitemoiiyo, (泣いてもいいよ). Recorded by Naotaro Moriyama, it was first released in 2012 and re-recorded in January 2023.
Roughly translated as It's okay to cry, the song's lyrics encapsulate the message that sadness is not a negative feeling. If one can accept the feeling of sadness, there can be happiness on the other side.
At the preview event on May 9, the song's poignant lyrics had spectators quietly wiping their tears.
The film ends on the notes of Moriyama, with images of Shoko and her mother Yasuko writing calligraphy together. And the viewer is left to marvel at how this mother and daughter are changing the world, one Japanese kanji character at a time.


Author: Arielle Busetto

RELATED:
(Read the article in Japanese.)
Reviewed by: Arielle Busetto