Wild Bear Cub Raised by Foster Mother Revealed at Noboribetsu Park
Rescued after being orphaned, a wild brown bear cub has been successfully raised by a captive "foster mother" bear alongside her own offspring. The baby bear was revealed to the press on April 28 at the Noboribetsu Bear Park in Noboribetsu, Hokkaido.

According to experts, it is rare that fostering a wild bear succeeds.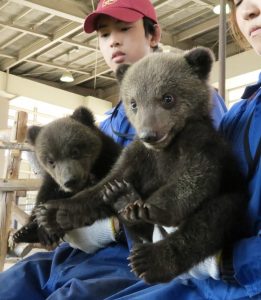 A total of three cubs, still with their eyes unopened, were found in the mountains near the town of Niikappu at the end of January this year. They were given to two of the female bears at the bear park who were raising their own cubs: Torue (18 years) and Regalia (22). Torue, however, abandoned her young, so three bear cubs died: one her own, and two of the orphans.
In contrast, Regalia attended to a total of three cubs: two of her own and one orphan, although one cub died. On April 17, the remaining two cubs were taken from Regalia to undergo genetic testing of their hair. The results revealed that two males—one wild orphan and one of Regalia's own cubs—had survived.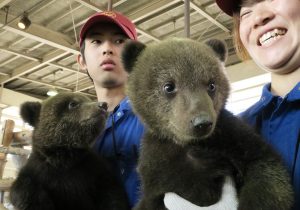 Measurements taken on the same day indicated that the wild cub was 5.4 kg and 48cm long, while the other was 4.5 kg and 43 cm. The two cubs are unrelated, but have a close bond and are currently fed from milk bottles given by the staff. The wild orphan cub is said to be playful and a little spoiled.
Toshio Tsubota, professor of zoology at Hokkaido University, said: "Herbivorous animals do not raise children other than their own. However, we know that carnivorous animals, such as dogs and cats, will tolerate the offspring of others. So this is evidence that brown bears also share this trait. To the best of my knowledge, this is the first example of this successful fostering in Japan."
The acceptance of the wild bear by the other bears at the park is important, as it could provide genetic diversification of the captive population.
Mika Sugiura is the Sankei Shimbun Sapporo bureau chief
Click here for more information about the part and the map
(Click here to read the original article in Japanese)