[Wonder Mountain] Winter in the Japanese Alps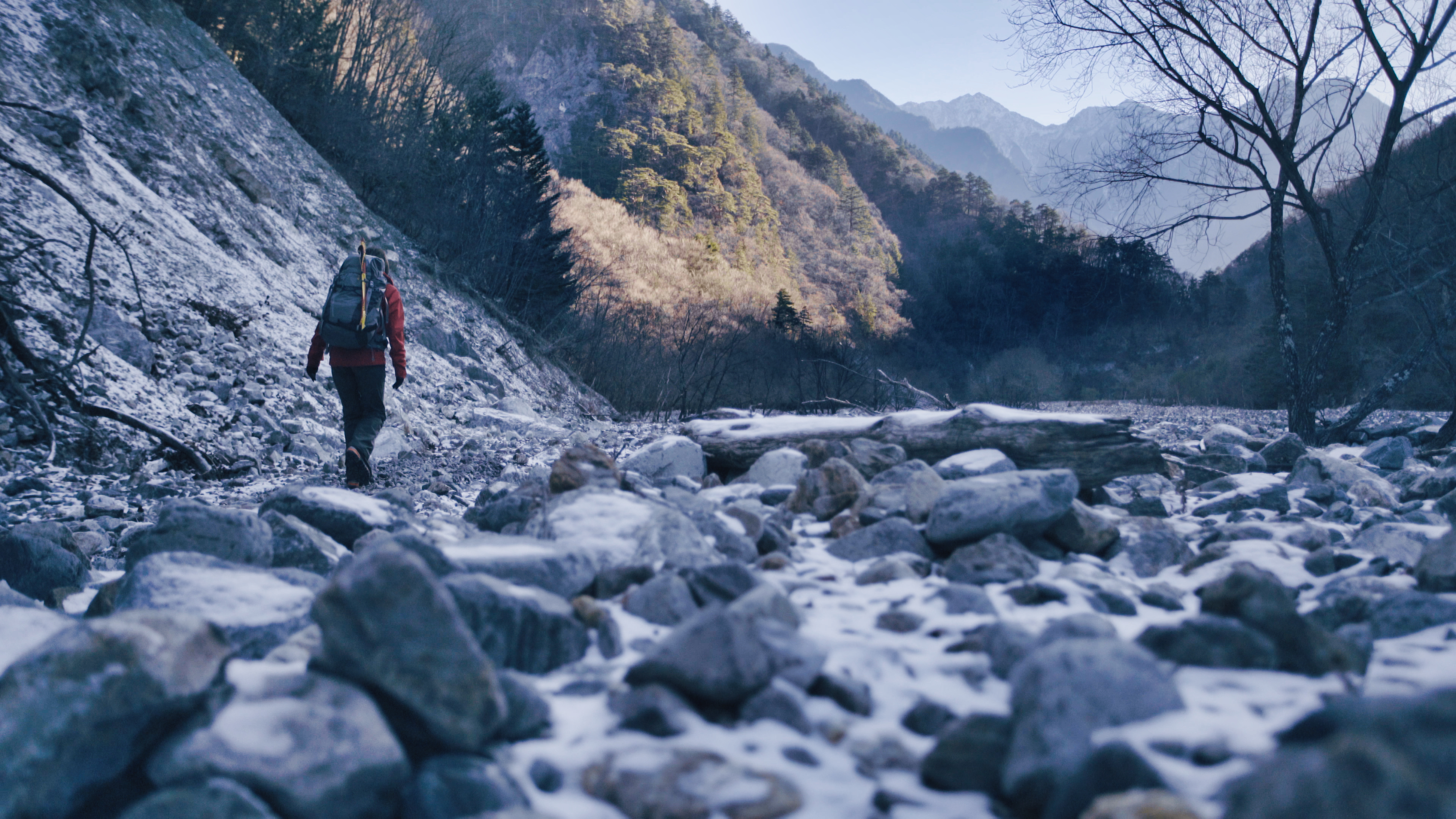 As winter season arrives, the lively mountains of the summertime Japanese Alps are restored to their tranquility. Mt. Senjogatake (altitude 3,033 meters), "queen" of the Southern Alps, is one of those mountains.
Normally it takes only around an hour by bus to get to the trailhead, the "Kitazawa ridge" where the altitude is 2,000 meters. Buses leave both from Ashiyasu in Yamanashi prefecture and Inashi in Nagano prefecture, located on different sides at the base of the mountain.
However, in winter one must engage in a five-hour walk up the trail to reach the ridge location. The usual one-day hike will turn into a mountaineering trip of three days and two nights during the winter months.
It's actually not all that bad, as you will hardly run into other parties during your climb and can enjoy the serenity of the mountains.
Starting the hike from Todaiguchi (Nagano), the wintertime trailhead, there is a pleasant walk along the river. For a while, one can enjoy the dashing Mt. Kai-Komagatake, which can be seen in the far-off distance. Spray from the river freezes over the rocks, transforming their expressions into living-like beings.
Proceeding away from the riverbed, I entered a forest. The hike was not too difficult as there was yet little snow on the ground. Then I climbed to the Kitazawa ridge, which lies at an altitude difference of 1,000 meters from the starting point. The filtered sunlight shimmering through the leaves was beautiful in the forest.
Finally, I reached the ridge.
I decided to stay a night at "Komorebi Sansou," a small mountain lodge open during the New Year holidays. I recommend you curl up in front of the fireplace with books on mountains, which you will find on the bookshelf. The small lodge serves meals that surpass common lodge-quality food, and I was full and satisfied.
The next morning, I started the day by heading for Mt. Senjogatake. I hiked through another quiet forest and finally reached Mt. Kosenjogatake (altitude 2,852 meters), where a panoramic view spread before my eyes.
Here you can get a full view of Mt. Kitadake (altitude 3,193 meters), the second highest mountain peak in Japan. Mt. Kaikomagatake — and even the Northern Alps — are in the far distance.
However, due to the day's high winds and low temperature, I decided to take it easy from here and made my way back to the Kitazawa ridge. Personally, I love the view from Kosenjogatake, so I was quite satisfied even though I didn't make it up to the peak of Mt. Senjogatake.
This mountain is one that I hope you too will have a chance to visit someday.
Author:Takuro Inoue