Yuta Watanabe Vows to Keep Playing for Japan National Team
Though he considered retiring from the national team if Japan didn't qualify for the Paris Olympics, Yuta Watanabe is eager to keep making an impact.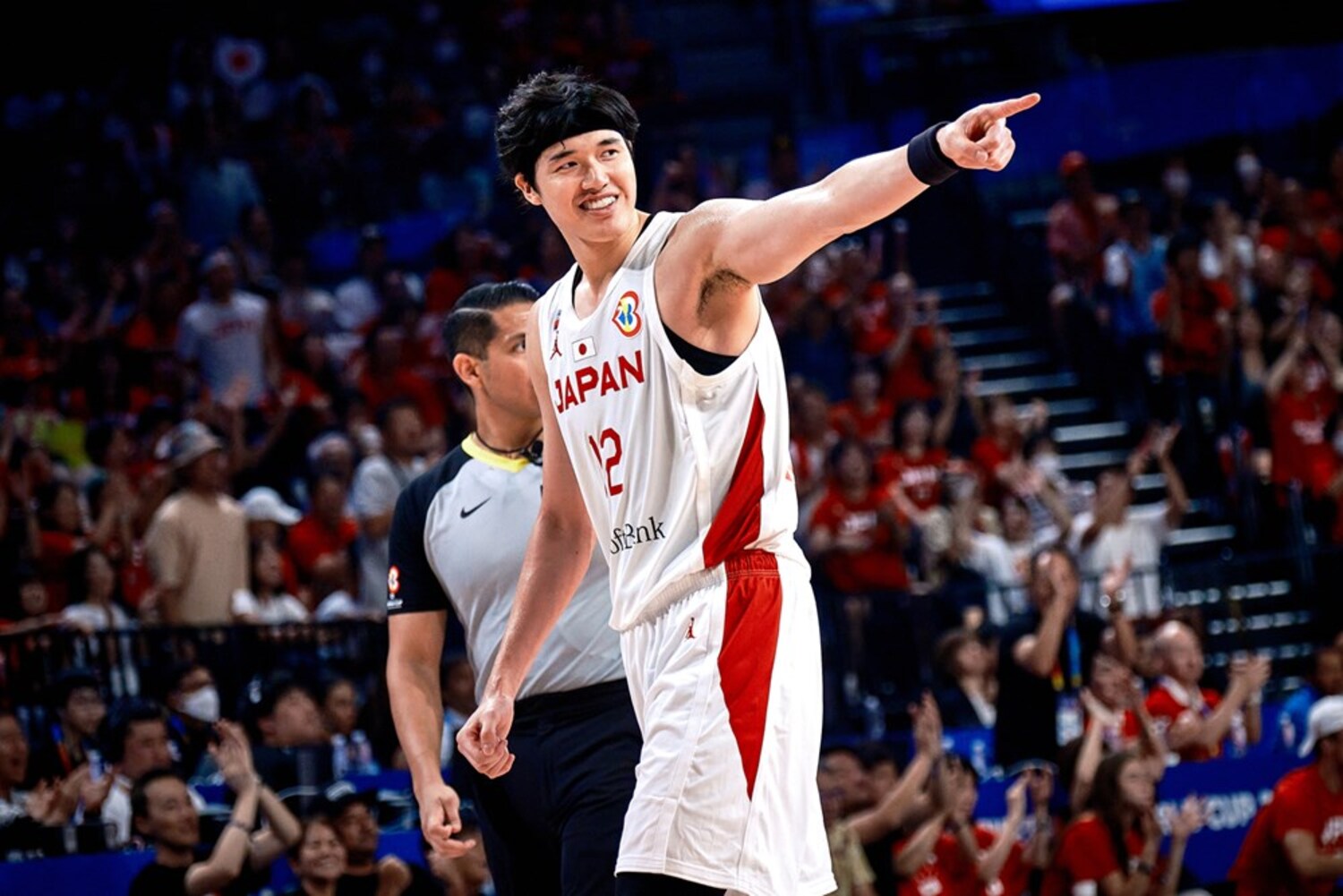 OKINAWA CITY ― From frustration to elation, Yuta Watanabe has experienced a range of emotions as a Japan national team player since he made his FIBA Asia Championship debut in 2013.
He's appeared in 25 games over the years in official FIBA-sanctioned tournaments, including the delayed Tokyo Olympics in 2021. Entering the FIBA Basketball World Cup, which started on August 25, Watanabe and the Japan national team had lost eight consecutive games in the sport's two biggest tournaments, starting at the 2019 Basketball World Cup and continuing at the Tokyo Games.
So it's understandable that Watanabe, now 28 and in the prime of his career, felt that the Basketball World Cup might be his final competition for Akatsuki Japan.
He outlined his thoughts to Basket Count in July in the run-up to the 32-nation tournament with the clarifying remarks that stepping aside might be for the best if Japan failed to achieve success at Okinawa Arena.
"It's no use having players who can't win staying at the top indefinitely," the NBA forward was quoted as saying by the Japanese-language website. "If that's the case, it's better to quickly go through the generational change since there are many talented young players."
He also said a lot was at stake for him personally as a national team player in Okinawa.
"If I can't advance to next year's Paris Olympics with this squad this time, I think this World Cup will be the last time I will wear the national team jersey," said Watanabe, who joined the Phoenix Suns this offseason, according to Basket News.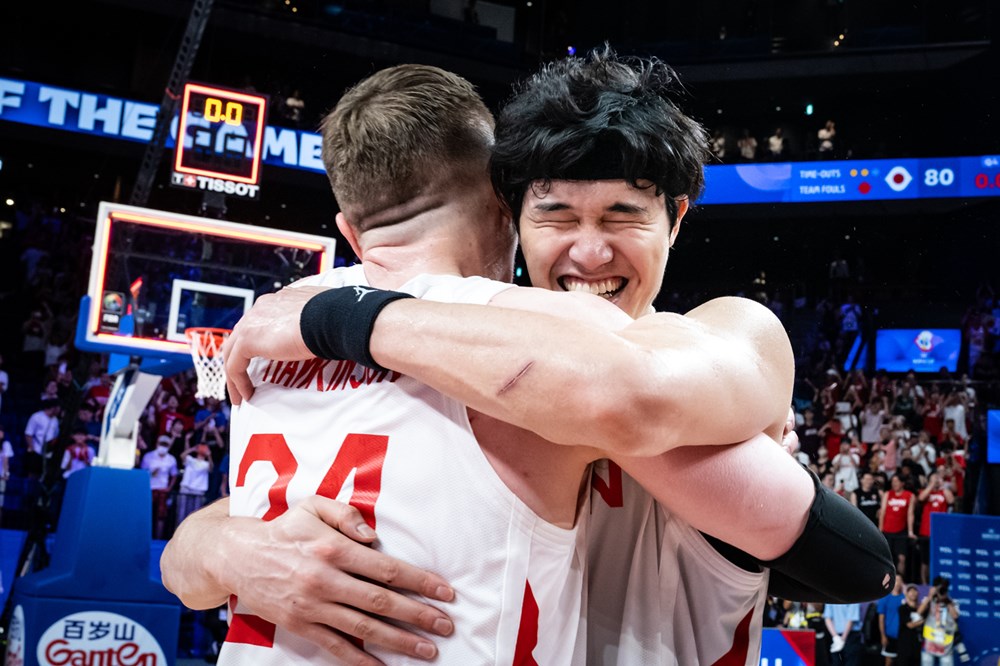 Yuta Watanabe Grateful for Support From Fans, Teammates
Now, Watanabe has no intention of retiring from the national team. His No 12 jersey is still a vital symbol of the squad.
Japan finished its Basketball World Cup campaign with a 3-2 record, defeating Cape Verde 80-71 on Saturday, September 2 to clinch a berth in the 2024 Paris Olympics. It's the first time the Japan men's team has qualified for the Olympics since 1976. And it's also Japan's best-overall record in a Basketball World Cup.
"I was really worried about [having] such a big mouth," Watanabe posted on X, formerly known as Twitter. "Everyone helped me. I will continue as a [national team] representative until I die. Thank you for your continued support!"
Japan picked up its first victory of the tournament against Finland (98-88) by erasing a 10-point deficit at the start of the fourth quarter on August 27. It was Japan's first-ever win over a European team in a Basketball World Cup.
Watanabe and his teammates opened the classification round by beating Venezuela 86-77 on August 31. To get there, Japan overcame a 15-point deficit early in the fourth.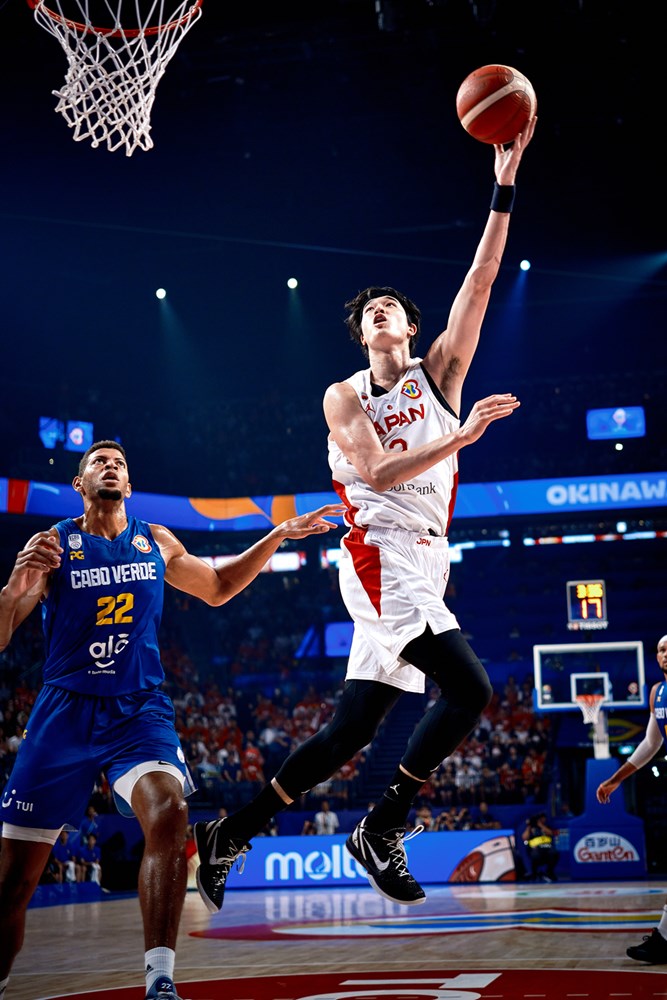 Watanabe averaged 14.8 points and 6.2 rebounds in five games in Okinawa, demonstrating his on-court toughness, versatility and durability against Germany, Australia, Finland, Venezuela and Cape Verde.
In Japan's final tournament game, Watanabe (206 cm) played all 40 minutes against Cape Verde. So did teammate Josh Hawkinson (208 cm).
That was a fierce symbol of the team's determination to compensate for its overall lack of height against a taller opponent.
A Great Feeling to Qualify for the Paris Games
On the night when an entire nation rejoiced when Japan triumphed over Cape Verde, Yuta Watanabe summed up the mood of the entire national team.
"It's really the best [feeling]," he told a large throng of reporters. "I feel like we've finally been rewarded because we worked so hard over the past few months. To be honest, I was very anxious."
RELATED:

Author: Ed Odeven
[Find Ed on JAPAN Forward's dedicated website, SportsLook. Follow his [Japan Sports Notebook] on Sundays, [Odds and Evens] during the week, and X (formerly Twitter) @ed_odeven.