Antlers show spirit of Zico and do Japan proud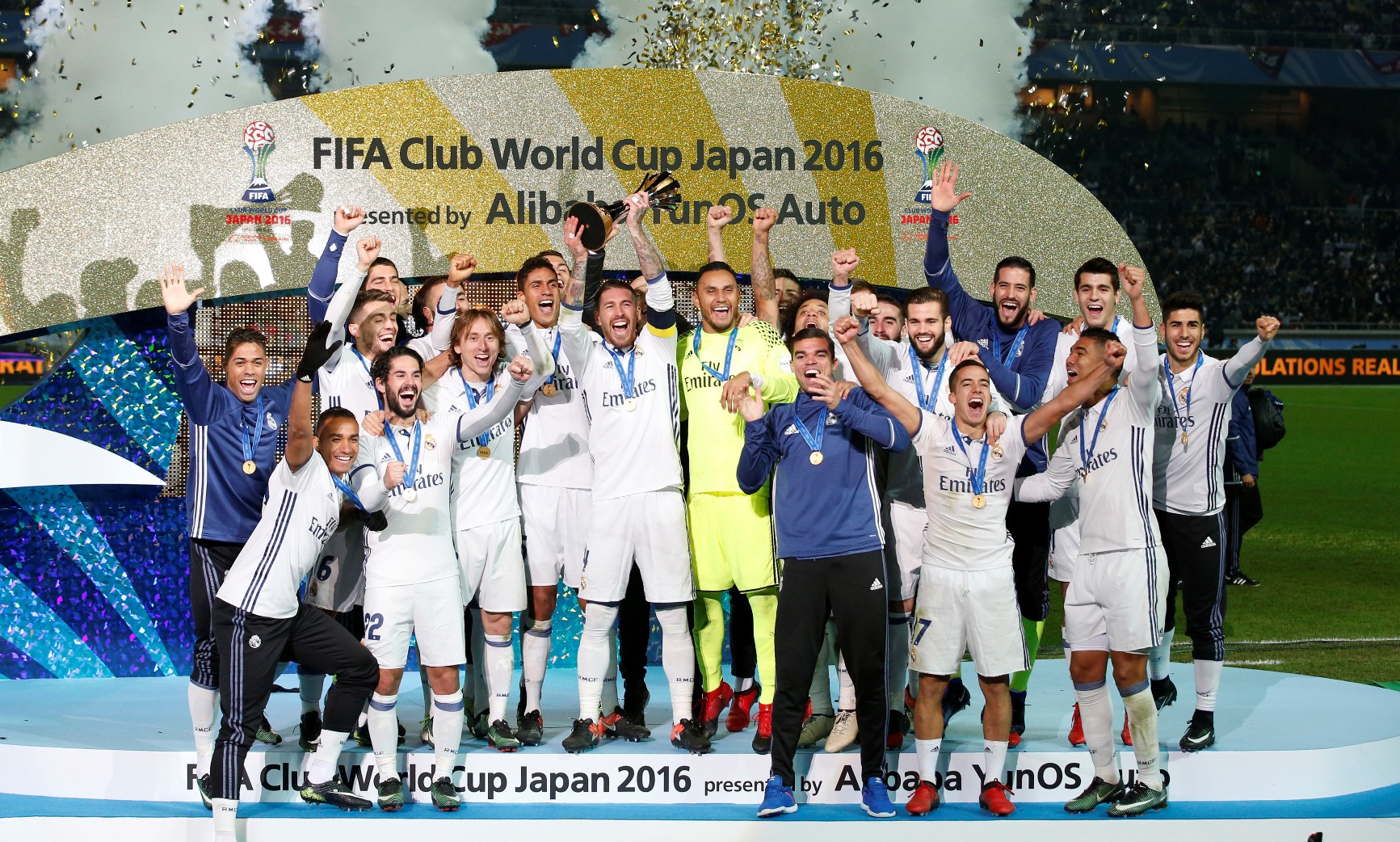 DATELINE: YOKOHAMA, Japan
The 'Spirit of Zico' banner hung high and proud over the pitch at Nissan Stadium on Sunday night, and Kashima Antlers certainly put in a performance befitting the Brazilian legend who underpins the identity of the club.
Another of world football's biggest names, Real Madrid, resplendent in their iconic all-white strip, provided Antlers' opponents for this Club World Cup final, but the J.League champions were anything but cowed in the presence of such greatness.
Yes, Los Blancos did take the lead in just the ninth minute when Karim Benzema pounced on a rebound inside the penalty area, but Kashima didn't become flustered and continued to go toe to toe with the 11-time European champions.
Far from being knocked back by their early concession Kashima instead came out swinging, with captain Mitsuo Ogasawara snapping into tackles in the middle of the park, full-backs Daigo Nishi and Shuto Yamamoto pressing forward to support the attacks, and Mu Kanazaki charging around up front and applying pressure to Madrid's backline.
And then there was Gaku Shibasaki. This was the game for the 24-year-old to show if he really has what it takes, if he is capable of fulfilling his undoubted potential on the biggest stage. It is fair to say the Aomori native passed with flying colours.
Unhurried in possession, delicate of touch, and precise in his passing, Shibasaki look unfazed by the array of world-class midfielders lined up against him, and in the 44th minute he struck. A slightly fortunate first touch took him past France defender Raphael Varane after Shoma Doi's ball into the box and was followed by a perfectly controlled swing of his left boot, which sent the ball arrowing into the far corner. Kashima were level, and deservedly so.
Even so, it was assumed that after the break Madrid would up their game and establish control of proceedings. Players who have won World Cups, European Championships, and countless other titles aren't thrown off their game that easily and their quality would surely tell in the second period.
In the other dressing room, however, Antlers were galvanised. Shibasaki's goal had proved that Real, unbeaten in 36 games coming into this match, were fallible. Kashima believed they could win.
Seven minutes after the break that belief was reinforced as Shibasaki conjured up another moment of magic.
Madrid captain Sergio Ramos, back in the side having missed the semi-final against Club America with an injury, lashed with uncharacteristic abandon at a clearance from the left back position and it bounced 30 yards from his team's goal. Shibasaki was once again in the perfect position to accept possession of the ball, held off Lucas Vazquez, and then swerved away from Madrid's midfield enforcer Casemiro.
Another feint threw Daniel Carvajal off his scent and the chance had opened up. Now 20 yards out, Shibasaki took aim and rifled a low drive crisply beyond the despairing dive of Madrid goalkeeper Keylor Navas and into the net. Shibasaki had spoken ahead of the game of his desire to provide inspiration to the young fans watching this extraordinary match-up, and this was truly the stuff of dreams.
Madrid, of course, looked to respond as quickly as possible and were back on level terms in the 60th minute. Vazquez burst into the Antlers penalty area and was clumsily fouled by Yamamoto, and Ronaldo made no mistake from the resultant penalty.
Now it was time for Kashima's defensive players to shine.
Naomichi Ueda, who only recently turned 22, and, in particular, his fellow centre-back Gen Shoji were outstanding at the heart of defence, maintaining concentration throughout and resolute in every challenge.
At one point it looked like curtains for Kashima, with Ronaldo tearing forwards with only Shoji to beat. The 24-year-old didn't allow himself to be distracted by the four-time Ballon d'Or winner's physical presence or lightning step-overs though, kept his eye on the ball, and promptly stole it from him.
Ryota Nagaki – who has enjoyed an excellent season since joining from Shonan Bellmare and also earned his first Japan cap at the age of 28 – was superb in the middle of the park, running himself into the ground and frequently tracking back to plug any holes that Madrid were looking to exploit.
At one point he also left Real's key schemer Luka Modric chasing shadows too, feigning as if to pass back to goalkeeper Hitoshi Sogahata when the last man on the halfway line before instead manoeuvring the ball with the outside of his boot and giving himself time and space to instigate another Antlers attack – of which there were plenty as the clock ticked down.
In fact, in the last five minutes of regular time it looked like only one team had a chance of winning, and that was the J.League champions.
Mu Kanazaki went close with one effort in the 88th minute and then the ball fell to Yasushi Endo in injury time. The angle was tight but the 28-year-old had a clear sight of goal and will be hugely disappointed he was unable to at least draw a save from Navas, instead slicing his effort off target with the last kick of regular time.
That miss proved to be the one that ended Antlers' brave challenge.
In extra time the legs began to tire, and having been extremely lucky not to lose Sergio Ramos in the 90th minute – referee Janny Sikazwe looked set to issue the Spain star a second yellow card before deciding against it – Real showed their superior quality and resources in the additional 30 minutes, wrapping up the win on the back of two more Ronaldo goals from close range.
Antlers also had chances – substitute Yuma Suzuki thundering a header against the bar with the best of them at 3-2 – but ultimately ran out of steam and were unable to deal Madrid any more blows.
"Honestly speaking, we gave Real problems," coach Masatada Ishii said after the match. "My players were brave right from the kick-off and fought for 120 minutes.
"We are from a very small city, and when the J.League started we were told it was 99.9999 percent impossible to become a J.League club. We were offered a bet on the 0.0001 percent chance of becoming a professional club, and Kashima City took it.
"The fact a club like us can represent Japan at the Club World Cup should provide encouragement for small clubs all around the world."
Kashima certainly served as an inspiration to everyone watching this match, doing themselves and Japanese football proud.
Sean Carroll is an English freelance football journalist who has been covering Japanese football for various domestic and international outlets since 2009. Follow him on Twitter at @seankyaroru