5 Reasons India's Longest Bridge Should Matter to Japan and Southeast Asia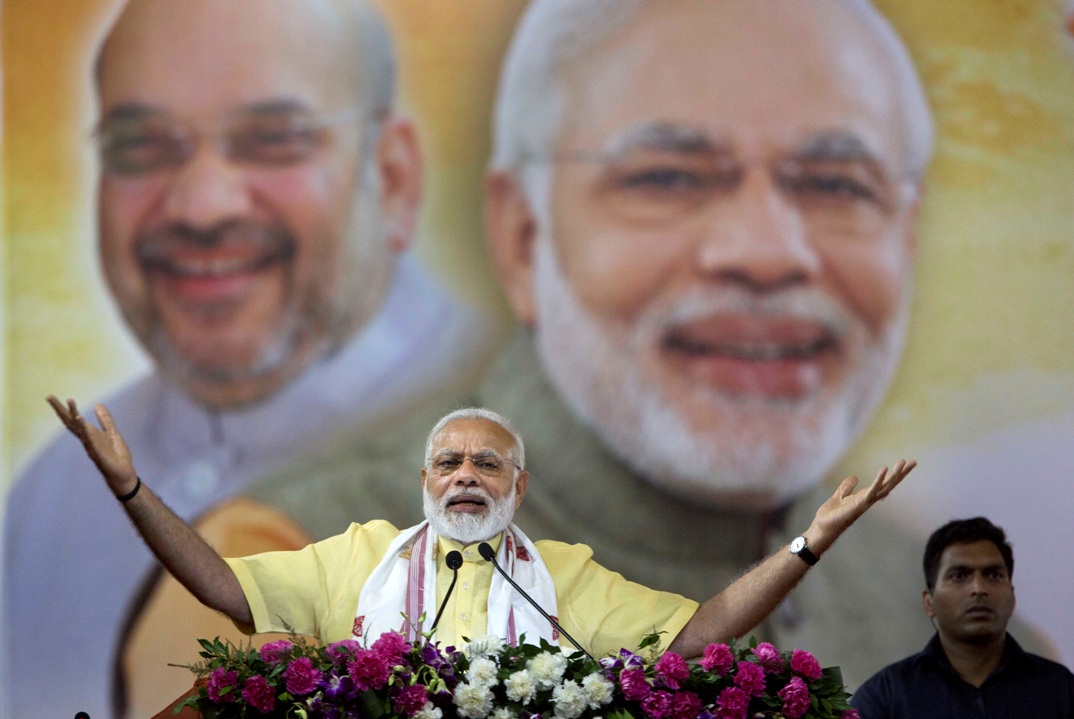 India's longest bridge—all 9.15 km of it over the Lohit river and connecting Dhola and Sadiya in Assam—was inaugurated by Prime Minister Narendra Modi on May 26.

Sadiya is very close to India's border state of Arunachal Pradesh. Named after the legendary singer from India's Assam state, Dr Bhupen Hazarika, the bridge has met the long-standing demand of the people of this part of the country.
However, it has also raised eyebrows in China, where the foreign ministry remarked, "We hope India adopts a cautious and restrained attitude on the issue before the final settlement of the border issue with China to jointly control disputes, safeguard peace and tranquillity in the border areas."
So, what are the strategic ramifications of the inauguration of this bridge?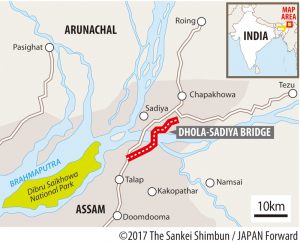 First, it will help in improving access to the border state of Arunachal Pradesh, which has suffered for long, owing to the lack of proper connectivity. Infrastructure development is a big requirement for India, especially its Northeastern region. In order to shore up growth levels in this part of the country—although resource-rich, it has lagged behind many other parts of the country in terms of economic growth—good quality infrastructure is a sine qua non. Besides, although insurgency has been progressively declining in most parts of the Northeast, the best antidote to insurgency is to increase the economic opportunities, especially for the youth.
Second, it will allow Indian defense personnel to move to the border state of Arunachal Pradesh much faster in case of any emergency. This bridge has been built to withstand the weight of 60-ton battle tanks. "With China getting more and more aggressive, it is time we strengthened our physical infrastructure to defend our territory," India's Minister of State for Home, Kiren Rijiju, who is a Member of Parliament from Arunachal Pradesh, told the media. In 1962, Chinese forces entered Indian territory, which caught New Delhi completely unaware.
For a long time, there was a thinking in New Delhi that improving infrastructure in this part of the country was fraught with risks, as enemy forces could use such infrastructure in the event of war. However, this line of thinking seems to have become redundant now that there's new-found confidence of the Indian State. This bridge will cut down the time taken to travel between the two banks of the Lohit river by as much as 8 hours and provide 24/7 connectivity.
Third, it was also an occasion to mark three years of the Modi government, which took office on May 26, 2014, and also one year of the BJP- led government in Assam province (which took office on May 24, 2016). By deciding to inaugurate this bridge on May 26, the government indicated its resolve to fast-track infrastructure development in the Northeast. As Modi put it very aptly, "Northeast was known as NE, but from now on it will be known as new economy, new energy, new empowerment."
Fourth, this government is trying to turn the Northeast into its bridgehead with Southeast Asia. At the same time, work is proceeding apace on the India-Myanmar-Thailand (IMT) trilateral highway. The bridge has the potential to improve trade between India's Northeast (especially Arunachal Pradesh and Assam) and neighboring countries, like Myanmar and Bhutan. It will also help in increasing tourist footfalls into this pristine region, both from within India and from other neighboring countries. It is worthwhile to note here that Japan has provided financial assistance to develop infrastructure in this part of India.
Fifth, the importance of this bridge also has to be seen from the point of view of Sino-Indian ties, as China has claimed the Indian province of Arunachal Pradesh as "southern Tibet." Recently, when the Dalai Lama visited Tawang (in Arunachal Pradesh), China raised a huge ruckus, asking India to cancel the visit, although the visit went ahead as scheduled.
Beijing retorted that "India, in disregard to China's concerns, obstinately arranged the Dalai Lama's visit to the disputed part of the eastern part of China-India border, causing serious damage to China's interests and China-India relations." China has also repeatedly blocked India's bid for membership in the Nuclear Suppliers' Group (NSG). On the other hand, Beijing has consistently refused to acknowledge India's valid concerns over the China-Pakistan Economic Corridor (CPEC), which passes through Pakistan Occupied Kashmir (PoK).
Under the Modi government, India's "Act-East Policy" has been given an added impetus, beginning with the change from its earlier moniker, "Look-East Policy." The "Act-East Policy" aims at reinvigorating India's historical ties with countries in Southeast Asia and East Asia. New Delhi also did not send any representatives to the Belt and Road Forum in Beijing on May 14-15—the only major country to do so. Instead, it will be partnering with Japan in the Asia-Africa Growth Corridor initiative.
If India is to provide an alternate model to the Beijing-led Belt and Road Initiative, it must show to the rest of the world that it has the wherewithal to undertake the kind of massive infrastructure projects as envisaged in the BRI. This bridge is definitely a big step in that direction and hence comes not a day too soon.
Dr. Rupakjyoti Borah is with the Institute of South Asian Studies at the National University of Singapore. He was earlier an Assistant Professor of International Relations at PDPU, India, and a Visiting Fellow at the Japan Institute of International Affairs, Tokyo. His recent book is The Elephant and the Samurai: Why Japan Can Trust India? The views expressed are personal. His Twitter handle is @rupakj, and he can be contacted at rupakj@gmail.com.