'Connected Industries' to Showcase What Japan Can Do with Data and Technology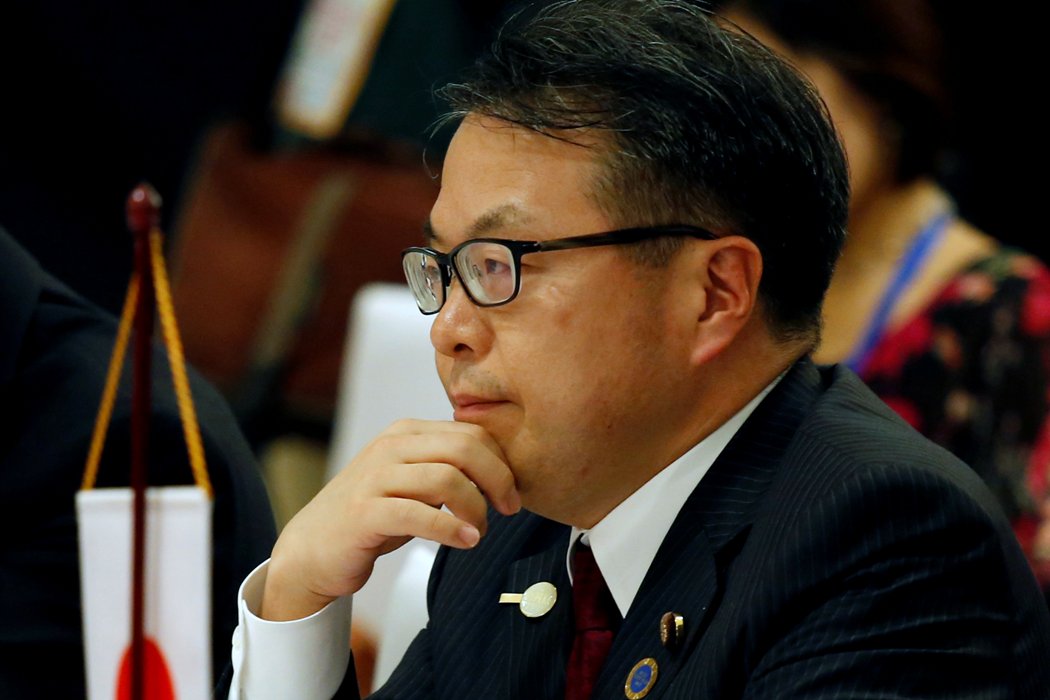 Japan's Minister of Economy, Trade and Industry Hiroshige Seko,54, is known as the "key person" of Prime Minister Shinzo Abe's administration. He is considered as "one of the closest allies to Abe" or "the brain of the Abe administration."
He advocates the brand new idea of "Connected Industries" as a model for future Japanese industries. He even argues that the new idea can solve Japan's aging society problems.
So what is this concept of "Connected Industries"? The very busy Minister Seko agreed to an e-mail interview with JAPAN Forward, and shared his passion for and confidence on his new idea, which, he believes, will move Japan forward.
What is the "Connected Industries" initiative? Please provide some examples.
Connected Industries represents a vision of industries creating new added value and providing solutions to societal challenges by connecting a variety of data, technologies, people, and organizations in the midst of the global rise of the internet of things (IoT) and artificial intelligence (AI).
For example, a major robot maker and a venture company with superior deep learning technology have combined strengths, such as sensory robots with software development platforms for applications capable of conducting advanced analysis. This has led to the co-development of an IoT platform for the manufacturing industry that makes it possible to improve productivity and operating rate, as well as automate machines by using a massive amount of data collected from various manufacturing facilities.
In addition, there is a venture company aiming to create platform-connecting digital technology factories in more than 30 countries. This makes it easier for small-and medium-size enterprises (SMEs), as well as individuals, to manufacture products using digital manufacturing equipment and materials from the network.
Germany is also advocating a similar initiative called "Industrie 4.0." What are the differences between the Connected Industries and Industrie 4.0 initiatives?
Industrie 4.0 being advocated by Germany is an initiative that aims to increase efficiency and optimize all processes in the manufacturing industry, from design and production to retail trade and maintenance, by networking the whole of the supply chain at the levels of equipment and products.
The Connected Industries initiative aims to create new added value not only by increasing efficiency and optimizing the manufacturing process, but also by connecting the strengths of Japan's manufacturing industry with each other. These strengths have been cultivated on the factory floor, including at SMEs, and include accurate data, technological capabilities, problem-solving know-how, and technical skills developed by seasoned workers.
Furthermore, the Connected Industries initiative aims to connect everything not only within the manufacturing industry but also across various industries, companies, and technologies. One example is tearing down the boundaries between the manufacturing and the medical and nursing care industry, or by fusing AI with the bio industry. This is precisely the future direction that should be pursued by Japanese industries.
We hope to achieve synergy effects by collaborating with the initiatives of other countries, including Germany's Industrie 4.0, while also taking advantage of Japan's own strengths.
Will there be risks involved in Japan's pursuit of the Connected Industries initiative? If so, how are you going to deal with the risks?
Sharing and utilization of data are key to realizing the Connected Industries initiative. It is true that cybersecurity and other challenges are emerging as a result of the increased volume of data transferred due to the vigorous creation of new businesses using such data.
We are encouraging companies to implement security measures. For example, in order to raise awareness of the importance of management leadership, in 2015, we formulated the Cybersecurity Management Guidelines, which prescribes that management must keep aware of three key principles and be prepared to provide instruction on 10 important items to officers responsible for cybersecurity measures.
Unexpected challenges may emerge from future technological evolution. However, we will continue to promptly and flexibly take actions to change Japanese industries under the vision of the Connected Industries initiative without undermining the potential of new businesses and innovations.
How will Japanese society change?
As Japan is facing a declining population due to aging and a low birthrate, it is at the frontier of challenges which will soon be faced by other countries around the world. Japan will develop solutions to these problems through services that allow for changes to social systems by connecting various assets under the vision of the Connected Industries initiative.
By doing so, I believe that Japan will be able to turn its disadvantage, as the first country to be confronted with these challenges, into an advantage, as the first country to resolve them. Examples of solutions to the problems include:
improving quality of life for people in rural communities with mobility problems, including the elderly, through autonomous driving technology for regional public transportation services;

providing personalized health management services by using individual health and medical information;

shifting to an industrial structure independent of oil, by fusing biotechnology, AI and IT to unlock the potential of living organisms.
Japan will realize the vision of Society 5.0, which refers to a human-centric super-smart society where cyberspace and the physical world are integrated, enabling people to lead comfortable, vibrant, high-quality lives through Connected Industries.
What is attractive about Connected Industries as an investment target for foreign companies?
The Connected Industries concept is not limited to Japan. We intend to promote this concept globally by encouraging active cooperation between Japanese and foreign companies and by cooperating with other countries for international standardization.
We hope that efforts to solve the problems faced by Japan and enhance the strength of Japanese companies will be accelerated further under the Connected Industries initiative through open cooperation with foreign companies.
Furthermore, we are making efforts to improve the investment environment in Japan and develop an ecosystem for Japanese venture companies in the run-up to the 2020 Tokyo Olympics and Paralympics. We will also showcase the attractive business environment in Japan, including suburban regions, to the world, by holding the Japan Business Conference (JBC), the Regional Business Conference (RBC), and the Global Venture Summit (tentative title). In addition, we expect that World Expo 2025, which Japan aims to host, will be an opportunity to create new added value by connecting people, technologies and industries, with a particular focus on the use of AI and biotechnology.
Japan will actively promote the global expansion of this initiative by seizing investment opportunities. We hope that foreign companies will consider cooperation with and investment in Japanese companies.
Where is more detailed information available?
The Ministry of Economy, Trade and Industry will work towards the Connected Industries initiative, connecting everything across boundaries between industries and companies in an integrated manner, by increasing connectedness of departments at the Ministry. For detailed information, please inquire with the Commerce and Information Policy Bureau's Information Economy Division, which is responsible for overseeing this initiative.

Hiroshige Seko is Minister of Economy, Trade and Industry as well as Minister in charge of Industrial Competitiveness. He also serves as Minister for Economic Cooperation with Russia, Minister in charge of the Response to the Economic Impact caused by the Nuclear Accident and Minister of State for the Nuclear Damage Compensation and Decommissioning Facilitation Corporation. Seko, a former PR head of NTT, is a graduate of Waseda University and Boston University. He was born in Osaka.