After His Injury, What Are the Options for L.A. Angels' Shohei Ohtani?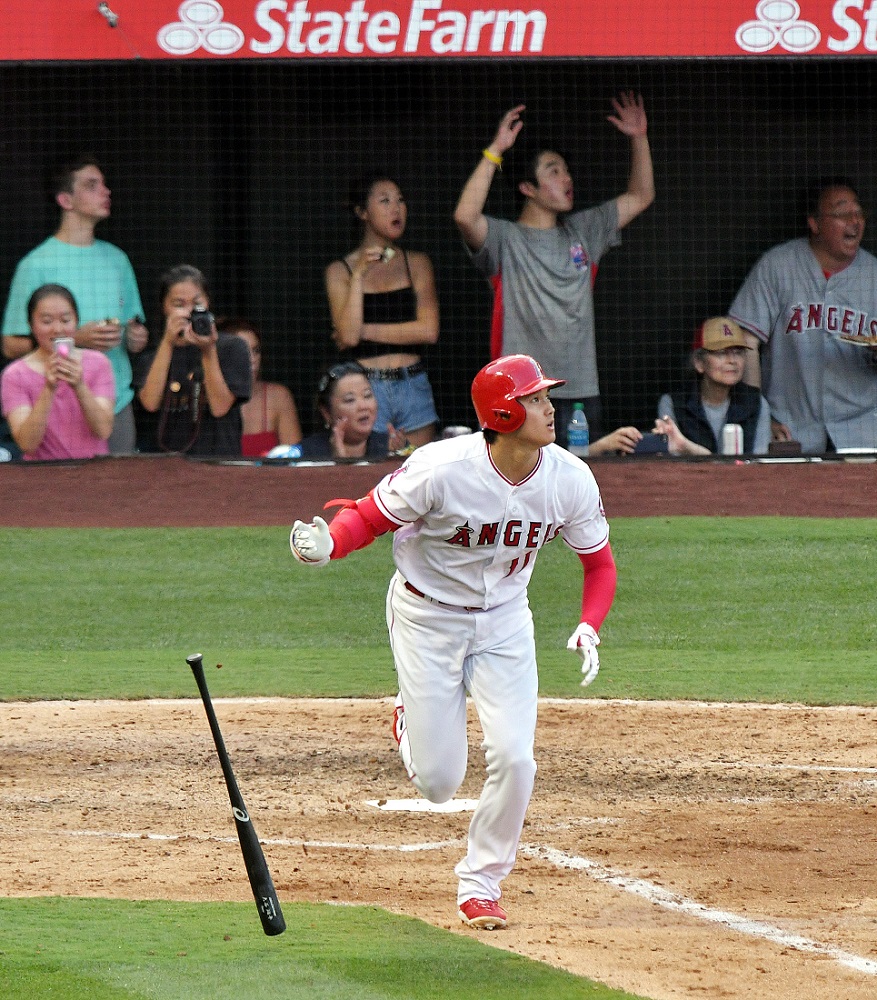 Robert Whiting
Shoehi Ohtani from Japan—the first major player to hit and pitch regularly in the U.S. major leagues since Babe Ruth in 1919—has finished a half season of play and the results thus far are mixed.
Ohtani was absolutely sensational in the early going of play for the Los Angeles Angels. He was on pace to produce perhaps the most valuable season in the history of Major League Baseball (MLB). In his first nine starts in the majors, he struck out 61 batters in 49.1 innings by utilizing a fast ball that hit 103 miles per hour at times. He also showed off a devastating split fingered fastball and posted a 3.10 ERA.
He was similarly impressive at the plate as a designated hitter. In 126 at-bats, he had six home runs and 20 RBI, while batting .289, with a .907 OPS. In pre-game practice, he hit 500-foot blasts into the stands. American fans had never seen anything like him. Ohtani jerseys and T-shirts were the number one seller in Angels Stadium in Anaheim, California.
In early June, however, he suffered a partial tear in a ligament in his pitching elbow—an injury that often precedes Tommy John surgery—and spent three weeks on the disabled list.
The Angels have been handling him with extreme care, preventing him from throwing and hoping rehabilitation in the form of rest, combined with a low-risk conservative treatment using platelet-rich plasma and stem cell injections, would bring him back soon. Their hope is to see the tear heal and keep Ohtani from going under the knife and having to deal with the 14-month recovery time that follows.
In Ohtani's absence, the Angels fell from contending for the top in the American League West Division to just barely a .500 record. Los Angeles isn't out of the postseason race just yet, but the club needs help to compete for even a Wild Card slot in the playoffs.
Healing Period
Ohtani returned to the lineup as strictly a designated hitter (DH) in late June. However, he won't return to the mound until his torn ligament has fully healed, and no one knows quite when that will be. It could take time.
Pitchers typically don't start throwing until six weeks after stem cell injections. Masahiro Tanaka of the New York Yankees had the same injury a couple of years ago and, like Ohtani, was treated with stem cell injection therapy. It took Tanaka two and a half months to return to action. Even then, he pitched tentatively for quite some time, seemingly reluctant to fully unleash his fastball. Other pitchers who underwent stem cell injection therapy took even longer to rehabilitate.
Ohtani's elbow injury will not affect his hitting which, since his return, has been muted. He pitches right-handed and bats left-handed, which means his injured elbow is in front when he bats. It guides his swing and is therefore not subject to much stress, even when he cuts loose and swings from the heels.
Of course, as some baseball analysts have pointed out, there are things that happen in a ball game that could aggravate Ohtani's injury. An awkward swing, a headfirst slide, a collision on the bases. But let's not get carried away. Ohtani could also get hit by a car, slip in the shower, or develop another muscle tear fighting off unruly fans. Better to worry about what is likely to happen as opposed to what is unlikely to happen.
Possibilities
So what are the options for Ohtani going forward?
One possibility is to have him focus on hitting for the time being and to rest his pitching arm for 10 weeks, as Masahiro Tanaka did. He could return late in the season, either as a starter or perhaps as a late inning closer, given the dire straits the Angels' relief corps presently finds itself in. With his intimidating fastball and devastating splitter, Ohtani would be supremely effective coming out of the bullpen in a close game in the 9th inning. He would rival Aroldis Chapman and the MLB's other top relievers.
Another option is to go ahead and have the Tommy John surgery at the end of the season—many observers (Warren Cromartie, former Yomiuri star among them) believe it is inevitable—and come back solely as a hitter in 2019. This would allow for the year and two months it normally takes to fully recover from that procedure. Given the extremely high TJ success rate it is a logical option. By spring training next year Ohtani would have recovered enough to be able to handle the job of swinging a bat every day.
I have also talked to many baseball people who think that, at some point, Otani would be better off playing first base for a full season instead of sitting on the bench as a DH. They say it would help him develop a better sense of the game and realize greater potential with the bat. Doing this would also relieve the aging Albert Pujols of the responsibility of playing first base, a position he can barely handle at his advanced age of 39, and allow Pujols to concentrate on being a full-time designated hitter.
Moreover, they add, Ohtani should look into adding 20 to 25 pounds to his frame—in muscle. Having the build of a U.S. high school teenager is not going to bode well over the six-month baseball season, particularly in the heat and humidity he will encounter around the United States during the summer.
Alternating Seasons
Personally, I like the idea of Ohtani alternating seasons, pitching and hitting, playing 162 games at first base or outfield, which he played previously for Nippon Ham Fighters, and concentrating just on hitting. Then, in 2020, he could switch to pitching only, when he can put in a full 32 starts in the season. This would help Ohtani fully realize his potential.
Ohtani playing a full season of 162 games as a hitter would also enable us to find out how good a hitter he really is. Would he hit 40 homers? 50? How far could he go?
Pitching a full season would answer similar questions about his abilities on the mound. Would he win 20 games if he puts in a standard 32 starts a year? This arrangement would also relieve the Angels of the necessity of using a six-man rotation, which they had been doing just to accommodate Ohtani as a pitcher and designated hitter.
It is just possible that alternating seasons of pitching and batting like this might prolong Ohtani's career by giving his muscles extra rest. For even the best players, be they pitchers or hitters, 20 years in the MLB is about all they can expect. But by resting his pitching body and his hitting body in alternate seasons, so to speak, Ohtani might last even longer.
History Made
Whatever happens, Ohtani has already done something that no one—I mean no one—has ever done. In one week in April he hit three home runs and won two games as a starting pitcher. No one else in the entire 149 year history of MLB has ever accomplished that feat.
Ohtani represents the latest in a long line of players whose accomplishments set the bar higher. Hideo Nomo became the first Japanese to be a starting pitcher in an MLB All-Star game in 1995. Ichiro Suzuki became the first Japanese to win a MLB batting title and an MVP. Hideki Matsui became the first Japanese player to win a World Series MVP when in 2009 he led the New York Yankees to a world championship. A few year later, Masahiro Tanaka set a record with a $175,000,000 contract.
Now Otani has done them all one better. The only way he could ever be surpassed is for a switch-hitting slugger who can also pitch with both arms to appear on the scene. That doesn't seem very likely, but at this time last year, neither did a Shohei Ohtani.