Aquarius Eco Ship Project: Japanese Companies Push for Renewable Energy in Vessels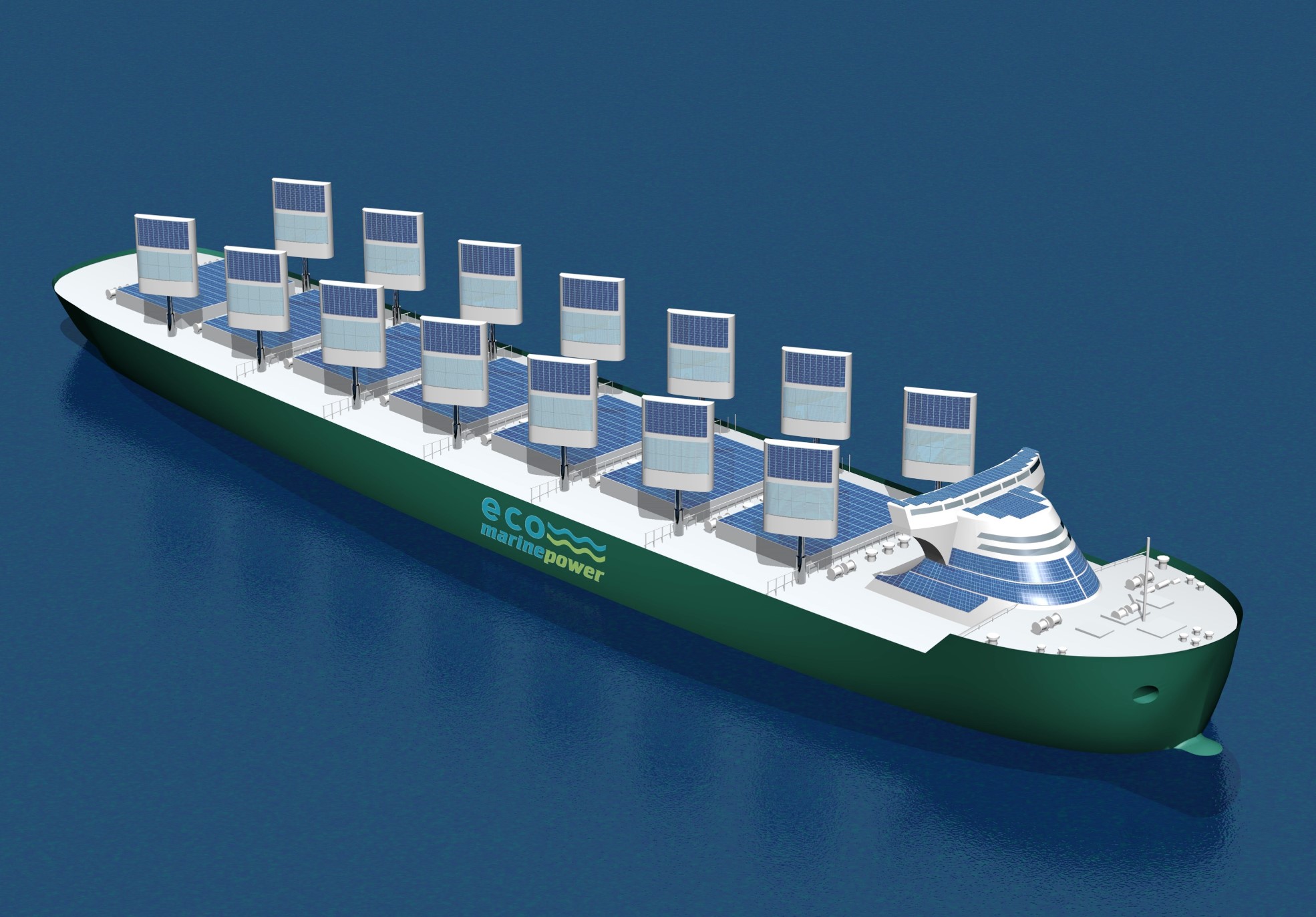 Greg Atkinson
In April this year the International Maritime Organization (IMO) outlined its vision to reduce greenhouse gas emissions from shipping by at least 50% by 2050. This, along with other policy initiatives such as reducing the sulphur content in marine fuels and emission control areas, is driving technological changes across the shipping sector aimed at reducing airborne emissions.
An obvious way to reduce airborne emissions produced by ships is to reduce the amount of fuel they use both for propulsion and for electrical power. For example, a large bulk carrier uses around 40 metric tons of heavy fuel oil each day. This is the type of ship that carries, for example, iron ore from Australia to Japan, and globally there are hundreds of these types of ships operating today. So, reducing fuel consumption by just 10% on bulk carriers alone would save thousands of metric tons of fuel per year.
The burning of marine fuels on ships also produces emissions that are harmful to human health. It has been estimated that airborne pollution caused by ships leads to the premature deaths of approximately 400,000 people per year. The concern extends to passengers on the deck of a cruise ship who can be exposed to dangerous levels of air pollution.
Renewable Energy for Ships
Although renewable energy technologies are increasingly used on land, they are not yet in widespread use on ships. In Japan, the use of foldable rigid sails to reduce fuel consumption has been explored in the past, and in the 1980s several ships were fitted with "JAMDA" sails. These sails did reduce fuel consumption. However, when oil prices fell, interest in this promising technology waned.
More recently, a project was started in 2010 in Fukuoka, Japan, aimed at bringing rigid sails back onto ships. Initially this project involved only the technology start-up company Eco Marine Power (EMP), and its main focus was on developing a new type of rigid sail. This new type of patented rigid sail has become known as the EnergySail, and the system that combines these with solar power is designated as Aquarius Marine Renewable Energy (MRE). These technologies led to a project to design a ship using both sail and solar power, now known as the Aquarius Eco Ship Project.
The EnergySail is a device that enables ships to reduce fuel consumption by being raised when wind conditions are favorable and acting as a sail. It can also be fitted with flexible solar panels, thereby providing a source of electrical power for the ship as well. Solar panels can also be located on other areas of the ship.
Other companies have joined the Aquarius Eco Ship project as development work has progressed. KEI System, based in Osaka, became involved early on and is assisting with the development of the automated control system for the EnergySail. Teramoto Iron Works, located in Onomichi, Hiroshima Prefecture, joined the project in 2014 and is now responsible for the manufacturing of the EnergySail. This company was also involved in the production of the JAMDA sails in the 1980s and is one of the few companies in the world that has produced rigid sails.
In 2014, the Furukawa Battery Company (head office: Yokohama) began working with Eco Marine Power during the trials in Greece of a marine solar power system on-board the high-speed ferry Blue Star Delos. This project tested various sub-systems that will be used for Aquarius MRE and helped promote the Aquarius Eco Ship project internationally. Since then, agreements have been signed with several international shipping companies to study EMP's technologies, and a project to install another solar power system on a large cargo ship is underway.
An outdoor test area is being established next to the Teramoto Iron Works Chojahara Workshop in Onomichi as part of the ongoing development activities. The TM-600—a jack-up rig design—is already located in this test area. A marine solar power system will also be installed at the site this year. A pre-production EnergySail is also located inside one of the workshops and will be relocated to the area in the future.
Toward Commercial Release
At the recent "Sea Japan International Maritime Exhibition and Conference" in Tokyo this year, all companies involved in the project exhibited a range of technologies, including, for the first time, the public display of an EnergySail lab prototype and its automated control system. Pleasingly, there was a lot of interest shown in the EnergySail, and plans are underway to begin production for commercial release. This will be the final part of the overall Aquarius MRE solution to be prepared for the market, as the solar power system, batteries, and computer system are now ready.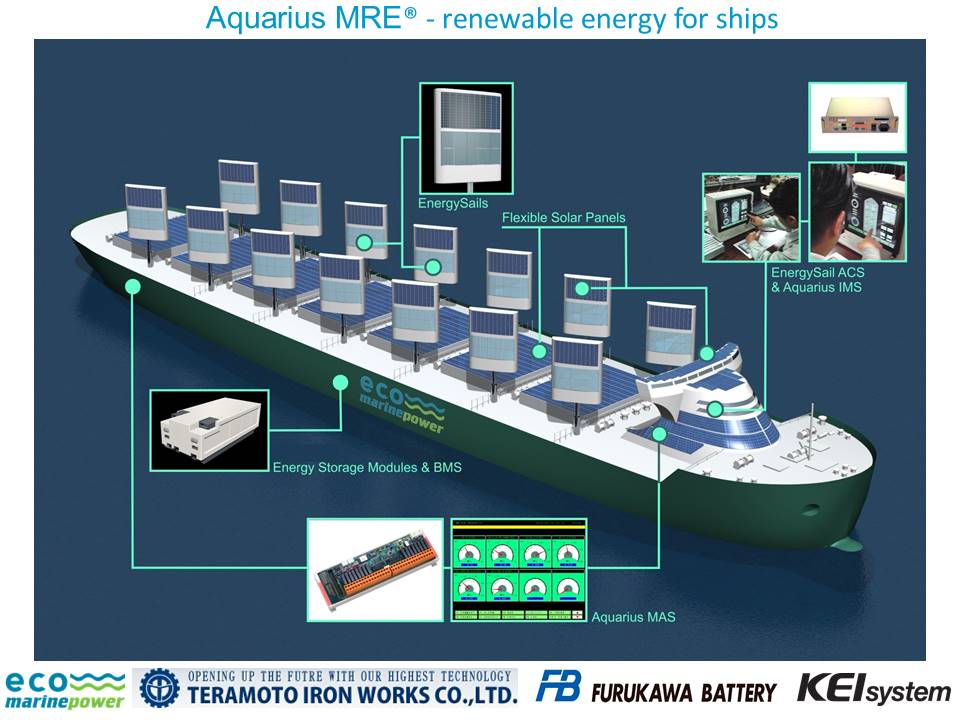 It is hoped that the project will attract further investors during the next couple of years. There are also plans are being made to co-operate with shipyards to further promote the EnergySail and Aquarius MRE within Japan and internationally. This will allow Japan to produce unique low-emission ships ready for the IMO-reduced emission targets, as well as save shipowners money from reduced fuel consumption.
The goal is to have everything ready by 2020 and transform the vision of the Aquarius Eco Ship into reality!