Aroma Café at Nakameguro Puts Your Day on Pause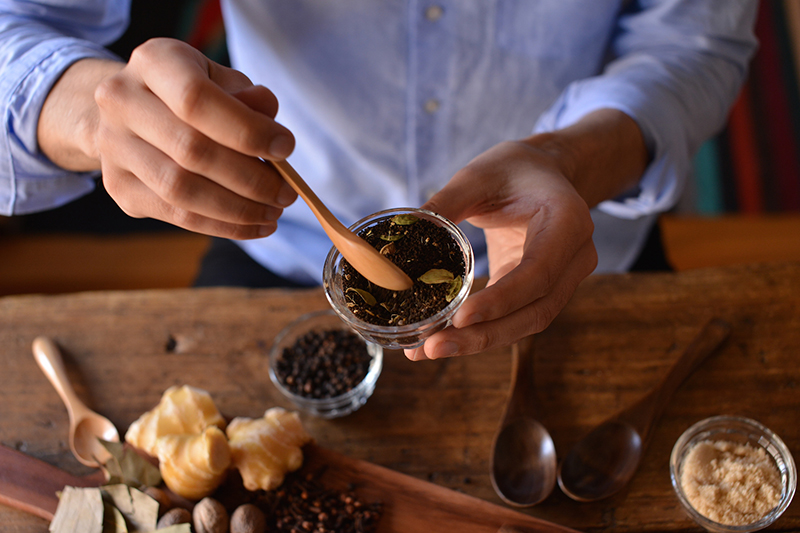 Thursday's Cafe: Fragrant and Heartwarming 'Moksha Chai'
If there was only one coffee shop I could go to for a while, the Aroma Café in the trendy Nakameguro area of Tokyo may very well be that place.
As with most cafés, Aroma Café is bright, cute, has power outlets and wi-fi. However, what really sets it apart from many other establishments, is the fact that vendors using it change from day to day. Without getting into the nitty gritty, in practice this means that, depending on the day of the week and time of the day, you will find this space serving different types of drinks, food, and providing varied entertainment.
I happened to visit Aroma Café on a Thursday afternoon. On that day, the café is run by Reona Okubo, the founder and owner of Moksha Chai. The story of his brand is heart-warmingly beautiful!
After quitting his job at a large Japanese company and spending some time working overseas, Reona had decided to come back to Japan and work for himself. In 2017, he established Moksha Chai. Chai, masala tea, or "mixed-spice tea," is a sweet beverage made by brewing black tea with an aromatic mixture of herbs, spices, and milk.
It is native to the Indian subcontinent and its origins date back to the early 20th century, to the Indian Tea Association's campaign that encouraged mines and factories to provide tea breaks for their employees. The recipe has evolved throughout the years. But these days, in India, chai in its present form is established as a very popular drink that can be bought on busy street corners, squares, or even aboard trains.
Being half-Japanese and half-Indian, his own cultural heritage was part of Reona's inspiration. The other important ingredient was his family.
Reona told me about his parents and their daily routine that has become a ritual, or even a tradition. Every morning his father makes chai for his mother. He would customize the blend of spices, depending on how his wife feels. For example, on the days when she is feeling a bit under the weather, he would enhance the brew with some extra ginger. Moreover, even if they have an argument, the next morning Reona's father would nonetheless continue his chai making ritual, and balance the flavors accordingly.
As such, for Reona's parents, chai has become a medium through which their relationship melts, molds, and becomes easier.
"This is a small thing, but a very important one, a special time taken between husband and wife," he said.
To Reona, this ritual of "taking time" is indeed something very special, something that he found lacking in the busy modern Japanese society.
"A drink can be easily bought from a supermarket or a convenience store, but there is no story there, no feeling, and no emotion," he said.
To Reona, the act of making, sharing, and consuming chai is a gift of communication, and an opportunity to spend some time with people who are important to you.
This pursuit of a meaningful way to "put the day on pause" was the second element of inspiration for Reona's company, and set him on his trip to Northern India. There, he sourced the finest quality Assam black tea for his Japanese customers.
Moreover, while Moksha Chai is a blend of five traditional spices (ginger, cardamom, cinnamon, cloves, and black paper), it took Reona another two years to perfect the flavor combination. Having conducted research with more than 3,000 people, and having adjusted the blend a number of times, he is now confident that his customers will enjoy his 100% original recipe.
As for the menu, you can choose one of the classic bestsellers, such as the Original Spice Chai (served hot or cold) or chai soda. The new additions to the menu are Dirty Chai (made with a shot of espresso) or Chai Affogato (made with chai flavored ice cream).
Reona's elementary school friend is a baker and can offer you a selection of doughnuts, including the chai flavored ones! The price for drinks ranges between ¥600 JPY and ¥800 JPY, a doughnut is ¥350 JPY, while some delicious Chai Gelato will set you back ¥650 JPY.
You can also buy some merchandise, such as very cute Moksha Chai original logo tote bags (¥2,600 JPY) or even some Moksha Chai (loose - ¥1,600 JPY, tea bags - ¥1,000 JPY) to take home and share with your loved ones.
Reona can be found at the Aroma Café every Thursday and Saturday (from February 1) from 10:30 A.M. until 5 P.M. Please check Moksha Chai website, Instagram and Twitter for updates.
I'm looking forward to checking out some of the other vendors and events they have lined up, such as a Catan board game nights.
A list of upcoming events can be found by following this link.
Aroma Café is about a 7-minute walk from Nakameguro station. Directions and a map can be found at this link.
Author: Luba Ampleva