ASEAN Centrality: Caught in the Trap of China's Regionalism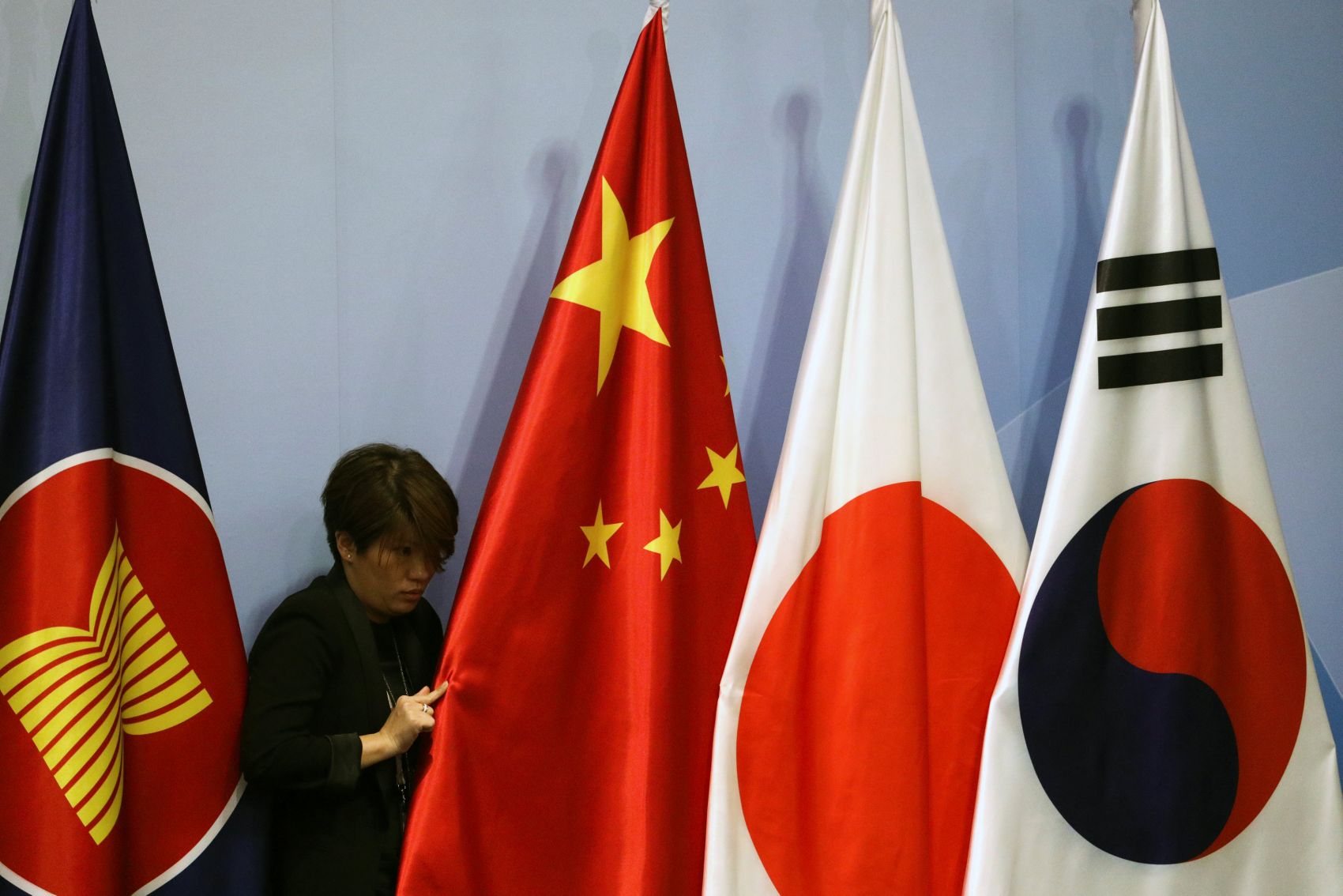 The future of regionalism in the larger Indo-Pacific continues to be uncertain. This is because the region expects China to be more forthcoming and transparent, especially on matters pertaining to safety and security objectives and missions.
China's approach and involvement towards regionalism with the 10-member ASEAN states (Brunei, Cambodia, Indonesia, Laos, Malaysia, Myanmar, the Philippines, Singapore, Thailand, and Vietnam) has gone through major evolutions.
Before the 1990s, Beijing did not emphasize its Asian identity and therefore was not much involved in Asia's regional cooperation. The situation changed in the 1990s, when Beijing stressed that it was a responsible player in the region. Subsequently, regionalism in East Asia received momentum from the Asian financial crisis in 1997 — with East Asian countries realizing the critical significance of interdependence.
ASEAN's Role in Xi's Idea of the 'China Dream'
Perhaps the most pertinent question in the contemporary context is: can ASEAN regionalism endure the pressures posed by the new and upcoming round of great power rivalries in Asia?
With the United States' rebalance on the one hand and China's growing politico-military assertiveness on the other, regionalism and integration within ASEAN shall continue to be tested.
Xiao Huanrong has argued in the 2003 publication Shijie jingji yu zhengzhi that China's transformation as a great power (daguo) in Asia's regionalism is amply noticeable in terms of the expanding geographical area where China practices its regionalism.
From being largely confined to East Asia, Chinese regionalism today spreads across the Indo-Pacific, advancing on two fronts: westward across the Eurasian continent, and southward towards the Indian Ocean. In this reference, pursuing sovereignty plays a relatively important role in the Chinese understanding and pursuit of regionalism.
Seeking national rejuvenation, national reunification, political autonomy, and a set of grand objectives for achieving the rejuvenation of China as a great nation, there is a fresh wave of China's regionalism. It is characterized by new ideas proposed by Xi Jinping.
Significantly, these include advancing the new "morality-interest concept" advocated in 2015 by Zhang Xiaotong and Li Xiaoyue at the Wuhan University Research Center for Economic Diplomacy. Zhang and Li say they trace the concept from ancient times, namely, Yi (义) and Li (利) — with the latter signifying "interest" including economic interests. Zhang and Li further state that Xi Jinping's promotion of economic diplomacy vis-à-vis developing countries falls in this category.
While ASEAN regionalism is majorly market-driven, economic issues are just one facet atypical to the region. And economic integration alone will not provide sufficient cushion to transform China's relations with its ASEAN neighbors.
ASEAN Centrality and the Great Power Dilemma
The comments of India's Prime Minister Narendra Modi underscore the importance and vitality of a democratic and rules-based international order in which all nations, small and large, would thrive as equal and sovereign. When the oceans are open, the seas are secure, countries are connected, the rule of law prevails, and the region is stable. Nations, small and large, prosper as sovereign countries.
While addressing the 2018 Shangri-La Dialogue in June, Modi brought out the landmark year of India's relationship and commitment to ASEAN by means of the ASEAN-India Summit. The focus of Modi's speech was not just on the new age of promise, but also on the shifting plates of global politics and the fault lines of history. It is these which are likely to influence the course of developments in the Indo-Pacific region.
Inclusiveness, openness, and ASEAN centrality and unity, therefore, lie at the heart of the new Indo-Pacific, in the idyllic scenario.
However, since 2009 the ever-increasing strategic uncertainty in East Asia has eroded the conceptual notion of "ASEAN Centrality" — a central defining feature of ASEAN as a regional organization — owing to the dense internal and external compulsions.
In 2010, the ASEAN Defense Ministers Meeting (ADMM) expanded its membership to include all members from the East Asia Summit to form the ADMM-Plus. According to Kei Koga at the Harvard University Belfer Center for Science and International Affairs, ASEAN had two objectives in inviting the region's great powers: 1) to maintain the constant attention of the great powers on ASEAN; 2) to avoid political marginalization from them.
The Chinese leaders, including Vice Foreign Minister Liu Zhenmin, have repeatedly stated that the South China Sea disputes should not be discussed at ASEAN meetings. "It is not the right forum," they argue.
However, when regional security concerns come up at ASEAN — which is a regional forum — how can tensions in the South China Sea be possibly ignored? This, in fact, remains the biggest challenge and concern for other regional players.
The growth of China's military power needs to be accompanied by greater clarity of its strategic intentions. Without this, the challenge to avoid regional frictions and promote mutual cooperation — and regional peace and collective prosperity — becomes overwhelming.
Stemming from this construct, China's approach to the South China Sea is gradually, yet firmly, becoming far more inflexible. Therefore, China's efforts at promoting regionalism and multilateral cooperation should be viewed and dealt with a distinct sense of caution and pre-emption.
Moreover, when read in context of the regional stability-instability paradox, the notion of "ASEAN Centrality" remains valid and relevant, with the understanding that gaining support from the 10-member ASEAN could radically increase an individual state's political leverage over its competitors/challengers.
Divide and Conquer
At a time when China has intensified its quest for territorial aspirations in the South and East China Seas, ASEAN appears to have been directly impacted by Chinese maneuvering. The result is visible internal divisions among ASEAN member states.
Beijing seemingly has gotten hold of an upper and substantial edge in the region with its artificial island-building, military installations, and fortifications complete. Each of these ups the ante by further militarizing the area.
Each ASEAN member state has a differing perception of opportunity or threat vis-à-vis China. Each is choosing to individually engage with Beijing, thereby bypassing the regional forum per se.
ASEAN seeking to bolster ties with China was apparent at the Future China Global Forum and Singapore Regional Business Forum held in Singapore in August 2018.
Singapore Deputy Prime Minister Teo Chee Hean said, "ASEAN and China are looking forward to do more together." The initiatives to boost an interconnected world cited by Teo include a new China-Singapore (Chongqing) Connectivity Southern Transport Corridor that would save 1,300 kilometers from traditional shipping routes.
This was followed by the 21st ASEAN-China Summit in November 2018, which underscored the high economic stakes in the China-ASEAN relationship for both sides. Notably, China has been ASEAN's top trading partner for eight consecutive years and remained ASEAN's third largest source of foreign direct investment in 2017. ASEAN as a whole is China's largest source of foreign investment.
Subsequently, China and ASEAN held their first joint maritime exercise in Zhanjiang in October 2018. Concurrently, there are reported plans of ASEAN holding a first-of-its-kind joint maritime exercise with the U.S. as well in 2019.
It is quite evident that Southeast Asia in general, and ASEAN in particular, appear to be engaged in a balancing act, although China's heavy influence does not remain unnoticed.
Signs of Strain on How to Deal with the Challenges
In this backdrop, the idyllic expectation from ASEAN as a regional forum to the maintain maritime status quo appears to be getting immensely strained.
Following the agreement on the "Single Draft Code of Conduct Negotiating Text" at a China-ASEAN meeting in Changsha, the consensus on the draft denotes that the claimants had a common set of terms of reference for future talks.
The progress on the Code of Conduct could end up working in Beijing's favor, underscoring its desire to exclude the United States from the region under the pretext of "opposing external interference." Considering the pressure that China has come under from the U.S. of late, it has been forced to look for partnerships regionally, fearing isolation otherwise.
Although reaping benefits of increased economic ties, China certainly shall remain non-conciliatory on the South and East China Seas issues. In fact, Beijing has a mixed strategy, which implies that the South China Sea conflict is not exactly isolated from China's overall relationship with the ASEAN countries — and East Asian multilateralism.
We will have to wait to see what the future reveals. However, China's reinforcement of regional ties within its extended neighborhood would come at the likely cost of the fundamental "ASEAN Centrality" precept.
Author: Monika Chansoria