[Asia's Next Page] India in Japan's Changing South China Sea Outlook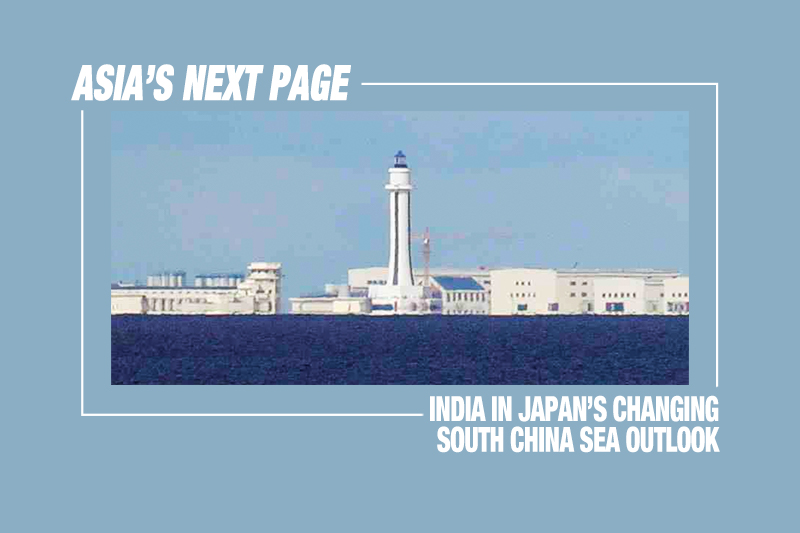 Chinese structures are pictured at the disputed Spratlys in the South China Sea REUTERS/Erik De Castro/File Photo
Cooperation in the maritime domain is not new to India-Japan ties anymore. However, focus on the South China Sea (SCS), Asia's maritime hotspot, remains one area that is yet to be explored at length in their bilateral cooperation.
Although the SCS did figure prominently in the India-Japan inaugural 2+2 Foreign and Defense Ministerial Meeting (2019), there was little announced in terms of a plan of action for cooperation in the region. Instead, the bilateral meeting reiterated the significance of "freedom of navigation and overflight" but also "unimpeded lawful commerce" based on UNCLOS and international law. While there is admittedly limited scope for India and Japan to play an effective role in the SCS region, the current geo-political environment has necessitated both sides to develop a constructive and pointed vision on how to expedite their intended cooperation.
In the absence of an active and forceful military, Japan has a clear materialistic interest in the SCS, linked to its oil and energy quest. Notably, Japan, along with China and South Korea, remain the three largest crude oil importers in the SCS, and they collectively account for around 80% of the total crude oil volume transition in that region almost every year.
More importantly, Japan is a critical investor for infrastructure development in Southeast Asia, which makes it a significant actor in the geopolitics surrounding the SCS region. At the same time, India too is taking an increasing interest in the SCS. India's Act East Policy, which aims to "promote economic cooperation, cultural ties and develop strategic relationship[s]" with countries across the Asia Pacific, makes the SCS a critical zone for its national interest objectives.
Taking these factors into account, India could emerge as a significant partner for Japan in maritime cooperation vis-á-vis the SCS.
Increasing SCS Engagement
In recent years, Japan's approach towards the SCS has grown increasingly "active and multi-dimensional", as opposed to the reticence it showed in the 1990s. For instance, Prime Minister Shinzo Abe has focused on bilateral cooperation with the Association of Southeast Asian Nations (ASEAN), with a special emphasis on the claimant states of Vietnam and Philippines.
Japan's renewed emphasis in ASEAN and the SCS region comes as a measure to check Chinese behavior. China's unrelenting aggressive land and maritime posturing in the Indo-Pacificーeven amidst the COVID-19 pandemicーhas been a concern for many countries, including India and Japan.
Tokyo was alerted when a carrier strike group of China's People Liberation Army Navy (PLAN) passed near Okinawa through the Miyako Strait, which is only 330 km north of Taiwan. Shortly after, Japan detected an apparent Chinese submarine within 24 miles of its Amami Oshima island, located in the SCS between Kyushu and Okinawa. Japan-China ties have also been further strained by Chinese military adventurism in the East China Sea (ECS).
In a sign of their increasingly tensed relationship, Japan's latest Defense White Paper lambasted China's "relentlessly continued attempts" using "coercion in the sea", especially in the Senkaku Islands. The paper also explicitly highlights China's fast-paced militarization in the SCS, accompanied with an expansion of its maritime and aerial domain activities, identifying these as "unilateral attempts to change the status quo by coercion".
Recently, the United States, Japan's key security ally, released its official "position" on the SCS deeming China's claims on all offshore resources across the SCS as "completely unlawful". The statement marks the first time that the U.S. has blatantly and publicly rejected China's claims - an indication of the U.S. 's strengthening resolve to stand with the Southeast Asian countries against China. Post this release, Japan's Maritime Self Defense Force (MSDF) joined Australia's Defense Force and the USS Ronald Reagan Carrier Strike Group in the Philippine Sea, the "doorstep" of the SCS, as a show of might to China.
Responding to China's Adventurism
The joint exercise denotes an active stand against the rapidly growing Chinese adventurism by partner nations belonging to the Quadrilateral grouping, save India. A more dynamic stand by New Delhi, especially vis-à-vis SCS from which 55% of its trade passes, must be clearly promulgated.
India and Japan have been promoting the importance of freedom of navigation in the SCS for a while now. Being natural partners and non-claimant countries in the SCS, a stronger bilateral maritime synergy in the SCS can and must figure prominently in the future of India-Japan ties. Moreover, both states share a common interest: neither wants to see the region controlled and dominated by China - which has already asserted claims to almost 80% of the SCS via its 'Nine Dash Line'.
Another area where India and Japan can further their SCS cooperation is with their Quad and Quad Plus partner nations, since the upholding of free navigation, SLOCS and UNCLOS, is crucial for their national interests too. The U.S., Australia, and Japan have demanded China abide by the 2016 Permanent Court of Arbitration (PCA) ruling on the SCS on the sidelines of the 50th ASEAN ministerial meeting and called for conflict resolution in accordance with UNCLOS in their joint statement at the 2019 Shangri-la Dialogue. India too has voiced its support for the PCA ruling.
Furthermore, via the release of its 'position' on the SCS, the U.S. has moved further away from its isolationist policies, confirming Washington's resolve to stand by the ASEAN nations and its Indo-Pacific partner countries like India, Japan and Australia. As states with no direct territorial claims on the region, the Quad's synergy with respect to the SCS would be a major thrust against China, and demonstrate their collective will to uphold international law in face of China's assertiveness.
Like the Quad, Japan's Indo-Pacific or 'Quad Plus' partners have also shown signs of their commitment to stand with international conventions with regards to disputes in the SCS. The 2019 summit between Prime Minister Abe and New Zealand's Prime Minister Jacinda Ardern had an Indo-Pacific focus that resulted in a joint statement titled "Taking the Japan-New Zealand Strategic Cooperative Partnership to the Next Level." The declaration underscored Japan and New Zealand's shared aim to promote a "free and open Indo-Pacific" and expressed concerns over the volatile situation in the SCS.
Similarly, Japan and Vietnam share key concerns over China and its territorial assertiveness in the SCS. There is a renewed thrust on Vietnam in Japan's 'Free and Open Indo-Pacific' (FOIP) vision, as part of an intensified ASEAN engagement. In this regard, India and Vietnam's years of oil exploration in Vietnam's EEZ (much to China's discomfort), coupled with Japan's energy needs, can also be used to re-vitalize the India-Japan-Vietnam trilateral. Tokyo and New Delhi must also consider enhancing cooperation with Vietnam through joint energy and oil exploration exercises.
On a similar note, after a telephonic conversation between Philippine President Rodrigo Duterte and Prime Minister Narendra Modi in June 2020, Philippine Defense Minister Delfin Lorenzana announced India's intention to carry out navigation exercises in the SCS. Japan and Philippines share a Strategic Partnership and a joint commitment to "ensuring maritime safety and security" in the SCS. With India looking to enhance its defense cooperation with the Philippines, there is considerable scope for initiating joint trilateral FONOP (freedom of navigation operations) exercises between India, Japan and Philippines in the SCS.
On a bilateral level too, India-Japan cooperation holds the potential to be a major source of strength for littoral, smaller Southeast Asian nations, and that of support for ASEAN's code of conduct negotiations coming deadline. In their inaugural 2+2 dialogue, both sides reaffirmed that the Code of Conduct (CoC) under negotiation should be "effective" and "substantive," keeping in mind the interests of key stakeholders in the SCS as per international law.
Coordinating Strengths
A deeper SCS-centered cooperation between the Indian and Japanese navies can provide immense balance to the Indo-Pacific region, with Japan's infrastructure building and India's personnel building capacity being leveraged into a regional strong maritime force.
The importance of the SCS has also figured prominently in the India-Japan-U.S. trilateral ever since its inaugural in 2015. The inclusion of Japan in the India-U.S. joint MALABAR exercise the same year served to strengthen this synergy. Moving forward, an Australian inclusion in the defense maneuvers will further help build their joint maritime narrative.
In another aspect, India-Japan outreach can go a long way to bring about significant improvements in the Blue Economy, especially with African Indian Ocean littorals like Seychelles and Mauritius, which hold a key interest in "sustainably growing an integrated, ocean-based economy". India's recent inclusion as an observer in the Indian Ocean Commission (IOC) presents India the opportunity to strengthen its ties with East African littoral states, and consequently boost its "Platform for Japan-India Business Cooperation in Asia-Africa Region" with Japan.
Above all, any prospects for cooperation in the SCS between India and Japan need to complement their broader vision to defend a rules-based order that is inclusive and non-coercive. Any joint initiatives introduced by these states, whether on bilateral, trilateral or multilateral platforms, must underline their assurances to promote trust, cooperation and communication among "like-minded" countries. This will ensure that projects like infrastructure cooperation and forging greater connectivity, which are critical to the maritime venture of cooperation, are pursued in a transparent and sustainable manner.
Quality infrastructure that adheres to the above-stated principles offers an area wherein India and Japan can pursue extensive maritime oriented cooperation. In the times to come, as geopolitical tensions in Asia rise, India and Japan must seriously consider avenues for enhancing their security partnership, with the SCS and the Indian Ocean emerging as vital zones of policy deliberations between the leaderships of both states.
Author: Dr. Jagannath Panda
Dr. Jagannath Panda is a research fellow and center coordinator for East Asia at the Manohar Parrikar Institute for Defence Studies and Analyses, New Delhi. He is also the series editor for Routledge Studies on Think Asia. Dr. Panda's most recent publications include India and China in Asia: Between Equilibrium and Equations (Routledge, 2019) and Scaling India-Japan Cooperation in Indo-Pacific and Beyond 2025: Corridors, Connectivity and Contours (KW Publisher, 2020). Follow him on Twitter (@jppjagannath1).