[Asia's Next Page] Suga and Japan's post-Pandemic Strategic Challenges in 2021
What are Japan's most pressing challenges in the coming months and how will the Suga government respond to them?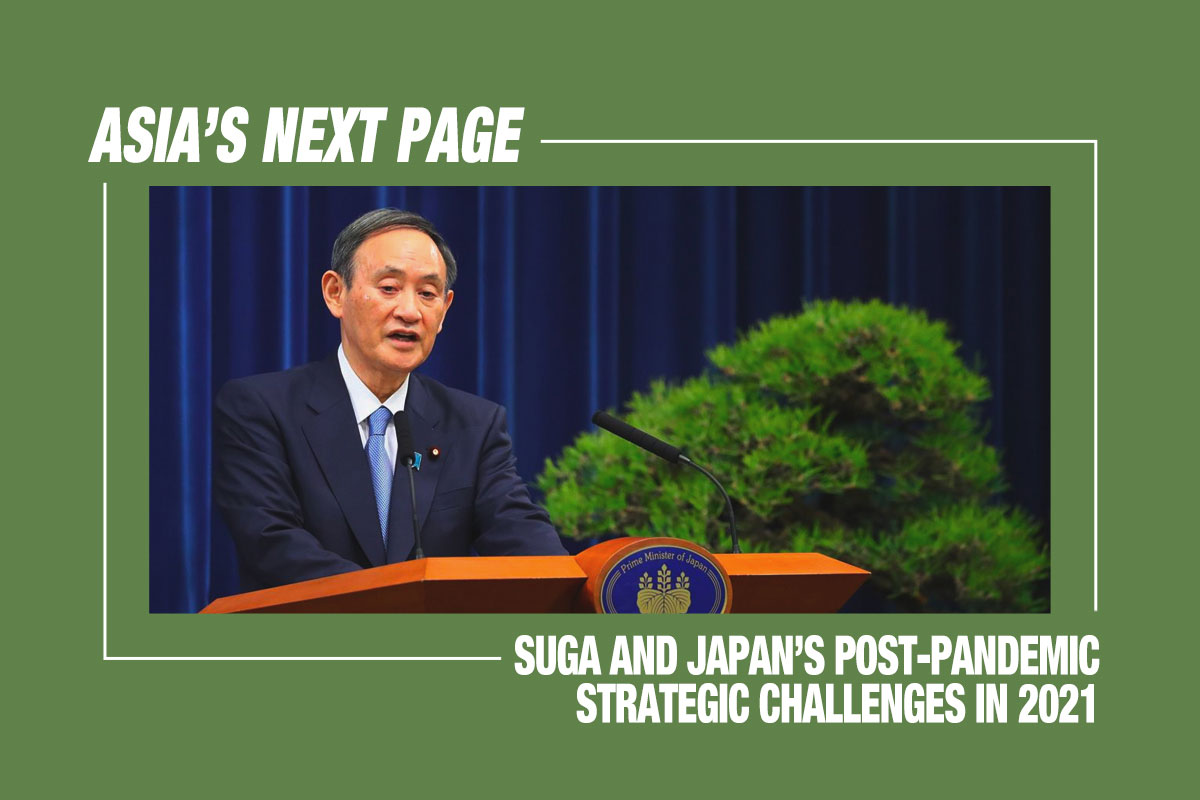 ~~


The onset of a new decade in 2021 brings an era that will continue to be mired with critical health, political and security challenges that Japan must navigate strategically. With Japanese general elections scheduled for later this year in October, Prime Minister Yoshihide Suga and the Liberal Democratic Party (LDP) will be looking to wage a strong political campaign to retain power – and this will rest on a successful maneuvering of the urgent challenges Tokyo faces.
What are Japan's most pressing challenges in the coming months and how will the Suga government respond to them?


Mitigating the COVID-19 Pandemic
Over the past year, the COVID-19 pandemic has emerged as one of the biggest non-traditional threats to human security, causing economic recession, political unease and resulting heavy loss of human life in Japan. Even with success in the development of a vaccine, COVID-19 remains the most pressing crisis in the world. The emergence of a new strain of the virus in Japan and a spike in cases has led to the declaration of a month-long state of emergency and a second "soft lockdown" with a targeted strategy, which could potentially last for months.
Suga has stated that Japan will begin its vaccination program in February and doses for the country's entire population to be secured by the end of June. Further, Japanese Health Minister Norihisa Tamura recently confirmed that Pfizer's vaccine was set to be approved by mid-February under an accelerated approval process.
Yet the roll out process will likely be more drawn out as compared to Western countries, owing to Japan's rather low confidence in vaccines due to Japan's fraught public history that has led to lawsuits, widespread misinformation and passive government action. An NHK poll found that over 35% of the respondents are explicitly opposed to taking the vaccine owing to distrust of the same. As per a study by leading medical journal The Lancet, Japan has one of the lowest confidence rates in vaccines in the world.
The Japanese government must not only manage the rollout in a speedy manner so as to avoid a prolonged lockdown that hurts the economy, but also convince a skeptical population of the merits and need of vaccination. At the same time, the government will also be exceedingly cautious, looking to refrain from giving an appearance of rushing the rollout and ensure that a botched distribution does not further undermine public confidence in vaccines and governance.
COVID-19 will certainly be the foremost human security and strategic challenge for Suga's administration in 2021. The mitigation of the COVID crisis and the vaccination rollout will be a decisive factor in the LDP staying in power post October.


Reviving Economic Growth
Like other developed states, Japan has also experienced the devastating economic impact of the pandemic. Although Japan started witnessing a turnaround at the end of 2020 – with hopes for a gradual but complete recovery in 2021 – the onset of a third wave of COVID-19 implies that the country's already struggling economy faces increasing challenges.
For instance, the Economic Watchers Survey's diffusion indices for Japan fell 12.6 points in November due to reduced economic activity from the second-half of the month. In fact, while 2021 will see a slow but steady reboot of the economy – turning around a forecast of -5.4% GDP growth in FY2020 to a projected 3.4% GDP growth in FY2021 – a "return to normalcy" can only be expected by 2023.
Nonetheless, economic recovery is not possible at the cost of life. This was highlighted in Suga's decision to suspend the nationwide 'Go To Travel' campaign —which focused on subsidized domestic tourism as a means of bolstering growth —showing a policy shift amidst the new Cabinet's earlier decision to spend heavily on economic growth while limiting the spread of the virus. The economic repercussion of this move can lead to a fall in the real gross domestic product (GDP) of the country, even momentarily recording negative growth.
Furthermore, the Olympic and Paralympic Games, which were scheduled to be held in 2020 and provide a boost to Japan's stagnant economy were postponed to 2021 at a cost of $6 billion USD. A further delay or a complete cancellation in their schedule is not out of question. Rather, considering the outbreak of the third wave of COVID-19 cases in countries around the world, it is unlikely that the Olympics will proceed as planned, and could result in a further loss for Japan and a slower growth rate than predicted.
The International Monetary Fund (IMF) had deduced a global growth of 5.2% in 2021 and a 6.9% increment for Asia-Pacific. However, as the world's third largest economy, Japan's meager economic projections will alter economic graphs beyond its borders, significantly impacting Asian recovery and projections of broader Asian growth. While Japan has approved on December 21, 2020 a general-account budget totaling a record high of ¥106.6 trillion JPY (just over $1 trillion USD), ¥4 trillion JPY (about $38.7 billion USD) more than 2020 initial fiscal budget marking the ninth consecutive year of record high budgets –almost 40% of this 2021 budget will be funded via debt.
Injecting stimulus in Japan's national economy is therefore critical not only for Tokyo, but also for the regional and global economy.
Many of its woes are in fact not novel problems; Japan has faced protracted deflation, increasing public debt, reduced international demand for Japan's exports and low productivity since the pre-pandemic time, despite long-term policies like "Abenomics". In this vein, COVID-19 could in fact provide an opportunity to explore creative solutions to such issues – such as a renewed push on economic multilateralism.
Moving forward, strengthening trade ties with partner states like the U.S., Australia and India under the Quadrilateral Security Dialogue (Quad 2.0) mechanism must be a priority for Suga. Tokyo also needs to take advantage of emerging frameworks like the Quad Plus, the Supply Chain Resilience Initiative (SCRI), and multilateral trading mechanisms such as the Comprehensive and Progressive Agreement for Trans-Pacific Partnership (CP-TPP) and the Regional Comprehensive Economic Partnership (RCEP) in the region.
As the security environment changes, and Japan's immediate economic future continues to look bleak amidst a slow-drawn recovery, Suga will need to give equal weight to Tokyo's economic and security challenges.
The Suga administration's approval rating has already fallen to 50% towards the end of 2020, amidst social and political repercussions of Japan's recession. Suga's government must make visible strides toward rectifying this situation if it wants a fighting chance at the polls this year.


U.S.-Japan Security Alliance
Alongside these pressing challenges, Tokyo is also faced with an evolving security environment characterized by U.S.-China great power competition and China's aggressive rise making it one of Japan's top-most national security threats.
Since the end of World War II and the inception of a formal security alliance with the U.S., Japan has always benefited from the deterrence offered by the partnership. However, while there remains little chance of China-Japan political rapprochement in the immediate future as China's belligerence in the East China Sea continues, the U.S.-Japan ties are also facing turbulence. Japan has been faced with a highly unreliable partner in a Donald Trump led U.S., particularly with Trump's demands that Tokyo quadruple payment for U.S. military presence on Japanese soil or risk complete pullout.
Now, as the Biden-Harris administration has taken over the leadership and launches its China policy, it is critical that the Japan-U.S. alliance be reaffirmed as the focal mainstay of Japanese security.
A reassurance by incoming U.S. President Joe Biden to Japan that the U.S.-Japan alliance will extend into the East China Sea –where Japan and China are in conflict over the Diaoyu/Senkaku islands –has further hinted that under Biden, the U.S. will pursue alliance and partnership politics as a primary foreign policy tool. Still, the specific role and scope of the U.S.-Japan alliance remains vague under the present circumstances.
Suga and Biden must now build a robust alliance with global and Indo-Pacific contours, by pushing for further synergy under frameworks like the Quad 2.0 and other regional constructs. Their ties can also find increased co-action vis-à-vis their trilateral ties with South Korea for a coordinated approach with respect to North Korea. They must also focus on strengthening cooperation under regional institutions, particularly the ASEAN, so as to address shared challenges in a coordinated manner by utilizing multilateral platforms.
These three challenges form the crux of Suga's national and international outlook in the coming months. Suga's performance in response to these challenges will determine not only LDP's fate, but also Japan's future trajectory as a relevant power in the post-pandemic strategic architecture.


Dr. Jagannath Panda is a Research Fellow and Centre Coordinator for East Asia at the Manohar Parrikar Institute for Defence Studies and Analyses, New Delhi. Dr. Panda is the Series Editor for 'Routledge Studies on Think Asia'. The opinions expressed herein are those of the author alone. Find him on Twitter @jppjagannath1.