[Asia's Next Page] Trump's Expanded G-7 Gamble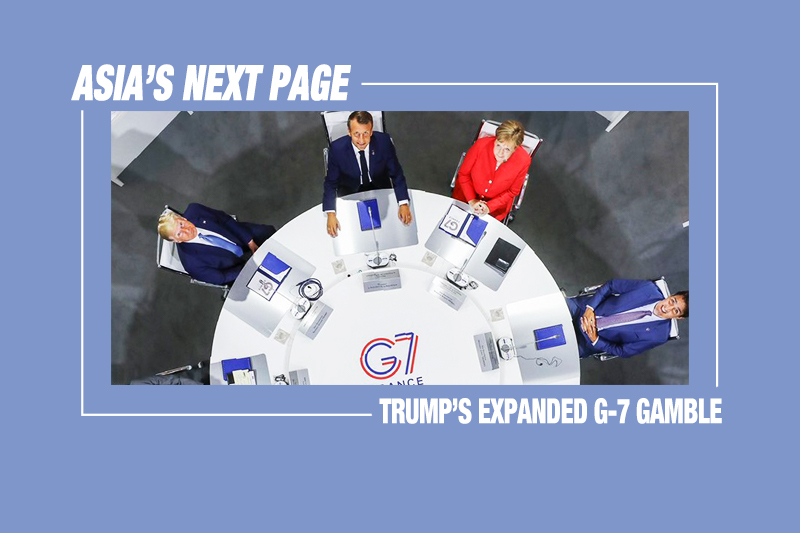 The non-transparency of the World Health Organization (WHO) and the non-effectiveness of the United Nations Security Council (UNSC) in their response to the coronavirus pandemic has clearly agitated the international community.
The democratic rhetoric has been strengthened worldwide against the communist functioning of China and what it offers to the global governance architecture. Donald Trump's latest call to expand the Group of Seven (G-7) to include Australia, India, South Korea, as well as bringing back Russia by postponing the scheduled in-person meeting, confirm such a trend.
What does an expanded G-7 mean for the present power play in an emerging post-COVID global order? How does it accentuate the "America first" proposition of President Trump?
Strengthening an Anti-China Narrative
Expanding the G-7 points to an American strategy that is aimed at protecting the post-war liberal international order threatened by China's exemplary rise. To build a global coalition that would enhance and protect the interests of the industrialized democracies has been a long-drawn objective of the U.S., which Trump seems to be advocating provocatively under his "America First" rhetoric.
Fundamentally, Trump's expanded proposition to involve Australia, India, South Korea, and Russia replicates an approach of "transactional bilateralism." It indicates that he would like to engage with countries that are critical to American fortunes in global affairs, as well as key to the changing global power structure.
With the COVID-19 pandemic affecting the industrialized democracies the most, Trump foresees a chance to promote an anti-China narrative through an expanded G-7. Most of the current G-7 members — such as France, Italy, the United Kingdom, and Germany, including the United States — have severely suffered in terms of loss of life and livelihood.
Trump sees this economic fallout as an opportunity to assemble both the industrialized and emerging democracies together. Besides, it strengthens a global action-plan vis-à-vis China that the United Kingdom had proposed under a "D-10" alliance of democracies to counter a rising Chinese influence on the global podium, including concerns ranging from Huawei's influence in the 5-G network.
The Russian Gamble
Moscow's return at present looks difficult, unless Trump tries to strike a diplomatic nexus with Russia and build a consensus among members for Moscow's return. It is quite apparent that the American assertion is drawn on creating friction between Russia and China. Russia would possibly like to return to the grouping as it enhances its global stature as a power in a league of powerful economies. However, it is an overestimation to think that Moscow would engage in a "China isolation" strategy that Trump foresees in an expanded G-7.
A phone conversation initiated by President Trump with Russian President Vladimir Putin, two days after announcing his plans regarding a potential return of Russia to G-7, points to the renewal of personal diplomacy between the two leaders post the U.S. justice department's Russia investigation.
G-7 nations, however, who are also key U.S. allies and partners, have not favorably viewed Trump's unilateral call on the potential return of Russia. A spokesperson for British Prime Minister Boris Johnson stated that the U.K. was against Russia's re-entry, as it is yet to see "changed behavior which would justify readmittance." Canada's Justin Trudeau commented that Russia's "continued disrespect and flouting of international rules and norms" must not allow it to be reconsidered for a return to the G-7.
In 2019, French President Emmanuel Macron stated that Russian readmission to G-7 could only be "appropriate" if Moscow resolved its Ukraine conflict. The foreign policy chief of the European Union, Josep Borrell, also advocated that Russia should not be allowed back into the grouping just yet. And while rhetoric has emerged that the U.S.-suggested new additions are based on a global response initiative to COVID-19, the Director of Strategic Communications for the White House, Alyssa Farah, has stated that the focus of such a renewed grouping would likely be China.
The Wild Card: India
Trump's invitation to India to attend the G-7 summit, along with his proposal to formally induct New Delhi in the grouping with Australia, South Korea, and Russia, is interesting. India has attended the summit previously. The former Indian Prime Minister Manmohan Singh attended the G-7 summits (then G-8 summit) on five occasions: in 2005 (U.K.), 2006 (Russia), 2007 (Germany), 2008 (Japan), and 2009 (Italy). In 2019, Prime Minister Narendra Modi flew to France to attend the G-7 summit upon receiving an invitation from President Macron.
India follows a case-by-case model in its outreach with China. While both nations have a complex relationship, the revitalization and reform of Bretton Woods institutions to meet the realities of the present world order and provide more power to non-Western nations is something both Beijing and New Delhi agree on.
The Trump administration has been vigilant of India's power-partner contention with China. Despite India's growing rivalry with China in boundary disputes and neighborhood matters, New Delhi has been building its multilateral relationships with China. New Delhi's multilateral partnership with China has been taking place under the Asian Infrastructure Investment Bank (AIIB) and the New Development Bank (NDB) under the Brazil-Russia-India-China-South Africa (BRICS), while joining the Shanghai Cooperation Organization (SCO) as a full member.
Against the backdrop of the above developments, the American plan is to offer more strategic significance to India in multilateral forums, and to acknowledge the rise of India vis-à-vis China. As a result, staying connected with India geo-politically, strengthening bilateral defense ties, and supporting India in various multilateral institutions have garnered greater American support.
A proposal to include India in an expanded G-7 draws on this strategic analogy, particularly as Trump would want to create a strategic rift between India and China that has been solidifying for some time on multilateral platforms. Trump's telephonic conversation with Prime Minister Modi inviting India to participate in the next G-7 Summit, and the latter's positive response to Trump's desire to extend the ambit of the grouping as "creative and far-sighted," comes as a ploy.
Endorsing an India-Japan Partnership
An expanded G-7 with India as a member opens a new wave of strategic opportunities for New Delhi to align with big economies and the international power club. G-7 offers India a strategic edge vis-à-vis China in Asian and global strategic parlance, and provides a stronger multilateral platform to strengthen partnership with Japan, another big economy in Asia and a "special and strategic global" partner of India.
At the same time, it would serve the American purpose of monitoring and promoting Trump's Indo-Pacific initiatives, such as Blue-Dot Network, Asia Reassurance Initiative Act, and Asia Enhancing Development and Growth through Energy.
More than the initiatives, an Indian presence in G-7 strengthens an American-sponsored or -supported scheme of multilateral engagements in the Indo-Pacific. It complements the Japan-India-America trilateral framework, while strengthening the channel of communication in the Australia-India-Japan trilateral networks, and importantly, the Quad framework.
The Quad is where the two alliance partners of the U.S. — Australia and Japan — increasingly share an Indo-Pacific platform with India. From India and Japan's perspective, New Delhi's inclusion will only strengthen their mutual complementarity in multilateral institutions. For long, both India and Japan have been aiming for an expanded UNSC by demanding for a permanent berth through the Group of 4 (India-Japan-Brazil-Germany). Consensual support from the industrialized democracies in this forum (perhaps even with Moscow) would go a long way in gathering international support to their favor.
The proposition to expand the G-7 membership comes amid the U.S.' mounting trade rivalry with China and ahead of the election pressure on Trump this year. China's state-run media outlet Global Times published a scathing piece calling Trump's move "more symbolic than substantive." It further stated that the U.S. needs the support of the other G-7 members in order to continue its "agenda to deter and contain China." The piece also reported that President Trump possibly reached out to Brazil's Jair Bolsonaro regarding his participation in the grouping as well.
As host and thereby present president of the G-7, the U.S. has the power to invite any nation. However, new inclusion in the grouping formally requires approval from all other members. On his Twitter handle, Brazil's Bolsonaro said that he spoke with President Trump about Brazil's possible inclusion in the expanded G-7. If this were to take place, then the increased importance the U.S. accords South Korea and Brazil — both critical parts of the emerging "Quad Plus" narrative in popular parlance — is clear. Interestingly, both these nations are major economic partners of China.
The strategic motivations behind President Trump's G-7 expansion are at present undeclared. But creating a grouping that combines the top economies of the world, with the exception of China, points towards a major anti-China narrative that seeks to remodel the economic alliance structure in a post-COVID order.
Author: Jagannath Panda
Dr. Jagannath Panda is a research fellow and center coordinator for East Asia at the Manohar Parrikar Institute for Defence Studies and Analyses in New Delhi. He is also the series editor for Routledge Studies on Think Asia. Dr. Panda's most recent publications include India and China in Asia: Between Equilibrium and Equations (Routledge, 2019) and Scaling India-Japan Cooperation in Indo-Pacific and Beyond 2025: Corridors, Connectivity and Contours (KW Publisher, 2020). Follow him on Twitter (@jppjagannath1).