AUTO RACING | Toyota Does it Again, Winning 24 Hours of Le Mans for the Fifth Straight Year
Ryo Hirakawa, competing with fellow drivers Brendon Hartley and Sebastien Buemi, experiences the excitement of winning his first Le Mans race.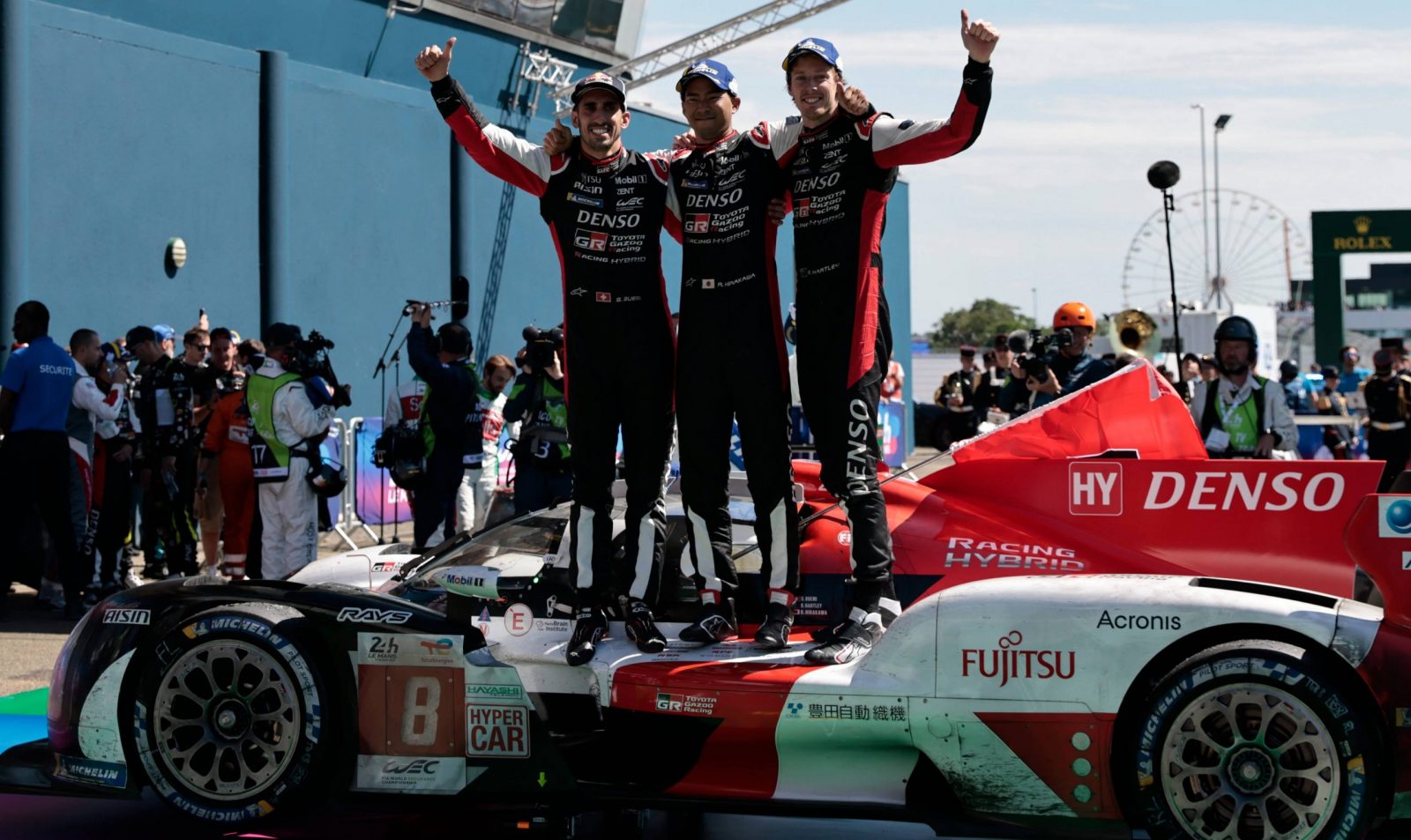 Another year, another glorious feat for the Toyota Gazoo Racing team in France.
Brendon Hartley, Sebastien Buemi and Ryo Hirakawa, drove Toyota's No. 8 car to victory in the 90th 24 Hours of Le Mans, which ended on Sunday, June 12 at the Circuit de la Sarthe.
The trio's achievement gave Toyota Gazoo five straight wins in the famous race, which was first held in 1923. (There was a nine-year hiatus after the 1939 event.)
Swiss driver Buemi collected his fourth win in five years in the endurance race. He teamed up with Japanese veteran Kazuki Nakajima in 2018, 2019 and '20, and Spain's Fernando Alonso in the first two years of Toyota's current streak. Hartley was Alonso's replacement the next year, and rejoined his revamped team in the winner's circle on Sunday.
Toyota's No. 7 car placed second overall (2 minutes, 1.22 seconds back), with Argentina's Jose Maria Lopez, Britain's Mike Conway and Kamui Kobayashi alternating behind the wheel during the race's 24 hours. The trio won the 89th 24 Hours of Le Mans in August 2021.
Entering the weekend, Hartley secured pole position for his three-driver team.
Fittingly, he was behind the wheel to complete the race (380 laps) as Buemi and Hirakawa looked on from Toyota's garage.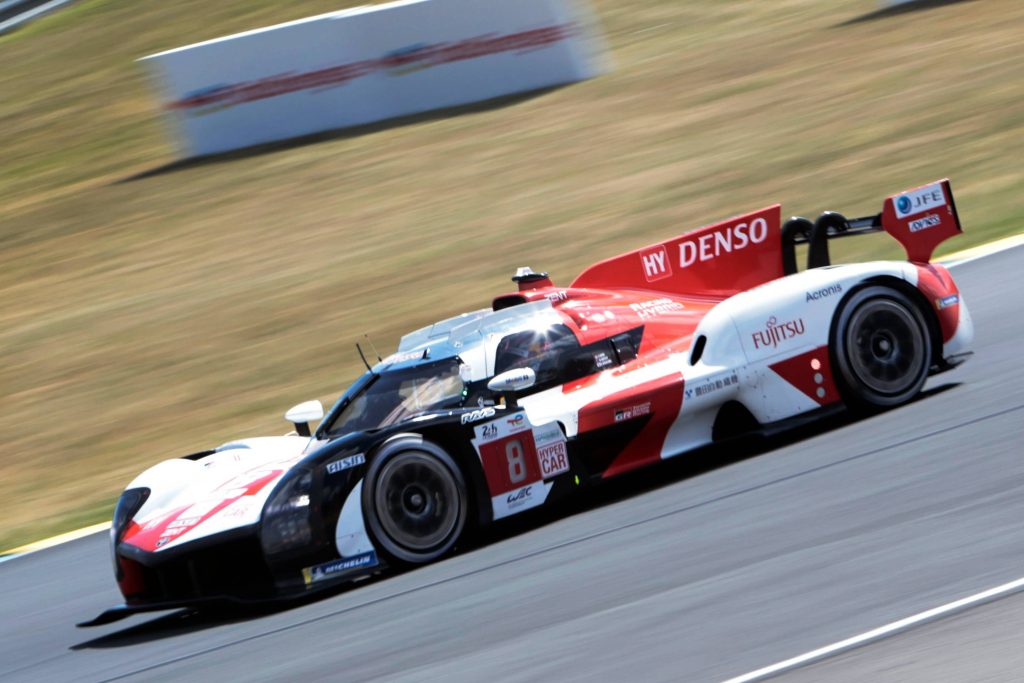 'Overwhelmed with Emotions'
Hartley was thrilled with the outcome of the race.
"It was a great responsibility, but also a great feeling to take the qualifying, take the pole position and also take the race finish, I think it's the first time I've done that," Hartley told reporters after the race. "Yeah, I was overwhelmed with emotions when I crossed the line.
"The whole race you try not to think about the finish. We've all seen what can happen on the last laps even in the last couple of years, four or five years ago with Toyota. So, really crossing that line, all the emotions come out."
Both Toyota cars held the top spot at different times during the race over the weekend.
Throughout the race's rich history, five Japanese drivers have won 24 Hours of Le Mans titles. Hirakawa joins an elite fraternity headlined by Nakajima's three wins. Also in the list are Masanori Sekiya (1995), Seiji Ara (2004) and the aforementioned Kobayashi.

The Thrill of Victory
For Hirakawa, who hails from Hiroshima Prefecture, earning a Le Mans victory is a big deal.
"It's an honor to join the list of legends who have won Le Mans. To be honest, I still cannot believe my dream has come true today. It was such a close race for so long and we had such a great fight with car No. 7," Hirakawa commented after the race. "Thank you to Sebastien and Brendon, who have helped me a lot since I joined the team; it is an honor to drive in the same car as them.
"It is fantastic to have a one-two in my first Le Mans for Toyota Gazoo Racing and this is thanks to the hard work of the whole team. We had a perfect strategy, great pit stops and a race without any problems. I don't think we could do more."
Nakajima retired from racing in December and moved into a management position. Hirakawa replaced him and has proven to be a good fit.
"I am so happy for Ryo, who has integrated really well," Hartley said. "We love him and he is a strong part of the team already. We also have a great relationship with the car No. 7 crew and it was fun to battle so hard with them for most of the race."

Buemi Reflects on the Race
For Buemi, the euphoria of winning at the 24 Hours of Le Mans was expressed with vivid emotion in his words.
"It's hard for me to express myself after that race because it's just an amazing feeling, especially to be in the center of the podium with Ryo and Brendon," Buemi stated. "It is fantastic that we were able to win together with Ryo in his first Le Mans as part of the No. 8 car. He has done such a great job and I'd like to congratulate him for his performance. The whole team, and our crew, executed a perfect race without any mistakes and no damage to the car."

Does the feeling of winning the iconic race lose its luster?
No, Buemi insisted.
"It's an incredible feeling to win Le Mans for the fourth time, and the fifth time for Toyota Gazoo Racing," Buemi said.
"It will take a little bit of time before it sinks in because it's hard to realize what we achieved today."

RELATED:
Author: Ed Odeven
Follow Ed on JAPAN Forward's [Japan Sports Notebook] here on Sundays, in [Odds and Evens] here during the week, and Twitter @ed_odeven, and find him on JAPAN Forward's dedicated sports website, SportsLook.