Back in Swing: The Secret Subculture of Jazz Cafes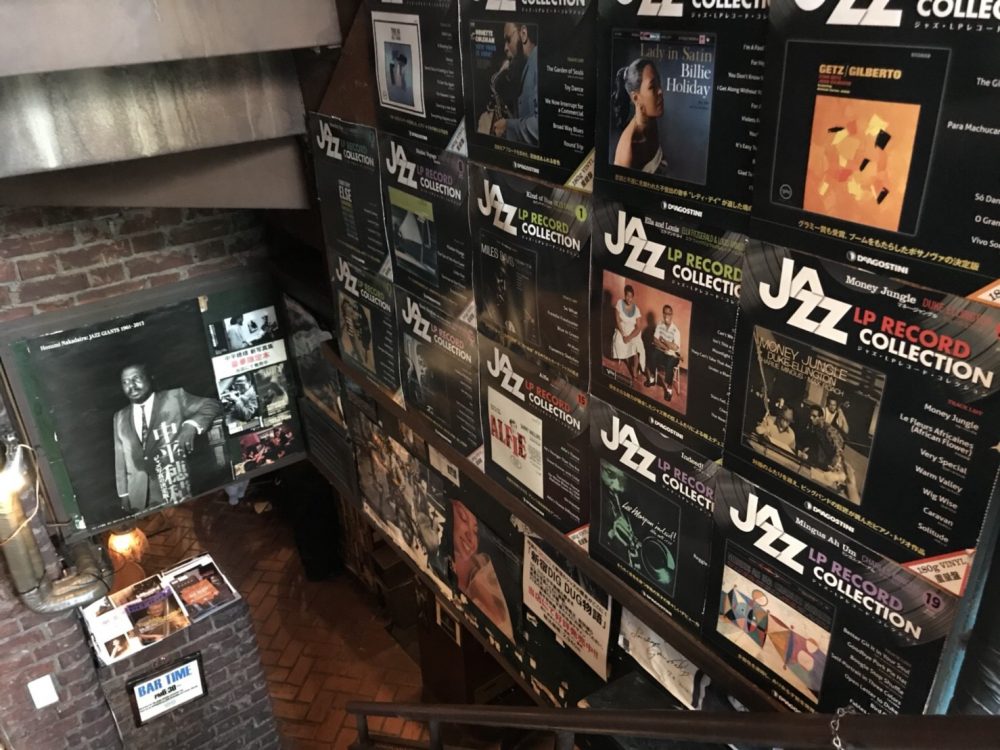 Read any Haruki Murakami novel and it is easy to tell the inescapable grip jazz once had on Japan. Following World War II, when American music exports could enter Japan freely but few Japanese possessed the disposable income to purchase the recordings for their own private collections, the jazz cafes sprouted.
Jazz cafes possessed the high-quality equipment to play the records and elicit their rich sounds, as well as an ever-expanding collection of the latest hits and releases. As a result, the cafes quickly became popular social settings. There, friends could meet up in a relaxed, outgoing environment, and immerse themselves in the sound of the music of the moment—jazz. These types of cafes grew in crops in the busy neighborhoods surrounding stations.
As a student at Waseda University, I found myself signed up for a two-credit Jazz History course, despite lacking any of the finer knowledge about the genre. There was a piano in the front of the classroom—sleek, black, and modern—and every week the professor would fill the five free minutes before class began with musical renditions of the presentation topic of the day. Whether it was Blues or Bebop playing, his skinny fingers, spindly like the joints of a spider crab, would reach across octaves and produce music that, at least momentarily, paused the murmur of students talking among themselves.
Our professor placed an emphasis on immersion, and a consequence of that was his insistence that every student experience at least two jazz cafes while studying in Tokyo.
It was mid-day on a Tuesday, right after my Jazz History class, when I ventured towards my first jazz cafe. Milestone, as it's called, is tucked into the side streets of Takadanobaba, only a 15-minute jog from campus. From outside, I could hear the muted pulsation of music. At that hour, however, it was only myself and the shop keeper in this tiny story, avoiding eye contact as politely as we could. Eventually, he sank below the counter into a space where we couldn't see each other, rising only to switch the record and put the new album on display. The milk tea I ordered tasted fine. But it is obvious no one comes here for the drinks—people come for the jazz.
The genre of jazz is complex, unpredictable, and improvisational. In each song, the notes tumble together, and every musician must be synched perfectly with the others, orchestrating a new masterpiece before the audience's very eyes. In this isolated setting, I can begin to recognize the call and response of the music for the first time. Later, when I emerge into the sunshine after an hour has passed, it's like I am being spit forth from a time machine. My body is disorientated. My head rings with the sounds of eras past. In the pocket of my running shorts, I've kept a paper with all of the information on the albums I just listened to, my thoughts thrumming with the music still playing in my head.
The next jazz cafe I visited was Eagle, located in Yotsuya. Here, at least, there was noise—the sound of people flipping the pages of newspaper, someone breathing as quietly as they possibly could but still not silent, the thrum of bodies in seats enjoying themselves. Here, it was much more apparent that these places weren't just nostalgic relics but still hobbies quietly pursued by a devoted group of fans.
Some of the most famous joints in Tokyo include Eigakan (located in the Hakusan neighborhood of Bunkyoku) and Dug (made famous in the Haruki Murakami novel Norweigen Wood). There are countless others, too, tucked away at the end of alleyways or hidden in dim-lit basements.
Tokyo also boasts famous jazz clubs, such as Blue Note or the Pit Inn, where jazz musicians still perform live. However, the price tag per seat at these places matches whatever artist is in town and never seems to fit a student's budget.
While perhaps not noticeable at first glance of the tapestry of lights and electricity that composes Tokyo, jazz still exists, quietly woven throughout the city. Anyone wishing to visit one of these cafes should be prepared to respect the tradition of silence and show reverence to the music being played. This isn't a Spotify playlist automatically generated for the neighborhood Starbucks. It is a personally-curated collection of records and CDs played on professional-level equipment that is intended for true fans of the genre to enjoy. That being said, it's doubtful that anyone will know (or mind) if you can't tell Miles Davis from Charles Mingus.
Music fans, travelers wishing to experience an authentic Tokyo sub-culture, and those yearning to return to the soft glory of a bygone age will all enjoy the atmosphere conjured up in Tokyo's jazz cafes.
Taylor Bond is a writer and photographer who spent a year living in Tokyo, Japan, as a travel writer and student at Waseda University.
She can be reached via Instagram at @james.blonde8 or @0.5ratsphoto.