Hans Christian Andersen Awardee Eiko Kadono: 'I Live in the Present Progressive Form'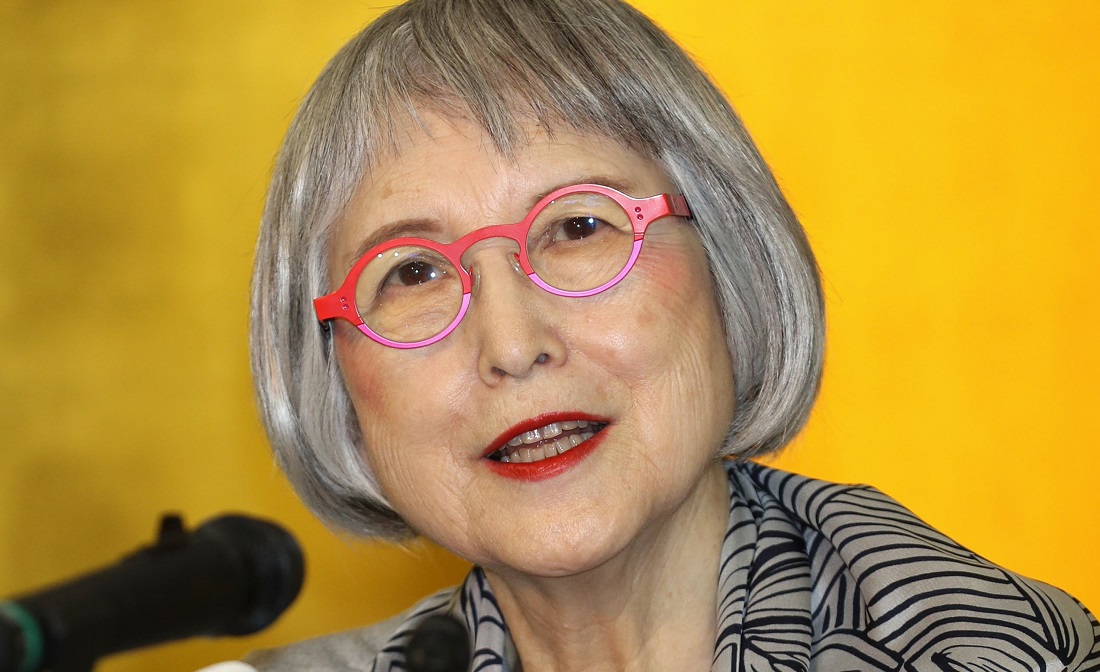 On March 26, children's book author Eiko Kadono, 83, known for Kiki's Delivery Service (Majo no Takkyubin) and many other novels, was given the Hans Christian Andersen Award for Writing, often called the "Nobel Prize for children's literature".
In announcing the award, the International Board on Books for Young People praised her positive focus on children and girls. The IBBY also noted: "There is an ineffable charm, compassion, and élan in the work of this great Japanese author. Whether in her many marvelous and funny picture books, or her great series of novels about the witch Kiki, or her novel set during World War II about a brave girl who must walk through a terrifying tunnel of trees to get to school, Kadono's books are always surprising, engaging, and empowering. And almost always fun. And always life affirming."
We asked Ms. Kadono to share her thoughts on the award in this article for the Sankei Shimbun and JAPAN Forward.
"What is the theme of your work?" is a question I am often asked. "The theme of this work must be such and such," is another one I get. This is the one I struggle with the most. There were times I just curtly replied, "There is no theme." However, having lived for 83 years, there must be an underlying theme within myself.
Until I was 10 years old, when Japan was defeated in World War II, I lived in a world confined by an ironclad theme. There was only one theme that was to be believed, with no room whatsoever for other ideas. Although I was still only a child, I must have felt quite smothered.
After the war, inconvenient sentences in textbooks were erased or marked over with ink, and whatever had been taken for granted was altered as if it had never existed. "I don't really understand what democracy is, but it seems interesting. This is so much better," I thought. Simplicity is a child's prerogative. It was then that an intense feeling against being imposed upon by others was planted in me.
Thus, my rebellious phase had begun. I profusely rejected adult impositions and strived to be confident in myself. Soon, studies in English—the language of the enemy—began. I learned something called the "present progressive form," and the "BE+verb+ing" equation seemed kind of romantic to me. From then on, it was decided that I was going to live in the "present progressive form." I am only going to live my life forward, I told myself. A new phase had opened its door for the then-12-year-old girl.
This helps explain why I do not like to formulate obvious themes in my work. I don't want to write anything obtrusive. But I want to write something! Create something!
I also enjoy drawing. First, I'll just draw lines, round and round, a circles of lines. It takes me back to my unrestricted childhood years. Back in those days, I would often doodle drawings on sidewalks. I'd sit on the pavement with a pagodite chalk in hand and start by drawing a street, a telephone pole, a bus stop…. When I drew on sidewalks, I would always be mumbling something to myself. Doodling and mumbling came as a set.
Eventually, when I started working, I would always begin by doodling in freestyle. A shape, a landscape, a girl like this, and a town like that. As I candidly doodle along, scripts form themselves in the dialogue balloon. Words are introduced for the very first time. Then, when the leading character begins to move, I start writing away as if I am chasing him or her wherever they may lead me—precisely, in "present progressive form."
In my view, the meaning of a word tends to be overvalued. But words have sounds and words have landscapes. With words, I want to show appreciation of their sounds and landscapes, and I want to remain impartial when it comes to defining them. I want to write with liberating words—not impose restrictions—and infuse a humble theme into my work. I have no opinions on how I want someone to interpret my writings. If it's interesting to the reader, the story becomes their story—it'll walk a path of its own.
Upon being honored by receiving the Hans Christian Andersen Award, I have started rereading Andersen's works. I wonder what the world looked like from his height perspective of 185 cm.
Andersen wrote a short story called, A Picture-Book Without Pictures (first published in 1839). The moon speaks to a poor young man who lives in an attic: "Every night, I will come here and tell you what I have seen. Paint the scenes I describe to you, and you'll have a very pretty picture book."
The story's title, A Picture-Book Without Pictures, is mysterious and interesting to me. It is a picture-book that has no pictures. Words have pictures, and pictures have words. To me, that is exactly what Andersen's words are about.