BASEBALL | Yankees Pitcher Masahiro Tanaka Hit in Head by Line Drive in Simulated Game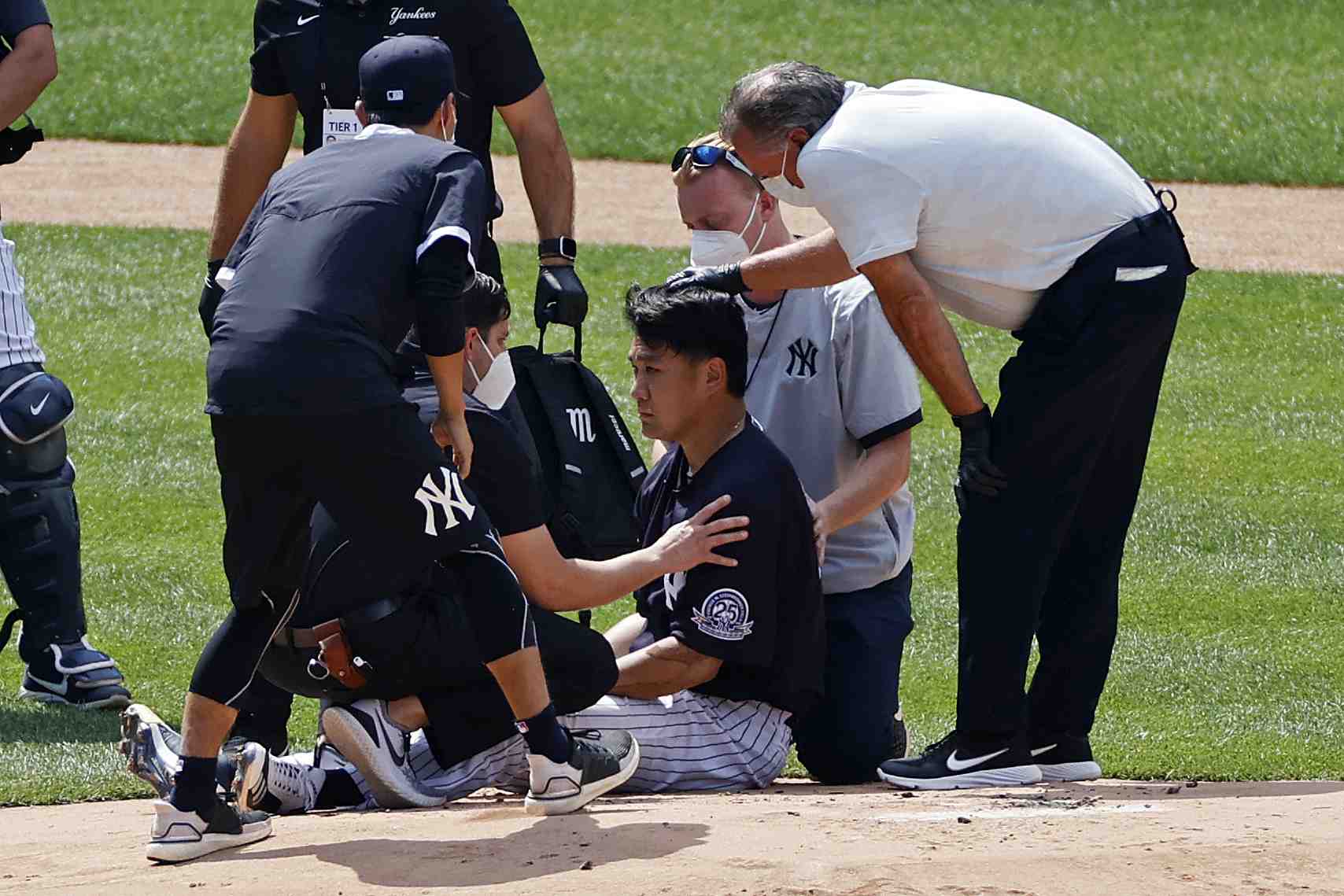 In a scary moment on the first day of spring training 2.0, New York Yankees starting pitcher Masahiro Tanaka was hit in the head by a Giancarlo Stanton line drive on Saturday July 4 at Yankee Stadium.
Stanton was the third batter that Tanaka faced in the simulated game. Yankees teammates Aaron Judge and Gleyber Torres batted before Stanton.
At about 3:30 p.m., the 31-year-old Tanaka fell to the ground and stayed there for several minutes.
Two trainers eventually helped him walk off the field, and then he was sent to NewYork-Presbyterian Hospital. Athletic trainer Mike Schuk went with Tanaka to the hospital.
After undergoing testing and evaluation, including a CT scan, at the hospital, the Yankees issued a statement saying Tanaka is "currently alert, responsive and walking under his own power."
Tanaka was released from the hospital around 8 p.m. on Saturday.
"I appreciate all the support," Tanaka wrote on Twitter. "I feel it a bit right now, but I'm all good. Going to try to get back on the mound ASAP! Thanks again for all the encouraging words!"
Yankees manager Aaron Boone said, "Anytime you see that on a baseball field, and then add a layer, that it's a teammate, I mean that stops you in your tracks and you hope for the best.
"When I went out to the mound, at least in the immediate, I felt somewhat good about it because he was alert and very aware. There was a little relief there, but you always worry about the next minutes and hours. The fact that we're getting good news is a good thing."
Boone added that Tanaka had "concussion-like symptoms."
New York Yankees right-hander Masahiro Tanaka delivers a pitch at Yankee Stadium on Saturday. (AP Photo/Adam Hunger)
Yankees pitcher Masahiro Tanaka lies on the field after being hit by a ball off the bat of teammate Giancarlo Stanton during a simulated game at Yankee Stadium in New York on Saturday. (AP Photo/Adam Hunger)
With video footage of the incident circulating widely on the Internet and via social media, Boone delivered this insight, according to ESPN.com: "It's definitely a moment that gets your attention in a big-time way."
It remains to be seen how soon Tanaka will resume working out to prepare for the upcoming season. Players must be completely symptom-free or be put on the seven-day injured list, according to Major League Baseball's concussion protocol.
The shortened 2020 season is set to start on July 23. Each of MLB's 30 teams are scheduled to play 60 games. MLB suspended spring training on March 12 due to the COVID-19 pandemic.
Since joining the Yankees in 2014, the former Tohoku Rakuten Golden Eagles star has compiled a 75-43 record with a 3.75 ERA in the majors. In 1,006 1/3 innings, he has struck out 947 batters. Tanaka, who was born in Itami, Hyogo, Prefecture, went 11-9 last season. Find his full career statistics here.
Tanaka is entering the final season of his seven-year contract with New York.
Author: Ed Odeven
Follow Ed on JAPAN Forward's [Japan Sports Notebook] here on Sundays, in [Odds and Evens] here during the week, and Twitter @itsjapanforward.