BASKETBALL | Alvark Tokyo Crank Up the Intensity In a Bounce-Back Victory
Alvark coach Luka Pavicevic's squad focused on playing more aggressively in its weekend rematch with the Kawasaki Brave Thunders, and the strategy paid off.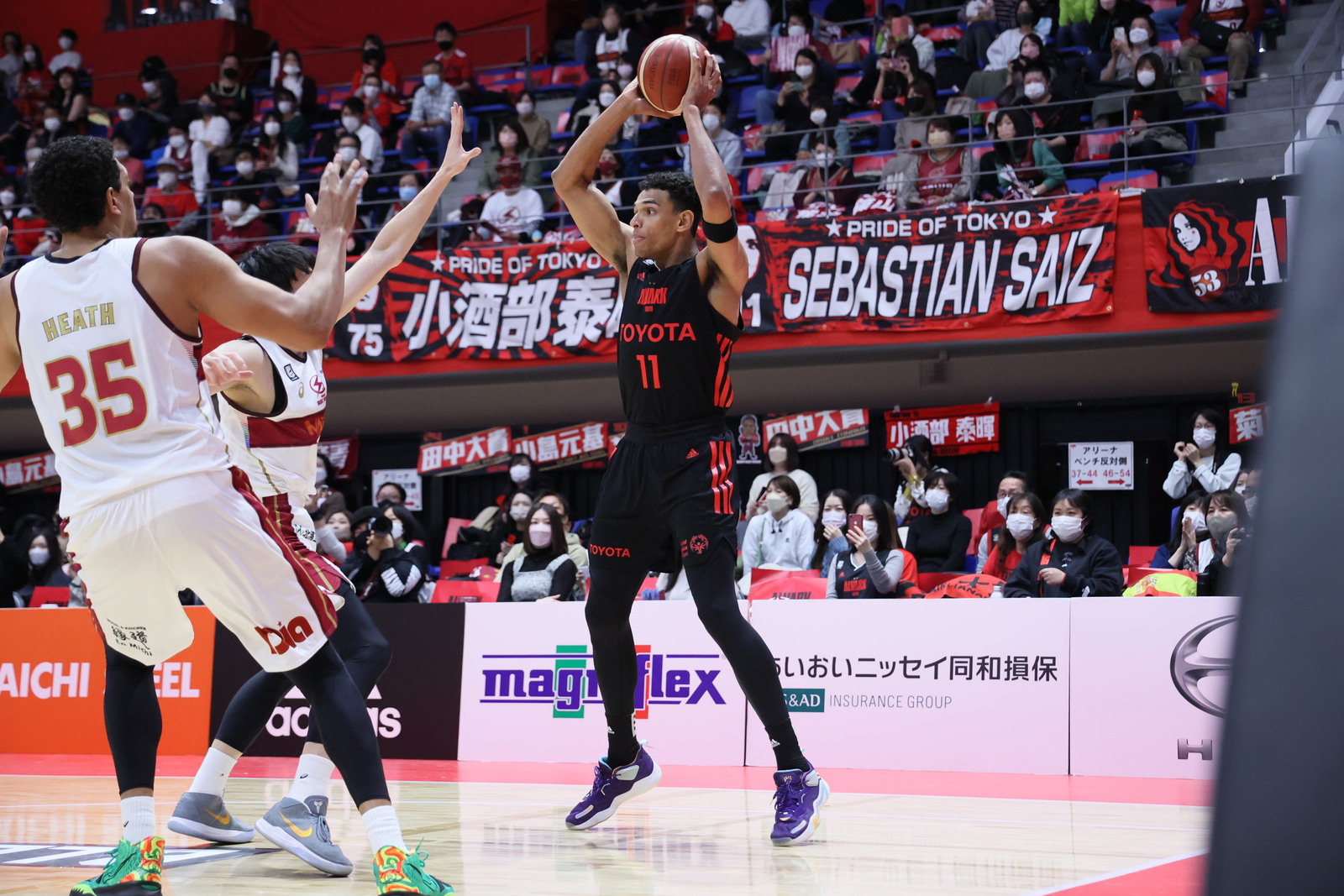 ~~
~
Energy and hustle plays are often a crucial ingredient for a successful team in a 40-minute basketball game.
After the Alvark Tokyo's lackluster performance in an 85-66 loss to the Kawasaki Brave Thunders on Saturday, December 4 in Tachikawa, there was an urgent need for the team to play a more aggressive brand of basketball the next day, according to Alvark coach Luka Pavicevic.

Instead of facing a big deficit entering the second half of their rematch against B. League East Division rival Kawasaki, like they did in the series opener, Tokyo was consistently scrappy and aggressive at both ends of the floor in a 96-90 triumph on Sunday, December 5.
The Brave Thunders led 46-45 at halftime, but the hosts' across-the-board productivity helped them secure the win.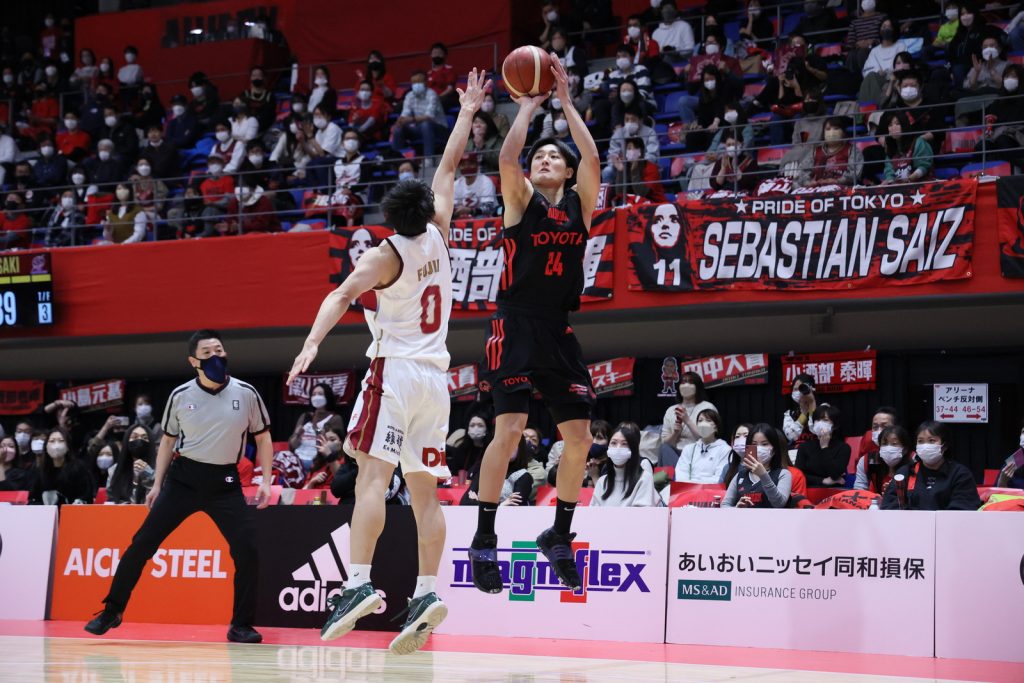 Team totals help illustrate how tuned in the Alvark players were to Pavicevic's pep talk before the game: play aggressively. They got to the free-throw line with regularity (23 of 27) and took care of the basketball (21 assists and nine turnovers). They had a 12-3 edge in fast-break points and an 18-8 advantage in second-chance points.
Veteran point guard Jordan Taylor set the tone with a 20-point afternoon. Ryan Rossiter filled the stat sheet with 18 points, six rebounds, six assists and three steals. And frontcourt mate Sebastian Saiz had 18 points and 12 rebounds. Daiki Tanaka scored 16 points and Alex Kirk finished with 10 points and eight boards for the Alvark (11-5).
"It was really important to show how resilient we are and capable after a difficult loss to gather ourselves up, pick up the pieces and actually win," Pavicevic told reporters after the game.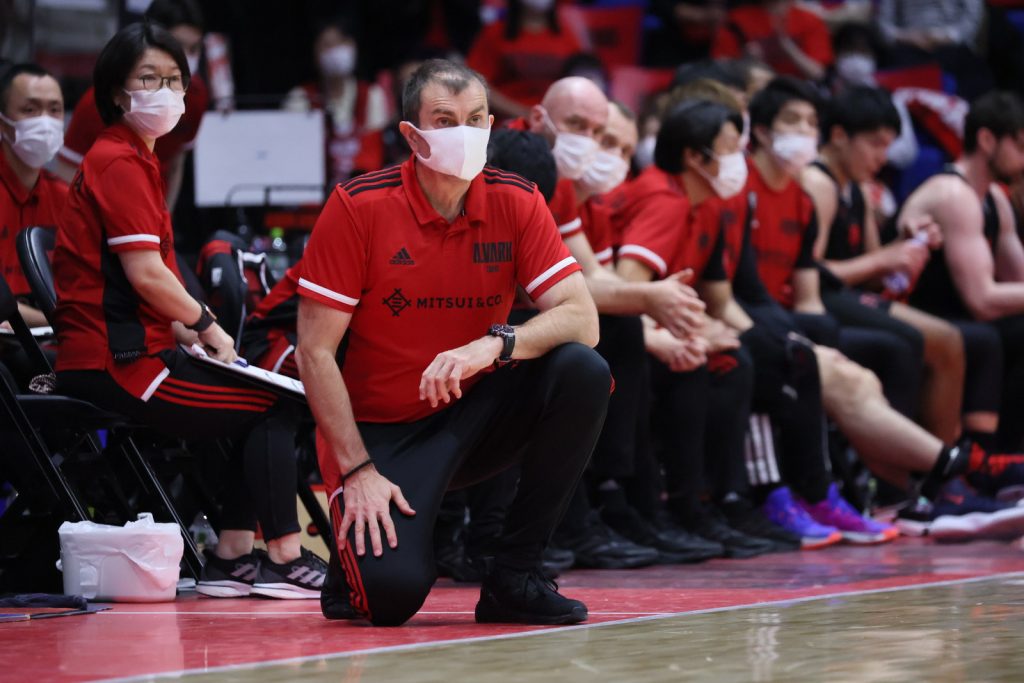 Commenting on Kawasaki's talented, experienced roster, Pavicevic noted that it's always a challenge to beat the Brave Thunders.
To do so, he said "you have to be fully focused on offense, defense and speed because the space [on the court] was tight. I think that's what is needed [against the Brave Thunders] and that's what we did."
Utilizing Tokyo's size and speed to counter Kawasaki's formidable frontcourt corps, Pavicevic decided to deploy the Alvark's three key big men (211-cm Kirk, 206-cm Rossiter and 205-cm Saiz) together at the same time for pivotal stretches in the first three quarters. It was an unusual move for the Alvark early in the season, but proved to be an effective strategy.
"I felt that we completely blocked Kawasaki's lineup with three bigs and at the same time we could find a good offensive solution on short notice," Pavicevic commented.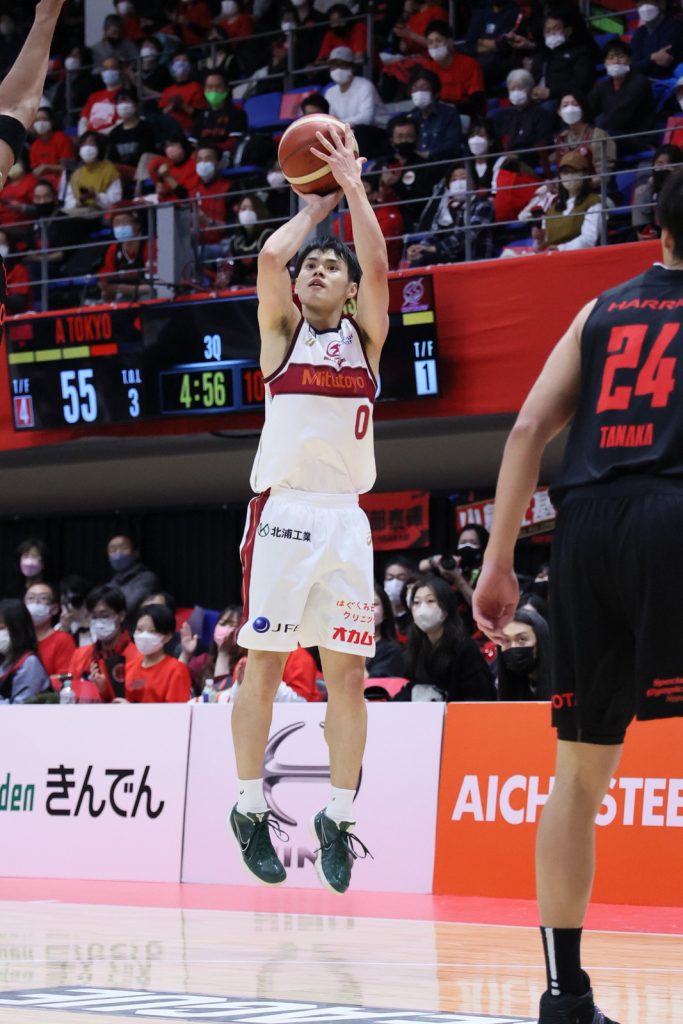 Center Nick Fazekas led the Brave Thunders (12-4) with 29 points and 13 rebounds. Matt Janning scored 18 points, while Yuma Fujii provided 13 points and eight assists.
The Alvark now switch their focus to a December 11-12 trip to play the Akita Northern Happinets.
Taylor, a University of Wisconsin alum, said he's looking forward to facing Akita, a team that will give the Alvark another important test early in the 60-game season.
"Akita plays hard, they are well-coached [by Kenzo Maeda] and they come back with a lot of energy," said Taylor, who had six points in the weekend-opening loss.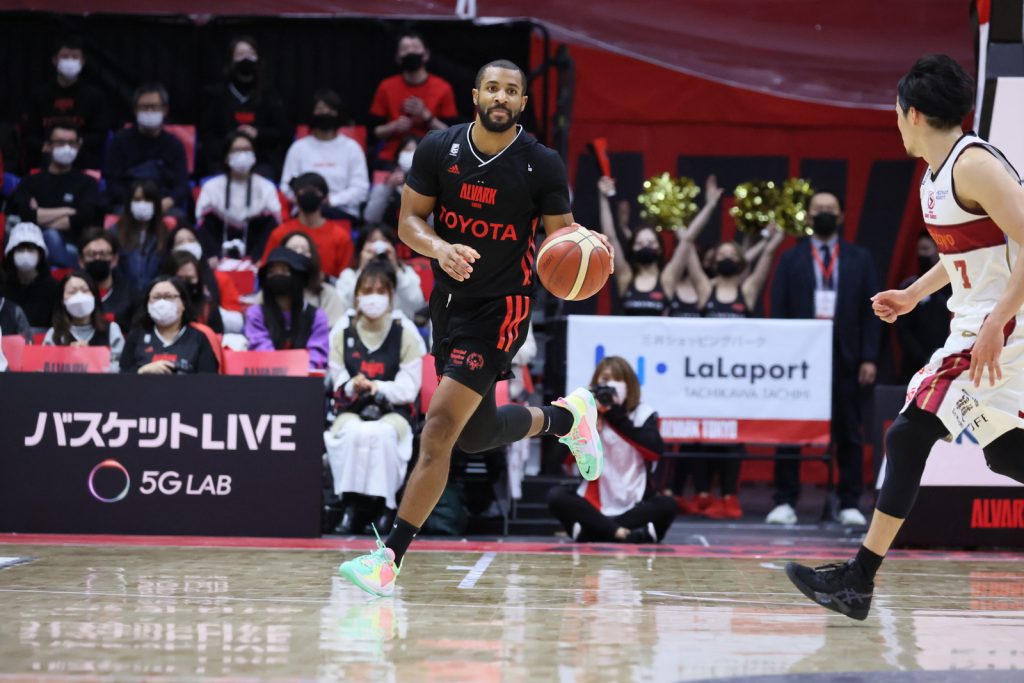 After the Alvark rebounded with a win, he said aggressive play was the biggest key and added that he was pleased with his team's effort.
"I think we just came out a lot more aggressive offensively, obviously," Taylor said. "Defensively, they might be one of the toughest teams in the league to match up with, and we did a good job of matching their aggressiveness offensively."
Brave Thunders coach Kenji Sato said Tokyo played with a lot of intensity, which didn't surprise him. "The Alvark are a very strong team," Sato said.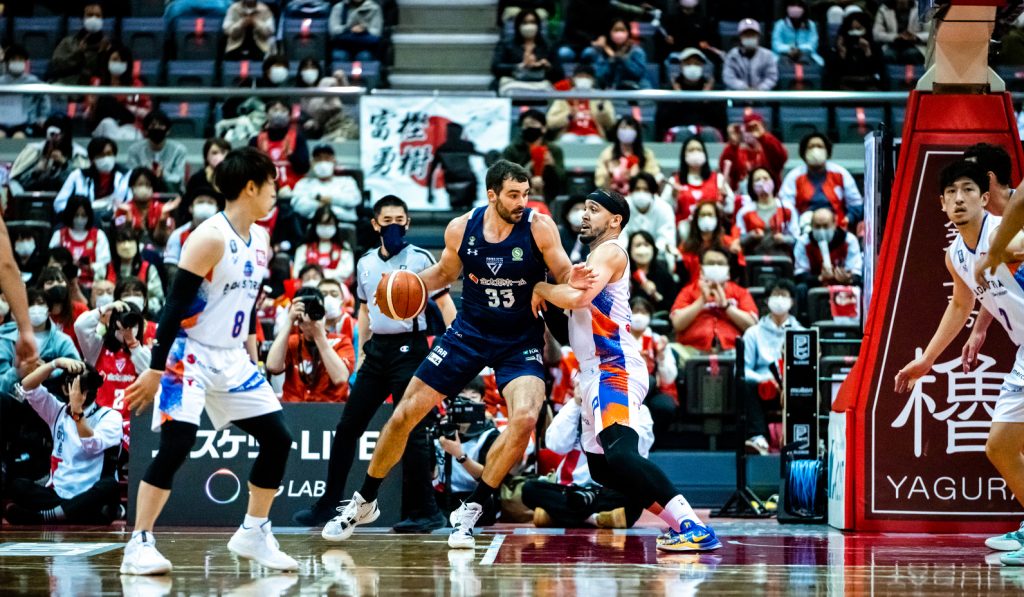 Mooney's Perfect Shooting Ignites Jets
University of Notre Dame alum John Mooney had a game to remember on Sunday in the Chiba Jets' 111-103 victory over the visiting Ibaraki Robots.

Mooney scored 27 points on 12-for-12 shooting from the floor. He also sank 3 of 3 from the free-throw line and grabbed 12 rebounds as the defending champion Jets completed a series sweep.
In the weekend opener, Mooney had a quiet offensive game (eight points on 4-for-12 shooting).
A day later, ignited by Mooney's big performance, the Jets were 29 of 36 from 2-point range and converted 20 of 21 free-throw attempts. Floor leader Yuki Togashi added 19 points and 12 assists and Chiba big man Gavin Edwards had 14 points.
Marc Trasolini paced the Robots with 31 points.
Chiba improved to 12-4; Ibaraki fell to 2-14.

Other B. League Recaps
The game recaps below are from Sunday, December 5, except for the Shibuya-Shiba game from Monday, December 6.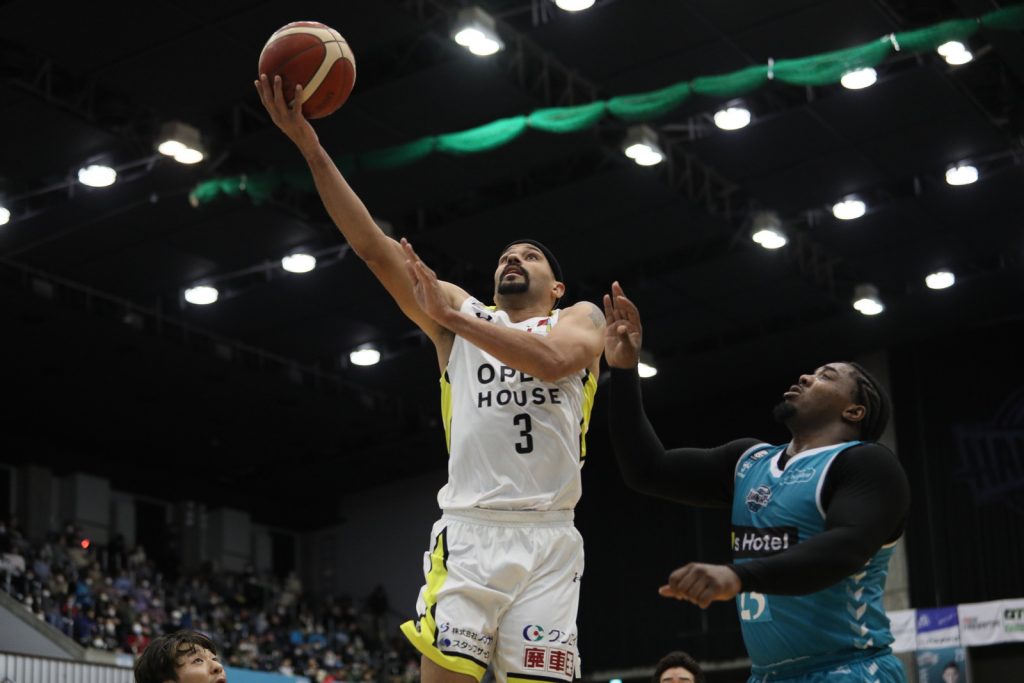 Strong Third Quarter Carries Crane Thunders to Win
The visiting Gunma Crane Thunders outscored the Kyoto Hannaryz 33-18 in the third quarter, an offensive outburst that proved pivotal in a 94-86 victory.
Gunma's Aki Chambers scored 25 points and teammate Trey McKinney-Jones had 22 points and 10 assists.
Jerome Tillman led the Hannaryz with 22 points.

The Crane Thunders are 8-8. Kyoto, which lost its 13th in a row, dropped to 2-14.
Brex Overpower Brave Warriors
For a 20-minute span, the Utsunomiya Brex were an unstoppable force against the Shinshu Brave Warriors.

It was the game-defining stretch of play, encompassing the second and third quarters, with the scoreboard adding up to 46 Brex points and 15 for host Shinshu. As a result, Utsunomiya cruised to an 83-61 victory, the team's second in as many days over its Nagano Prefecture foe.
Brex newcomer Chase Fieler, a Florida Gulf Coast University product, had a banner performance with 27 points, including 5 of 5 from beyond the 3-point arc. Fieler's successful pro career has included a pair of titles in the Belgian League, two more in the Dutch League and stints in Spain, Greece and Germany since turning pro in 2014.
Utsunomiya's Josh Scott chipped in with 19 points, nine rebounds and five assists, while Makoto Hiejima finished with 12 points as the Brex (11-5) extended their winning streak to five.
Yuta Okada had a 22-point outing for Shinshu (9-7).

Golden Kings Continue Winning Ways
Balanced scoring helped push the Ryukyu Golden Kings past the visiting Toyama Grouses 80-69.
Dwayne Evans was the high scorer with 22 points, Jack Cooley added 13 and nine rebounds. Keita Imamura and Ryuichi Kishimoto both poured in 10 for the West Division-leading Golden Kings (13-3), who opened the weekend with a 91-66 victory over Toyama (4-12).
Julian Mavunga paced the Grouses with 19 points.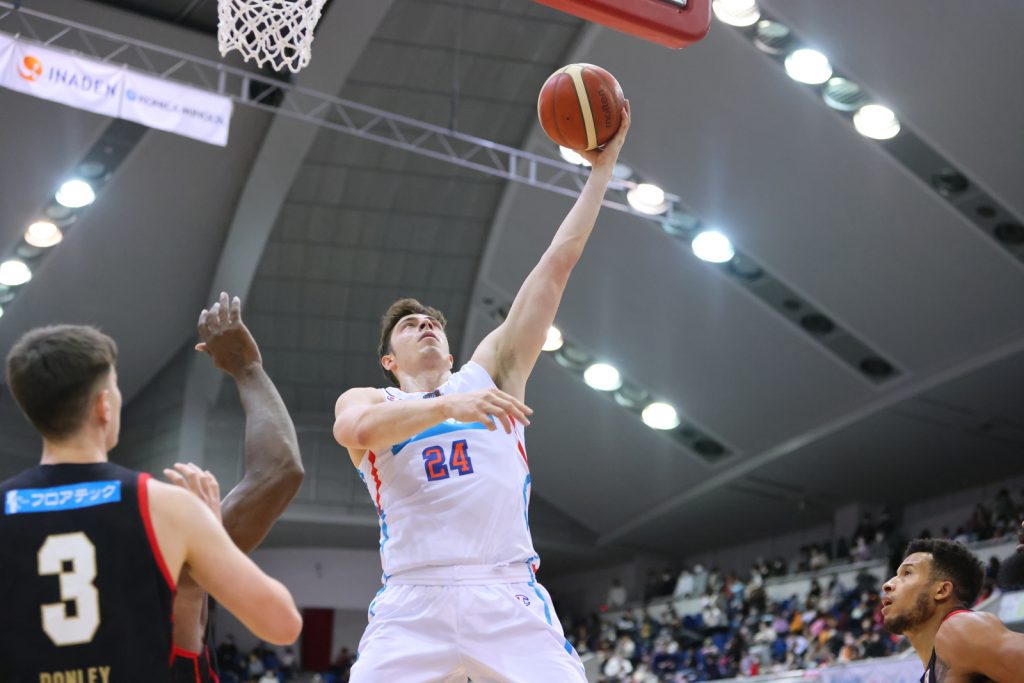 Dragonflies Earn Weekend Split Against Evessa
Defensive productivity was a hallmark of the Hiroshima Dragonflies' weekend finale against the Osaka Evessa.

Veteran center Gregory Echenique provided 12 points, 12 rebounds and five blocked shots for the Dragonflies (9-7), who recorded a hard-earned 87-83 road win.

What's more, Hiroshima made eight steals and caused fits for Osaka's ball handlers. The Evessa (7-9) finished with 22 assists and 18 turnovers.
Nick Mayo scored 28 points, Naoto Tsuji had 16 and three steals. Backup forward Thomas Kennedy chipped in with 11 points a day after scoring his 10,000th career point.

Reflecting on the milestone, Kennedy, who began his pro career in 2010, wrote on Instagram: "It's a blessing to be playing on grace from God!"
Evessa star D.J. Newbill had 34 points.

Susanoo Magic Avenge Loss to Diamond Dolphins
With Reid Travis and Perrin Buford combining for 46 points, the Shimane Susanoo Magic offense had plenty of firepower in a 94-86 bounce-back road win over the Nagoya Diamond Dolphins.
Reid notched a double-double (25 points, 13 rebounds). Buford added 21 points and Seiya Ando contributed 17 points and seven assists for the Susanoo Magic (11-5, including 6-3 in away games).
For the Diamond Dolphins (9-7), Takumi Saito finished with 24 points.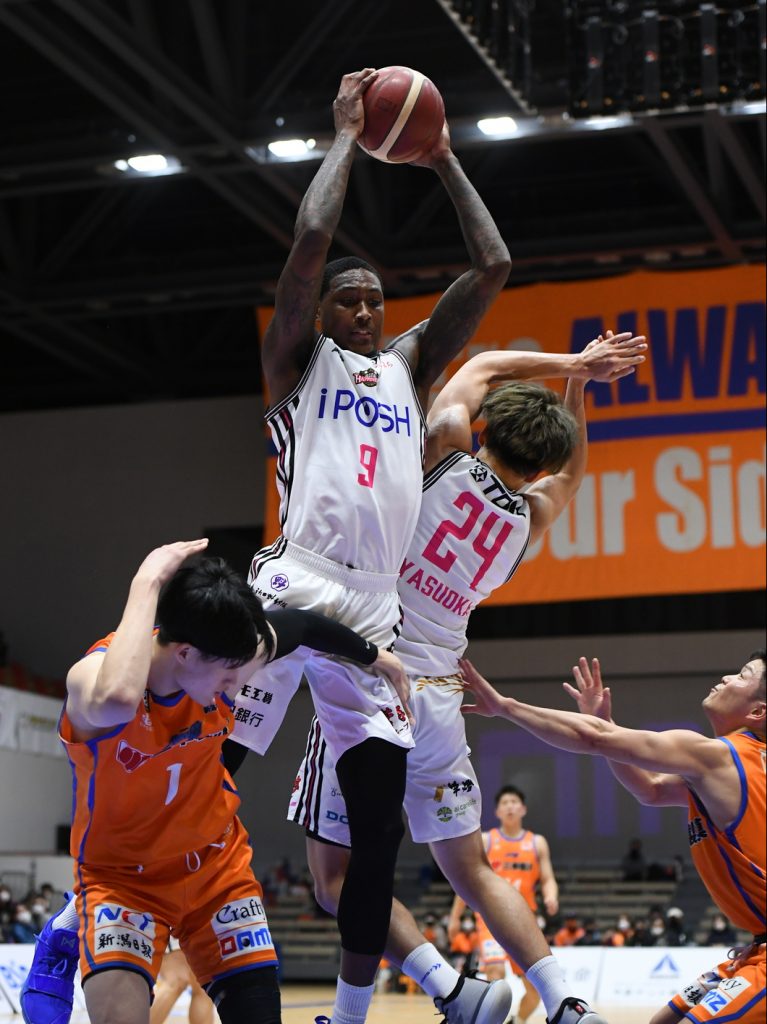 Northern Happinets Hand Albirex 13th Consecutive Defeat
Takatoshi Furukawa had a game-high 17 points, Jordan Glynn netted 16 and the Akita Northern Happinets pounded the host Niigata Albirex BB, winning 89-58.

Akita (9-7), which extended its winning streak to four, also had a stellar rebounding effort (a 45-31 overall advantage).

Niigata big man Tshilidzi Nephawe recorded his fourth double-double of the season with 14 points and 11 rebounds.

The Albirex (2-14) dropped their 13th straight.

Levanga Squander Big Lead, Hold on For Narrow Win Over B-Corsairs
Entering halftime, the Yokohama B-Corsairs trailed 38-21 against the host Levanga Hokkaido.

Yokohama coach Taketo Aoki's team, which stepped up its defensive intensity after the intermission, played inspired basketball in the third quarter, and the score was tied 55-55 entering the final period.
Hokkaido slowed down the B-Corsairs in the fourth quarter and walked off the court with a 75-72 win.

Ryoma Hashimoto and Shawn Long had 21 points apiece for the Levanga (7-9), who won both weekend meetings.

Reginald Becton led Yokohama (6-10) with 21 points, 16 rebounds and four steals.
SeaHorses Showcase Roster Depth in Rout of NeoPhoenix
Seven SeaHorses Mikawa players scored in double figures in the team's second runaway road victory over the San-en NeoPhoenix.

Sunday's result: Mikawa 98, San-en 73. It was the NeoPhoenix's eighth loss in a row. The previous day's score: SeaHorses 101, NeoPhoenix 74.

Masashi Hosoya had the hot shooting hand in the rematch, connecting on 5 of 10 from long range in a 17-point afternoon for Mikawa (11-5). Teammate Kyle Collinsworth dished out eight assists.
San-en dropped to 3-13.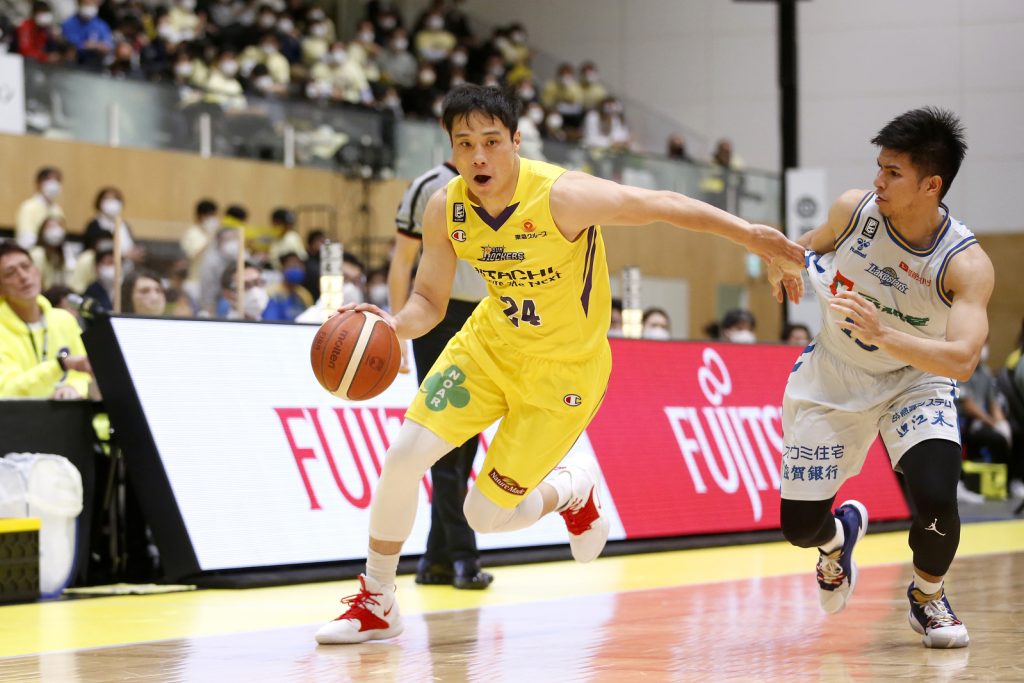 Sunrockers Cruise Past Lakestars
The Sunrockers built a 75-64 lead entering the final quarter, and nothing changed down the stretch on Monday evening, December 6.

The result? Shibuya beat Shiga 95-82 for its second victory of its home series.
Coach Tsutomu Isa's Sunrockers passed the ball effectively to shooters on the perimeter, and six of them made at least one 3-pointer. They finished 15 of 28 from beyond the arc, and Josh Harrellson was the top long-range marksman with 4 of 8. Harrellson finished with 15 points and 15 boards. Leo Vendrame led Shibuya (12-4) with 18 points.

Shooting guard Tomomasa Ozawa scored a season-high 22 points for the Lakestars (6-10).


Author: Ed Odeven

Follow Ed on JAPAN Forward's [Japan Sports Notebook] here on Sundays, in [Odds and Evens] here during the week, and Twitter @ed_odeven.