BASKETBALL | Alvark Tokyo Sweep Yokohama B-Corsairs, Keep Pace With East's Top Teams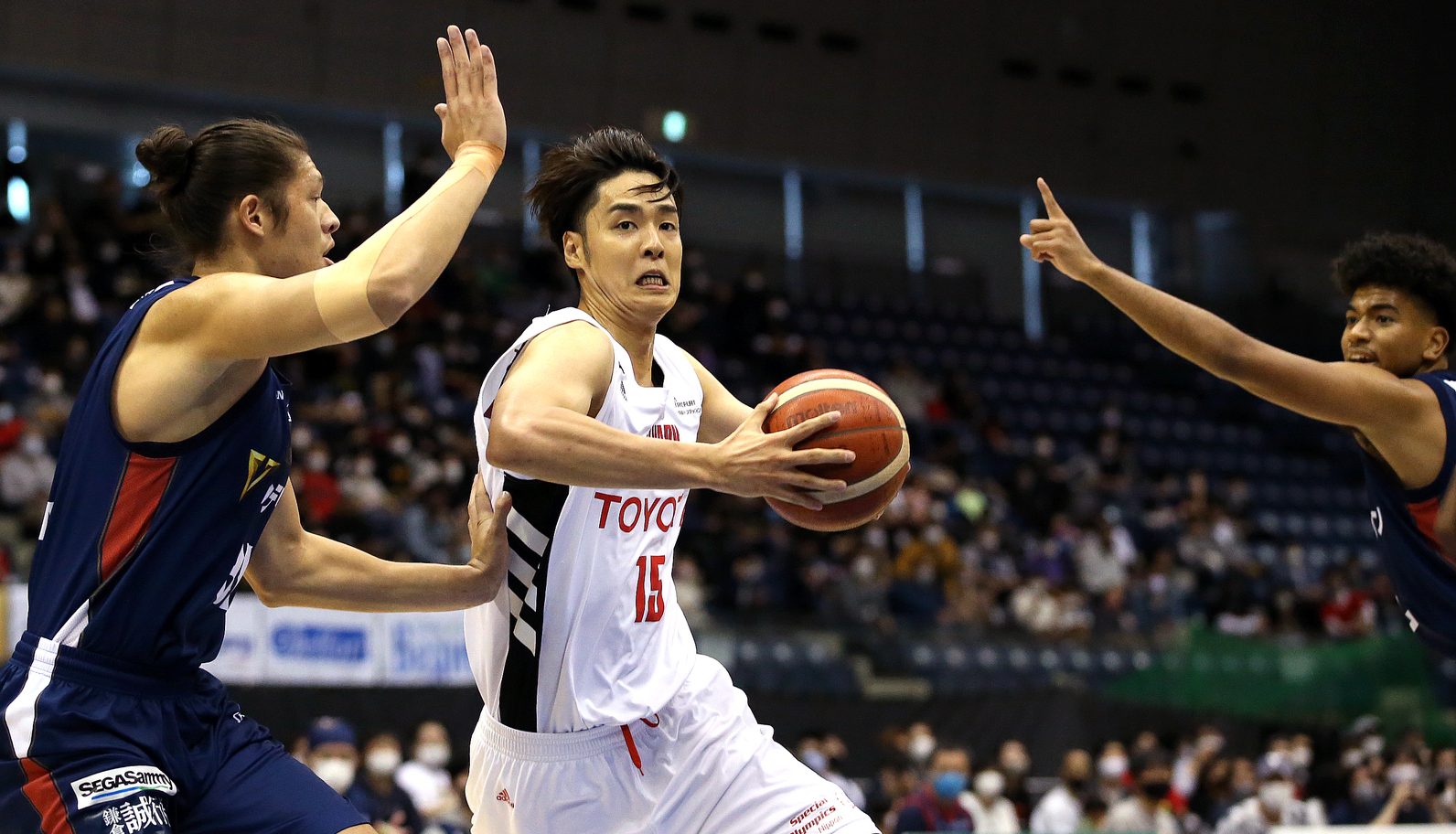 In a high-energy victory over the Yokohama B-Corsairs to wrap up the weekend, the Alvark Tokyo utilized their speed and athleticism.
The verdict? A 72-65 victory at Yokohama International Swimming Pool on Sunday, October 18.
Tokyo had its lapses and stretches of inconsistency, but outscored the hosts 13-2 on fast-break points and 21-11 on second-chance points. What's more, the Alvark made 14 of 17 free throws, nine more than the B-Corsairs (5-for-8).
Alvark star center Alex Kirk played a stellar game, contributing 21 points, 10 rebounds and two steals. Patrolling the middle with purpose, he made 10 of 13 shots against a short-handed Yokohama team, which is still waiting for three roster additions, including power forwards Patrik Auda and Robert Carter, to join the club. Several other key import players around the league completed their mandatory two-week quarantine due to the COVID-19 pandemic upon arriving in Japan in recent days and made their season debuts over the weekend.
After one quarter in the B. League series finale, the score was tied 16-16. A solid second quarter gave Tokyo coach Luka Pavicevic's team a slight edge at intermission, 36-33. The Alvark extended their lead to 59-48 entering the fourth quarter.
For Tokyo, poor 3-point shooting (4-for-20), several of which were open shots, kept the score closer than expected.
Aki Chambers pulled the B-Corsairs to within 66-63 on a layup with about 4:20 left in the fourth quarter. Then Yutaro Suda missed a layup at the other end, but Kirk followed with a putback to stretch the lead back to five. Yokohama scored two points the rest of the way.
Alvark veteran forward Joji Takeuchi had an impactful effort with 11 points, seven rebounds, two steals and a block. Kyle Barone scored eight points, Suda and Seiya Ando each had seven, and Daiki Tanaka, the league's reigning MVP, dished out five assists.
Reginald Becton led Yokohama with 17 points and nine rebounds. Chambers scored 15 points and rookie Kedrick Stockman Jr. had nine points, as did Masaaki Morikawa.
B-Corsairs coach Kyle Milling, who is in his first season at the helm, said his team "played a lot more complete game" in the series finale after a blowout loss the previous day.
"We were a lot more consistent," he added. Milling spoke to the press via Zoom conference call after the game.
Pavicevic also was required to utilize the modern technology to deliver his post-game comments.
He said he was pleased the team collected the victory, but noted "we were less inspired and less creative [than on Saturday]."
Pavicevic added: "I would say that we never had full control of the game."
A Look Ahead
All 20 first-division clubs are back in action on Wednesday, October 21, including a marquee matchup between the Alvark, who won the 2018 and 2019 titles, against the Utsunomiya Brex, who grabbed the 2017 crown.
Sunday Flashback
Grouses 91, NeoPhoenix 57
Key numbers: Toyama held a 28-9 advantage after one quarter and the hosts extended the lead to 55-19 by halftime. Julian Mavunga scored 31 points and Naoki Uto handed out nine assists in the rout.
Susanoo Magic 84, Levanga 80
Highlights: De'mon Brooks scored 20 points and newcomer Perrin Bufford provided 18 points and eight rebounds for Shimane, which completed a road sweep. Nick Mayo had 20 points and 10 boards for Hokkaido and Jawad Williams added 19 points.
Sunrockers 72, Brave Warriors 61
Noteworthy: Ryan Kelly supplied 21 points and corralled eight rebounds for visiting Shibuya. Josh Hawkinson led Shinshu with 31 points.
Evessa 78, Hannaryz 70
Key numbers: D.J. Newbill put his stamp on the game with a strong all-around effort (24 points, 10 rebounds, nine assists), Ira Brown chipped in with 18 points and 17 rebounds, and Tatsuya Ito had 14 points and five assists as Osaka earned a bounce-back victory and ended a four-game losing streak. Kyoto's Rayvonte Rice had a 27-point outing.
Lakestars 99, Albirex BB 93
Highlights: Shiga got a big boost from Jordan Hamilton (24 points, 10 rebounds, nine assists) and Jonathan Octeus (20 points) in an overtime victory on the road. Rosco Allen had 36 points for Niigata in the loss.
Brex 85, Jets 69
Key numbers: Ryan Rossiter carried the Utsunomiya offense on his shoulders with 21 points on 10-for-20 shooting as the visitors avenged a series-opening loss. Rossiter also had eight rebounds and five assists. Guard Yusuke Endo delivered a productive, high-energy performance (seven assists, two steals). Chiba's Gavin Edwards scored 17 points.
Diamond Dolphins 89, SeaHorses 75
Noteworthy: After Nagoya's dismal first quarter—the visitors trailed 28-12—the club stormed back and outscored Mikawa 29-12 in the second quarter and seized control of the game. Takumi Saito finished with 23 points and five assists and former NBA player Jeff Ayres added 18 points and 19 rebounds for the Diamond Dolphins. Kosuke Kanamaru was the high scorer (27 points) for the SeaHorses.
Golden Kings 82, Northern Happinets 76
Key numbers: Five Ryukyu players made two or more steals as the visitors' defense disrupted Akita's offense repeatedly. Keita Imamura led the Kings with four steals. Big man Jack Cooley contributed a double-double (19 points on 9-for-11 shooting, 15 rebounds). The Happinets committed 21 turnovers.
Saturday Rewind
Jets 87, Brex 78
Highlights: Shannon Shorter led host Chiba with 22 points in just under 23 minutes of court time, making 9 of 12 shots from the floor and collecting two steals. For Utsunomiya, Ryan Rossiter scored 37 points on 13-for-17 shooting, but made just 7 of 14 free-throw attempts.
Brave Thunders 82, Dragonflies 80
Key numbers: Nick Fazekas ignited Kawasaki with 34 points and grabbed 12 rebounds as the hosts edged Hiroshima to complete a two-game sweep.
Albirex BB 79, Lakestars 73
Highlights: Rosco Allen poured in 24 points and Richard Hendrix contributed 12 points, 15 boards and four steals for victorious Niigata before the home fans. Former NBA small forward Jordan Hamilton had 24 points and nine rebounds in his Shiga debut. His older brother, Gary Hamilton, who now plays for the Saga Ballooners, suited up for the Lakestars from 2009-11.
Grouses 81, NeoPhoenix 54
Noteworthy: Ex-NBA G League player Richard Solomon had 25 points and eight rebounds in his first game for Toyama, which built a 25-8 lead by the end of the first quarter. Visiting San-en trailed 46-17 entering the second half.
Golden Kings 74, Northern Happinets 53
Key numbers: Ryukyu held visiting Akita to 27.7 percent shooting in the series opener. Forward Dwayne Evans, a two-time All-Atlantic-10 Conference player, sparked the Kings with 19 points, 11 rebounds and four assists in his first B. League game.
SeaHorses 87, Diamond Dolphins 82
Highlights: Star center Davante Gardner put 33 points on the board and sharpshooter Kosuke Kanamaru buried 6 of 11 3-point shots in a 24-point performance for host Mikawa. Ex-NBA forward Jeff Ayres led Nagoya with 24 points and 10 boards, while Shuto Ando had 17 points.
Sunrockers 83, Brave Warriors 77
Noteworthy: Shibuya's Shuto Tawatari shot a perfect 5-for-5 from beyond the 3-point arc to account for his 15 points. Host Shinshu rallied with 32 points in the fourth quarter but it wasn't enough. Josh Hawkinson had 21 points and 11 rebounds for the Brave Warriors, while teammate and longtime Japan pro hoops star Anthony McHenry appeared in his first game of the 2020-21 season, finishing with 14 points, five rebounds, 10 assists, six turnovers and five steals in about 36 minutes.
Hannaryz 88, Evessa 82
Key numbers: Playmaker Rayvonte Rice led Kyoto with 32 points, including 14-for-16 from the foul line in his first game with the Kanto club, and teammate David Simon had 18 points and eight rebounds. Newcomer D.J. Newbill paced Osaka with 34 points in the home loss. Josh Harrellson supplied 13 points, 17 boards and five assists and Tatsuya Ito scored 14 points.
Susanoo Magic 93, Levanga 85
Highlights: Balanced scoring carried visiting Shimane past Hokkaido. Led by De'mon Brooks (21 points, 9-for-13 shooting), the Magic had five double-digit scorers. Nick Mayo had a team-best 26 points for the hosts.
Alvark 83, B-Corsairs 57
Noteworthy: Tokyo controlled the tempo and sank 12 of 25 3s in a rout of Yokohama. Seiya Ando scored 16 points and Alex Kirk had 14 for the Alvark, who led 39-26 at halftime. Reginald Becton was the hosts' lone double-digit scorer (15 points).
Friday Rewind
Brave Thunders 99, Dragonflies 64
Noteworthy: Kawasaki outscored visiting Hiroshima 58-33 in the second half and won the rebounding battle (54-31). Spanish big man Pablo Aguilar sparked the Brave Thunders with 16 points, 15 rebounds and five assists, while Nick Fazekas scored 20 points on 8-for-9 shooting and Naoto Tsuji poured in 17 points.
B1 Standings (through October 18)
East: Tokyo (5-1), Kawasaki (5-1), Toyama (5-1), Utsunomiya (5-1), Chiba (4-2), Akita (4-2), Shibuya (3-3), Yokohama (2-4), Niigata (2-4) and Hokkaido (2-4).
West: Mikawa (5-1), Nagoya (4-2), Ryukyu (4-2), Shimane (4-2), Shiga (2-4), Osaka (2-4), Hiroshima (1-5), Kyoto (1-5), Shinshu (0-6) and San-en (0-6).
Statistical Leaders
With six games in the books for all B1 teams, here's a look at the top three in scoring, rebounding and assists so far this season.
Scoring: Mavunga (25.7 points per game), Allen (25.3) and Gardner (25.2.).
Rebounding: Harrellson (12.0), Hawkinson (11.8) and Chiba's Sebastian Saiz (11.5).
Assists: Togashi (6.5), Uto (6.2) and Saito (6.0)
Second-Division Update
Through October 18, the Sendai 89ers and Koshigaya Alphas are tied for the top record (5-1) in B2, while the Fukushima Firebonds are 3-1.
Six second-division clubs have identical 4-2 records: Gunma Crane Thunders, Ibaraki Robots, Fighting Eagles Nagoya, Kumamoto Volters, Saga Ballooners and Rizing Zephyr Fukuoka.
Author: Ed Odeven
Follow Ed on JAPAN Forward's [Japan Sports Notebook] here on Sundays, in [Odds and Evens] here during the week, and Twitter @itsjapanforward.