BASKETBALL | Jets Soar Past Diamond Dolphins to Complete Weekend Sweep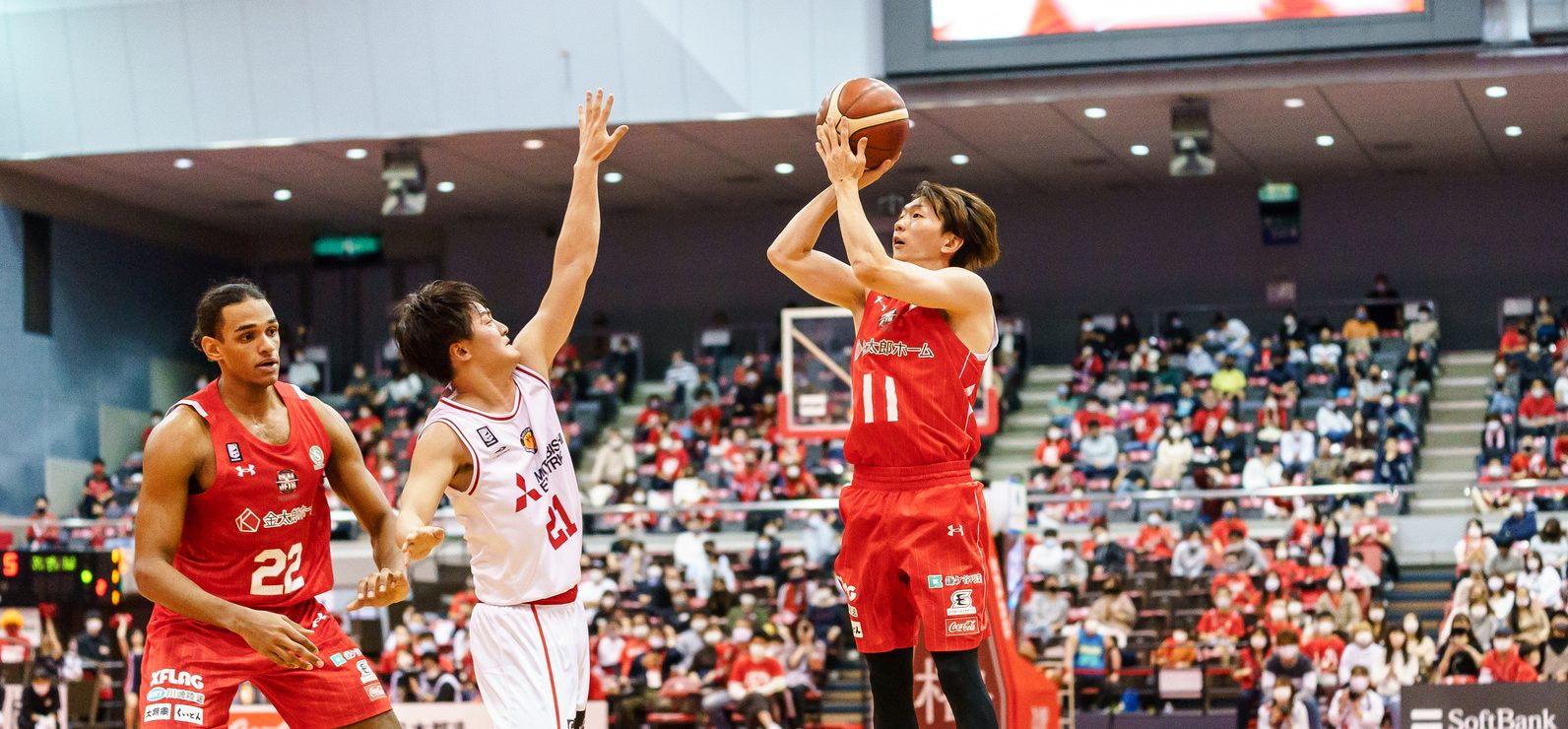 Balanced scoring carried the Chiba Jets Funabashi to a comprehensive victory over the Nagoya Diamond Dolphins in their weekend finale of the B. League's Week 4.
With five double-digit scorers, the Jets romped past the Diamond Dolphins 95-72 at Funabashi Arena to complete a two-game series sweep on Sunday, October 25.
Josh Duncan paced the title-chasing Jets with 22 points, frontcourt mate Gavin Edwards poured in 17 points and corralled a team-high nine rebounds, while key backup guard Fumio Nishimura jumped in with 14 points on 5-for-6 shooting with six assists in 12-plus pulsating minutes. Chiba point guard Yuki Togashi made a big impact with 13 points, seven assists and zero turnovers. Sebastian Saiz chipped in with 10 points.
Veteran forward Josh Duncan shoots a jump shot in the Jets' win over the Diamond Dolphins on October 25. Credit: B. League
Reflecting on his performance and overall play this season so far, Nishimura admitted that he has struggled with his shot.
"So I'm glad I was able to regain the feeling of shooting and contribute to the team today," Nishimura told reporters.
Chiba outscored the visitors 30-19 in the fourth quarter to secure the win.
Jets swingman Raita Akaho, who attended nearby Ichiritsu Funabashi High School, made his first basket of the season, knocking down a 3-pointer with 1:17 left in the fourth quarter. That made it 93-72.
"I'm happy to be able to play here," the 22-year-old Akaho told reporters.
For Nagoya, Justin Burrell provided 15 points and 13 rebounds and Jeff Ayres finished with 14 points and 10 boards.
Sunday's Other Scores
Lakestars 98, Levanga 87
Northern Happinets 68, B-Corsairs 48
Brave Thunders 80, Brave Warriors 62
SeaHorses 99, Grouses 77
Albirex BB 86, Hannaryz 81
Dragonflies 115, NeoPhoenix 109
Golden Kings 82, Susanoo Magic 75
Brex 78, Sunrockers 77
Alvark 85, Evessa 77
Key Highlights From Sunday
Ryukyu vs. Shimane: Golden Kings center Jack Cooley, a University of Notre Dame alum, scored 25 points, making 9 of 11 shots from the floor, and pulled down 18 rebounds against the Susanoo Magic. Reid Travis led the out-of-towners with 18 points.
Utsunomiya vs. Shibuya: Ryan Rossiter made the first of two free throw attempts with 1 second left as the Brex won by the slimmest of margins. Rossiter had 27 points and 12 rebounds.
Hiroshima vs. San-en: Dragonflies forward Thomas Kennedy's 32-point outburst helped push the Dragonflies past winless San-en, while rookie teammate Isaiah Murphy had a season-high 28 points, including five 3-pointers, and center Gregory Echenique contributed 25 points and 13 rebounds. For the NeoPhoenix, Serbian big man Stefan Jelovac had 25 points and 12 boards, notching his third straight double-double. Teammate Nenad Miljanovic provided 25 points and eight assists.
Shiga vs. Hokkaido: Australian center Angus Brandt dominated in the post with a 24-point outing and Jordan Hamilton had a strong all-around game (20 points, eight rebounds, eight assists) for the victorious Lakestars. Second-year pro Nick Mayo paced the Levanga with 28 points on 14-for-23 shooting, Mayo leads B1 with 23.9 points per game. Also for Hokkaido, point guard Ryoma Hashimoto dished out 10 assists and had zero turnovers, his third straight game without turning the ball over.
Niigata vs. Kyoto: Newcomer Mark St. Fort put 26 points on the board for the Albirex and guard Yuto Nomi had a season-best 18 points with eight rebounds and five assists. The Hannaryz got 34 points from David Simon and 29 from Rayvonte Rice in defeat.
Akita vs. Yokohama: In a game in which teams failed to score 70 points, the B-Corsairs made just 18 baskets (they attempted 50). Happinets forward Alex Davis was the high scorer with 13 points.
Saturday's Scores
Grouses 85, SeaHorses 81
Brex 97, Sunrockers 66
Brave Warriors 72, Brave Thunders 66
Alvark 97, Evessa 69
Lakestars 86, Levanga 80
Jets 92, Diamond Dolphins 76
Northern Happinets 71, B-Corsairs 68
Hannaryz 92, Albirex BB 86
Dragonflies 76, NeoPhoenix 67
Golden Kings 84, Susanoo Magic 71
Key Performances From Saturday
Toyama vs. Mikawa: Veteran forward Richard Solomon's 21-point, 25-rebound, two-assists, two-steals, one-block effort energized the Grouses in a hard-earned win over the SeaHorses. Julian Mavunga added 24 points and six assists for coach Honoo Hamaguchi's squad.
Shinshu vs. Kawasaki: In their first season in the first division, coach Michael Katsuhisa's club collected a big upset win, edging the Brave Thunders in the series opener in Nagano. Josh Hawkinson, a Washington State alum, led the way with 28 points, converting 10 of 14 shots. Catalyst Anthony McHenry had 13 points, nine rebounds and five assists, while Louis Kurihara chipped in with 11 points and six assists and Tatsuya Nishiyama. Center Wayne Marshall made his season debut and provided six points, three assists and a block off the bench in 15-plus minutes. (Marshall started in the series finale and notched a double-double with 19 points and 10 rebounds.) For Kawasaki, Nick Fazekas, who had 26 points on 11-for-24 shooting, was the only double-digit scorer.
Kyoto vs. Niigata: Rayvonte Rice and David Simon had 31 and 30 points, respectively, to carry the Hannaryz past the Albirex.
Akita vs. Yokohama: Takatoshi Furukawa struggled to score against the B-Corsairs in the series. He made 4 of 19 shots from the floor, and stepped to the free-throw line with the game on the line in the final minute. Furukawa sank two free throws with 3 seconds remaining to account for the final score. Yokohama's Aki Chambers missed a 3-pointer at the other end of the court on the game's final play. Furukawa, meanwhile, had a 15-point game, making 6 of 8 free throws.
Tokyo vs. Osaka: Alex Kirk controlled the game from the center position. The Alvark star led all players with 30 points and was virtually unstoppable on offense (14 of 18) in the rout.
Hiroshima vs. San-en: Dragonflies pivotman Gregory Echenique put his stamp on the game with 15 points, 22 rebounds and a troika of blocked shots. For the NeoPhoenix, newcomer Nenad Miljenovic had a productive yet slightly erratic performance with 13 points, seven assists, six turnovers and six steals.
Shiga vs. Hokkaido: The Lakestars rallied from a 27-13 deficit at the end of the first quarter to defeat the hosts. Jordan Hamilton (20 points) was one of five Shiga players with 10 or more points. Levanga sharpshooter Tsukasa Nakano's season-high 21-point outburst occurred in the loss.
Ryukyu vs. Shimane: On a team with several established go-to players, Golden Kings swingman Keita Imamura, 24, stepped up and delivered a big-timer performance, scoring a season-best 22 points. Imamura canned 5 of 7 3-point attempts in the hosts' triumph.
Current Standings (through October 25)
EAST
Utsunomiya 8-1
Tokyo 7-2
Kawasaki 7-2
Chiba 7-2
Toyama 7-2
Akita 6-3
Shibuya 3-6
Hokkaido 3-6
Niigata 3-6
Yokohama 2-7
WEST
Mikawa 7-2
Ryukyu 7-2
Nagoya 5-4
Shimane 4-5
Shiga 4-5
Osaka 3-6
Hiroshima 3-6
Kyoto 2-7
Shinshu 2-7
San-en 0-9
Author: Ed Odeven
Follow Ed on JAPAN Forward's [Japan Sports Notebook] here on Sundays, in [Odds and Evens] here during the week, and Twitter @itsjapanforward.