BASKETBALL | NBA's Warriors, Wizards to Play Two Preseason Games in Japan
"I'm very much looking forward to playing in Japan as a member of the Washington Wizards." ―Rui Hachimura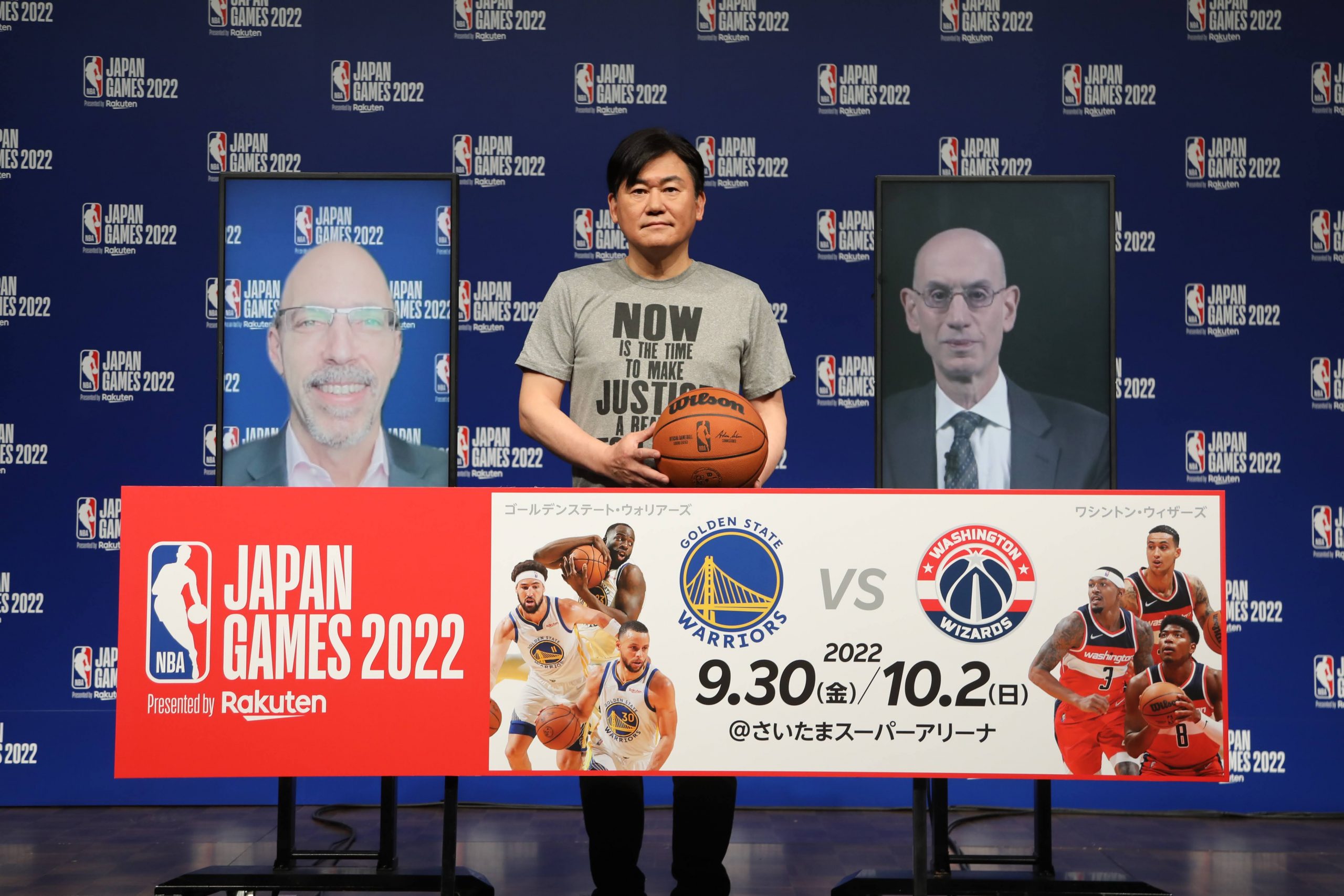 ~~
The NBA is returning to Japan for a pair of preseason games between the Golden State Warriors and Washington Wizards before the 2022-23 season, it was announced on Tuesday, March 15.
The Warriors, led by and two-time MVP Stephen Curry, and the Wizards, whose lineup includes Rui Hachimura, will play on September 30 and October 2 at Saitama Super Arena.
NBA Commissioner Adam Silver, Rakuten Group, Inc. Chairman and CEO Mickey Mikitani and NBA Asia managing director Scott Levy made the announcement. In Tokyo, Mikitani spoke at a news conference, and the NBA executives appeared via live video conference.
"We are excited to once again bring preseason games to our fans in Japan," Silver said. "There is great momentum around NBA basketball in the country and we thank Mickey and Rakuten for their continued efforts to further grow the sport."
The announcement was made before the Warriors played host to the Wizards on Monday night (California time). Golden State won, 118-111. Curry led all players with 47 points. Hachimura had a 12-point game.
"I'm very much looking forward to playing in Japan as a member of the Washington Wizards," Hachimura said. "I'll continue to work hard to enliven Japanese basketball."
Citing travel restrictions amidst the global pandemic, Silver said that the NBA's plans to resume international travel is "a sign that we are getting back to a more normal way of life."
To bring the NBA "back to other continents again is extremely encouraging," he added.

The NBA Japan Games 2022 will be the first opportunity for basketball fans in Japan to see Wizards forward Rui Hachimura in an NBA game played in his home country.
"I know it will mean the world to him to play in his home country as a member of the NBA," the commissioner commented.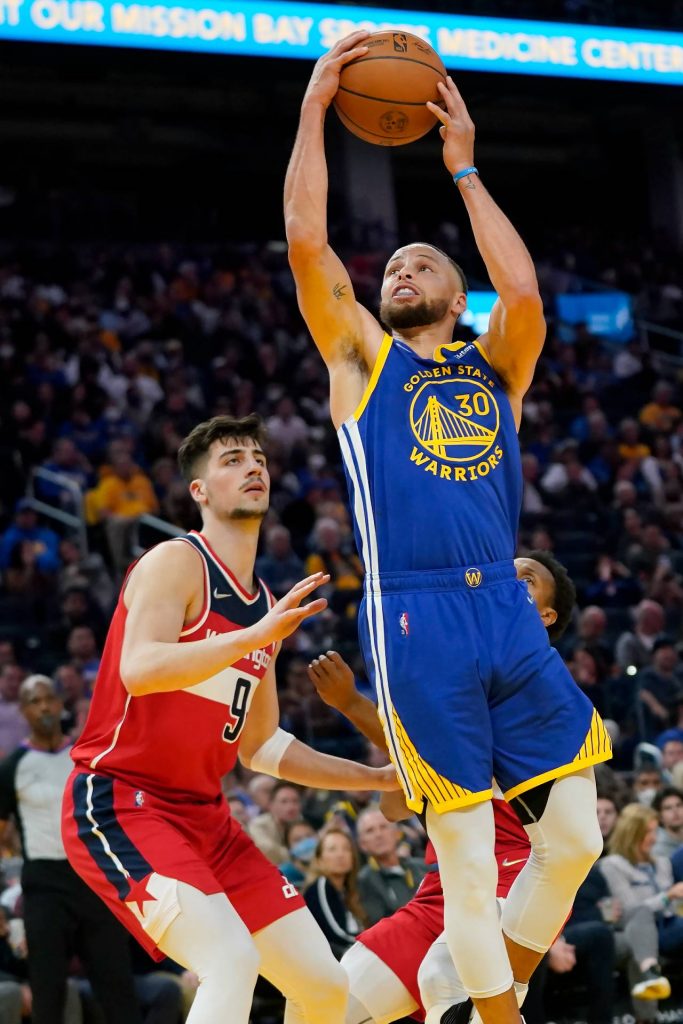 Enthusiasm for Basketball in Japan
In a video message, Curry expressed his enthusiasm about the opportunity to play in Japan.

"Konnichi wa. Stephen Curry here," the future Hall of Famer said. "I'm very excited about the opportunity to go back to Japan and play in the NBA Global Games. I've been in the NBA Global Games twice now, and this will be the third time, so I'm very excited to have the opportunity to branch out and experience international basketball, and especially how much basketball is loved and admired in Japan."
Curry, who has made two previous offseason trips to Japan, described Hachimura "as an amazing young athlete in this league who is destined for great things."

Curry was the 2020-21 NBA scoring leader (32.0 points per game). Washington's Bradley Beal, who was No. 2 (31.3), and Latvian teammate Kristaps Porzingis also appeared in video messages during the press conference. "As an international player, I love seeing the game grow globally, and I'm extremely excited for our NBA Japan [Games] later this year."
Noting the popularity of both teams in Japan, Mikitani called it a "dream match."
Levy echoed that view, calling it an opportunity for Japanese fans "to witness a thrilling matchup between the Warriors and the Wizards in an event that promises to be a singular moment for Japanese basketball."

This will be the first trip to Japan for the Warriors and Wizards.
The Warriors, one of the most popular NBA teams around the globe, have featured a Rakuten sponsorship patch on their jerseys since 2017. Rakuten became a global marketing partner of the league in the same year.
The NBA held its last games here in October 2019, with the 2018 title-winning Toronto Raptors and the Houston Rockets playing a pair of games at Saitama Super Arena.


Noting the announced events for later this year, Warriors CEO Joe Lacob said he's delighted about the continued growth of his team's relationship with Japan and Rakuten.

"We are extremely appreciative that the NBA has selected the Warriors and the Wizards, two franchises with illustrious histories in our league, to tip off the 2022 NBA preseason in Japan, home of some of the most incredibly passionate NBA fans in the world," said Lacob. His team appeared in five straight NBA Finals (2015-19) and won three championships in that span.
"During our four-plus year partnership with Rakuten, we've had the pleasure of building many impactful relationships throughout Japan," Lacob said, noting, "and some of our players, including Stephen Curry, have thoroughly enjoyed recent visits to Tokyo and the interactions they've shared with basketball fans who love the game."
Lacob added, "This unique bond with both our partners and our fans will continue to strengthen during the Japan Games, and we couldn't be more excited and honored to experience the incredible Japanese culture as a group. This game truly unites all of us across the globe."
Wizards owner Ted Leonsis embellished his remarks about the NBA Japan Games by highlighting Japan's beloved sakura and how an act of kindness beautified the American capital more than a century ago.

"Our fans across our home market in Washington DC have a special connection to the Japanese people ― marked by our annual celebration of the gift of cherry trees given to our city by the Mayor of Tokyo [Yukio Ozaki] over 100 years ago.
"Celebrating American and Japanese cultures further strengthens our bonds and so we look forward to taking on the Golden State Warriors and growing new fans of the sport we all love."
Speaking about the significance of next season's preseason games in Hachimura's birth nation, Leonsis stated, "We are particularly excited to watch Rui Hachimura play in front of his fellow Japanese citizens. We were proud to welcome him into the DC Family nearly three years ago as a dynamic young talent and have only seen his growth as a player since."
Japan holds the distinction of being the NBA's first overseas locale for a regular-season game. On November 2, 1990, the NBA staged its first regular-season game outside of North America, with the Phoenix Suns and Utah Jazz squaring off in Tokyo.

It was the start of several appearances for NBA clubs here, with a total of 12 regular-season games held in Japan (Tokyo, Saitama and Yokohama) between 1990 and 2003.
Tickets for the NBA Japan Games 2022 are set to go on sale at a TBA date in mid-April. More information will be posted on Rakuten's NBA website.

Author: Ed Odeven
Follow Ed on JAPAN Forward's [Japan Sports Notebook] here on Sundays, in [Odds and Evens] here during the week, and Twitter @ed_odeven, and find him on JAPAN Forward's dedicated sports website, SportsLook.