BASKETBALL | Thirdy Ravena's B. League Debut Attracts Big Attention in Philippines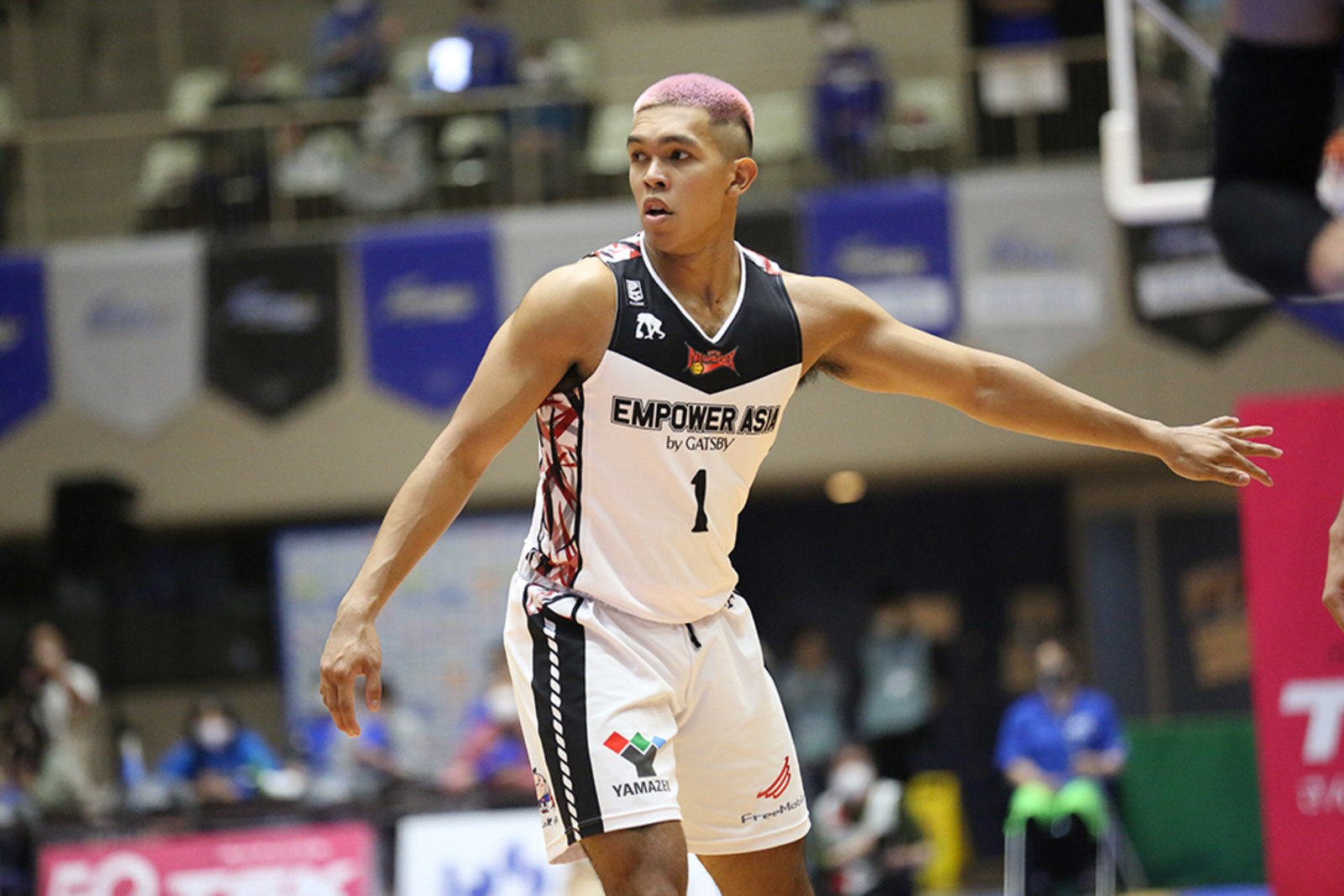 It was a big week in the B. League. A week that seemed to punctuate this point: the basketball season is in full swing now.
With Filipino guard Thirdy Ravena making his highly anticipated debut with the San-en NeoPhoenix, scoring ace Nick Fazekas delivering a instant classic performance for the Kawasaki Brave Thunders, and Wayne Marshall of the Shinshu Brave Warriors reminding everyone that he's still got game at age 34, there were plenty of highlights to go around.
So what's the significance of Ravena's first game for San-en?
Well, for starters, he's a hugely popular player in his native land and the basketball-crazed nation will follow his every dribble, shot, rebound, assist, steal, block and move on the court. He has a big social media following, as evidenced by a casual perusal of Twitter and other outlets.
Exhibit A: Approximately 910,000 people tuned in for portions of the NeoPhoenix's game against the host Shimane Susanoo Magic on Saturday, November 7 via YouTube and the B. League's English-language Facebook page, according to the league.
Ravena's speed and flashy playmaking skills generated excitement for NeoPhoenix supporters and Filipino fanatics watching him for the first time with his new club.
In an 83-82 victory in Yonago, Tottori Prefecture, Ravena, who started in a three-guard lineup alongside Hayato Kawashima and Tatsuya Suzuki, contributed 13 points, two rebounds and two assists in nearly 22 minutes. He was 0-for-3 from 3-point range and called the game a productive first step for him in a NeoPhoenix uniform. Watch Ravena's debut game highlights here.
"I [recently] joined the team, so it seems that the conditions will improve further, and I'd like to expect future success," Ravena was quoted as saying by Basketball King.
The game ended in dramatic fashion, with Kawashima making two pressure-packed free throws with 3 seconds left, lifting San-en to an 83-82 win.
Serbian big man Stevan Jelovac paced the NeoPhoenix with 22 points and pulled down eight rebounds. Veteran forward Kyle Hunt, a New York City native, provided 15 points and nine rebounds, while Kawashima and captain Shuto Terazono each scored 13 points.
De'mon Brooks led Shimane with 19 points and eight boards and Reid Travis had 17 points.
In the offseason, the B. League embraced Ravena's move to Japan, recognizing it could help increase its fan base, as reported in this notebook in late June.
Under the new Asian Player Quota system, each B. League team can sign one player from another Asian nation.
Due to COVID-19 travel restrictions, Ravena wasn't able to join the team before the season started. And after completing his 14-day quarantine period, he practiced for the first time with his NeoPhoenix teammates on October 31.
The NeoPhoenix are coming off a 5-36 pandemic-shortened 2019-20 season, and the 23-year-old Ravena's youthful exuberance and cross-cultural appeal, including for Japan's Filipino community, puts the rebuilding club in the spotlight. During the team's inaugural season in the now-disbanded bj-league (2008-09) when they were known as the Hamamatsu Higashimikawa Phoenix, the club employed the world's tallest basketball player, Chinese center Sun Ming Ming, who is 7 feet, 9 inches tall (236 cm).
Now, Ravena looks to write a first successful chapter to his pro career after a sensational run at Ateneo de Manila University, where he led the Blue Eagles to three University Athletic Association of the Philippines (UAAP) titles and earned three Finals MVP awards.



Thirdy Ravena starred at Ateneo de Manila University in the Philippines before signing a contract with the San-en NeoPhoenix this summer. Credit: B. League
A day after the NeoPhoenix's narrow victory, the Susanoo Magic bounced back with an 81-74 victory.
Brooks paced Shimane (6-6) with 19 points and Yasuhiro Yamashita handed out six assists. Jelovac led San-en (2-10) with 23 points and 11 rebounds.
On November 8, Ravena scored a dozen points on 4-for-10 shooting in the rematch. He canned 4 of 6 foul shots and hauled in eight rebounds in 24-plus minutes.
In its promotional campaign tied to the start of Ravena's pro career, the B. League will have live streaming of the next eight NeoPhoenix games on its YouTube channel and English-language Facebook page for viewers outside of Japan. Those games are on November 11, 14 and 15, as well as December 2, 5, 6, 9, 12.
Kawasaki's Fazekas Shines, But Ryukyu Extends Win Streak
Former NBA center Fazekas, who led the B. League in scoring in its inaugural 2016-17 season (27.1 points per game), was on target from start to finish against the Ryukyu Golden Kings on November 8.
The 35-year-old Fazekas poured in a game-high 40 points, a performance that conjured up visions of his most explosive games in Japan since joining the franchise in 2012. He made 14 of 20 shots from the floor and reminded everyone of his smooth shooting touch at the foul line.
But the West Division-leading Golden Kings (10-2) were the better club, using a dominant third quarter to pull ahead 66-58 en route to an 89-83 win at Todoroki Arena.
Ryukyu recovered from a 41-36 halftime deficit by outscoring the hosts 30-17 in the third and extending their winning streak to 10 games.
For the Golden Kings, Jack Cooley had a double-double (23 points, 11 rebounds), Dwayne Evans scored 17 points and pulled down 10 rebounds and Narito Namizato supplied 14.
Fazekas is the league's second-leading scorer (23.0 ppg).
"I think it was good that we were able to fight fiercely as a team and win against Kawasaki," Golden Kings head coach Hiroki Fujita told reporters, noting the Brave Thunders are one of the league's premier teams.
Looking ahead, Fujita commented on the team's chief goal as the season progresses.
"From now on, I would like to improve our details as a team and prepare for higher heights without forgetting the challenger's spirit," Fujita said after the weekend finale.


Wayne Marshall (left) and Tatsuya Nishiyama helped the Shinshu Brave Warriors earn a bounce-back win on November 9.
Marshall Elevates Play Against SeaHorses
In the Brave Warriors' series split against West Division rival SeaHorses Mikawa, former Temple University center Marshall had 33 points on 13-for-21 shooting in an 85-67 defeat on November 8.
The SeaHorses took a 52-34 advantage into the locker room at halftime.
Frontcourt mates Davante Gardner (19 points, 12 rebounds) and Avi Koki Schafer (15 points) ignited Mikawa.
In the rematch on Monday, November 9, Marshall scored 25 points and again shot the ball at a higher percentage (9 of 13). Teammates Josh Hawkinson and Tatsuya Nishiyama added 16 in an 87-73 home victory. Anthony McHenry's imprint on the game was visible at both ends of the floor: seven points, eight rebounds, six assists and three blocks. Shinshu improved to 3-9, while Mikawa fell to 8-4, the second-best record in the West.
Gardner had a team-high 24 points and 11 rebounds to complete the double-double. Takuya Kawamura finished with 16 and six assists.
Saturday's Other Scores
Chiba 126, Hokkaido 75
Key numbers: The Jets led 39-16 at halftime and shot 71.2% in the rout. They chalked up 30 assists against 10 turnovers. Six Jets had 10 or more points, including Gavin Edwards (21). Shannon Shorter ignited the offense with 15 points and 10 assists.
Tokyo 88, Shiga 86
Noteworthy: Daiki Tanaka converted an outside jumper with 9 seconds remaining to lift the Alvark past the Lakestars. Tokyo center Alex Kirk scored 21 points and Yutaro Suda had 13. For Shiga, Jordan Hamilton finished with a triple-double (27 points, 13 rebounds, 10 assists).
Nagoya 82, Yokohama 81
Final outcome: Diamond Dolphins star Justin Burrell made 1 of 2 free throws with 52 seconds left, and neither team scored again. Takumi Saito had a stellar game for the victors with 19 points, including 4 of 8 on 3s, and nine assists, and Jeff Ayres (18 points, 12 boards) and Burrell (11 points) also had strong efforts.
Akita 80, Osaka 72
Noteworthy: Alex Davis finished with 19 points, nine rebounds, three steals and a pair of blocks for the Northern Happinets, and Takuya Nakayama played a strong all-around game against the visiting Evessa (13 points, nine rebounds, eight assists).
Also:
Shibuya 75, Kyoto 63
Utsunomiya 99, Niigata 57
Ryukyu 79, Kawasaki 65
Guard Kai Toews and his Utsunomiya Brex teammates have won a league-best 11 of 12 games. Credit: B. League
Sunday's Other Scores
Utsunomiya 85, Niigata 67
Key numbers: The Brex led 24-8 after the first quarter. Ryan Rossiter and L.J. Peak had 17 and a season-high 16 points, respectively.
Chiba 92, Hokkaido 73
Highlights: Yuki Togashi scored 23 points and dished out five assist, with Sebastian Saiz (18 points, 15 rebounds) and Josh Duncan (16 points, 14 boards) dominating inside for the Jets.
Also:
Akita 73, Osaka 72
Shibuya 90, Kyoto 78
Nagoya 79, Yokohama 71
Shiga 87, Tokyo 80
Standings (through November 9)
East Division
Utsunomiya 11-1
Chiba 10-2
Toyama 10-2
Tokyo 8-4
Kawasaki 8-4
Akita 8-4
Shibuya 6-6
Hokkaido 3-9
Niigata 3-9
Yokohama 2-10
West Division
Ryukyu 10-2
Mikawa 8-4
Nagoya 8-4
Shimane 6-6
Shiga 5-7
Osaka 4-8
Hiroshima 3-9
Shinshu 3-9
San-en 2-10
Kyoto 2-10
Follow Ed on JAPAN Forward's [Japan Sports Notebook] here on Sundays, in [Odds and Evens] here during the week, and Twitter @itsjapanforward.