BOOK SERIES | Minority Shareholders, Chapter 9: Getting Rich Quick
Minority Shareholders, Chapter 9 of Shin Ushijima's novel focuses on the rags to riches story of key character Norio Takano and how he made his fortune twice.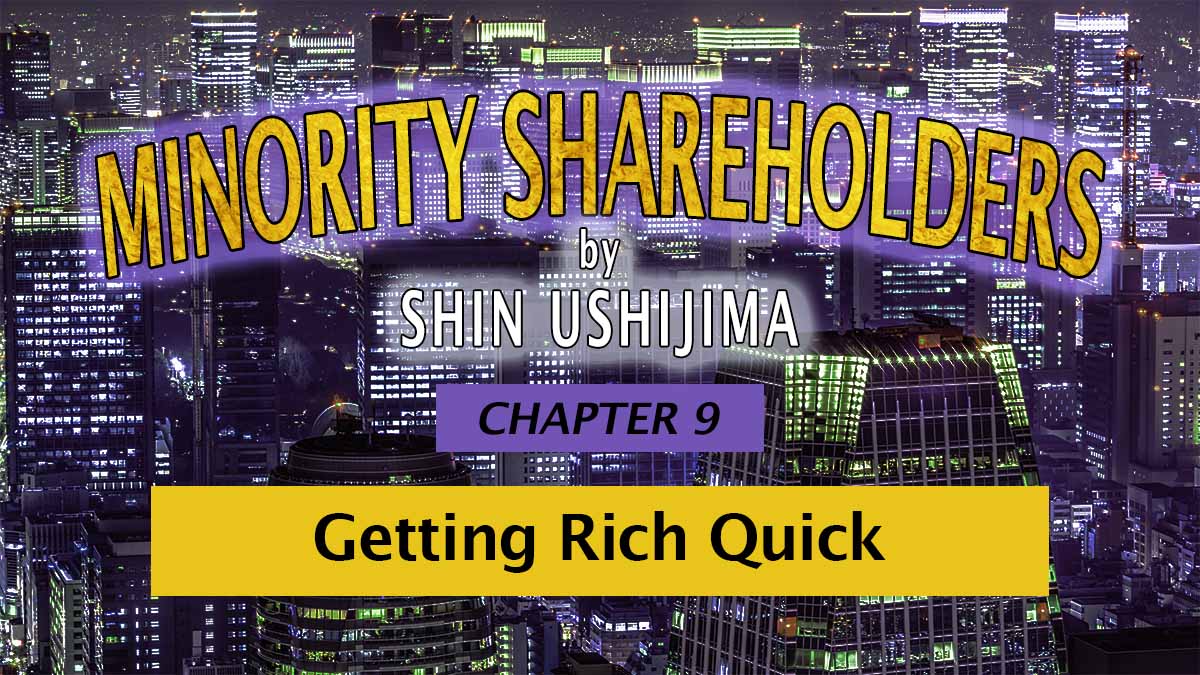 In this chapter of Minority Shareholders, I continue the story of Norio Takano. He is not a specific person; he is a character created for my book out of some high rollers who had existed during the bubble period.
As a young lawyer, I witnessed the generation of enormous wealth from scratch. A minority shareholder of a family company brought an action to the court and succeeded in taking hundreds and thousands of yen. I saw it firsthand. Ten years after the bubble popped, I started work related to corporate governance. In this book my fictional characters tell the story of problems that persist in joint-stock corporations. What is an organization called a company? What if Norio Takano were reborn in this era?
This story is a work of fiction. Any resemblance to actual characters or organizations is entirely coincidental and unintentional. ー Shin Ushijima
Read earlier chapters of the series.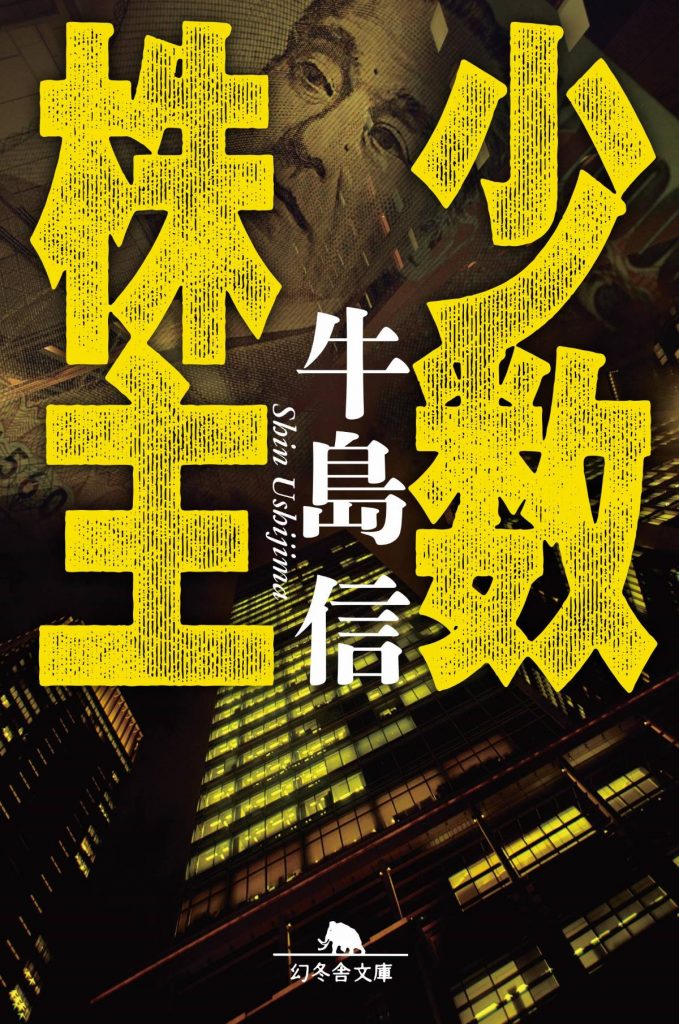 CHAPTER 9: Getting Rich Quick
Continuing from Chapter 8: Takano's lawyer, Tadashi Ooki, is advising him on the challenges he will encounter if he buys shares of a family-owned company from his mother's friend, Auntie Sumida. "The company will soon come to discover that Himonya Land and Building Co, Ltd belongs to Norio Takano, an iconic figure in real estate. And that man, out of the blue, claims that he wants to acquire some shares in the company," explains the lawyer. [...]
"They'd suspect you have a hidden agenda. The president and employees of Sumida Iron Works, if they are people of sound judgment, would be surprised at the sudden appearance of Mr Takano and would grow suspicious of him. It adds up."
Ooki felt the story was becoming interesting.
Takano had made a fortune through his real estate business. He lived it up with money to burn. He said he was worth fifty times more than the average person, but it was presumed he was worth even more. However he defined himself, he was super-rich.
People never honestly reveal how much they are worth, even to their own lawyer. Most people give a lower figure, and some people more, but no one is ever straight about how much they are really worth.
How It Started
Just before the bubble started, Takano, age thirty-six, had already left the leading trading company that he had worked for and started purchasing land. It was in 1985. He had decided to work at a trading company because he wanted to learn how to make money on his own.
Takano had thought that the trading company was the best place to learn the mechanism behind money-making. In retrospect, Ooki vaguely remembered Takano saying something like that. Ooki himself had been tied up with practicing law during the economic bubble years.
What was amazing about Takano was that he had already closed down his business in 1989, when Japan reached the heyday of the economic bubble. At the time, he got rich quick.
He and his first wife, whom he had met at the trading company, had split up because he was in an extramarital affair with another woman. Having a strong desire to marry his new woman, he instantly swallowed the demand from his wife for property division and a huge amount of money for pain and suffering. He had sold the land in his possession for as much as ¥15 billion yen ($113 million USD). Takano had given in to her demand because he had originally started his business with money which her father had borrowed on credit.
A Well-Timed Divorce
When Takano disclosed his desire to dispose of his land, the bank tried to persuade him to back off, saying "Are you going to sell it now? We think it would be a shame to dispose of such profitable land now." But in two shakes of a lamb's tail they found a would-be purchaser and urged him to trade. They never had difficulty finding a purchaser at that time. The person in charge as well as the bank manager had been very pleased because it assured a new loan.
Takano received ¥10 billion (over $75 million USD) after tax and other payoffs. He gave his ex-wife ¥3 billion ($22.5 million USD), and after that he left Japan.
He ran away with his new wife, Eiko, to The St Regis New York first, and flew from New York to the Hotel Plaza Athenee in Paris, and then on to The Connaught in London. There they had enjoyed dining around at fine restaurants with the Michelin Guide in hand. He had been out of Japan for a while.
High Society Life
While in Europe, a friend of his, a car racer, had introduced him to exemplary upper-class people one after another.
"Wherever we went, they welcomed us with champagne. I wondered why they liked champagne so much. I was clueless. But a great experience in Paris changed my notion. It happened at Hotel de Crillon in Paris. There was a French restaurant called 'Les Ambassadeurs' near the entrance of the hotel. Eiko and I were blessed with a chance to dine there.
"I had caught a cold on the plane the night before. I was under the weather. So I wanted to cancel the reservation, and I took it for granted that Eiko would agree to that. But to my surprise she insisted on going.
"She said, 'No, not this time. I asked a young French friend, whom I had met last time, to make a reservation at the restaurant for us. His name is, ah, Jean Claude, if I remember correctly. He called me and said, 'I managed to make a reservation, so don't be a no-show.' Then I said, 'No, we Japanese never do anything impolite as that.' So, please, for pity's sake, you must come.'
"I really went out of my way for her in this instance. I remember I ordered grilled fetal bovine or something. Oh, wait, we were talking about champagne, right? There were a number of champagne bottles in a barrel kept cool with crushed ice. We were asked to take our pick. We chose one and drank it. Oh, it was delicious. I asked the waiter about the name of the champagne, and he said, '1991Taittinger'.
The Sauna Bubble Man
"Up until that time I had thought champagne was only for wedding parties or free on a plane. I learned I was wrong. I understand some people devote their lives for the sake of champagne.
"Let me tell you another interesting story. It's about a Japanese man, one of the so-called 'bubble gentlemen,' or then high rollers. The guy said that he was going to buy a 737 plane from the Boeing Company. He was complaining about the company. He asked the company to equip the plane with a sauna, but they turned down his request. He told them that he didn't care how much it would cost, but they said no. They insisted that they couldn't change the regulations.
"'You don't need a sauna on a plane,' I thought, but he was a friend, so I tried to make conversation. Indeed, such were the days back then."
Takano's Sense of Timing
Ooki had helped Takano with his divorce. It had not taken much time and trouble because Takano had instantly agreed to pay her a dizzying amount of money. Takano had paid Ooki a generous amount in lawyer's fees, too. He thought that it would be better to pay it all to Ooki as remuneration instead of paying 80% of it to the tax office if he booked it as his income.
"Thanks, Ooki, I'm grateful. It's important for people to know when to let go of their obsessions. It felt like someone was pushing me from behind to do this. I'm really grateful for that."
The words Takano had mouthed at that time had greatly impressed Ooki. Ooki had tried to say that Takano was too quick to give up, but Takano had said, "You know, there is a real life in this world that you lawyers who love negotiations will never understand." It seemed that he declined to listen to anyone.
Takano had been right.
The bubble had popped, and Ooki heard that the land Takano had sold at ¥70 million yen per tsubo (about u3.306 ㎡) no longer attracted buyers even at ¥10 million only a half year later.
Making Changes, Moving Forward
"You really are something, Takano." When Ooki received an overseas phone call from Takano, he had commended Takano for his brave decision, and Takano had responded.
"It was destiny that took a hand, nothing else. By some twist of fate, I met Eiko, fell in love with her, and hit on her. I knew what I had done to my ex-wife. I am to blame, I know, but Ooki, even now I don't think I could have done it better. It was not me that had brought myself that far. I should say it had already been determined before my time. I know how it sounds, but it's my honest feeling.
"I put Eiko through some pain, too. At that time, to tell the truth, it was not that easy, but gut-wrenching to let go of my land. I felt too chagrined to tell it to anybody. I encountered Eiko not by choice. When I met her, I saw another way in front of me, and my left leg moved a step ahead. The other leg remained in the opposite position.
"Sounds ridiculous? But I felt that way at that time. Now I've got time on my hands. So I've started visiting museums and looking at paintings and pictures. I find it enjoyable doing so. I know it's not my style, though. But I have nothing else to do except for eating meals. Golfing all the time makes me bored."
'Return Match' by a Bubble Gentleman
Ooki had received some picture postcards from Takano on his trips abroad. It was through Takano that Ooki had learned that there was a museum called the Kunsthistorisches Museum (Museum of Art History) in Vienna. Thanks to Takano, Ooki had also learned that there was a famous painter called Correggio in the 16th century. One of the picture postcards that Takano had sent to Ooki showed a picture of "Io" by Correggio, which had attracted Ooki's eyes.
Jupiter (Zeus in Greek) envelops himself in a dark cloud and is trying to embrace and kiss a young lady called "Io". It may not be clear at first glance, but taking a good look at it, one can find the face of Jupiter in the dark cloud.
Since returning to Japan, Takano had been dawdling away, doing nothing particular for a certain period of time. Then Takano revealed his plan that he would buy up buildings and golf courses which had drastically decreased in price due to the bubble collapse. Ooki had helped him with his business.
It had drawn a lot of press attention calling it a return match by a bubble gentleman. They had elevated him as a man with second sight like Nostradamus.
At that time he was not aiming for capital gain, and his interest was leveled at how much rent he could collect. Takano's strategy had come off with flying colors, and currently his business was to maintain and manage the assets that he had obtained through it. The collective rent amounted to not less than ¥1 billion yen ($7.5 million USD) a year.
He had decreased his involvement in his business, and it had been quite a while since then.
Continues in: Minority Shareholders, Chapter 10: A Very Good Deal
RELATED
Minority Shareholders is a work of fiction and any similarity to real characters, companies and cases is purely coincidental and unintentional. Sign up to join our mailing list and look for the next chapter every Saturday on JAPAN Forward.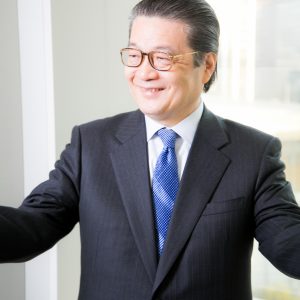 Author: Shin Ushijima
The founding partner of Ushijima & Partners, lawyer Shin Ushijima has an enormous wealth of experience in international transactions, merger and acquisition, dispute resolution, system development, anti-monopoly law, labor, and tax law. Concurrently, he heads an NPO called the "Japan Corporate Governance Network." And in his leisure moments, he writes fiction. Additional details on Shin Ushijima's career, awards, publications and more are available at his website: Ushijima & Partners, Attorneys-at-Law.