[Bookmark] The Odyssey of Getting a Temporary Visa and Coming to Japan During COVID-19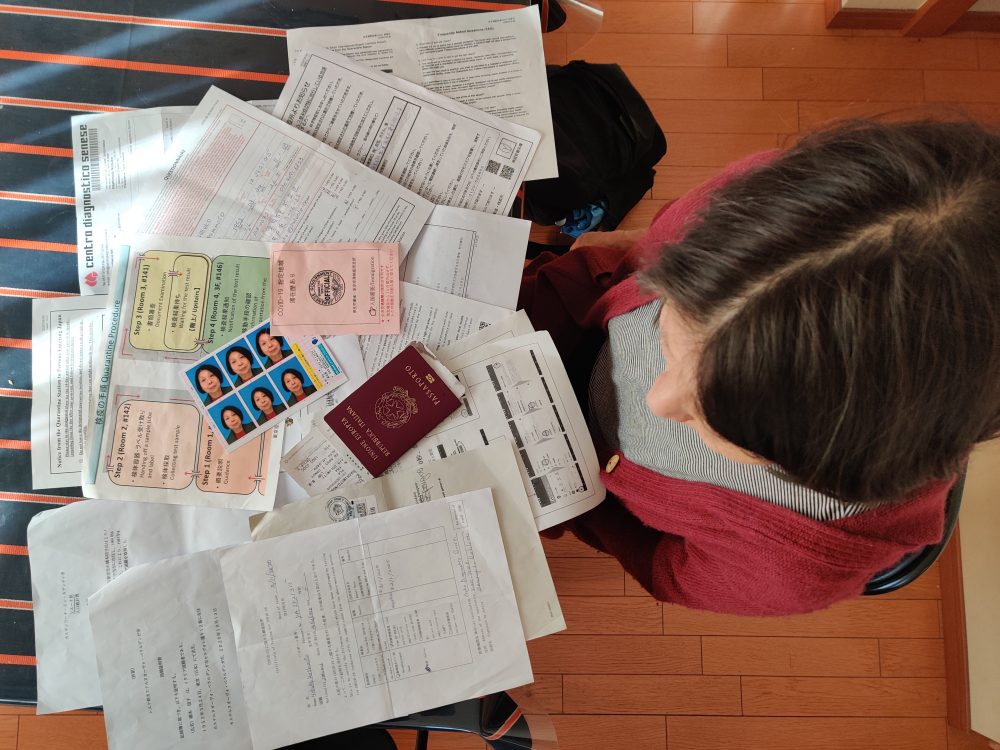 Bookmark
is a
JAPAN Forward
feature that gives you long reads for the weekend. Each edition introduces one overarching thought that branches off to a wide variety of themes. Our hope is for readers to find new depths and perspectives to explore and enjoy.

One month, one week and six days. September 23 to November 5.
That was the length it took from the day I called my mother to tell her that my grandmother's health was worsening dramatically and the day that my mother finally landed in Japan.
It took another two weeks before my mother and grandmother could finally meet, and fortunately the doctor's fears turned out not to be as urgent as previously estimated.
It's a tragedy of this period we live in where travel is no longer taken for granted. Families all around the world are forced to be apart, and some have been forced to say goodbye to loved ones through the webcam of a computer.
Japan, a country which in normal circumstances requires little more than filling in a form upon arrival, has become a virtually unreachable destination for temporary visitors.
Here is the story of Nobuko Hashimoto, and her bureaucratic obstacle course to get a temporary visitor visa to come to Japan during COVID-19.
The Complicating Circumstances
It's helpful to know that Hashimoto was born in Japan but is no longer a citizen, as she gave up her Japanese passport upon marriage.
This meant that when the phone call came about her mother's health, the stress of the message was compounded by the realization of what lay ahead.
"I was upset, and panicking. I had this terrible feeling that it was not going to be easy to move during this period," she later explained.
After several phone calls and emails, and with the assistance of a Japanese consulate employee who worked on Sundays to coordinate effectively with the home office in Japan, it took about ten days for the Japanese government to decide that special circumstances would be recognized in Hashimoto's case.
Lessons Learned: Fix Your Paperwork Before a Pandemic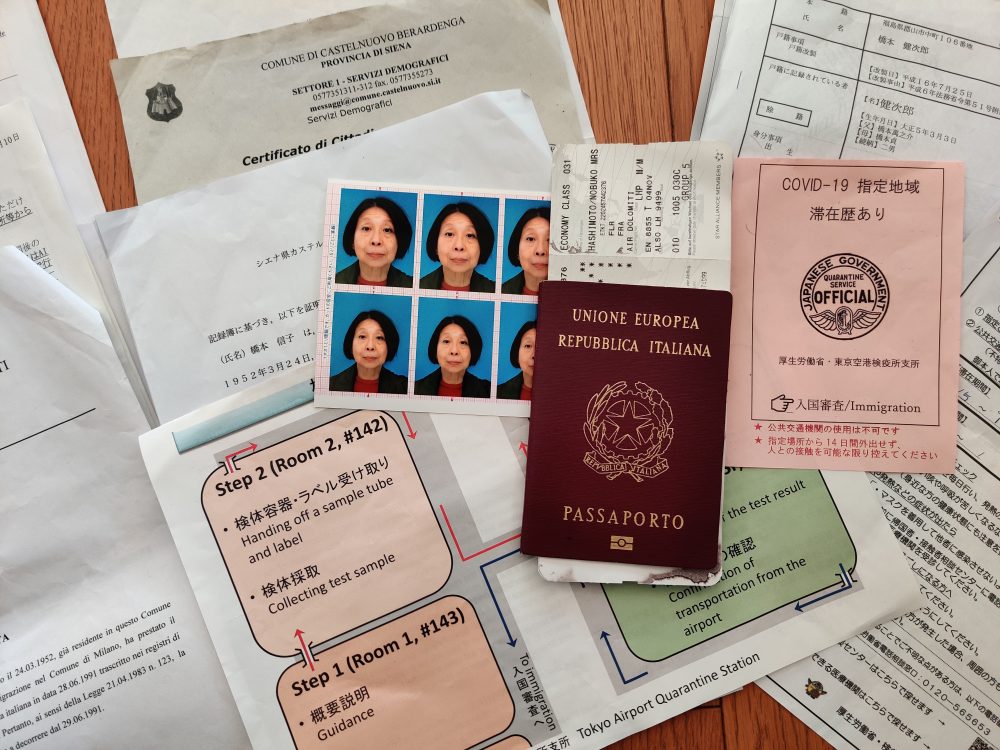 Then, came the paperwork.
Because the protagonist of our story used to be a Japanese citizen but is no longer, in order to receive her visa she needed papers to prove both that she has family in Japan, AND that she had taken up an Italian passport.
That implied no less than eight documents and records. They included: three different documents proving successful application, registration and residence as a new Italian citizen, a statement explaining why Japanese citizenship was given up when it was, a bank statement proving to have enough funds to travel, and an itinerary.
On the Italian side this required several weeks of digging through 30-year-old documents, several trips to local ward offices, and awkward conversations about having a document reprinted as the original carbon copy was illegible.
The real difficulty, though, came after one month of collecting papers, when my mother was told to get a physical copy of her Koseki Tohon (family registry) on the Japanese side, from Koriyama City (Fukushima Prefecture).
One can only acquire such documentation from local ward offices in person or by post. Even then, it requires another application, photocopy of ID, the correct amount of money to pay for the Koseki Tohon in an appropriately converted postal voucher, and a proxy signed with a recognized stamp (inkan) from the person requesting the Koseki Tohon.
To complicate matters, previous Koseki Tohon copies showed Hashimoto as still an active Japanese member of the Hashimoto family. This led to the potentially paradoxical situation that until she registered out, she might not be eligible for a Japanese visa by still being a Japanese citizen on paper. And of course, registering out of a family registry is something that in theory could only be done in person, although the consulate was willing to wave this last requirement.
Eventually, thanks to an exceptionally efficient Japan Post express mail to Tokyo, the updated paper copy of the Koseki Tohon showed that everything was in order, and Nobuko Hashimoto received her visa the same day she went to the Japanese Consulate in Rome in late October.
There is one lesson which can be learned from this part of the story. Do you have any outstanding documents or paperwork left to sort out? If so, you might want to save yourself considerable stress and take care of it before a pandemic breaks out.
72 Hours? – Coordinating the PCR Test with the Flight
Like most foreigners coming to Japan, Hashimoto needed a valid certification of a negative nasopharyngeal RT PCR test performed not more than 72 hours before she boarded the flight to Japan.
This is a tall feat in any circumstances, because it means reserving a flight, then finding a testing place that is open on the right day and will deliver the results in approximately 24 hours so as to not risk losing the flight.
In this case, the search for the PCR venue was taking place in Italy, which in late October was just about to be engulfed by a second wave of COVID-19. Booking a PCR test was becoming difficult, and most venues required queueing early in the morning, with waiting times of several hours.
In the end, a small local clinic agreed to do the PCR test, and the evening before the flight, down to the wire, she managed to get her certification saying that she was negative.
Yet, that wasn't the end. The next hurdle came at the airport itself.
Flying During COVID-19
In a virtually deserted airport, with no open eateries or souvenir shops in sight, Hashimoto bid farewell to her husband, Guido Busetto, at the entrance, as visitors are not allowed beyond that point. A new feature was that she had to go through a disinfecting gate where she was sprayed.
She had left plenty of time for check-in, suspecting that things might take a bit longer than expected, with some holdups.
First it was the PCR certificate. "According to Japanese Government rules, it needs to be in English", she was told.
So there and then, Hashimoto had to call the clinic and ask them to send a PDF English copy.
But then, more crucially, a white-faced clerk told her in a panic that he couldn't find a way of issuing a ticket as Italian citizens aren't normally allowed to travel to Japan. The system was not allowing the choice.
After appealing to superiors, and producing all the mound of documents used for the visa application – including her koseki tohon – she was finally told she could board the plane. She had been one of the last passengers left at the check-in gate.
It was now nearly her departure time, 10.30 A.M. After over an hour of negotiating, stressing, and pleading, she was finally leaving.
Deserted Airports, but a Smooth Arrival in Japan
Blissfully, the rest of the trip was very smooth.
In Frankfurt, the transit airport, travelers had to produce a negative PCR certification or else take a test onsite after having booked a flight on to the next destination.
Both flights were nearly empty. On the flight from Frankfurt to Tokyo Haneda, Hashimoto estimated that there was less than half capacity of the passengers.
She recalled a forlorn Lufthansa clerk saying "we are losing money, it's a very sad situation."
The flights themselves had, as Hashimoto puts it, "less fuss", no duty free, and only the essential services to reduce interactions between passengers and cabin staff.
Upon arriving at Tokyo Haneda, things worked like clockwork, although she vividly recounted, "we were made to walk from one end of the airport to the other!"
After being shown to a reception area, passengers were made to take the PCR spit test, wait for their result, and (as long as it was negative) then go through immigration.
The whole process at Haneda took less than an hour, and she was finally out into the public section of the airport at 2.30 P.M. on November 5.
Final Thoughts
When I asked my mother "what was the hardest thing about this whole process", she said without hesitating, "The sense of hopelessness of the whole thing. I realized for the first time the disadvantages, and just how difficult it was to rely on a foreign passport, which I had never experienced before."
She reflected that the whole process was fraught with uncertainty, from the beginning of the visa process, to the testing, to the flight itself, which for all she knew, could have been cancelled at any time. As of this publication, her return flight through Zurich, Switzerland booked for January 20 had, in fact, been cancelled.
Hashimoto's case was complicated in that she was an exception to several aspects of the rules, including her Japanese birth and family registration, international marriage and passport in her husband's country, COVID-19 and her mother's health.
"This thing of visas being required when you didn't need it before, the infrastructure isn't there, the staff is not always informed or equipped, it's a really nitty gritty process" she pointed out.
When giving advice to others, Hashimoto paused for a moment, then said: "Give yourself a lot of time, I would keep telling the [Japanese] consulate that my mother was in dire condition, but it still took weeks. I was lucky, but what if I hadn't been?"
It's a great cliché of this pandemic. But let this be a lesson never to take intercontinental travel for granted again.
Author: Arielle Busetto