British Guy, Japanese In-Law, One House Equals NHK World's Hit Comedy 'Home Sweet Tokyo'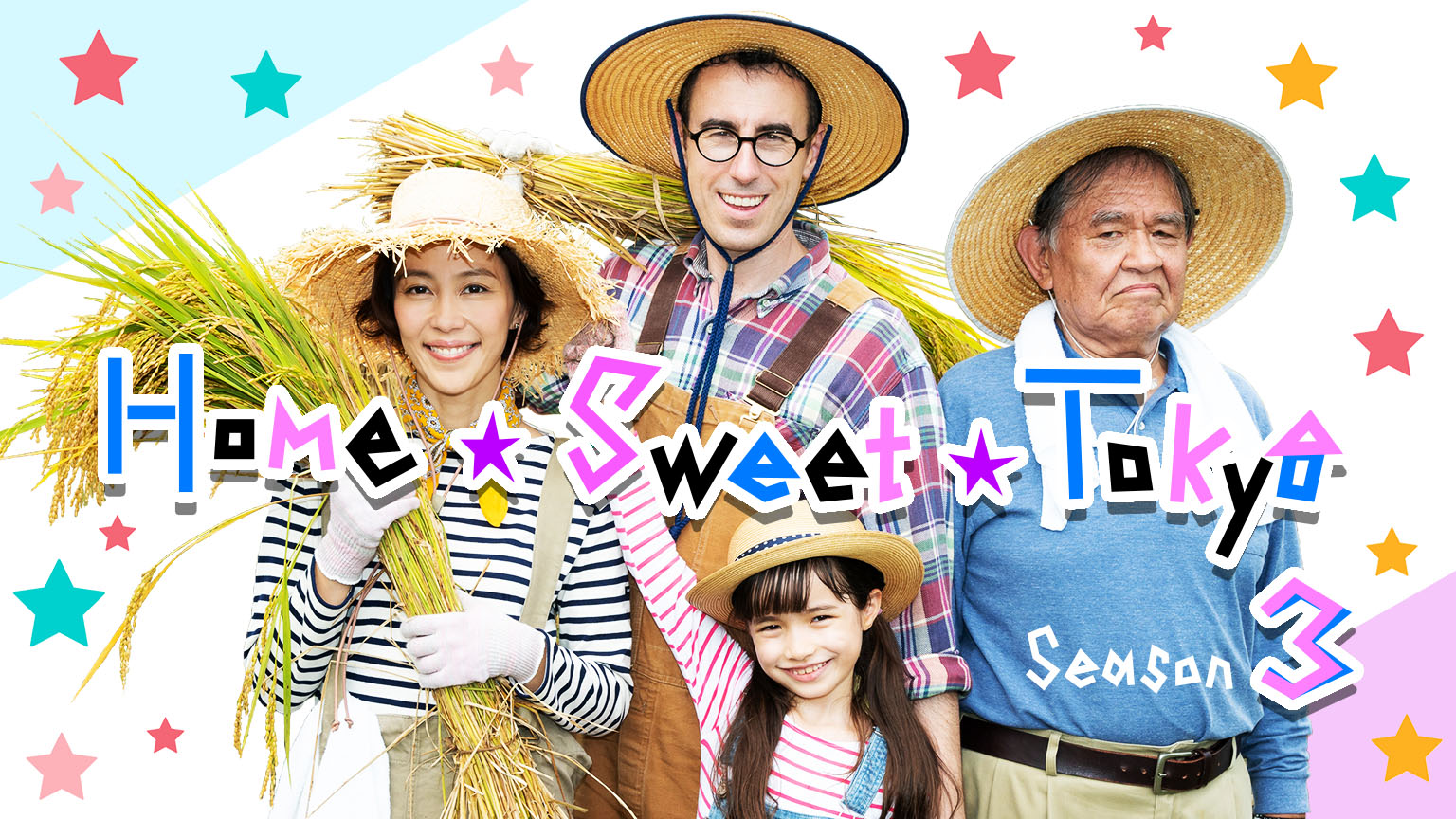 Japanese TV has occasionally tried portraying international marriage. One recent example is NHK's popular morning drama Massan, inspired by the lives of whiskey maker Masataka Taketsuru and his Scottish wife, Rita. American actress Charlotte Kate Fox won hearts in the role of Ellie, the fictional version of Rita Taketsuru, but the drama was written to appeal to a largely Japanese image of international marriage.
NHK World's domestic comedy Home Sweet Tokyo goes where no TV series has tried to go before. Now in its third season, the feel-good show finds the humor in everyday situations through an international family in Japan. While the episodes poke gentle fun at both Japanese and non-Japanese, the creative team is careful not to cross over into cultural insensitivity just to get a laugh.
Bringing the foreign perspective as one of the chief writers is comedian BJ Fox, who also plays family man Bryan Jenkins on the show. Like his fictional character, Fox hails from Britain.
Executive producer Keiko Tsuneki is the one who came up with the concept for Home Sweet Tokyo. During this animated interview in mid-December 2019, Fox and Tsuneki bantered back and forth good-naturedly as they discussed the challenges of searching for the sweet spot in cross-cultural humor.
The basic premise of Home Sweet Tokyo has Bryan and Itsuki Jenkins (Yoshino Kimura) and their seven-year-old daughter Alice (Isla Rose) moving back to Japan to support Itsuki's recently-widowed dad Tsuneo (Tetsu Watanabe). The relationship between Bryan and his father-in-law, who know little of each other's culture and language, is fraught with misunderstanding. Meanwhile, as the family's main breadwinner, Itsuki is busy establishing her corporate career in Japan, leaving Bryan to muddle through the intricacies of Japanese home management and childrearing.
Tsuneki has firsthand experience of life abroad, having lived in the United States with her family throughout her teens. After returning to Japan for university, she started working for NHK Enterprises, the production company affiliated with NHK, cutting her teeth on a wide variety of shows.
"I already had authorization from NHK for this program about a stay-at-home dad," says Tsuneki. "I had this idea about a foreign man doing the housework and raising a kid while living in Tokyo. And then I met BJ, and we started working together."
Fox is a familiar face on Japan's stand-up comedy scene and is one of the founders of "Stand Up Tokyo," a collective that arranges performances for comedians, from newcomers to world-class acts.
In fact, Tseneki's first encounter with Fox was at one such event. "I had been told that if you want a foreign perspective, go to one of these shows. So I just went to a random show in Shimokitazawa (in Tokyo), where he was working as the MC. He was introducing lots of international comedians. And he was the funniest! So I thought, why isn't he performing?" she recalls.
Fox laughed. "This happens all the time! MCs have to be funny themselves, but people often don't get that. I have people coming up to me afterwards, saying, 'You were great — you should try stand-up comedy!'"
Tsuneki reached out to Fox, inviting him to a brainstorming session. "As soon as we met, I thought, 'He's the one!' He had such great ideas and motivation. We just started chatting and building on each other's ideas," she says.
Although Fox relocated to Japan in 2015, he had spent time here previously as a college student and working on the Japan Exchange and Teaching Programme. While he is very comfortable with Japanese culture and language, he wanted to ensure that the character of Bryan was relatable to the audience.
"It was my idea to remove the mother-in-law from the picture, so Bryan's there for a selfless reason — for his family. It's not like he really wanted to come to Japan, or came for a business position. We've taken all his power away — he's stuck at home and doesn't know the language," Fox explains. "And I liked the idea of it being the same thing for the father-in-law, who is played hilariously by Tetsu Watanabe. The future he had envisaged after retirement has been taken away from him, now that his wife isn't here."
Tsuneki nods. "BJ wanted to downplay the role of Bryan by not having this guy who is excited about or infatuated with Japan. On my side, I also wanted to be able to have Japanese characters serving the role of someone you could laugh at, too," she says.
According to Tsuneki and Fox, coming up with themes and plots is very much a collaborative and organic process, drawing inspiration from various sources. "Sometimes when my mum is over here, it's like the perfect vehicle for me to experience Japan all over again," Fox says of his mother, who incidentally is a big fan of the show.
Bryan's mother has yet to appear in the series as a character, although Fox has one in mind. "I do think if we ever had an episode with her in it, I'd insist she is Irish, like my own mum. I also quite like the idea of making Japanese people realize there is more to the UK than people drinking cups of tea!" he says, grinning.
Tsuneki is eager to offer a story about her own mother. "When we first moved to the USA when I was 12, we wanted to make friends with our neighbor. So my mom made this beautiful cake and took me over. She knocked on their door and offered them the cake. 'Hello. This is a very, very bad cake. Please have it!' They looked really puzzled and upset, like why are you giving me this bad cake?" she says, laughing.
"Even though I didn't understand any English then, I understood that there was a difference in how to be a housewife in Japan and in the USA," says Tsuneki. "It's really funny when someone tries really hard, and then they put themselves down — that is very uniquely Japanese. I want people to laugh at it, but also to think about what's behind it."
Finding the right person to play Itsuki Jenkins was crucial for the series, and the team was very pleased to have well-known Japanese actress Yoshino Kimura in the role. Kimura had lived in the U.S. for some years as a child and has performed roles in English previously.
Tsuneki says she made a list of English-speaking actresses, but she knew Kimura was the one. "People had warned me that such a high-profile actress would probably be too busy to do a series like this, but I was determined." After setting up a meeting with the director to explain the concept of the show, the actress expressed interest and things moved forward from there.
Young actress Isla Rose, although the youngest member of the core cast at nine, is an integral part of the show's success, say Fox and Tsuneki. Like the character of Alice, Rose has a bicultural background and was one of around a dozen children who auditioned for the role.
"I totally fell in love with her. She had this sweetness and also this motivation to perform," recalls Tsuneki. "She really looks at you when she acts, and she reacts to you." Fox adds that having such an enthusiastic little person running around on the set helps make it more fun for everyone.
While the series now in its third season, the on-screen family have been back in Japan only a few months. "Even though Isla is growing like bamboo, we want to keep this 'fresh off the boat' aspect, so the characters don't age. It's like Sazae-san," Tsuneki says with a laugh, referencing one of Japan's most popular family series.
The animé version of Sazae-san has been on air continuously since 1969, but the title character remains forever in her mid-20s.
The creative team tries to keep Home Sweet Tokyo rooted in reality. For example, many of the Japanese people whom Bryan encounters in the episodes are not perfect speakers of English, but they get their message across using the English they know and whatever other communication tools they can muster.
Fox recalls one episode which had a small speaking part for a waitress in a café. "The actress had learned her lines almost too well! It was too polished. We had to ask her to downplay it a bit," he says.
One regular feature is introducing a common Japanese phrase or proverb and working it into the theme and plot for each episode. The idea originated from Teruyuki Yoshida, who directed the first two seasons. Tsuneki says she was surprised that these have really resonated with the audience, prompting a lot of discussion among viewers online.
Fox and Tsuneki have been encouraged by the positive feedback and love to hear from viewers. Some are people who have lived in Japan before and enjoy reliving the experience, while others have no previous connection with Japan. "It's all about finding common ground — something that resonates with them," says Fox with a smile.
All episodes of Season 3 of Home Sweet Tokyo are currently available free-on-demand at this link.
Author: Louise George Kittaka