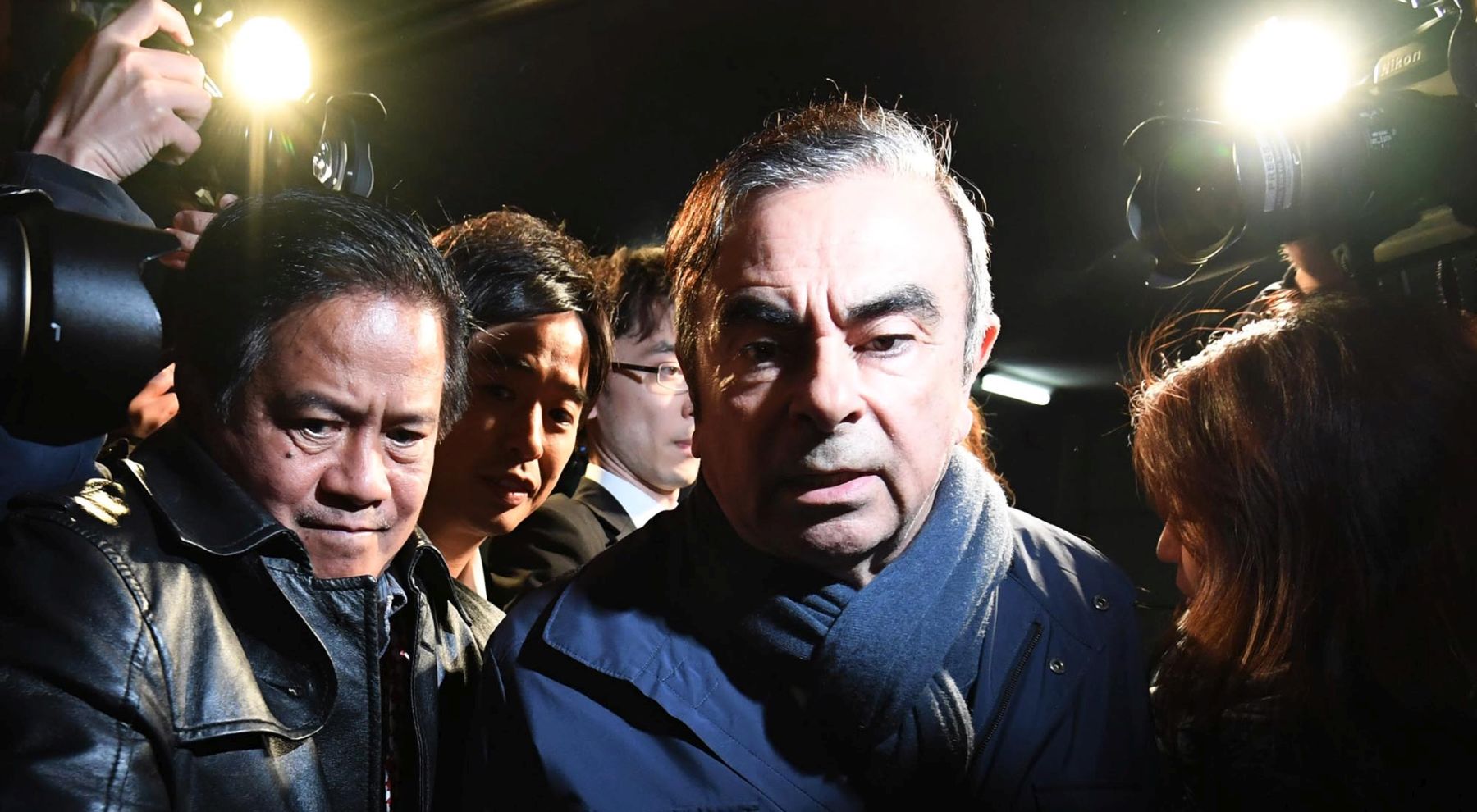 Going, Going, Ghosn
Early this morning Japanese media, relying on foreign news stories, began reporting that Carlos Ghosn was in Lebanon - seemingly in violation of the stipulations governing his release on bail April 25, 2019. This news is at least as surprising as his arrest in November 2018. However, because of the timing, media in Japan were geared up for year end and new year stories, not for coverage of a breaking event in a foreign country. As a result coverage in Japan has been skeletal, with no speculation as to how Ghosn could manage to leave Japan in apparent violation of his bail conditions.
Why Did He Leave?
Some foreign and domestic news sources have said that Ghosn will be holding a press conference in Lebanon. As of this writing (1530 JST) he has not held a press conference but has released a statement through a public relations agency. As reported by CNN, he has said, "I am now in Lebanon and will no longer be held hostage by a rigged Japanese justice system where guilt is presumed, discrimination is rampant, and basic human rights are denied, in flagrant disregard of Japan's legal obligations under international law and treaties it is bound to uphold." This is essentially what his wife has been saying in various public statements.
Foreign reporting of his case has emphasized his allegedly long incarceration in Japan with some attributing this to Japanese xenophobia or even racism. If anything Ghosn has been treated rather more leniently than high profile Japanese who have been arrested for alleged economic or political crimes. A British government guide for British citizens arrested in France notes that average pretrial detention is on the order of twenty-four months with foreign nationals almost never granted bail. So too for Italy, and other countries with a continental European legal tradition.
If Ghosn could expect better treatment in Europe it would be because of his wealth, not because of the legal system as such. Anyone poor and or a member of minority can expect far worse treatment in the US. Pundits who assert that Ghosn was facing "medieval justice" in Japan are comparing Japanese reality with foreign ideals. It is probable that most poor or minority Americans would find the treatment of Ghosn in Japan bordering on an all expenses paid vacation at a resort.
Why Lebanon?
Ghosn is known to hold Brazilian, French, and Lebanese citizenship. Lebanon does not extradite citizens. Nor do France or Brazil, but both of those countries do prosecute individuals wanted in other countries following their own laws and procedures. Since Ghosn is something of a folk hero in Lebanon but nearly unknown in Brazil, and widely disliked in France - especially by unionized workers at Renault, Lebanon would seem his best alternative. His wife is a U.S. citizen and his children are in the U.S., where he has already reached a plea bargain with the U.S. Securities and Exchange Commission for offenses similar to those he has been charged with in Japan, but that might not prevent his extradition to Japan.
Another reason for choosing Lebanon is that Ghosn is known to have assets in that country and it has been charged that a Saudi business friend funneled Nissan money into a Ghosn business venture in Lebanon.
Did He Jump, or Was He Pushed?
Most foreign coverage has described Ghosn as fleeing, with some using the American colloquial expressing jumping bail. But others, such as the British tabloid the Daily Mail, were noting "confusion over whether he has fled justice or reached a deal," a question also posed in the Irish Times.
Reports concurrent with his press release in Lebanon say private jet via a 3rd country. At the same time, the Japanese Immigration Bureau says there is no record of him leaving the country. Given his restrictive bail conditions, the rigour of Japanese exit controls, and the general honesty of service staff in Japan, the possibility that the Japanese government let it be known that it would look the other way if Ghosn tried to leave, is sure to come up. As one well-connected British businessman in Japan remarked to me, it is probable that Ghosn was "allowed" to leave because "very few people want this to go to trial."
His flight is mostly a win for Japan. The apparent incompetence suggested by his escape can be dealt with by having a few officials fall on the rubber swords while his escape confirms the claims of prosecutors that Ghosn was a flight risk and letting him out on bail was a mistake.
His flight coming in addition to his pleading no contest to U.S. Security and Exchange Commission charges in the U.S. may also be seen as essentially an admission of guilt with respect to some of the charges he faced in Japan. This in turn may somewhat diminish the unjustified and ahistorical claims that Japan has a "medieval justice system."
Disappointing His Supporters
Resident foreign pundits in Japan and foreign nationals who append comments to news articles where this is allowed have generally been pro-Ghosn, claiming as he has himself, that Ghosn was a victim of an insidious plot within Nissan. Some have gone further, to claim that he was the victim of Japanese xenophobia - or even racism - despite the fact the whistleblower who outed Ghosn is himself foreign, and Nissan has continued to appoint foreign nationals to top positions.
Michael Penn provides an example of how foreign views of Ghosn might change. Through his Twitter feed for his Shingetsu News Agency, Penn has been a staunch supporter of Ghosn. But now he is saying, "If Ghosn has fled Japan as it seems he has, this will likely have a lot of negative repercussions for foreigners who live in Japan. It undermines our justified criticisms of "hostage justice," and will give credence to prosecutors who seek long detentions."
Penn also suggests that Ghosn's departure will in fact be beneficial for the Japanese government. Had Ghosn gone to trial, the foreign press would have focused on the strength of the allegations against him and the procedures used to generate evidence against. That opportunity has been lost, and all attention will now be on Ghosn.
Conclusion
As someone who personally thinks prosecutors in Japan should be put on a shorter leash, Ghosn's flight is confirmation of something I have said repeatedly. Using a very rich foreign man, indeed someone who has been described as a stereotypical Davos Man, was a very poor strategy and a very inexplicable choice for those who fancy themselves to be liberal or on the left.
If there is to be a debate about the Japanese justice system and the police/prosecutors use of long detention, that debate should be carried out in terms of cases involving ordinary Japanese - not a very rich foreign national who in rock star fashion rented the Versailles Palace for his wedding.
Author: Earl H. Kinmonth