[Corona ni Makeruna] COVID-19 Valentines: New Ways of Giving, Chocolates 'Made in Japan'
In the telework environment of the pandemic, why not give chocolates instead to people in difficult situations? Or to people working in sectors essential for the economy?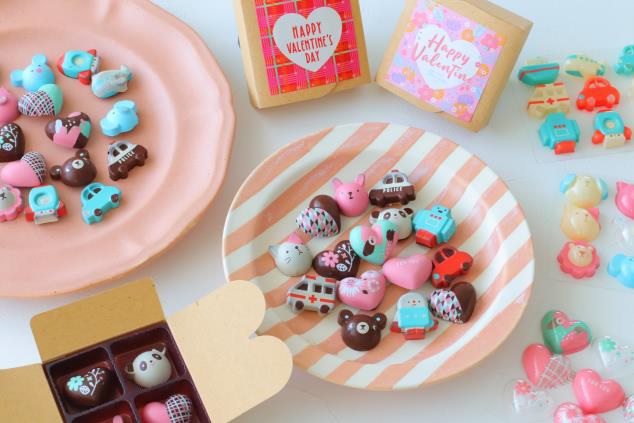 ~~


Tokyo may be under a COVID-19 state of emergency, but the season for Valentines has arrived. This is when limited editions and new chocolate products are released, and companies customarily compete for a share of the market.
Giving chocolates on February 14 may be customary in Japan, but this year department store marketing is more subdued. There are no fancy tasting sessions like previous years.
Instead, to cope with the pandemic, stores are concentrating on online sales and selling smaller sample portions, which are selling well. They are also highlighting Japanese producers at a time when their more famous foreign counterparts have difficulty getting into Japan.
Takashimaya, one of Japan's oldest department stores, attracted 60,000 to 80,000 visitors to its "Amour du Chocolat" events at its Tokyo locations in Nihonbashi and Shinjukuーuntil last year. There were also lavish tasting dinners to which influential writers and female bloggers were invited. This year, however, there was only a toned down presentation held at its flagship Nihonbashi store.
The venue looked deserted with the anti-covid "social distancing" measures in place. The chocolates were as gorgeous as usual, with new varieties from foreign brands. This reporter was able to sample them, in silence. The chocolates tasted bitter and sweet, sour like a fruit, or hot and spicy. The flavor and texture were so varied that one never tired of eating them.


Huge Growth in Online Sales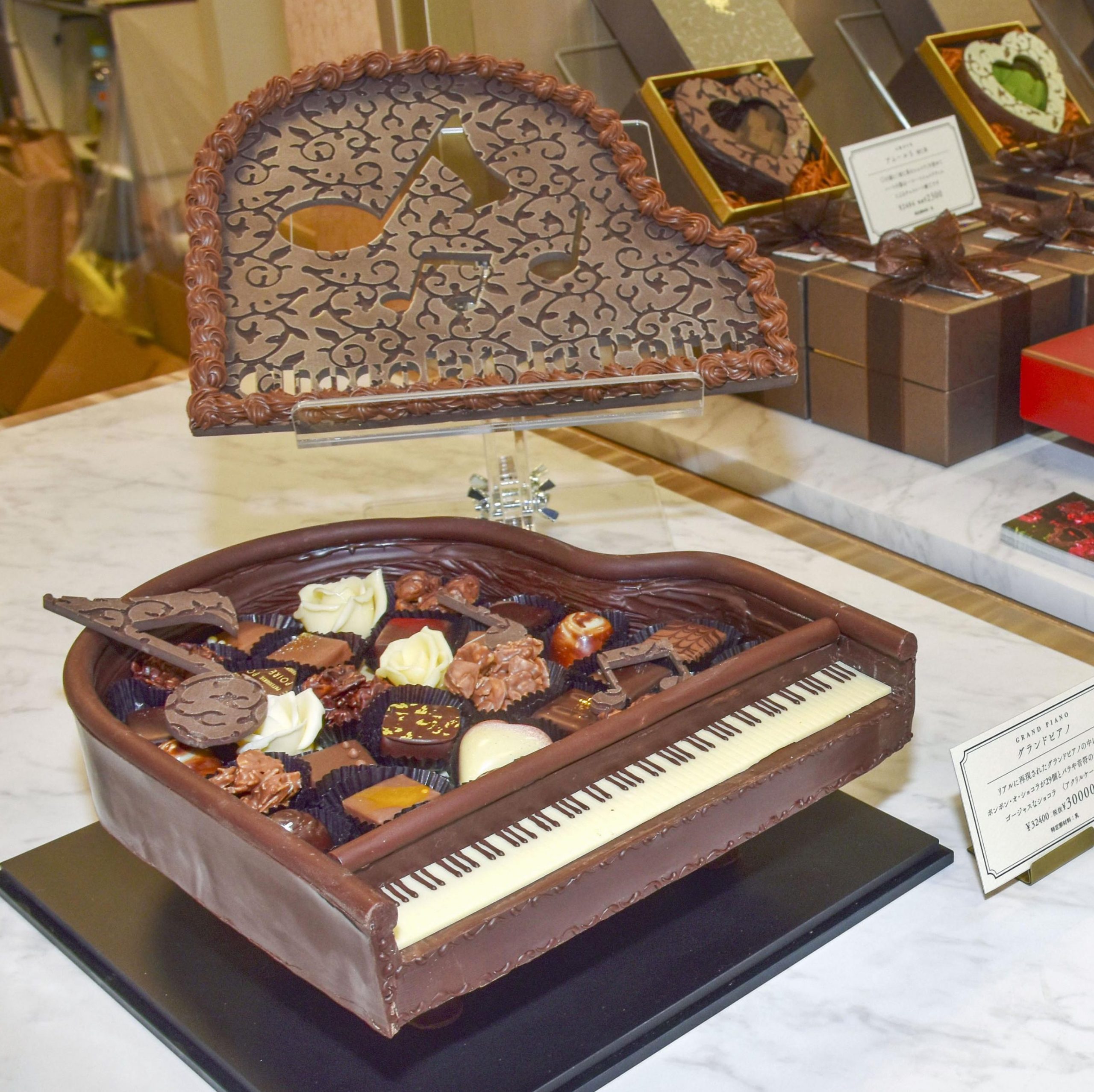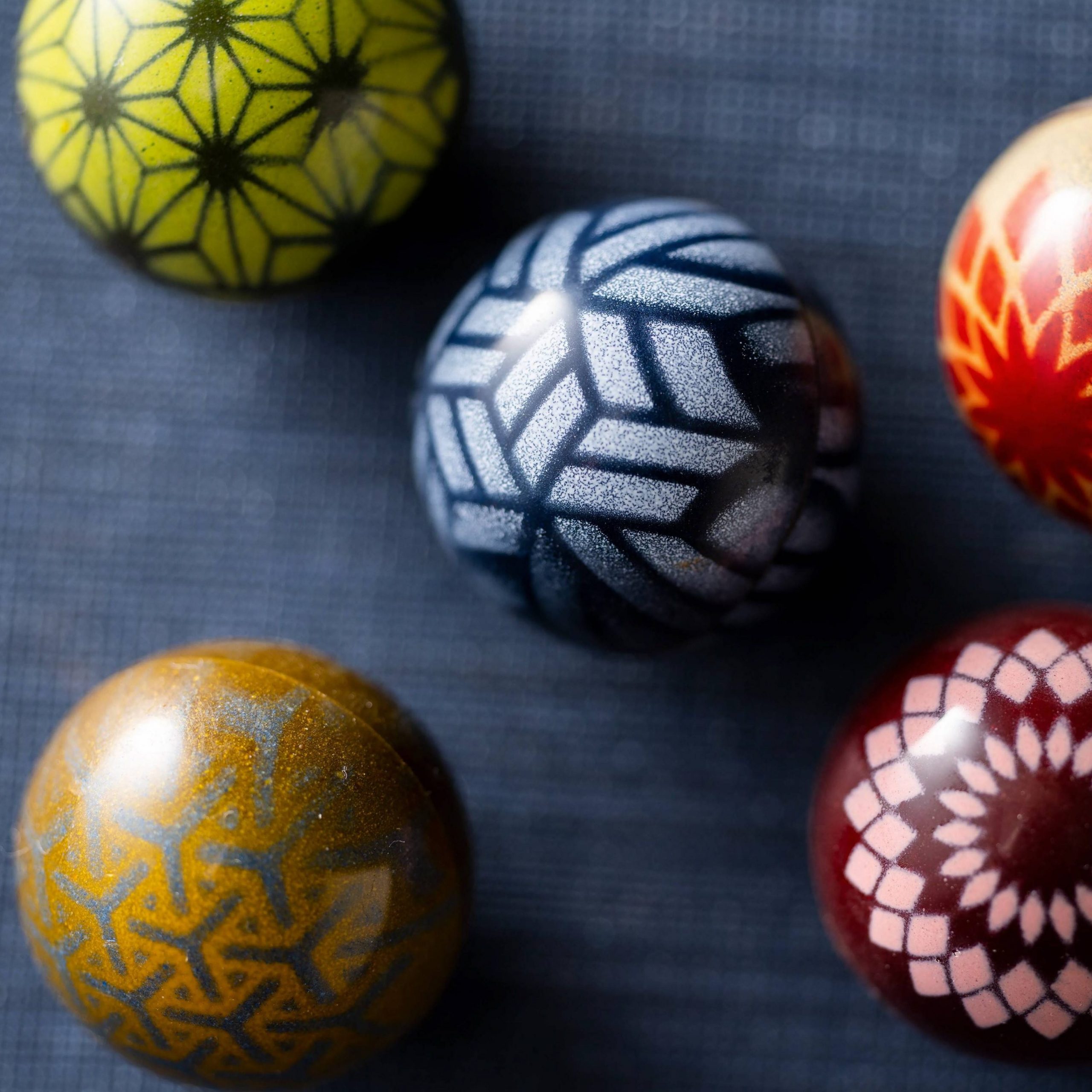 Three weeks before the event, which started on January 27, Takashimaya began a campaign to build anticipation, called "Try Chocolate Online" (30 varieties at ¥216 to ¥540 per piece), allowing customers to purchase the flavors they want to try. About 20,000 pieces were already sold by January 13, and Takashimaya feared it would run out.
Online orders on the whole increased three-fold over the figures of the previous year.
Adding to this trend,Takashimaya also proposed a new concept in gift-giving, called "New Normal Chocolate". The name refers to the social distancing era, and it features the option of having chocolates shipped to the intended recipient with an accompanying message from the sender.
"We have been preparing for the corona pandemic since last spring with the assumption that it would drag on," said Yasunori Furukawa, manager of the Takashimaya food department.
"In recent years, about 60% of women buy chocolates for themselves. It's evident that they want to spend money on food since they cannot travel." Then, he added hopefully: "Men too, are expected to jump on the mailorder bandwagon since they can avoid the embarrassment of physically going to a store to buy chocolates."


Opportunity for Local Chocolatiers, DIY at Home Sets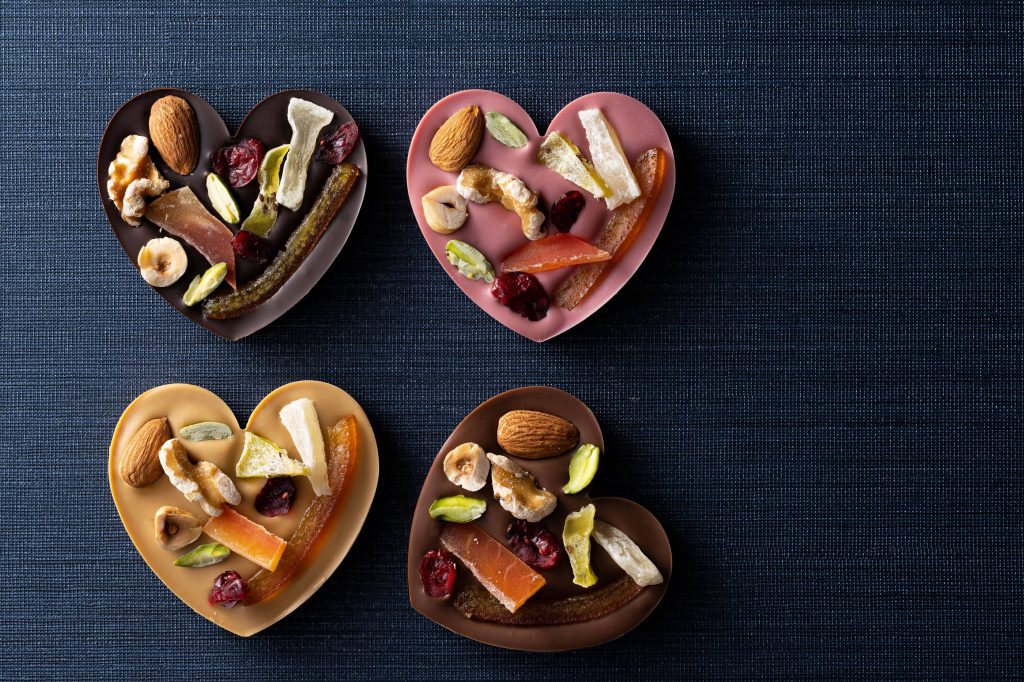 Matsuya Ginza, another leading department store in Tokyo's fashionable district, will start online sales for the first time on February 4 (on February 3 inside the store) for this year's Valentine's season. What is noticeable this time is the presence of Japanese "local chocolate", which had previously been eclipsed by rival imports.
One such newcomer to this event is chocolate maker Wataru Kawai, 43, CEO of Okinawa Cacao, from Ogimi Village, Okinawa. Kawai moved from Tokyo five years ago to take up the challenge of cultivating cacao there. This time, he presented his chocolates using local types of ginger. "Through cacao, we want to expand the sustainability and possibilities of our region. The covid pandemic has affected Okinawa as a whole, but by creating new sales channels, we are improving our sales," he added optimistically.
This New Year's season, Matsuya Ginza registered a 142% increase over the year before for sales of Osechi, the fancy boxes filled with typical Japanese New Year's dishes. This was due to the increase in demand from people staying home, according to a spokesperson.
The company is therefore proposing ways of enjoying Valentine's Day at home. The spokesman explained, "We prepared certain products that can be shared with the family, such as a ¥2,200 JPY kit to make dishes using roast and crush cocoa beans, taking 4 to 5 hours."


Tokyo's International Chocolate Fair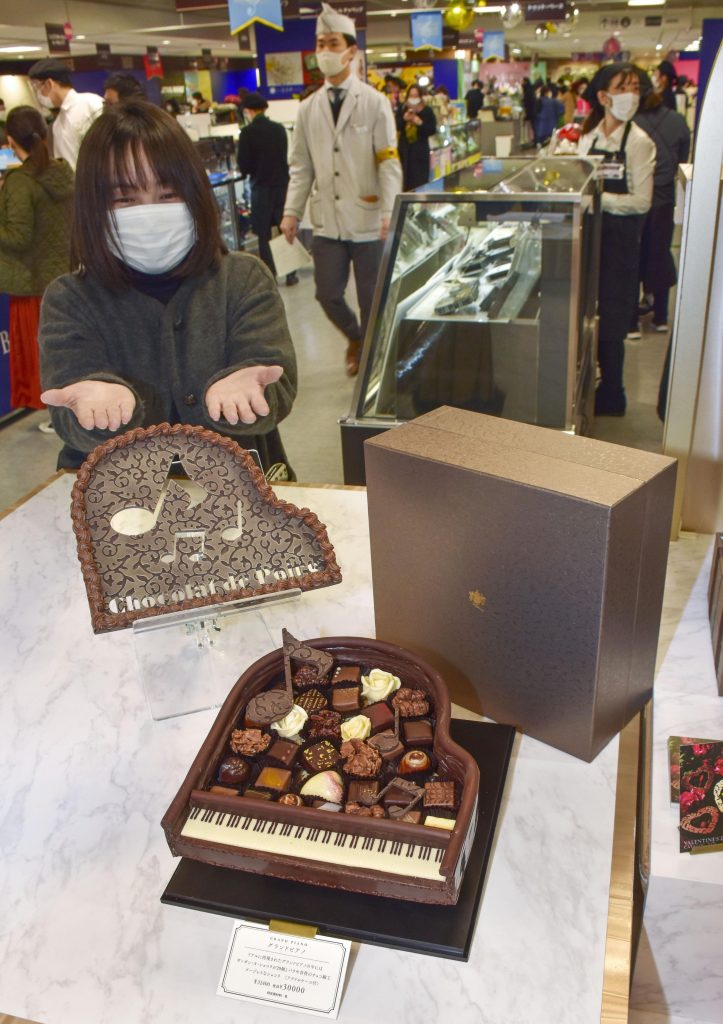 The prestigious annual Paris "Salon du Chocolat" top international fair for the chocolate industry was canceled in France this year. Nonetheless the Tokyo version, organized by Isetan Mitsukoshi, one of Japan's biggest department store groups, will proceed for the 19th year.
Although the event has been moved from a large hall to a one-third smaller space within the Isetan Shinjuku store, the fair will be expanded to feature 120 chocolate brands. The event will be held in two sessions, from January 20-25,and from January 27 to February 3.
None of the 60 chocolatiers who came to Japan last year will be present this year, said an Isetan spokesman. To make up for it, he explained, "We are publishing a video message on the official website."
He added, "We want people to hear from chocolatiers around the world and make it a festival that will lead to the future." This time there won't be any Japanese chocolate makers present either. The event has been prepared using remote meetings and with samples sent by chocolate companies.


Start New Traditions of Giving
February 14 falls on a Sunday this year. With more people working from home, there will inevitably be fewer people giving chocolate at work. Likewise, the ritual for a woman to give chocolates as a declaration of love has become less relevant these days.
Why not give chocolates instead to people in difficult situations? Or to people working in sectors essential for the economy?
Perhaps the COVID-19 pandemic gives us an opportunity to rethink the significance of Valentine's Day.


(Find access to the article in Japanese at this link.)


Author: Akiko Shigematsu