[Corona ni Makeruna] How Vending Machines are Evolving for our COVID-19 Lifestyle
New vending machines offer fresh vegetables and frozen meals, and plenty in between, with contactless sales and 24-hour convenience for the pandemic lifestyle.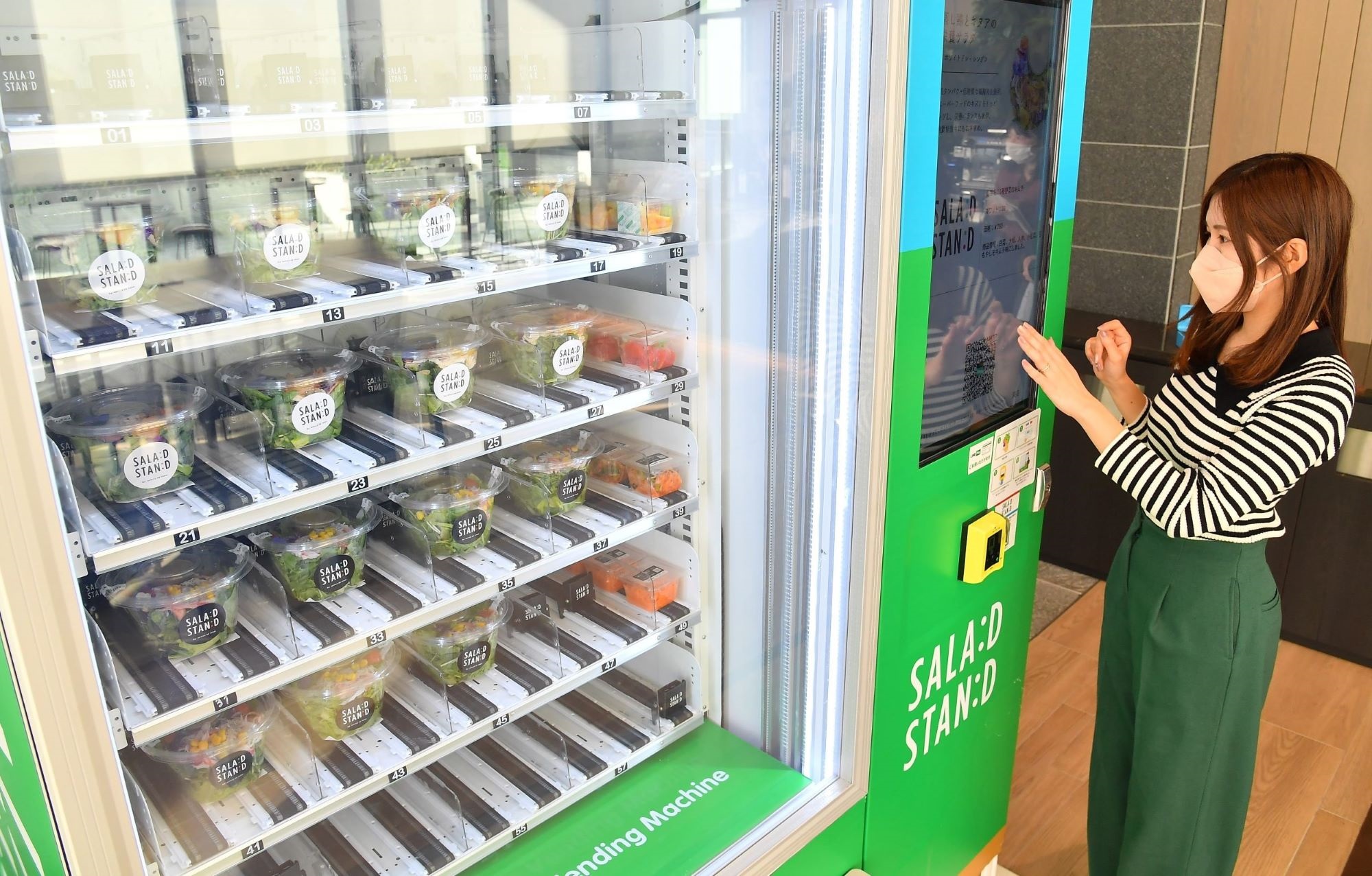 Vending machines offering hot snacks have been popular since the Showa era (1926-1989), but the traditional type are gradually fading out of sight. On the other hand, vending machines that use the latest technology—like AI—are beginning to permeate our lives.
One reason for the shift may have to do with our limited face-to-face interactions during the COVID-19 pandemic. But these vending machines have also been gaining popularity as ways to reduce food loss, while also offering a shopping experience that doesn't require human contact.
The machines have a colorful appearance inspired by earth and grass, sun and sky. When you peek inside, there are brilliant salads that look like those offered at restaurants. This latest type has been installed by the company SALAD STAND in the office building SHIBUYA SOLASTA in Tokyo's Shibuya district.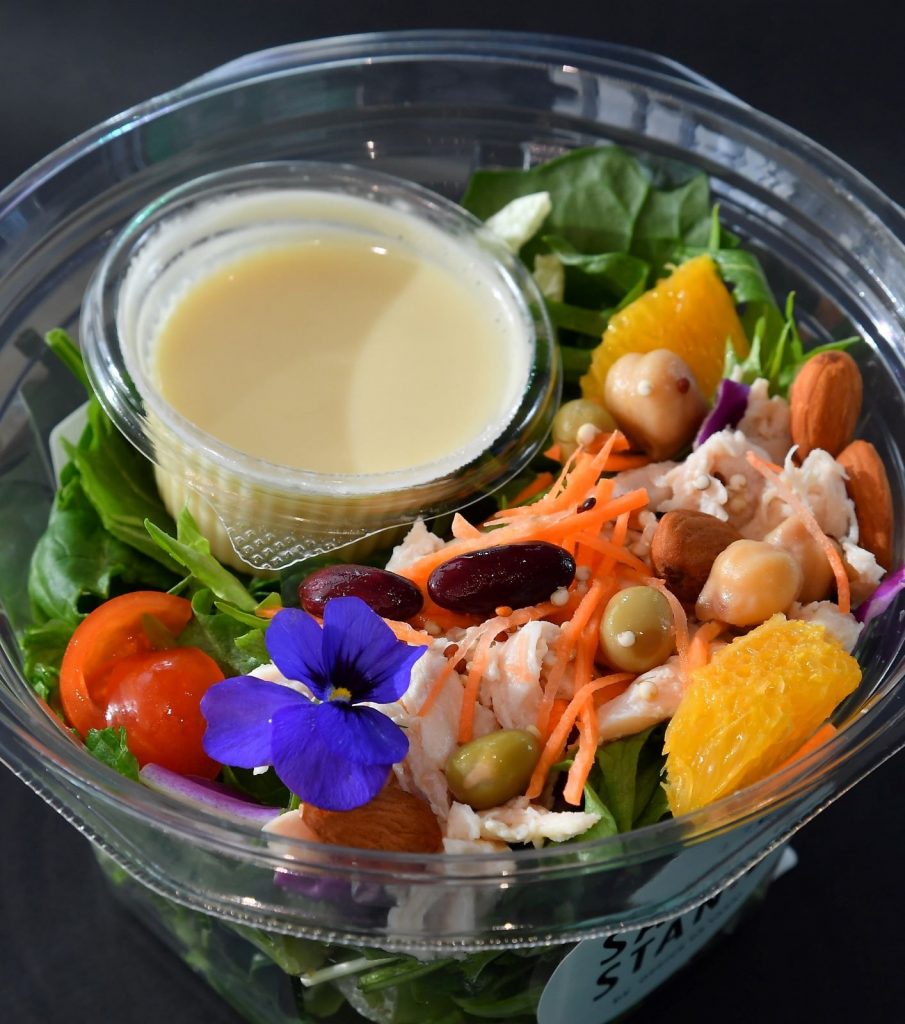 The "Steamed Chicken and Quinoa Nutritional Salad" consists of greens like romaine, frilled lettuce, and spinach, along with steamed chicken, quinoa (a grain known as a superfood), almonds, oranges, and other choices for a total of 15 ingredients, all for ¥980 JPY ($8.50 USD). The crisp greens and the crunchy almonds give the salad a fun texture. The special dressing is rich and flavorful, and the salad comes decorated with edible flowers for an extra touch of color.
According to Nobuaki Arai, the executive officer of KOMPEITO (Shibuya Ward, Tokyo), the company that operates SALAD STAND, the salad vending machine was set up as an experiment starting in November 2020, and went into full operation in November 2021. They plan to install more in shopping facilities and office buildings throughout the city.
These vending machines meet the need of contactless shopping during the COVID-19 pandemic through their cashless payment options and the fact that employees don't need to act as intermediaries.
They're also equipped with the latest technology—like AI—to grapple with food waste. According to Yuki Umezu, the company director, they're measuring the number of people who pass by and those who stop at the vending machine using an AI sensor.
The AI analyzes that data, as well as other data like expiration dates, to adjust the number of offered items and the timing of discounts to prevent products from remaining unsold. They plan to increase the AI's precision by adding data such as weather information.


Long-Term Storage, Reduced Loss
Vending machines offering frozen foods are another type that are rapidly increasing during the pandemic.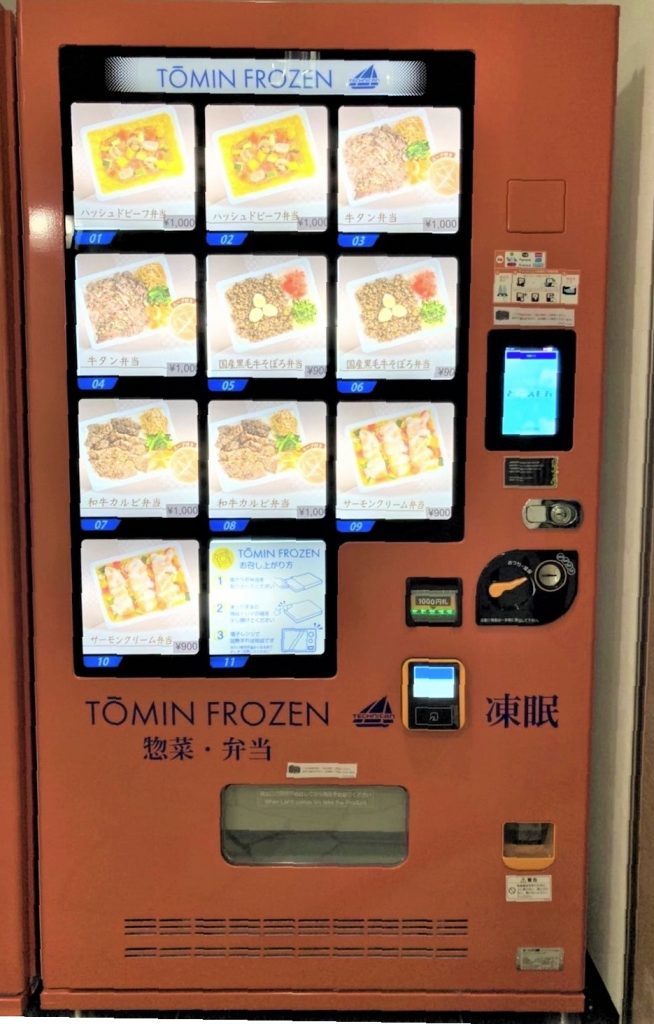 Sanden Retail Systems (Sumida Ward), a maker of frozen-food vending machines, began marketing their Dohiemon model in January 2021, quickly selling 1,000 units in the first half of the same year, with installations in all 47 of Japan's prefectures. "Maybe it's because of the demand for restaurants to operate for shorter hours during the pandemic, but many restaurants have added the vending machines as a new business model," states the company's PR representative Hitomi Haga.
Technican, a company that uses a special liquid freezing technology, owns the frozen-food specialty store, TOMIN FROZEN (Yokohama, Kanagawa Prefecture). They have started using the Dohiemon model vending machines in their own stores, where they offer a variety of frozen lunch boxes such as beef tongue bentos.
"By using liquid freezing, the rice doesn't get dry and the hand-cooked beef tongue retains the aroma of charcoal it acquired when the chef grilled it by hand. This method allows consumers to enjoy the food's original freshly-cooked flavor," says the head of the company's PR department, Hideki Tsudatani. It has a long expiration date of a year, and the risk of food loss is low.


(Read the article in Japanese at this link.)


Author: Nozomi Motoe, Staff Reporter, The Sankei Shimbun