[Corona ni Makeruna] Japanese NGO Needs Art Posters to Explain COVID-19 Risks to Refugees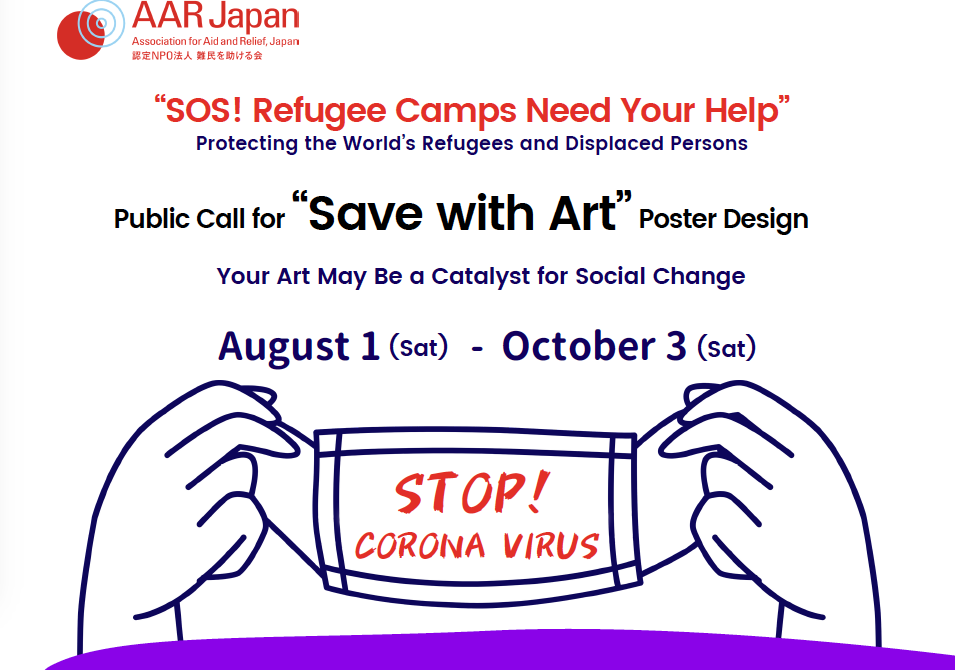 There has been extensive coverage in the past months of how coronavirus lockdowns have affected people everywhere.
Still, there are communities whose experiences might have barely made it to the headlines. What is it like, for example, if you are displaced, a refugee in a camp with poor sanitary conditions, and if you don't understand the language of the place where you are currently living?
The Association for Aid and Relief, Japan (AAR Japan), an international NGO born in Japan, is trying to tackle exactly these problems in areas with refugee influxes, such as Kenya, Uganda, Bangladesh, and Turkey. In the case of Turkey, many refugees are escaping from civil war in the Syrian region.
AAR highlights the problem with concrete examples in the COVID-19 era:
The Turkish government is adopting successive COVID-19 countermeasures, such as restricting people from going outside, but most of the information is provided in Turkish. No consideration is paid towards the Arabic-speaking Syrians. At the refugee settlements in Uganda where AAR is active, some people have been told "don't come near me" by teachers just for putting their heads out of the window.
AAR Japan has been responding to these emergencies by the distribution of sanitary goods and food, along with hygiene education and the other information for refugees and households with members with disabilities. Its activities since April 2020 have been carried out through its offices in Turkey, Pakistan, Afghanistan, Tajikistan, Bangladesh, Myanmar, Laos, Cambodia, Uganda, Kenya, and Zambia.
Looking for Ways to Effectively Communicate
The organization's latest idea is a call for art posters that could help refugees by using non-verbal hygiene education and COVID-19 prevention information. This is especially needed in countries where the refugees and host country do not speak the same language. 
The project — a callout for art poster designs titled "Save with Art, Your Art May Be a Catalyst for Change" — was pulled together with the sponsorship of the globally recognized brand Rolex and the support of Support 21 Social Welfare Foundation. From August 1 to October 3, 2020, anyone with creative ideas can submit poster designs to help refugees in camps around the world with virus prevention awareness. 
The only prerequisite for submissions is that the poster artwork must help those looking at it to understand the dangers of and ways to prevent becoming infected with COVID-19.
The competition aims to reward the winning entries with financial prizes. Artists of the best three posters are set to receive a cash prize of ¥300,000 JPY ($2898 USD), and a number of other prizes will be awarded to runners-up.
Commenting on the inspiration behind this initiative and the association's goals, AAR japan chairman Fusako Yanase said:  
We want to provide even a little amount of information about COVID-19 countermeasures to the refugees and evacuees in positions of weakness. This is something the Association for Aid and Relief, Japan has to do straight away. And it was with this in mind that we have started to solicit posters. We are waiting for your ideas. We obviously welcome all donations, too. I truly hope that we can rely on your kind cooperation.
AAR Japan was started in 1979 for the purpose of aiding Indochinese (Vietnamese) refugees. With the unwavering aim to "help one another in times of trouble," AAR Japan has worked tirelessly since 1979 to support refugees in camps around the world, as well as populations facing difficult situations due to war or conflict, natural disaster, or poverty.
It is not affiliated with any political organization, ideology, or religion. In 1989, the United Nations recognized the association as an NGO for its relief work.
For those who would like to help also the crowdfunding effort to support the collection of Art Posters, make sure you donate to this page here.
How to Enter the Art Poster Competition
Eligibility: Individuals or groups anywhere in the world (irrespective of age or region) who agree with the objectives of this project
Theme: Poster artworks that promote understanding of the dangers of, and ways to prevent infection and spread of COVID-19
Artwork Rules: Although there are no restrictions on poster size, use of text, or creation methods, please be sure to comply with the submission method stated below. Approximate poster size is A2 (420 x 594 mm).
Submission Method: Poster artworks are to be submitted online here on the association's website.
Awards and Special Cash Prizes
Best Poster Award: 3 posters will be selected.
Special cash prize: ¥300,000 JPY each, approximately $2,898 USD
Outstanding Poster Award: 10 posters will be selected.
Special cash prize: ¥100,000 JPY each, approximately $943 USD
Honorable Mention: 20 posters
Special cash prize: ¥50,000 JPY each, approximately $471 USD
Encouragement Award: 100 posters
Special cash prize: Small amounts will be awarded.
Author: Arielle Busetto