[Corona ni Makeruna] King Kohei Joyful, Organizers Relieved as Meet Passes Important Test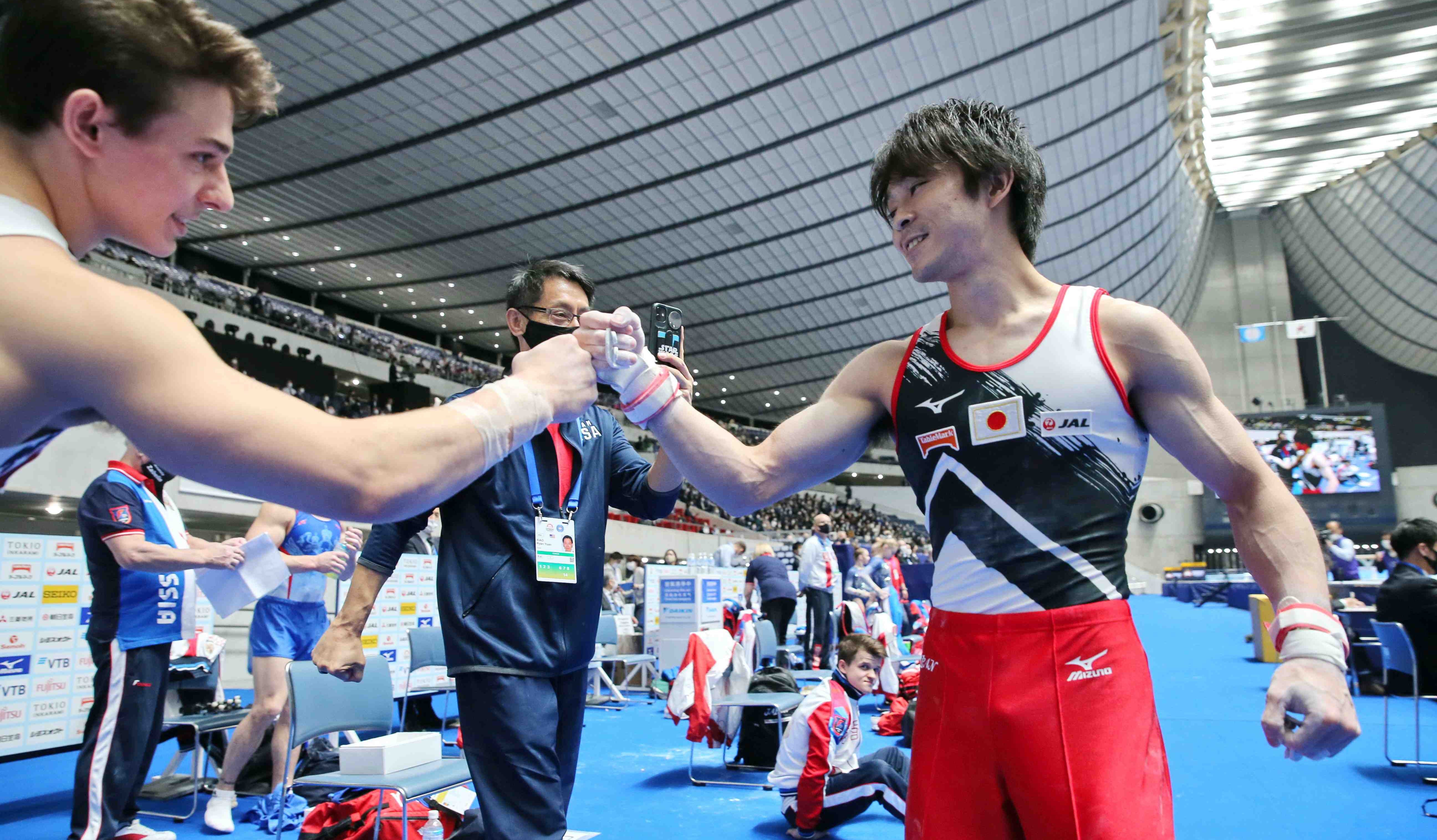 Gymnast Kohei Uchimura's recent testing ordeal illustrates the fluidity of life during the global pandemic.
Day-to-day uncertainties are a big part of what people are coping with.
First, Uchimura's PCR test came back positive on October 28, when he was preparing for a four-nation event, the Friendship and Solidarity Competition, in Tokyo on Sunday, November 8.
So, for a few days at least, it was a bit unclear if he'd be able to participate, or if a possible COVID-19 outbreak could derail plans to stage the event.

In other words, it wasn't ecstasy or agony, but the sports world teetered on an emotional balance beam for a few days.
But the two-time Olympic men's all-around champion (2008 Beijing Games and 2012 London Games) underwent three tests at three separate hospitals in the nation's capital, and all three came back as negative.
This cleared the way for him to compete at the meet also involving gymnasts from the United States, China and Russia at Yoyogi National Stadium.


Two-time Olympic all-around champion Kohei Uchimura was the marquee name at the November 8 meet.
For Uchimura who also helped carry Japan to the men's team title at the 2012 London Games, the initial test turned out to be a false positive. He experienced the uncertainty of a possible health issue and the related what-if questions that may arise during the pandemic.
But when he was cleared to compete it gave him a unique window into the way COVID-19 is impacting all facets of life.
Looking back on his experience, Uchimura, known to his legion of fans as King Kohei, described his initial thoughts on the matter in an interview with NHK.
"When I was first judged to be positive, I was skeptical because I did not know the route of infection and it was said in advance that there was a false positive on rare occasions," Uchimura told NHK.
Organizers for the 2020 Tokyo Olympics, the International Olympic Committee (IOC) and International Gymnastics Federation (FIG) stressed that the four-nation meet was a test of Japan's ability to stage and manage an international event safely while coping with the pandemic.
Uchimura recognized the significance of the outing, noting "this is the first international meet to be held in Japan [during the pandemic] and for the Olympics to come off we need this to go successfully."
After the event concluded, he concluded that it was an important and happy gathering for the athletes.
"You could probably tell from the expression on our faces, but we had a great, great time," Uchimura told the captivated crowd. "I thought this was a huge success. Because of the pandemic, most of us couldn't train or compete. It was nice not just to see each other again but to be able to share all the emotions."
With doubt on more than a few people's minds about whether the rescheduled Tokyo Olympics, now set to begin on July 23, 2021, will take place, Uchimura issued a call for teamwork and cooperation to make it happen.
The question we should be asking ourselves is not whether we can hold the [Olympic] Games or not—but how, and all of us need to put our heads together to make sure that it does go ahead. I want people to start thinking differently. I say this, however, knowing full well that it will not be easy. ... But I'm certain there is a way to make it happen.
The 31-year-old star also highlighted the role of sports in society after the meet wrapped up.
"It is our duty to give people dreams and hope by holding sporting events even under the restrictions caused by the novel coronavirus pandemic," Uchimura was quoted as saying by Kyodo News.




Gymnasts enthusiastically competed and supported one another during the international meet on November 8 at Yoyogi National Gymnasium.
Positive Experience for Organizers, Participants, Fans
The aforementioned Friendship and Solidarity meet gave 2,000-plus spectators a chance to see talented gymnasts compete in a format that mixed and matched athletes from the four nations onto Team Friendship and Team Solidarity. Yoyogi National Gymnasium seats more than 13,000 at full capacity, so the cavernous venue had plenty of room for social distancing.
Uchimura, the six-time men's all-around world champion, was the star attraction, giving fans a glimpse of the impressive skills that paved the way for his rise to legendary status. But there were 29 other gymnasts taking part in the various disciplines on the mat and above.
King Kohei's top highlight of the day was on the horizontal bar, where he attempted what gymnastics aficionados refer to as double-twisting double tuck, contorting his body in a pretzel of sorts. It was textbook-perfect form and he received a glowing score of 15.200 points, the top total awarded that afternoon, for the routine.
Team Solidarity edged Team Friendship 423.6-421.3. The athletic talents of 2018 men's all-around world champion Artur Dalaloyan of Russia, and compatriot Angelina Melnikova, the reigning women's all-around world bronze medalist, among others, grabbed the spectators` attention.




More significant, the meet was a chance for the IOC, FIG, Tokyo 2020 organizers and the international sports community to test the protocols in place for athletes coming to Japan.
The American, Chinese and Russian gymnasts had mandatory PCR tests within 72 hours before flying to Japan. They were tested again upon arriving at the airport here. The American gymnasts, for instance, reached Haneda Airport on November 4. The Russians and Chinese arrived a day later.
Then the three nations' athletes were required to take the PCR test each day before the November 8 meet.
Sports in a so-called bubble, with athletes restricted to their hotel and competition facilities, has become a new reality during the pandemic, such as for tennis' U.S. Open and the relaunch of the NBA season and the entire playoffs at Walt Disney World in Florida. But the precautionary measures have proven effective to limit the spread of the coronavirus.




Athletes took mandatory COVID-19 tests, while meet officials worked to prevent the spread of the virus.
Exhibit A: On Tuesday, November 10, the Japan Gymnastics Association announced that there were no positive tests for COVID-19 among the four nations' athletes and coaching staffs.
That point certainly resonated with FIG President Morinari Watanabe.
"When they arrived in Japan, you could see fear in their eyes," Watanabe was quoted as saying by Reuters. "They were worried they might be infected and you can see that fear deep into their eyes. But each day that they spent time in Japan, they managed to ease their fears.
"At the end of the day you could see the joy in their eyes."
Author: Ed Odeven
Follow Ed on JAPAN Forward's [Japan Sports Notebook] on Sundays, in [Odds and Evens] during the week, and Twitter @ed_odeven.