[Corona ni Makeruna] Want Your Fix of Gyoza? Take Away is More Popular than Ever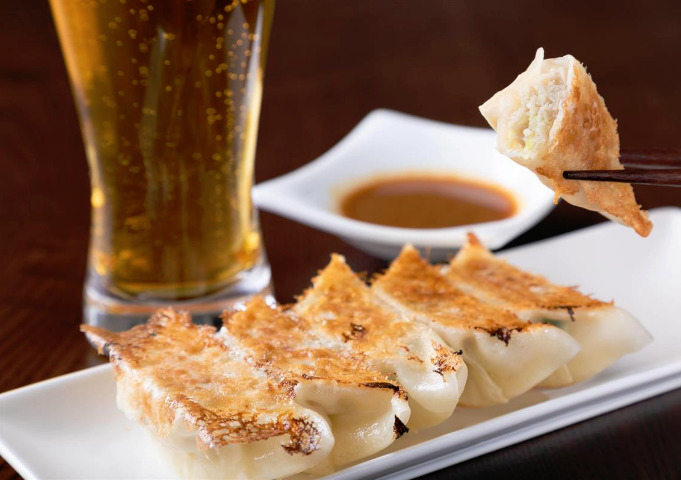 It's a match made in heaven. Dumpling skins, browned from the pan, and brimming with succulent juices and crisp vegetables. Utterly irresistible. Long a regional speciality, gyoza (fried dumplings) are now rightly recognized as a bona fide national dish, even featuring in some of the glossiest gourmet magazines. 
And as the corona-induced demand for takeout continues to rise, so does the popularity of gyoza. 
Consequently, throughout the pandemic, the opening of speciality gyoza restaurants has continued apace. With many regional revitalization projects in search of a catalyst, it may pay to examine the case of gyoza as an example of how to overcome the crisis. For, it is clear that the humble dumpling is brimming with more than just deliciousness.   
Specialists in Home Delivery
"We make our gyoza with ingredients sourced locally in Senshu. We recommend you try them with our speciality miso sauce."
The "Sakai Miso Dare Gyoza Manpukutei" (meaning Sakai Miso Sauce Gyoza Station) opened in Sakai Ward, Sakai City, Osaka, in August. The restaurant specializes in uncooked gyoza. Its menu is thus ideal for home delivery. In this way, the business bypasses the restrictions on dining out affecting other restaurants. 
Owners Yuta (38) and Kana Mandai (36) note that "with dining out restricted, more and more people are choosing to eat at home. The danger then is that customers will decide to cook for themselves." 
Realizing that "even the usually reliable restaurant business has to move in pace with the times," the Mandais decided to seize the opportunity to open a take-out restaurant, thus meeting the evolving needs of their customers.
It is a little-known fact that the town of Sakai in which the Mandais opened their business is a major gyoza hotbed. Actually, according to one 2017 Ministry of Internal Affairs survey, Sakai ranks thirdーbehind only Utsunomiya in Tochigi Prefecture and Shizuoka's Hamamatsu Cityーin terms of annual number of gyoza consumed per household. 
Famed takeout gyoza chain, Ryukazan, operates five outlets in the town. And, alongside its lofty ranking in the gyoza consumption stakes, Sakai, according to another survey compiled by the Gyoza Association (Minato-ku, Tokyo), also ranked fourth nationally in terms of purchase frequency per 100 households from January to June of this year. 
So popular is the humble gyoza in Sakai City that the Mandais sold a staggering 9,000 units within the first two days of their August 1 opening date.
A Corona-induced Demand?
As a result of the pandemic, the demand for home delivery is clearly increasing. In June of this year, Recruit Lifestyle (Tokyo) compiled a survey on take-out usage among consumers between the ages of 20 and 70 years old. Of the 13,000 respondents (10,000 valid responses), 58.1% said they had made use of home delivery services during the state of emergency in May.
Not simply limited to Sakai City, gyoza appears to have gained in popularity as a takeout option everywhere. So much so that the Ohsho Food Service (Yamashina-ku, Kyoto), which operates the well-known chain store "Gyoza no Ohsho," avoided an anticipated deficit in its consolidated financial statements for the period April–June of this year. 
In quite a reversal on projections, a take-out promotion in August pushed national monthly sales of controlled stores to a record high of approximately ¥6.8 billion JPY (approximately $65 million USD). 
These figures speak to the unique suitability of gyoza as an option for home delivery. "If delivered precooked, they're ready for the table immediately. If uncooked, they can be prepared in a matter of minutes. This makes gyoza the ultimate hassle-free takeout menu option," explains Gyoza Association Director, Chikara Onodera. "By nature, a homely dish, gyoza are enjoyed especially by young families with children."
According to Gyoza Association records, regional varieties of gyoza using different ingredients have developed independently all throughout Japan. Such data suggests that there are now over 1500 varieties of gyoza, all of which can be purchased for delivery online. 
"Garlic-free, plus numerous other interesting hybrids of all different shapes and sizes are now available. So it's really fun just to get together with family and friends to try out the different varieties and compare flavors," Onodera continues. "You can even sneak in the odd vegetable, or other foods disliked by children, and guarantee it will all be eaten."
More Than Just Deliciousness 
"The garlic gives you stamina. At least that's what they say in the factories around here. It's this belief that makes Hamamatsu dumplings so popular. Plus, they're easy to eat on the go," says Kazunori Hanaeda (52).
Each year, Hamamatsu competes with Utsunomiya for the title of greatest annual number of gyoza purchased. Hanaeda, who represents the Hamamatsu Gyoza Society, suggests this is largely down to the presence of the Yamaha and Honda factories in the city. It is the love of fried dumplings among the city's factory workers that provides Hamamatsu its reputation as a genuine "gyoza town". 
Part of the appeal, this theory suggests, is that gyoza, while fast food-like in terms of convenience, are also packed full of healthy nutrients. This marriage of the two features is of course difficult to find in other foods. 
The Hamamatsu Gyoza Society has long contributed to boosting the status of the city through its nationwide promotion and popularization of the much-beloved Hamamatsu gyoza. Additionally, the society publishes maps that provide location details and bios for all Hamamatsu's best gyoza stops. 
As the city's love affair with the gyoza demonstrates, the humble dumpling does more than simply fill its citizens' stomachs. Rather, it is viewed as a potent vehicle for regional revitalization.
Similarly, Sakai City too has a history of using its status as a "gyoza town" to kickstart its regional development projects. These efforts can be seen in the promotional video the city government produced to celebrate Sakai's 2017 third-spot placing in the annual gyoza purchases race. 
As a member of the city's Tourism Planning Division reveals, "if the number of gyoza stores continue to increase and attract such attentionーparticularly if this gives the city another chance to crack the top two in national rankingsーwe would of course continue to update what has already proved an incredibly successful PR strategy."
With the demand for home delivery increasingly on the up, will other regions seek to profit from the popularity of their local gyoza? 
Expectations continue to rise for the potential of the humble dumpling. 
Author: Eriko Ogawa
(Click here for the article in Japanese)